If you make dinner in the morning when you have a spare minute, you'll save time later in the evening when you don't.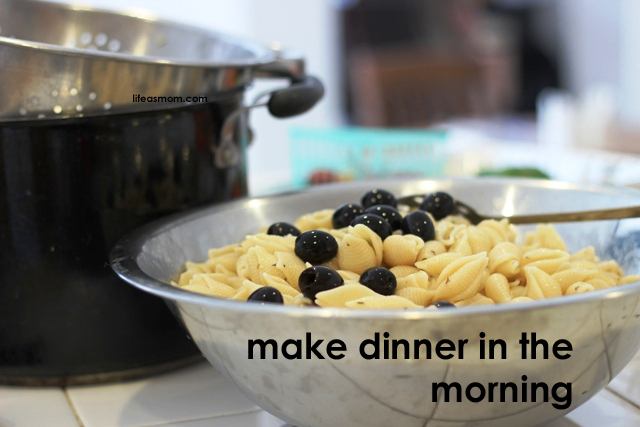 Saturday evening was full of hockey games. Full. In two cities. At dinner time.
I spent Saturday morning in the kitchen, making breakfast, lunch, and dinner. It was brilliant, if I do say so myself. I got lunch started in the slow cooker and in the bread machine, and then I started supper on the stove top. I was already in the kitchen; why not maximize my time?
It wasn't anything extravagant, a 2-pound batch of pasta salad. I slid it into the fridge to chill and went about my day.
At 4:30 when I came home from hockey game #1, I was able to feed the crew in minutes. In minutes, I tell ya! The kids gobbled down plate after plate of pasta salad, telling me how wonderful it was, what a great mom I was, and would I please do this again?
Well, that was easy.
Here are some of our favorite make-ahead meals:
Make-ahead meals can save you loads of time. If you make dinner in the morning, dinner will happen in a matter of seconds. Like magic, but not.