Jalapeños bring punch to poppers, chiles, and salsa. They brighten up nachos and pizza. They're delicious, but can you freeze jalapeños?
Yes, you can! Chop and freeze jalapeño chiles so that you have them ready to go for your favorite recipes, like these tasty Cheesy Jalapeño Biscuits.
Jump to:
Jalapeños are a staple in my kitchen. Whether I blend them into Taco Shop Style Salsa or toss them on my husband's favorite Jalapeno Burn Pizza, they add amazing flavor and a slight kick.
While the slightly spicy pepper is fairly long lasting in the fridge, when you freeze jalapeños, either chopped or sliced, you're ensuring that you always have some on hand.
Why Do This
It helps you avoid food waste. If you'll use it eventually but can't just right now, why not freeze it to use later and buy yourself some time?
It can be more convenient. Frozen chopped or sliced jalapeños are often more convenient than fresh ones as they are recipe-ready. You can easily add flavor and kick to your recipes when the jalapeños are already to go.
Ingredients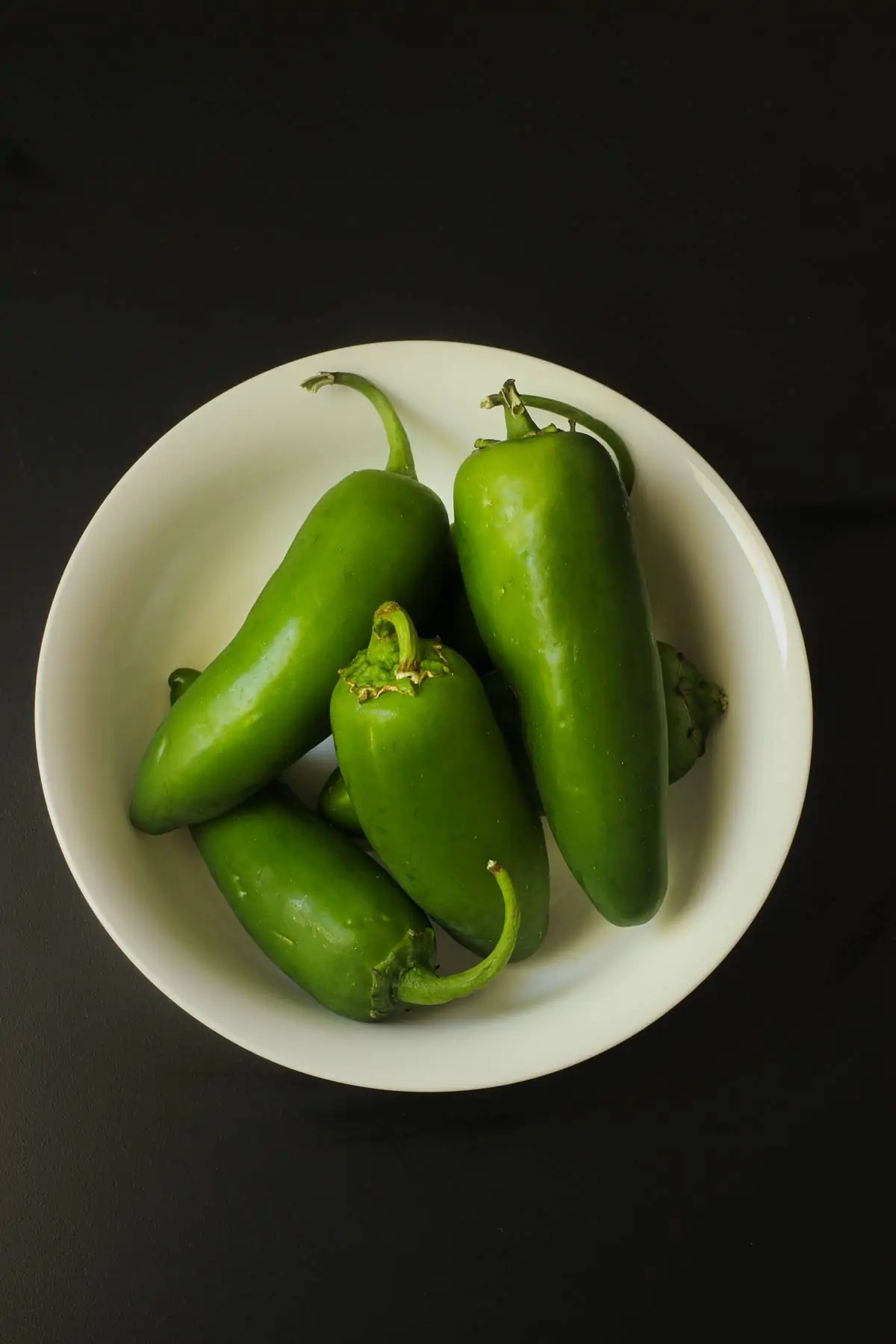 All you need are jalapeños! Choose jalapenos that are a smooth, dark green with few blemishes. You'll want to avoid those that are wrinkled or bruised.
Wash your jalapeños with vinegar (this kills surface bacteria) and water before you freezing them so that they are recipe-ready.
Step-by-Step Instructions
Chop or slice the jalapeños and portion them into labeled, ziptop freezer bags. Place the bags in the freezer.
When frozen this way, you'll need to use the entire bag, so don't put more in a bag than you will use.
Open Freeze to Avoid a Big Clump.
If you think that you will only use a few frozen jalapeños in your recipe, then you'll want to them in a way which doesn't clump them all together. This is called open freezing.
After you've chopped or sliced your jalapeños, place them on lined trays in the freezer. This will help them to freeze individually so they won't stick together in the bag.
Once frozen, transfer them to labeled ziptop bags and stash them in the freezer immediately.
To Use Frozen Jalapeños
When you're ready to use the jalapeños, you can cook them from frozen. Pull out the bag and add to your recipe.
FAQs
Can you freeze chopped fresh jalapeños?
Yes, you can! It's so handy to have a bag of frozen chopped jalapeños in the freezer. They are ready to add to any recipe that calls for jalapeño peppers or chopped green chiles.
Do you have to blanche jalapeños before freezing them?
Thankfully, no! It's super easy to freeze jalapeños because they don't need to be blanched. Like mushrooms or onions, you can just chop or slice and freeze.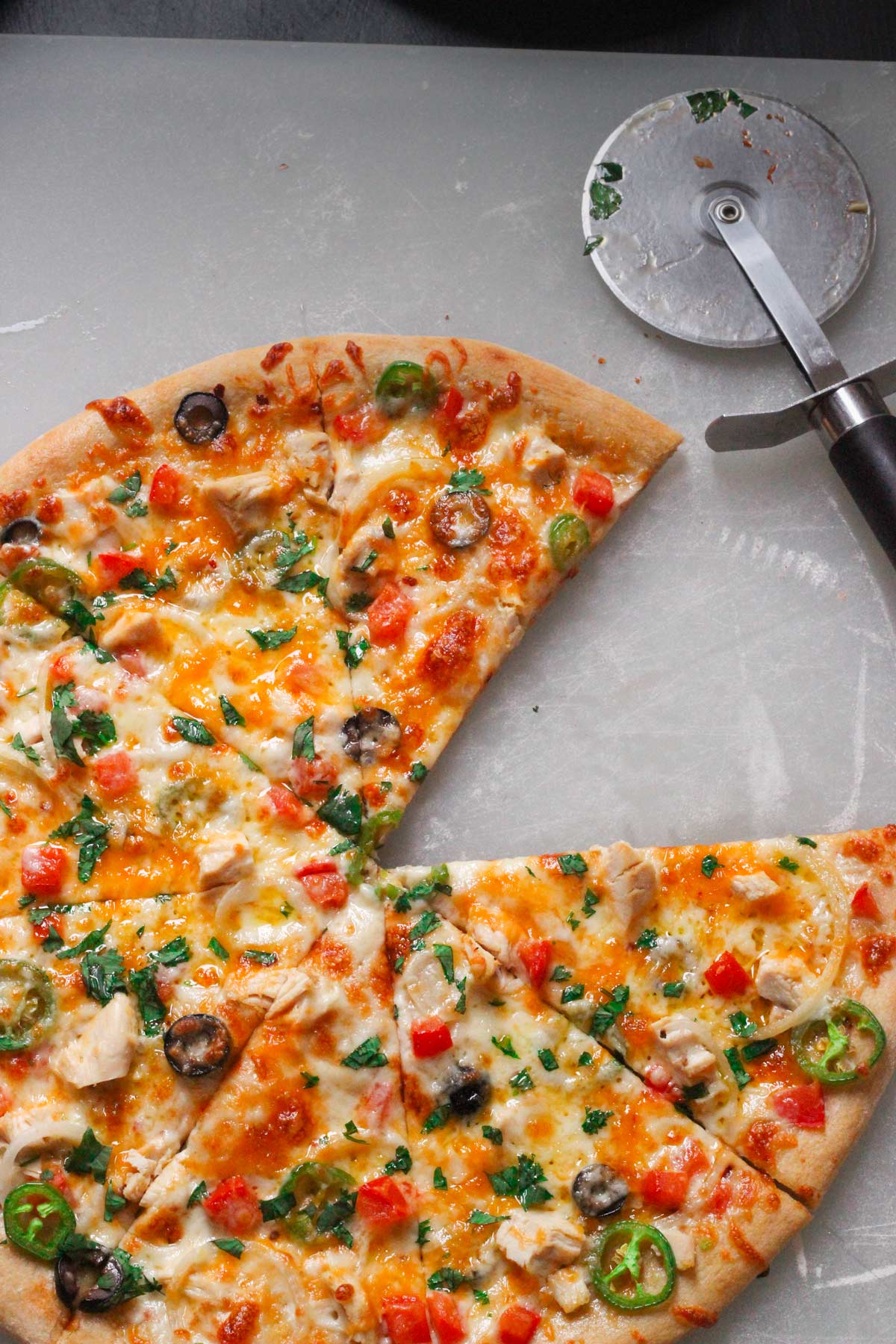 Great Ways to Use Jalapenos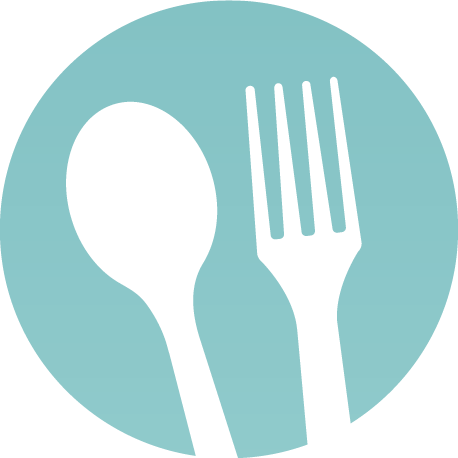 Tell us what you think!
We love to hear your experiences with Good Cheap Eats. Click the STARS on the recipe card or leave a STARRED comment to let us know what you think of the recipe.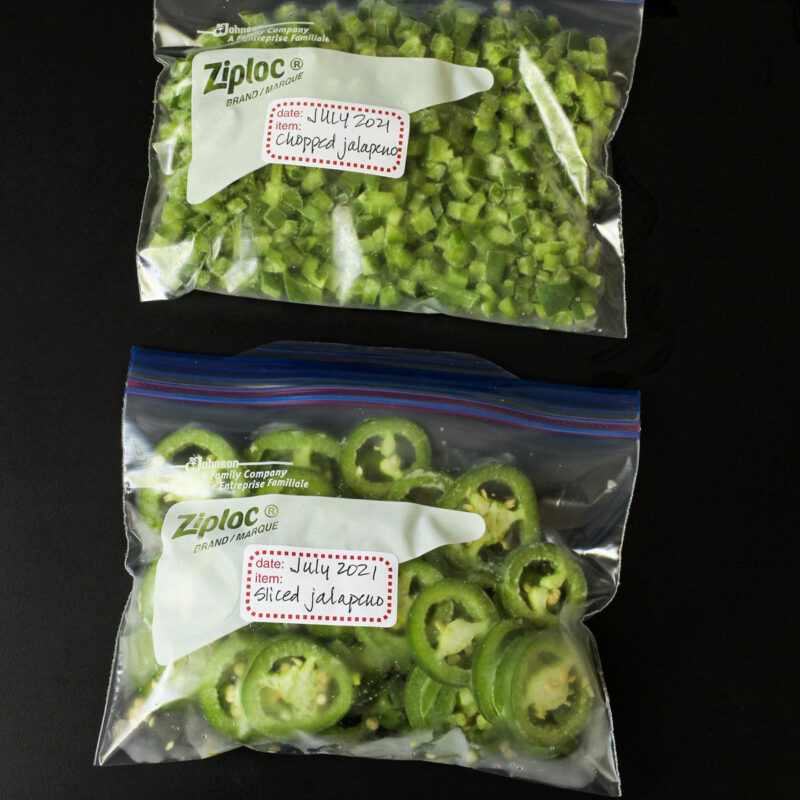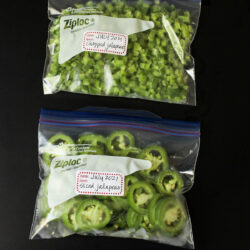 How to Freeze Jalapenos
Learn how to freeze jalapeños so that you can stock up on a great sale or save what you have for another time. It's a great way to save time and money and give your recipes a kick
Print
Pin
Rate
Instructions
Chop or slice according to your preferences.

Package in recipe-size portions in ziptop freezer bags or freezer-friendly containers.

Alternatively, to freeze them loose, place them on a lined sheet pan and freeze until firm. Once solid, transfer the frozen jalapeños to packaging and return to the freezer.

To use: add to recipe from frozen.
Notes
Frozen jalapenos will be safe indefinitely if kept at below zero degrees, but after ten months, their quality will start to diminish. Since home freezers are not as consistent and reliable as commercial freezers, try to use your frozen jalapenos within a couple months.
Use jalapenos in salsas, soups, chiles, sauces, and baked goods. They are great on the Jalapeno Burn Pizza or Cheesy Jalapeño Biscuits.
Nutrition
Calories:
16
kcal
|
Carbohydrates:
4
g
|
Protein:
1
g
|
Fat:
1
g
|
Saturated Fat:
1
g
|
Polyunsaturated Fat:
1
g
|
Monounsaturated Fat:
1
g
|
Sodium:
2
mg
|
Potassium:
141
mg
|
Fiber:
2
g
|
Sugar:
2
g
|
Vitamin A:
611
IU
|
Vitamin C:
67
mg
|
Calcium:
7
mg
|
Iron:
1
mg
Tried this recipe?
Tell us what you think! Your reviews help us develop better recipes and give newcomers the confidence to try your favorites. Scroll down to leave a starred comment.