Summertime is peach season. Take advantage of the bounty with these peachy ideas.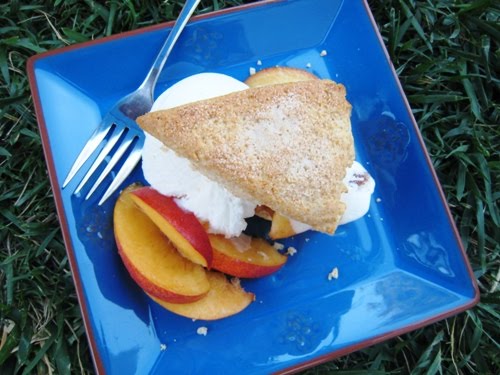 Along with our regular produce box delivery comes the option of "add-ons". This year one of the regular add-ons has been cosmetically challenged stone fruit. (My farmer has a sense of humor.)
Spring storms pretty much thrashed a lot of the crops, but we're making lemonade, as they say. The crops don't go to the cows, and us members get 15 pound boxes of fruit for 10 bucks. Honestly, none of these have been too ugly, but I guess they're covering their bases by saying they're "cosmetically challenged".
So far, we've had a big load of nectarines and another of peaches. And while it's fairly overwhelming in the face of it, I don't think that we've wasted too much. Part of the key has been to keep the fruit flies at bay and to refrigerate the fruit before it's overripe.
If you get a load of peaches, whether from your CSA or your backyard tree, it's helpful to have a supply of recipes to go with. I can't give you peaches, but I can supply some recipes.
Eat peaches fresh.
At our house, we mostly eat peaches fresh. That is the preferred mode. When I have these ginormous boxes of fruit, the kids eat all they want.
It does my heart good to see them pacing the back patio munching on juicy fruit. And my floors appreciate that the drips are falling outside.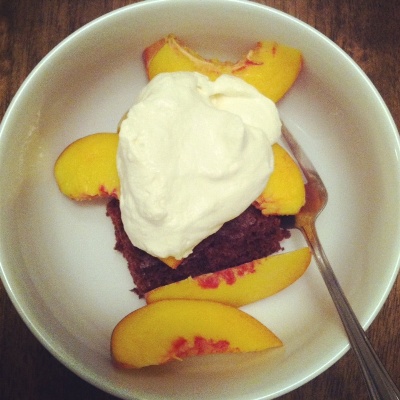 Add fresh peaches to stuff.
If eating them by themselves grows old, then slice them up into other stuff. These are Peaches and Cream Zucchini Brownies. Doesn't look healthy, but it is. Kinda.
You can also slice peaches into your morning yogurt, top a waffle or pancake, and serve them with cottage cheese. They are fantastic atop these Shortcakes with Butter Pecan Ice Cream.
Bake with peaches.
I confess, I do not like the taste of cooked peaches. Just not my favorite. I've tried. Many times. And so I've put that one on the shelf.
But, if cobblers, crisps, and pies are your bag, then check out this collection of peachy recipes from Joy the Baker. I think she's got everything covered.
(And I love that recipe search function. Gonna have to figure out how that works!)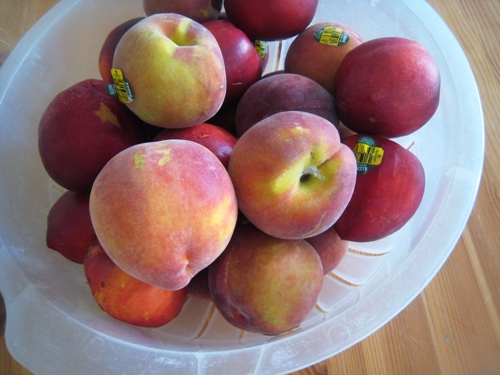 Add peaches to smoothies.
My fifteen year old son is very into his daily smoothies. I'm not sure exactly what he puts in there, but he's been researching how to be healthier and more buff, so the smoothie is part of his regiment. I keep a drawer in the freezer stocked with frozen fruit for his smoothie making.
Just peel and slice your peaches. Freeze them on lined trays. Once the slices are firm, throw them in a freezer bag or container. Now, you can pick out as many slices as you like without having to freeze the entire container.
Can peaches.
While I don't have much experience with canning peaches, the folks over at Simple Bites do. Check out this post for tips on canning stone fruit in general and peaches, specifically.
Puree and freeze peaches.
Freezing peaches into sorbet and popsicles worked amazingly well last week.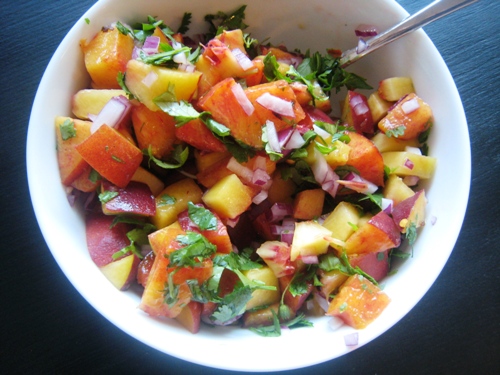 Make Peach Salsa.
Peaches stand in for tomatoes in a variety of recipes. I've even seen them sliced on a pizza! And they are fabulous in salsa. Eat it with chips or use it to top grilled meats.
Peach Salsa
Enjoy a twist with your chips and salsa with this sweet and peachy peach salsa. Instead of tomatoes, use peaches. It's perfect for chips or topping grilled meat and fish.
Ingredients
2

peaches

chopped

¼

cup

fresh cilantro (chopped)

¼

red onion

(for ¼ cup chopped)

1

tablespoon

lemon juice

⅛

teaspoon

red pepper flakes
Instructions
In a small bowl, combine all the ingredients. Toss gently.

Refrigerate until ready to serve.
Notes
Nutritional values are approximate and based on ¼ the recipe.
Nutrition
Calories:
138
kcal
|
Carbohydrates:
34
g
|
Protein:
3
g
|
Fat:
1
g
|
Saturated Fat:
1
g
|
Sodium:
8
mg
|
Potassium:
628
mg
|
Fiber:
5
g
|
Sugar:
27
g
|
Vitamin A:
1322
IU
|
Vitamin C:
30
mg
|
Calcium:
18
mg
|
Iron:
1
mg