Give tonight's supper a kick with this quick and simple Spicy Turkey and Sausage Bolognese. It's a perfect topping for pasta, polenta, or spaghetti squash.
Are you still buying pasta sauce from the grocery store? Stop it already. It's so easy to make your own pasta sauces — that taste better, are healthier for you, and cost less per ounce than what comes in the jar or can.
While I might keep the occasional jarred sauce on hand for emergencies, I typically lean on my Slow Cooker Red Sauce, making big vats of the stuff and freezing it to use over a month's time. It's perfect for lasagna, dressing meatballs, or topping pizza.
When I don't have any red sauce in the freezer, it's pretty easy to whip up a fresh sauce on the fly. This Spicy Turkey and Sausage Bolognese only takes a handful of ingredients, and it comes together in about half an hour. It's also a favorite with my family, thanks to the spicy sausage kick.
How I make this good:
While simply making something homemade doesn't magically make it healthier, it does increase your chances. I assure you that you can pronounce everything on the ingredients list for this sausage bolognese.
There are other things that you do to make a recipe a little bit better for you. I use a combination of ground turkey and bulk hot Italian sausage. For years I shunned ground turkey because I just didn't like the flavor of the typical grocery store variety. However, since discovering Trader Joe's and Ralph's Simple Truth ground turkey, I have become a fan. A big fan.
I buy the hot Italian chicken sausage at Sprouts because it is super SUPER spicy and has a pretty clean ingredient list. You have to use a spicy sausage in this recipe, even if you think you don't like spice. It's what we're relying on to give the sauce some zing. It won't be overpowering because you're stretching that spice investment over double the meat and a handful of veg.
You'll notice there's a fair amount of mushrooms in this recipe, 2 cups chopped. Don't be scared. This sauce doesn't taste like mushrooms. Promise. In fact, the mushrooms kinda absorb the flavor of the spicy sausage. Mushrooms are low in calories, fat-free, cholesterol-free, gluten-free, and very low in sodium. They also provide important nutrients, including selenium, potassium, riboflavin, niacin, vitamin D.
This Sausage Bolognese is great served over hot cooked pasta, Cheesy Polenta, and Spaghetti Squash. It's also amazing used as a base for oven-baked eggs. Place some sauce in a gratin dish, crack in some eggs, sprinkle with parmesan, and bake until the eggs are set and sauce is bubbly. So good!
How I make this cheap:
The meats are obviously the most important and most expensive ingredients in this recipe. If you have a Sprouts near you, watch for sales on the sausage! They regularly have great sales, as low as $2.99/lb.
I stock up on the ground turkey when Ralphs has it on sale. Recently it was $2.77/lb! I just might have bought ten pounds. Ahem.
Crushed tomatoes offer the best texture for this sauce. I used to buy huge vats of crushed tomatoes at Costco for cheap, but they've discontinued their crushed tomatoes. That means I watch for sales on tomato products and stock up when I see the large cans for $1.50 or less.
Onions are a pantry staple, so I buy a lot of them when I see a good price, usually at Sprouts for about $0.50/pound. The quality has been hit or miss this year, leaving me with rotten onions, so I have purchased them elsewhere and for higher prices over the last few months.
Mushrooms are also a staple at our house. Costco has good prices, but I often find them marked down at Ralphs for really cheap. I find that if you buy the brown mushrooms, they tend to last longer than regular white ones. If they last longer, we end up not letting them go to waste, therefore, in a sense they're cheaper.
Since this is a mega-batch of sauce, divide the leftovers into meal-size containers and stash them in the freezer. Or make lasagna. Or baked eggs. Bulk cooking saves you time and money in so many ways.
Tools I use to make this easy
You really only need a handful of kitchen tools for this recipe.
That's all you need!
Spicy Turkey and Sausage Bolognese
Give tonight's supper a kick with this quick and simple Spicy Turkey and Sausage Bolognese. It's a perfect topping for pasta, polenta, or spaghetti squash.
Ingredients
1

lb

hot bulk Italian sausage

1

lb

ground turkey

4

oz

mushrooms

chopped

½

onion

chopped

2

28-ounce cans

crushed tomatoes

1

tablespoon

dried basil

salt

black pepper
Instructions
In a large stockpot over medium high heat, cook the sausage and turkey until starting to brown. Add the mushrooms and onions and continue cooking until vegetables are tender and meat is fully cooked.

Stir in the crushed tomatoes and basil. Season to taste with salt and pepper. Simmer for 10 to 15 minutes. Adjust seasonings and serve over pasta, polenta, or spaghetti squash.
Notes
Nutrition facts are for bolognese only.
Nutrition
Calories:
283
kcal
|
Carbohydrates:
5
g
|
Protein:
23
g
|
Fat:
19
g
|
Saturated Fat:
7
g
|
Cholesterol:
74
mg
|
Sodium:
449
mg
|
Potassium:
506
mg
|
Fiber:
2
g
|
Sugar:
2
g
|
Vitamin A:
14
IU
|
Vitamin C:
2
mg
|
Calcium:
25
mg
|
Iron:
2
mg
Tried this Recipe? Tell us what you think!
Your reviews help us develop better recipes and give newcomers the confidence to try your favorites. Scroll down to leave a starred comment.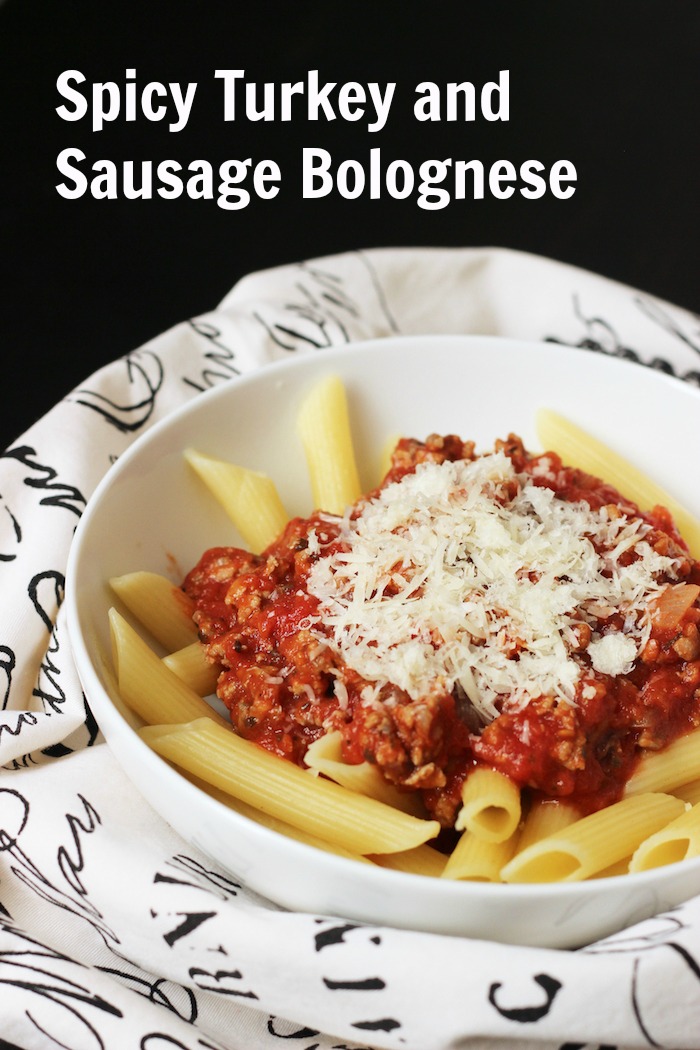 Are you looking for more good cheap eats?