Can you refreeze meat that's been thawed? Is it safe? Is it tasty? Here's what you need to know about safely refreezing meat that's been frozen before.
It's happened to all of us. We pull some meat items from the freezer, stash them in the fridge to thaw and then forget we did so. A day or two later, we find that pot roast and worry that it's no longer safe. Surely we can't refreeze meat that's been thawed, can we?
My family has been the guinea pigs involved in many a recipe experimentation. Those children I bore have raised more than one eyebrow over food that they didn't think they would like. Sometimes they loved it. Sometimes they didn't. One thing they could rest assured of is that I am fastidious about food safety. I spent hours researching food safety for freezing.
One question that comes up continually in the comments — and that folks want to argue about — is this:
Can You Refreeze Meat that's Been Thawed?
Many people will tell you, NO, ABSOLUTELY NOT. They are partially correct, but only partially.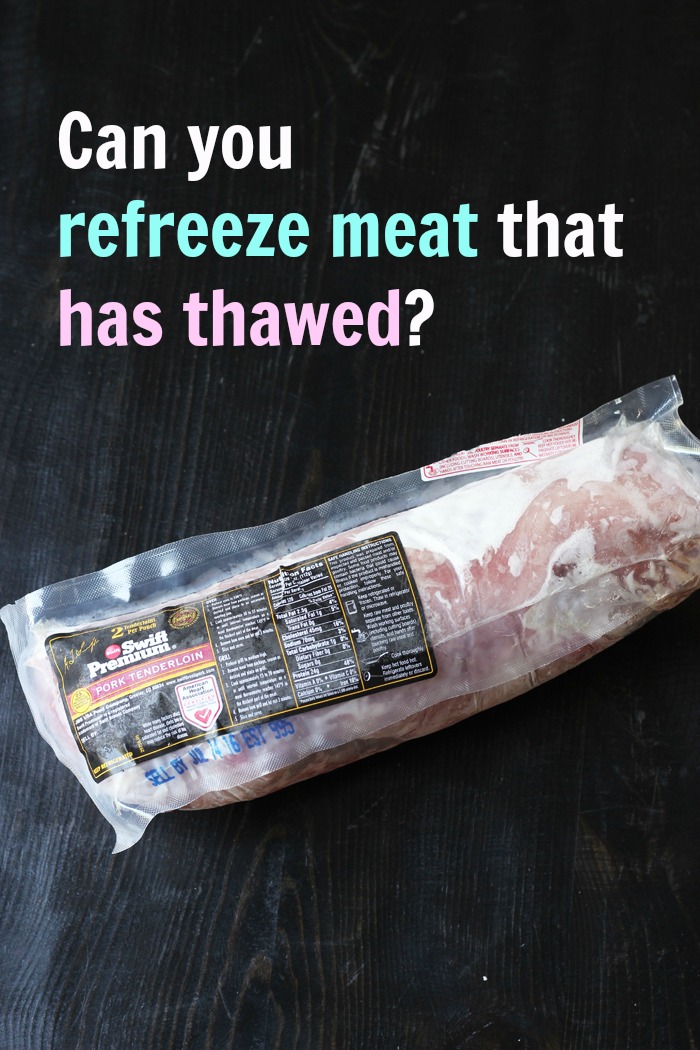 Can you refreeze meat thawed due to a power outage?
If your freezer suffered a power failure and you do not know how long your meat has been thawed or at what temperatures it's been maintained, you should not refreeze it as is. If ice crystals remain, you should cook it and consume it within a few days or cook it, chill it completely, and refreeze it, well-wrapped.
Go here for more details on food safety after a power outage.
Can you refreeze meat that has thawed under proper refrigeration?
However, if you have thawed the meat under proper refrigeration, it can be refrozen. Here's what the USDA has to say about it:
Refreezing
Once food is thawed in the refrigerator, it is safe to refreeze it without cooking, although there may be a loss of quality due to the moisture lost through thawing. After cooking raw foods which were previously frozen, it is safe to freeze the cooked foods. If previously cooked foods are thawed in the refrigerator, you may refreeze the unused portion. Freeze leftovers within 3-4 days. Do not refreeze any foods left outside the refrigerator longer than 2 hours; 1 hour in temperatures above 90 °F.

If you purchase previously frozen meat, poultry or fish at a retail store, you can refreeze if it has been handled properly.
Keep in mind that your grocery store's fish and meat counters often sell products that were previously frozen. You have a choice to refreeze those products or use it up within a few days. Often times you might not be aware of the fact that it was previously frozen and have gone ahead and frozen it.
Save your bacon and refreeze meat that's thawed properly.
Americans throw away tons of food every year, some reports say 30-40% of the food we buy. This is often due to ignorance about what is still good and fresh. You can refreeze meat that has thawed, under certain circumstances. Keep this in mind next time you forget about cooking that pot roast and think you need to chuck it. You don't.
P.S. While I've not tried every single freezer recipe that Pinterest has dreamed up, I've learned a lot about what you can "freezer cook" and what you cannot. (If you haven't had the opportunity, be sure to read my post over on Life as Mom, Tips for Freezer Cooking so You Won't Get Soggy Noodles and Black Potatoes.)