Celebrate a bright new day with these tangy buttermilk corn waffles. Gild the lily with a little honey butter.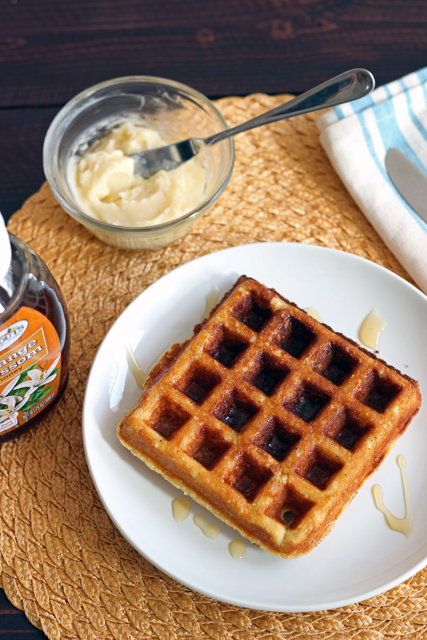 I've been on a waffle kick the last few weeks. I think we've had them about ten times in the last month or so. It helps that I have a waffle maker I love. It's a "fun food" that I can make it bulk, plus it lends itself to no added sugar.
Lately I've been tinkering with a cornbread style waffle. First I tried it with cornmeal and whole wheat pastry flour. Then, I found corn flour on clearance at Sprouts and tried that with the pastry flour. Then, I made it with all three, and that's where I landed: whole wheat pastry flour, corn flour, and cornmeal. There are never any left, so it's a keeper of a recipe.
(If you can't find whole wheat pastry flour, you can use an equal amount of unbleached, all-purpose flour. See notes below on sourcing.)
There's a tang from the buttermilk. I noticed that this can vary between brands of buttermilk. If you prefer less of a tang, you can substitute milk for some of the buttermilk.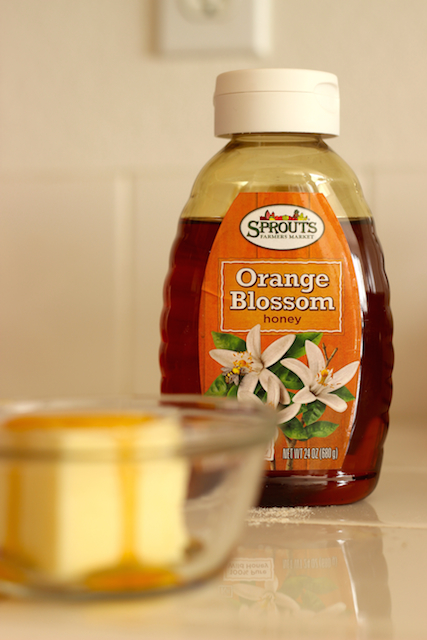 I sweetened these with both maple and honey and both were very tasty. The kids were shocked when I started drizzling honey on them, but I don't really see how this is different than maple syrup. Plus, it's what we do to cornbread, so why not?
The waffles are also tasty with honey butter. Just mix 1 tablespoon of honey into 4 tablespoons softened butter. Yummy, yum, yum.
This makes a lot of waffles! If you don't have six children to feed, you will have extras to freeze for later.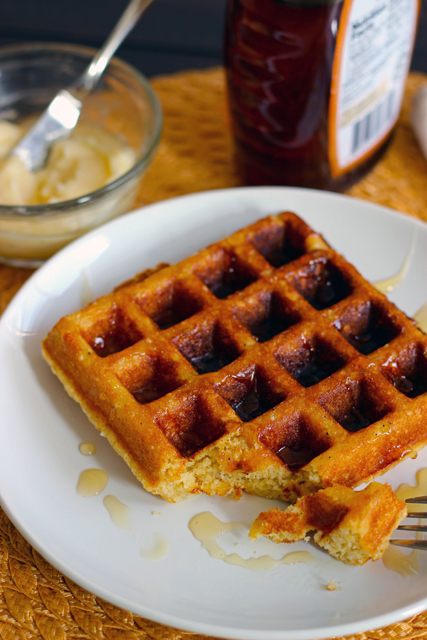 Recipe: Buttermilk Corn Waffles
Ingredients
3 cups whole wheat pastry flour
2 cups corn flour
1 cup cornmeal
1/4 cup baking powder
1 1/2 teaspoons salt
4 cups buttermilk
1 cup sunflower oil
4 eggs
1/4 cup honey or maple syrup
1 teaspoon vanilla
Instructions
Heat a waffle iron according to the manufacturer's directions.
In a large mixing bowl, combine the ingredients in the order listed. Fold to combine.
Bake the waffles in the waffle iron.
To make-ahead: You can either prepare a homemade baking mix, adding the wet ingredients on the day of serving OR you can freeze the baked and cooled waffles in an airtight container.
Preparation time: 5 minute(s)
Cooking time: 10 minute(s)
Number of servings (yield): 16
Things you can find on Amazon:
Bob's Red Mill Organic Corn Flour and Bob's Red Mill Organic Corn Meal (You can get the best price if you subscribe and save, but your health food store may be a better source. I didn't buy organic of either, but regularly find these items on sale at Sprouts.)
Previously, I purchased a case of the Whole Wheat Pastry Flour via subscribe and save, but it looks like that option is no longer available. Amazon isn't the best price for it. Try your local health foods store.
How do YOU like your waffles?