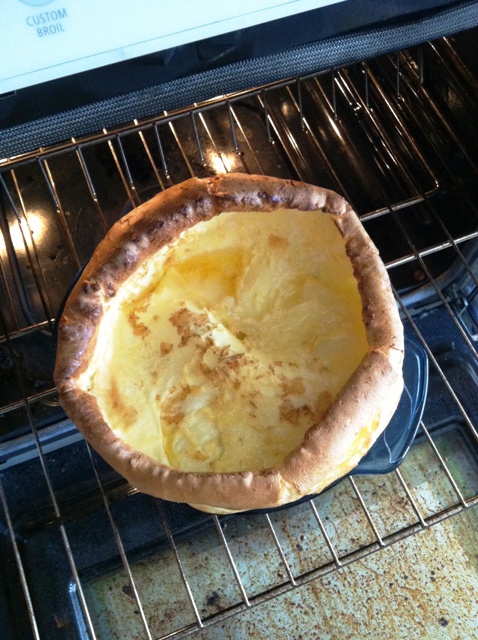 Meet the world's largest popover!
Remember that recipe book I told you I made for my family many Christmases ago? One of the mystery recipes in there was a recipe for Oven Pancake. I never remembered my mom having made it, but it sounded interesting 15 years ago when I was rifling through her recipe box.
Finally last month I made it. My 9-year old was extremely skeptical when I poured the batter into the pie plate. He was even more so when we turned on the oven light to see the batter clinging to the sides of the pan like pie crust.
What neither of us expected was it to puff so high that it nearly touched the ceiling of the oven! Nor did we expect it to be so gosh darn tasty. The kids devoured the first pan and then proceeded to make a second pan. And devour that, too.
It's hilarious to hear them critique the different pancakes. Some prefer less butter; others want it soaking in butter. You can adjust how much butter you use at the start, 2 to 3 tablespoons. Either way, there's never leftover or any going to waste. (I hate waste.)
This last time I made it, I prepared some fried Cinnamon Apples to use as a topping. Yum!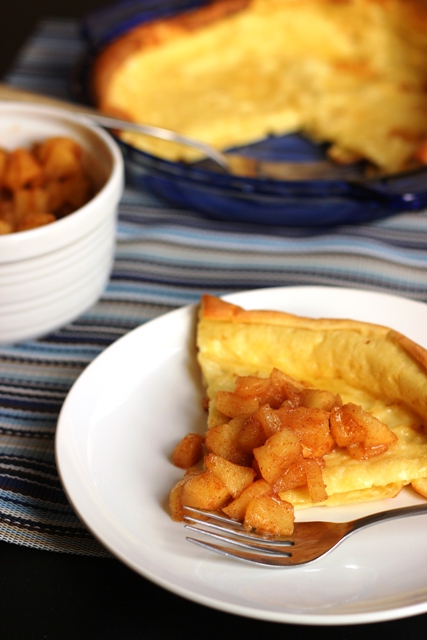 It all tasted very much like an apple pie kind of breakfast, which is one of my favorite ways to start the day! And all of it is pretty easy. The batter, much like a popover batter, mixes up quickly. Get the apples going while the pancake bakes in the oven. We made two pancakes to feed me and the six kids. (Hubs has been at work every time we've made it.) I could easily make three pans and all would be satisfied.
This could be an ideal winter or holiday breakfast. Add some sausages on the side if you like.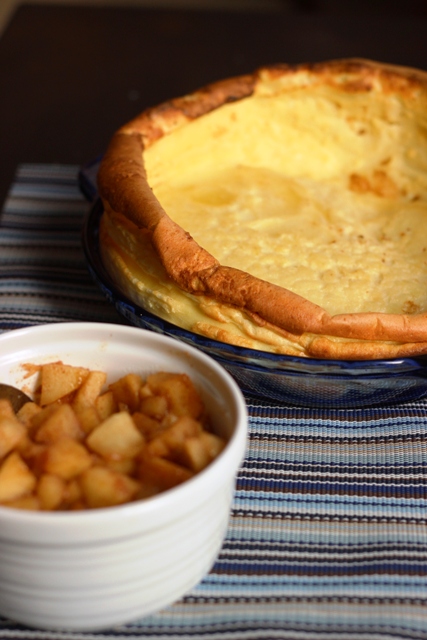 Oven Pancake with Cinnamon Apples
Oven Pancake is like the world's largest popover and it a great way to bake a quick and delicious breakfast.
Ingredients
For pancake:
3

tbsp

butter

3

egg

beaten

1/2

cup

milk

1/2

cup

unbleached, all-purpose flour

1

tbsp

granulated sugar

1/4

tsp

salt
For apples:
1/4

cup

butter

3

apple

peeled, cored, and chopped

2

tbsp

granulated sugar

1

tsp

ground cinnamon

pinch

salt

pinch

ground nutmeg
Instructions
Preheat the oven to 425°. Plate the 3 tablespoons butter in a 9-inch pie plate and place it in the oven to melt.

Meanwhile, mix up the eggs, milk, flour, sugar, and salt until well-blended.

Pour this into the hot pan and bake for 20 minutes.

While the pancakes is baking, prepare the apples. In a large skillet over medium-high heat, melt the 1/4 cup butter. Add the apples, and toss, stirring to coat. Sprinkle over the sugar, cinnamon, salt, and nutmeg. Stir to combine.

Cook for about fifteen minutes over medium-low heat, until tender.

Cut the pancake into wedges and serve the apples with the pancake.
Notes
Nutritional values are approximate and are based on 1/4 of the recipe. Refrigerate leftovers promptly and use within 4 days.
Nutrition
Calories:
407
kcal
|
Carbohydrates:
42
g
|
Protein:
7
g
|
Fat:
25
g
|
Saturated Fat:
14
g
|
Cholesterol:
179
mg
|
Sodium:
383
mg
|
Potassium:
249
mg
|
Fiber:
4
g
|
Sugar:
25
g
|
Vitamin A:
918
IU
|
Vitamin C:
6
mg
|
Calcium:
72
mg
|
Iron:
1
mg