Great vegetables don't need to be complicated — or nuclear colored. These easy vegetable side dishes for kids are delicious and easy to prepare!
Bonus! Get a free printable Eat More Veggies Bingo card to help you and your family eat the rainbow.
I got the text during a busy day running errands. It was shocking. I had to do a double take.
My teenage son had messaged me with a request to buy something. Something I didn't think my kids would ever ask me for.
When are you going to buy more broccoli?
I wish I would have taken a screen shot. Then I'd have proof.
Yes, it was true! My son was asking me to buy more broccoli. More. Broccoli.
It was a mother's dream come true.
As a mom, meal planning sometimes seems like a losing battle. What the kids like one day, they scorn the next. A 9×13 pan produces too many leftovers one week, but a mere seven days later there's not enough food!
Kids' preferences and appetites can change like the wind.
How do you get kids to eat more veggies?
After reading French Kids Eat Everything, I started to take a second look at how I was enabling some of my kids to be picky eaters. It was a transformative experience for all of us. I realized that somewhere along the line I'd given in; the pushback from the kids had overwhelmed my desire to feed them nutritious food.
That book, along with Salt Sugar Fat: How the Food Giants Hooked Us, gave me the guts I needed to start over. To push veggies to the front of the buffet line and make vegetable side dishes more of a priority for my family's meals.
It didn't hurt that when I turned my own nutrition toward #veggiesmost, I lost over 20 pounds in four months!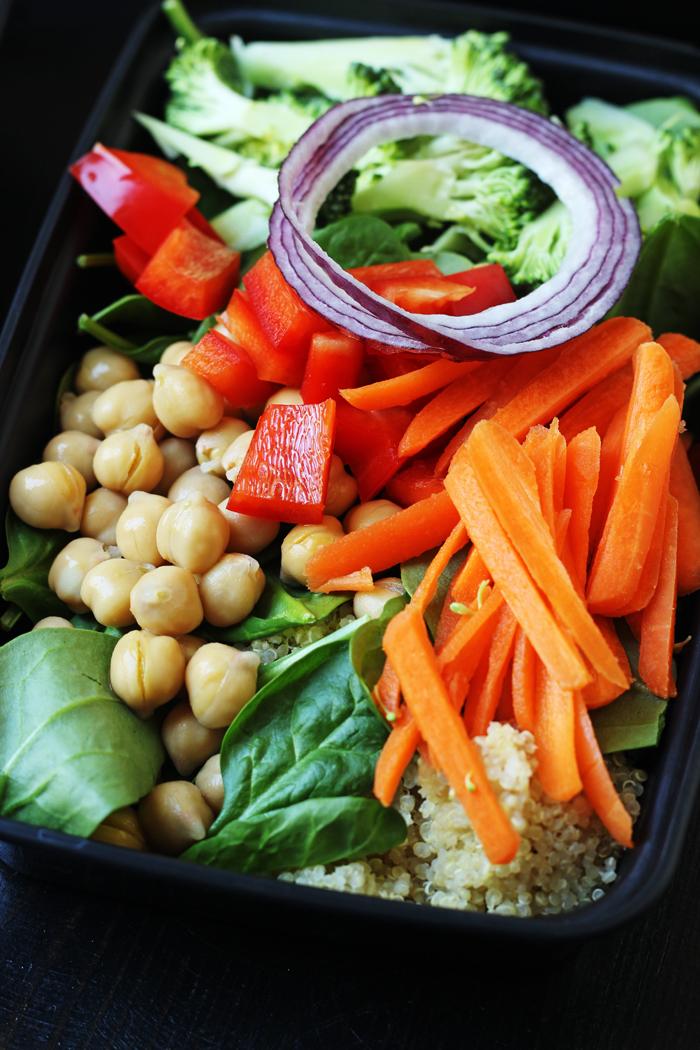 Want to Make the Easy Vegetable Side Dishes Your Kids Will Love?
Now, the journey to a vegetable-laden table is not as easy as a stroll down the produce aisle. If your kids aren't accustomed to eating a lot of veggies — or any, for that matter! — then you'll need to take some baby steps.
How do you get kids to eat vegetables?
For our family it's been a process of exposure, repetition, and variety.
Exposure: Expose your family to as many different fruits and vegetables as you can. Make it fun and light-hearted. Don't put on the pressure for your kids to like something right at the start, but encourage open-mindedness.
Try it, you may like it. If not, we'll try it again in the future.
Repetition: They say that a person needs to be exposed to a food 21 times before they develop an affinity for it. If a kid doesn't naturally care for a certain vegetable, it will take some time before they like it.
Even if they refused it before, don't be afraid to offer it again. Remember, kids' taste buds are fickle and ever-changing.
Try, try, try again.
Variety: Offering more than one vegetable at a meal gives kids options. They aren't locked into any one thing or forced to commit to something they don't like.
Instead allow for a sampling of several different vegetables so that everyone gets some variety which makes the plate more interesting.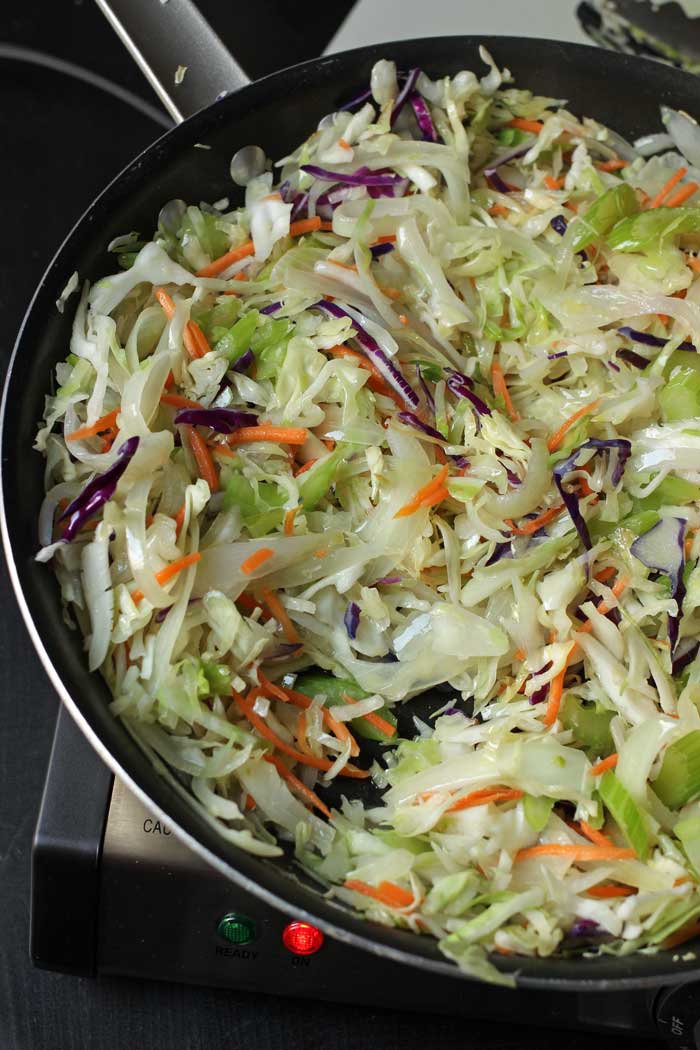 What veggies do kids eat?
The world holds so many delicious vegetables, it's really hard to say which ones your kids will eat and like at the start. Consider these tasty basics:
bell peppers
broccoli
cabbage
carrots
cauliflower
celery
cucumbers (technically a fruit, but let's ignore that for now)
green beans
kale
lettuce
peas (sugar snap, sweet, and snow)
zucchini
What are some easy vegetable side dishes?
These side dishes are some of my family's very favorites. They go well with grilled and roast meats.
Each is easy on the budget and simple enough to please any kid's palate.
Nowadays, if you're a child at my table, you get to sample everything. No matter what. But, you also get to have as much of something you love as you want. While supplies last, of course.
And then you can just text me to buy more broccoli.
Easy Vegetable Side Dishes Your Kids Will Love
Help your kids learn to eat the rainbow -- and like it with these quick and simple vegetable side dishes.
Want to make it easier to buy — and eat — more broccoli?
You can have all the good intentions in the world, but sometimes you need a little extra push to make things happen, especially when it comes to vegetables and children!
No problem, sister. I gotcha covered. I created a little Eat More Veggies Bingo Game. It's specially designed to help you eat more veggies without all the decision fatigue.
Download the free cheat sheet. When you subscribe to the free Good Cheap Eats Gazette, we'll send you access to the free printable library.
Print. Any paper will work, but the thicker the better.
Keep the idea sheet near where you do your meal planning. On the fridge or in the pantry cupboard are good places since that's where we gravitate when we don't know what to make.

For fun, let your kids mark up the card as they enjoy veggies this week.
But what if you're super duper serious about this whole veggie thing?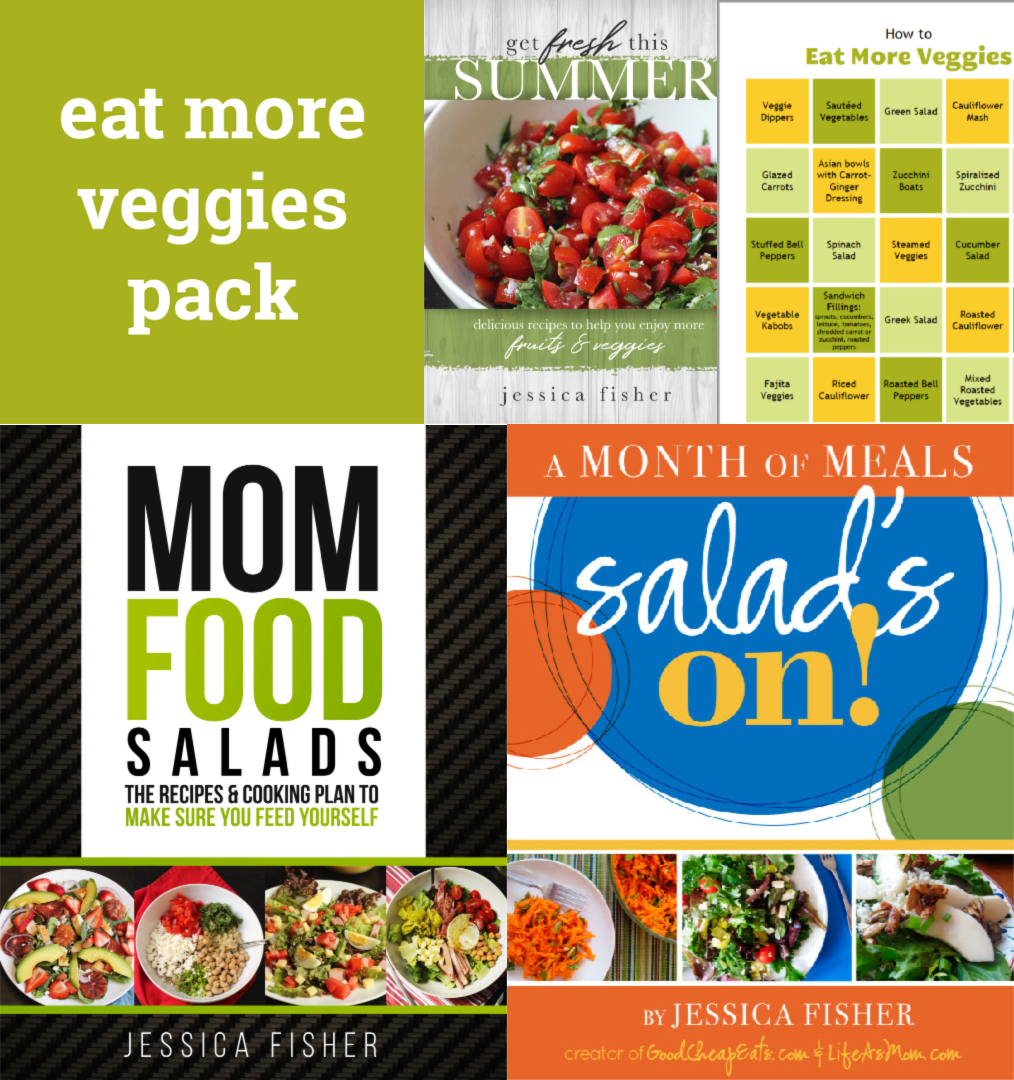 I've also put together the Eat More Veggies pack. It's a package of digital downloads to boost your veggie intake to dynamic levels.
Included in the pack:
A Month of Meals: Salad's On! – 4 weeks of meal plans all done for you
Mom Food: Salads – a week's worth of lunches perfect for packing on busy mom days
Get Fresh This Summer – a recipe book full of summer produce recipes
The Eat More Veggies Bingo Card
a big fat discount – get a break on Healthy Eating Made Easy e-course.
Buy the pack here: https://fishmama.com/product/veggies-pack/
Have you got a favorite side dish your kids love?