Enjoy a taste of the Mediterranean with this easy Escalivada, chock full of eggplant, zucchini, onion, tomato, and peppers, drizzled with olive oil.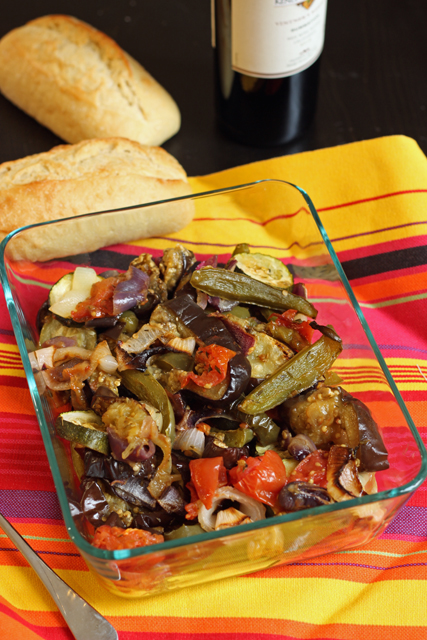 I am a francophile. Unabashedly so. As a child I always dreamed of going to France; as a college student I did. I lived there for a mere ten months as an exchange student. Prior to my departure from the states, my high school French teacher introduced me to her college friend, Michèle, and her family.
The Durieux took me under their wing during my stay in France and became my family. It was amazing to experience every day life with them, eat amazing food, and learn the culture straight from the source. I know that without them my experience would have been only so-so. The only regret is that I wasn't brave enough to say when I didn't understand something.
Michèle is of Catalan descent, her grandparents hailed from the small region that overlaps France and Spain. She inherited their home in Collioure. That is where FishPapa and I spent Christmas in 1992 and our honeymoon in 1994.
The Durieux loaned us their Collioure home during our honeymoon (they lived in Toulouse at the time) and when we were finally able to take our kids last fall. They have a nice home in nearby Ceret. Collioure is a vacation destination for sure.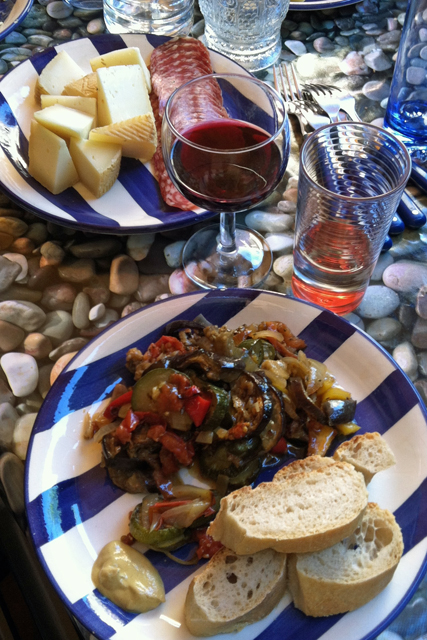 We had a marvelous stay. Michèle and Jean-Marc are just the same: warm, welcoming, and impeccable when it comes to feeding people well. On our first night in Collioure, they provided a wonderful repast of Escalivada, charcuterie, fresh bread, local cheeses, Collioure wine. This is my lunch of leftovers the next day.
Michèle had told me about Escalivada earlier in the summer when I enacted French Fridays at our house and was preparing Ratatouille. If I remember right, she said that Escalivada was the lazy woman's solution to using up summer vegetables.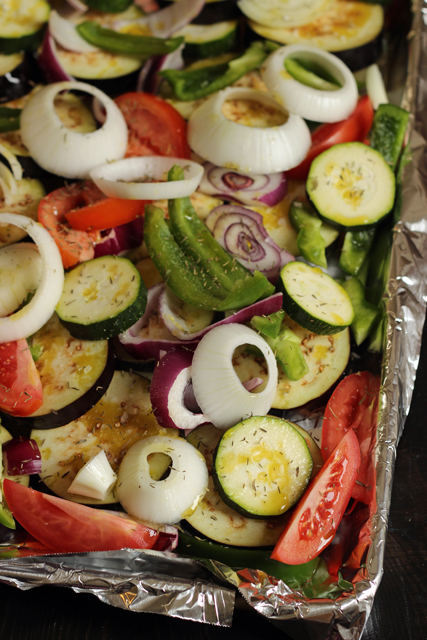 Just slice the vegetables into rounds, drizzle with olive oil, and season with salt and thyme. It's super simple and I love it that I just chop the veg and literally throw it together.
I did a little research on the dish and it looks like Michèle's recipe for the traditional Catalan dish is much easier than some others I've seen. Roasting and peeling eggplant? No thanks.
While I should probably save this recipe to share in August when gardens and produce boxes are bursting with zucchini and eggplant, I'm sharing it today. I've been homesick for Collioure, so when I remembered the forgotten eggplant in my fridge from a freezer cooking session, I knew just what to make.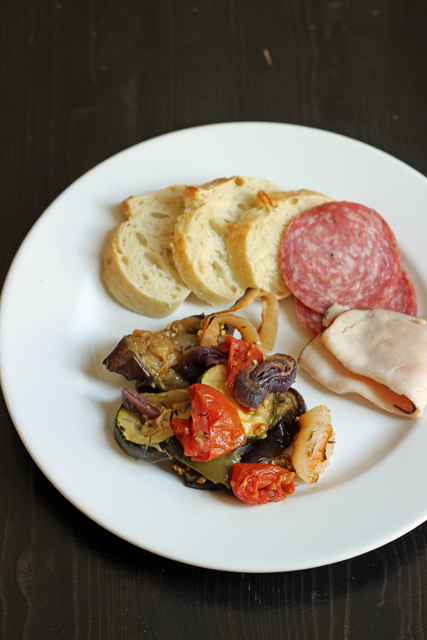 And when I made this this weekend, it tasted just like Collioure!
This dish is often served as tapas or as a relish for grilled meats and fish. Michèle served it with charcuterie, cheese, and bread. It would also be great on pizza or folded into an omelet.
Escalivada
Enjoy a taste of the Mediterranean with this easy Escalivada, chock full of eggplant, zucchini, onion, tomato, and peppers, drizzled with olive oil.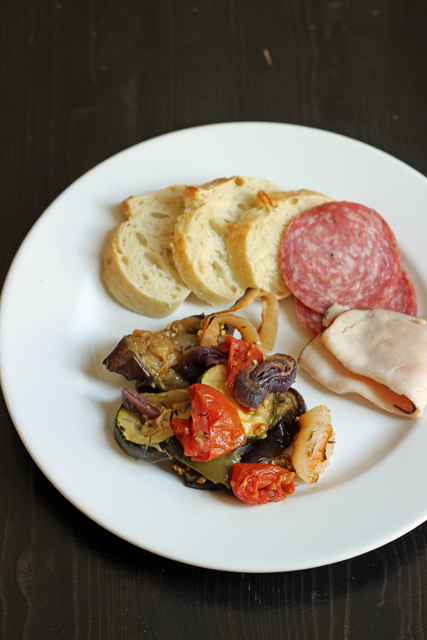 Preparation Time:10 minutes
Cook time:45 minutes
Total time:55 minutes
4 to 6 servings
Ingredients:
2 eggplants, sliced into 1/4-inch slices

1 large zucchini, sliced into rounds

2 peppers, sliced (Michele suggests different colored peppers to make it pretty)

3 tomatoes, cut into wedges

1 onion, sliced into rings

olive oil for drizzling

dried thyme

Fine sea salt and freshly ground black pepper
Instructions:

Preheat the oven to 400°. Line a baking sheet with aluminum foil. I supposed parchment would work also, but my French mama said foil, so I obey.
Lay out the vegetable rounds on the tray and drizzle with olive oil. Season to taste with thyme, salt, and pepper.
Bake in the oven for 30 to 45 minutes or until the vegetables are tender, but still slightly al dente. They will be browned in spots. Use caution when checking as there may be a lot of steam.
Serve hot, warm, or at room temperature.
Related Posts: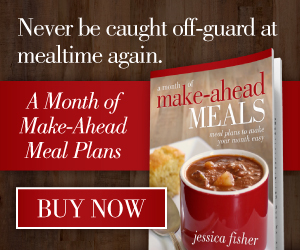 Make-ahead meals can make your month! Grab this month's meal plans to take it easy and enjoy great home-cooked meals.