Want to add something crisp and fresh to the table tonight? Stir up a batch of this super yummy Cabbage Slaw with Apples and Almonds.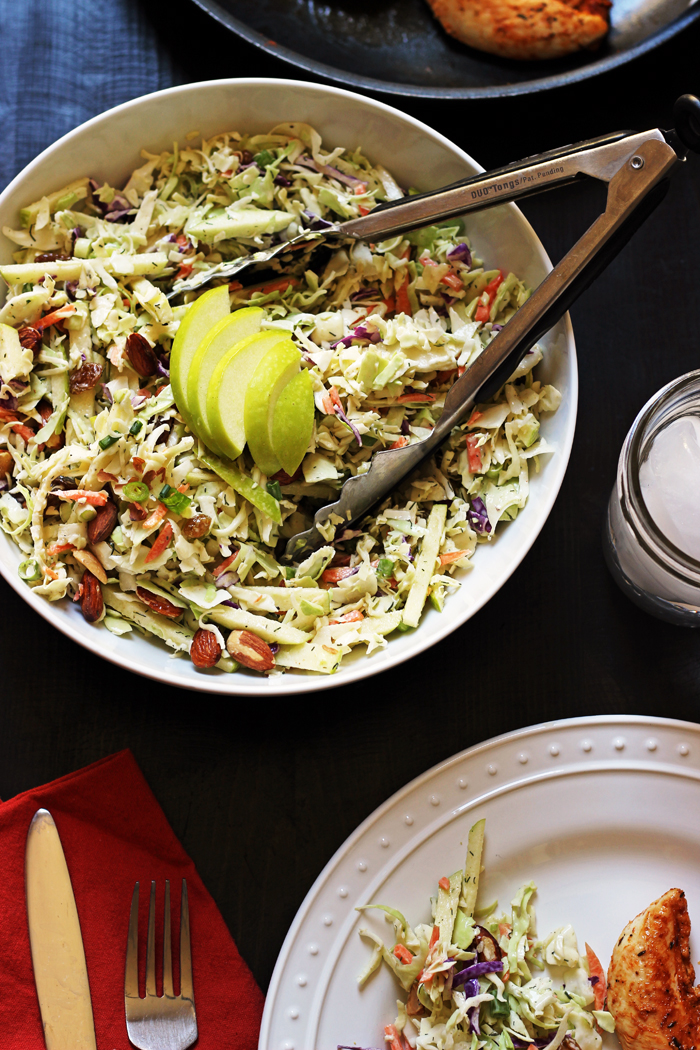 I go back and forth between wanting to eat all crisp and fresh vegetables and wanting to carbo load on potatoes and pasta with lots of cheese. I blame winter. While there's a time and place for everything, there's no reason why both can't be delicious and healthful. Everything in moderation, right?
One of my current favorite dishes that's perfect for any season is coleslaw. It comes together in minutes and you can vary it in lots of ways.
Cabbage is also a very cheap eat. We should be seeing sales on cabbage more and more in the next month as St. Patrick's Day approaches.
When it does, you'll want to make this cabbage slaw.
Chock full of veggies, this cabbage slaw gets its sweetness from the golden raisins, the apple cider vinegar, and a pinch of sugar. Crisp cabbage, almonds, and green apple give it a bit of crunch. It gets all dressed up in a dill dressing with a bit of cumin and cayenne spice.
Basically perfection.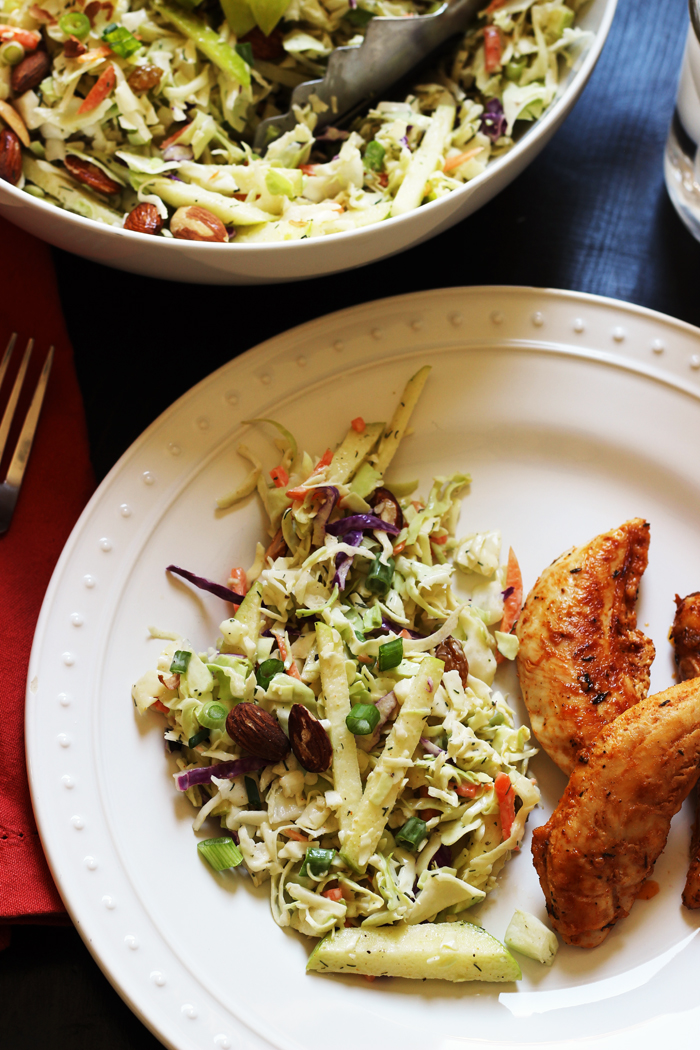 This cabbage slaw is perfect served along sauteed chicken or grilled fish. It would go equally well alongside your favorite BBQ main dishes. The combination of flavors is really great.
If you like your slaw on the crisp side, mix it up right before serving. You can assemble the salad and the dressing ahead of time, storing them separately in the fridge. Leave the apple uncut until dressing the salad so it doesn't brown prior to serving.
I've made this up to a day in advance with the dressing and apple, and it was still delicious, just a slightly different texture than when served fresh.
This cabbage slaw is naturally gluten- and dairy-free, so it should suit a large, varied crowd. Omit the almonds for those with nut allergies. Whole 30/Paleo Friends: Provided you use homemade mayonnaise and omit the sugar, this should fit well in your diet.
Tools I use to make this EASY:
Cabbage Slaw with Apples and Almonds
Want to add something crisp and fresh to the table tonight? Stir up a batch of this super yummy Cabbage Slaw with Apples and Almonds.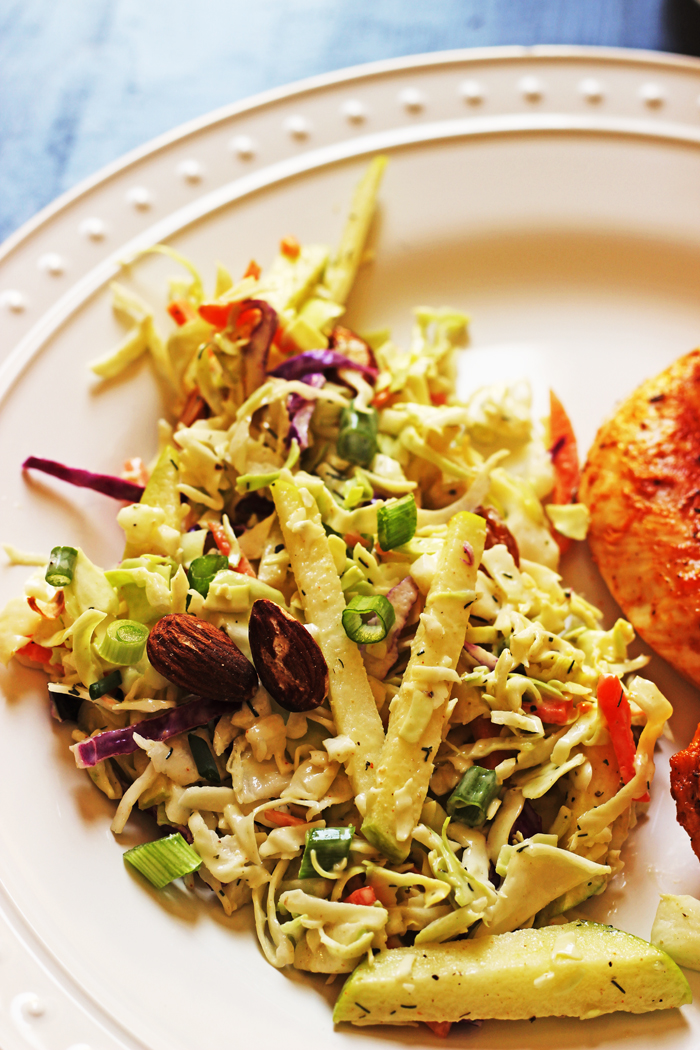 Preparation Time:15 minutes
Cook time:0 minutes
Total time:15 minutes
8 servings
Ingredients:
1/4 cup mayonnaise

2 tablespoons apple cider vinegar

2 tablespoons olive oil

1/2 teaspoon dried dill

1/2 teaspoon ground cumin

pinch cayenne pepper

pinch sugar

freshly ground black pepper

1 small head cabbage, finely shredded or 1 (14-ounce) bag shredded cabbage or cole slaw mix

1/4 cup golden raisins

1/4 cup roasted almonds

2 tablespoons chopped scallions

1 Granny Smith apple, cored and julienned
Instructions:

In a small dish or jar whisk together the mayonnaise, vinegar, and olive oil. Stir in the dill, cumin, cayenne, sugar, and black pepper to taste.
In a large salad bowl, combine the cabbage, raisins, almonds, scallions.
Toss the dressing with the slaw mixture and add the apple slices. Toss to coat well. Serve immediately or cover and refrigerate for up to a day before serving.