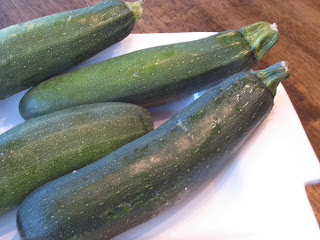 Zucchini is an amazing vegetable. It must be the most efficient vegetable on the planet! It grows so quickly. Overnight pencil size veggies bloom into submarine size zukes. And it you've got friends who grow zucchini, prepare yourself for some gifts. (Thanks, Suzanne!)
I was very optimistic this morning that I would successfully transform all four zucchinis into a ton of baked goods. It started with a batch of Apricot-Zucchini muffins. I used this recipe, making a few adjustments. (I substituted apricot jam for the mashed apricots and omitted the dates completely. Blech. Instead of microwaving them, I baked them at 375 degrees for 20 minutes.) I'm pleased to report that they were excellent.
Next I baked a chocolate zucchini cake. I couldn't find the recipe card from FishGramma, so I was going to try this one which seems very close to hers and because I love epicurious. But, alas, there have been no sales or coupons for cocoa, so I didn't have enough. I did have, however, a Duncan Hines cake mix. So I did what all women since the invention of the monster zucchini have done – make something up! Here is the result.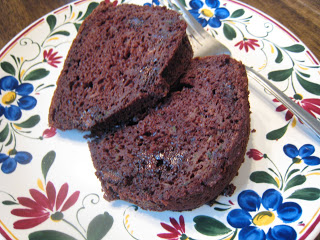 If you'd like to try this at home, you will need:
1 devil's food cake mix
1 cup sour cream
1/4 cup oil
1/2 cup water
1 teaspoon cinnamon
4 eggs
2 cups grated zucchini
1/2 bag chocolate chips (about 1 cup)
Mix all ingredients (except zucchini and chocolate chips) in a large bowl with a mixer until well blended. Fold in zucchini and chocolate chips. Pour into greased bundt cake pan. Bake at 350 degrees for about an hour. Cool for about 20 minutes in pan and then remove from pan and cool completely.
A couple FishBoys balked at the idea of sour cream and zucchini. Had a fit is more like it. But, half the cake is gone already — ten minutes into the eating. We've put an end to their naysaying. Yes, we have.
Later I made two loaves of zucchini bread. I still have 2 1/2 jumbo zukes left.
Anybody with more ideas? Anyone? Anyone?