Enjoy the flavors of summer eggplant and squash in this easy oven-roasted ratatouille.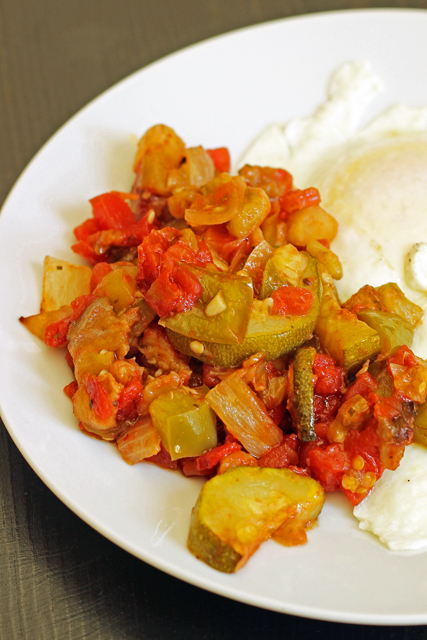 I'm a lifelong francophile. I've loved French culture since I was about five years old. I studied French literature in college, just because really, since there are few "practical" reasons for majoring in French literature. I had the amazing opportunity — that I didn't fully appreciate at the time — to live in France during my junior year in college. My husband and I honeymooned in Paris and the Mediterranean coast. This fall, after twenty years, we are finally going back — with all six kids in tow.
Now that the tickets are purchased, most of the passports have arrived, and the trip feels more "real", I've been working to get my family prepped for a different way of eating. Since this is going to be very much the budget tour of France, we'll probably be eating a lot of apples and baguettes. But we'll be visiting friends for a time and hope to be able to splurge on a restaurant meal every few days.
Once a week I take one child out to lunch to practice ordering, restaurant etiquette, and trying new foods while out. Pizza night has been displaced by French Fridays.
Every Friday evening, I make a meal that is more like what we'd have if we were in France. The first week I made four courses: a carrot salad; pork chops and roasted potatoes; salad and cheese; ice cream. Another week I did a simple aperitif of olives and drinks, followed by Ratatouille and Grilled Chicken, salad and cheese, and then finished with homemade chocolate mousse. (Oh la la! on that last one.) I've gone even simpler with the courses; I did a cassoulet for the main and simply fruit and yogurt for dessert.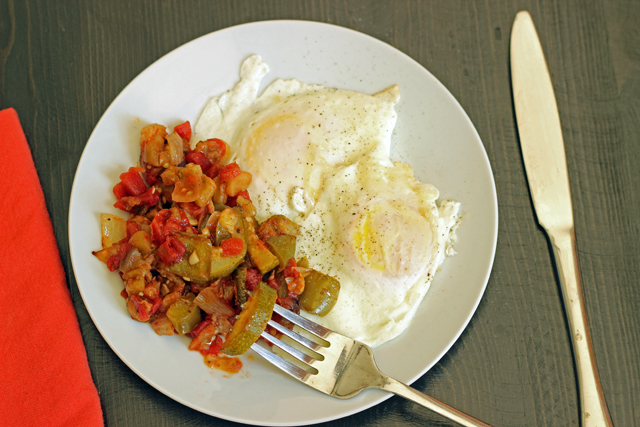 I'm trying to mix things up a bit, but this week FishChick7 demanded a repeat of the Ratatouille. She could eat it all the live long day as long as I leave out the mushrooms. I typically make the version in my freezer cookbook, but this time I wanted things to be more hands-free. I roasted it in the oven which was fabulous. Leftovers were excellent the next day.
Ratatouille is not a pretty dish, but it is delicious! I've served it simply over rice, alongside grilled chicken and fish, and also with fried eggs, which is the way my French mom says to do it. Chez Bonne Femme has some great tips for how to serve Ratatouille, so be sure to check those out.
It's best made with in-season eggplant, zucchini, and peppers. I confess that I always use canned tomatoes so that I can use the garden-ripe ones for eating fresh. Go with what you got. I prefer it with mushrooms, but since my daughter does not I left them out of this recipe.
Oven Roasted Ratatouille
Ingredients
1

eggplant

peeled and cubed

1

zucchini

cut into half-moons

1

onion

chopped

1

green bell pepper

chopped

1

clove

garlic

minced

2

tbsp

olive oil

1

15.5-ounce can

petite diced tomatoes

salt

black pepper

herbes de provence

to taste
Instructions
Preheat the oven to 400°F.

Place the eggplant, zucchini, onion, bell pepper, and garlic in a glass 9x13-inch pan. Drizzle the olive oil over and toss to coat.

Add the tomatoes and toss gently.

Season to taste with the salt, pepper, and herbes de provence.

Roast in the oven for 45 minutes. Serve hot or at room temperature.
Notes
Nutritional values are approximate and are based on 1/4 of the recipe. Refrigerate leftovers promptly and use within 4 days.
Nutrition
Calories:
152
kcal
|
Carbohydrates:
20
g
|
Protein:
4
g
|
Fat:
8
g
|
Saturated Fat:
1
g
|
Sodium:
153
mg
|
Potassium:
804
mg
|
Fiber:
7
g
|
Sugar:
12
g
|
Vitamin A:
471
IU
|
Vitamin C:
48
mg
|
Calcium:
65
mg
|
Iron:
2
mg