Homemade marinades and salad dressings taste so delicious…and they are so much friendlier on the budget.
Making homemade marinades and dressings has become second nature to me over the years. When I first started doing it, it was because it was cheaper. In the coupon boom, you could get the bottled varieties pretty cheap or even free. But, once I read the ingredients list, I wasn't interested in getting the fancy-schmancy bottle. Yuck! I don't want corn syrup on my salad!
Homemade dressings had become second nature to me anyway. As long as I have vinegar, oil, salt, and pepper, I'm good. If I've got garlic, mustard, or some jam, well, I'm over the moon.
I mix it all in a mason jar with a lid, shake, and go.
Here's a tip for making your own dressings or marinades. If you've got a small jar of mustard, jam, garlic, or vinegar that's almost empty, mix your dressing in that jar! Not only will use you up all those little bits that you can never really get off the sides of the jar, but you'll also be reusing the jar. Double win.
Homemade Dressings and Marinades:
Here are some of our family's favorite dressings and marinades. They are cheaper as well as tastier than what you'd find in a bottle.
What's your favorite homemade dressing or marinade?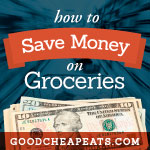 Save Money on Groceries
This is part of the How to Save Money on Groceries series. Scroll through the archives to get tips and tricks for reducing your grocery total at the checkout stand.