Avoid processed, bottled dressings with this easy homemade buttermilk Ranch Dressing recipe. It's delicious and made with all real food ingredients.
Do you remember mixing up ranch dressing with a dry, powdered mix when you were a kid? I was born before anyone put it in a bottle — or added like 52 million different flavors to the line, so the mix was how we rolled. I loved it for its creamy, buttermilk flavor.
My sister went through a ranch phase where she practically drank the stuff. My mom joked that she needed to invest in plastic dippers since at least one of her progeny focused on just licking the ranch dressing off the regular dippers.
Over the years I've developed some standard dressings that serve as my go-to dressings: Cilantro Lime dressing, Basic Vinaigrette, Dijon Vinaigrette, and Blue Cheese. And now that I think of it, this Tarragon Balsamic Salad Dressing Recipe is pretty awesome as well. So many salad dressings, so little time.
Homemade Ranch Dressing is a mainstay at our house. We love this stuff, and it's so easy to make and so much healthier than the store-bought variety — or even the powdered mix. This dressing is great on salads or for dipping veggies, pizza, or chicken strips.
Ingredients to make this homemade buttermilk ranch dressing recipe
Mayonnaise – You can use your favorite mayonnaise. It's add a great creaminess and flavor.
Buttermilk – Adding buttermilk adds amazing flavor, a great tang. If you don't have any you can always make your own by using milk and ½ tablespoon lemon juice.
Parsley – I used dried but you can always use fresh parsley if you have it.
Onion powder and Garlic powder – We powders so they blend nicely here and don't overpower the dressing.
Cayenne pepper (optional) – If you like a little heat then go ahead and sprinkle in a little cayenne pepper.
How do you make buttermilk ranch dressing from scratch?
This homemade ranch dressing recipe couldn't be easier. All you need to do is whisk all the ingredients together in a bowl until smooth.
You can season this to taste with a pinch of cayenne pepper. And you can serve this immediately or refrigerate the dressing until ready to use.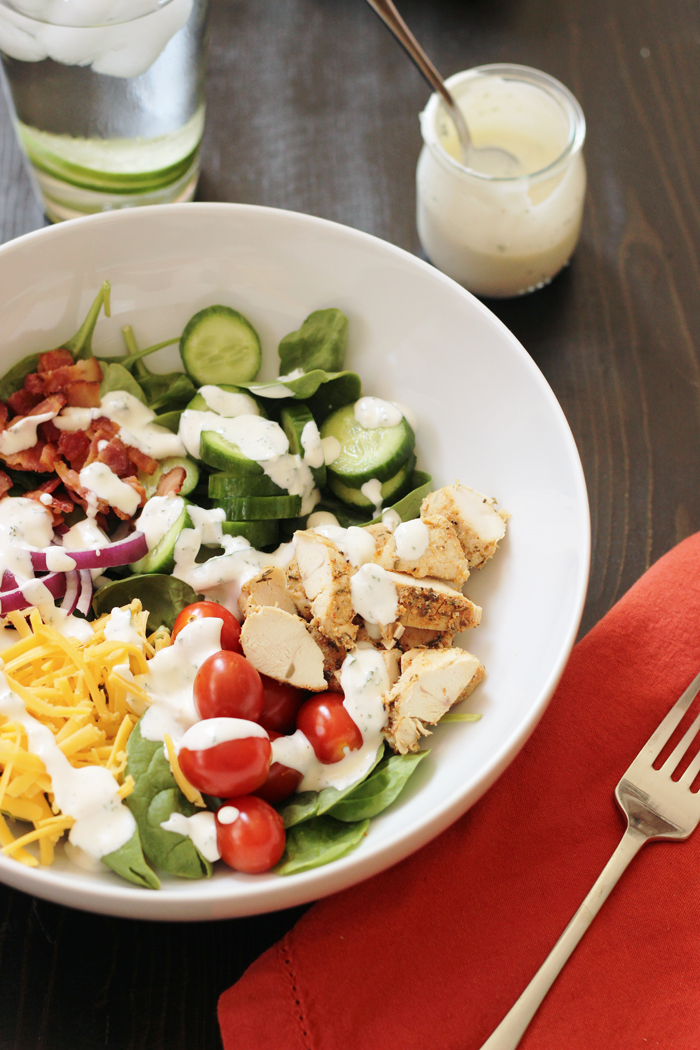 Can I use fresh herbs in ranch dressing?
You absolutely can. I used dried parsley because that's what I had on hand, but if you have fresh then use that instead. For a slightly different flavor, feel free to add chopped fresh dill and chives.
How long does homemade ranch dressing last?
I often make a batch of Ranch Dressing on pizza night. It's good for 4 days refrigerated. It mixes up so quickly; it's a great recipe to have a child prepare.
What do I serve this buttermilk ranch dressing recipe with?
This dressing goes great with these recipes:
Watch how easy it is to make this ranch dressing recipe!
Delicious Ranch Dressing
Avoid processed, bottled dressings with this easy homemade ranch dressing. It's delicious and made with all real food ingredients.
Ingredients
½

cup

mayonnaise

½

cup

buttermilk

1

tablespoon

dry parsley flakes

1

teaspoon

onion powder

1

teaspoon

garlic powder

pinch

ground cayenne pepper
Instructions
Combine all ingredients in a small mixing bowl until smooth.

Serve immediately or cover and refrigerate for several hours to allow flavors to blend.
Notes
Nutritional values are approximate and are based on 8 servings from the 1 cup of dressing. Refrigerate leftovers promptly and use within 4 days.
Nutrition
Calories:
107
kcal
|
Carbohydrates:
1
g
|
Protein:
1
g
|
Fat:
11
g
|
Saturated Fat:
2
g
|
Cholesterol:
8
mg
|
Sodium:
106
mg
|
Potassium:
31
mg
|
Fiber:
1
g
|
Sugar:
1
g
|
Vitamin A:
34
IU
|
Vitamin C:
1
mg
|
Calcium:
20
mg
|
Iron:
1
mg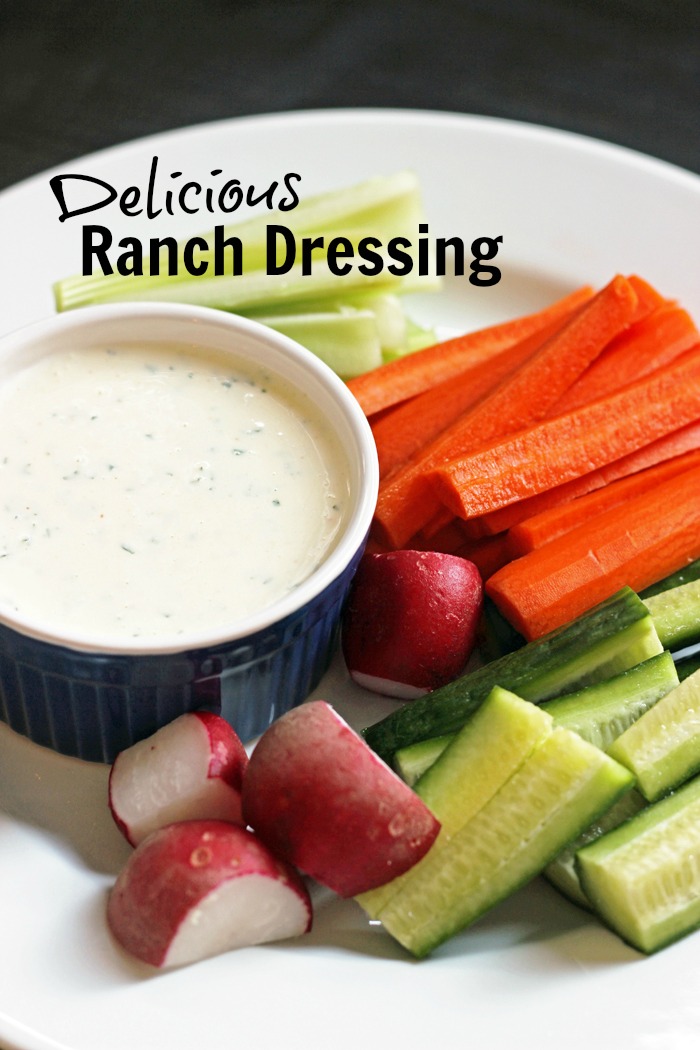 *This post was originally published on July 2, 2008. One of my first ever recipes!