Bake yourself happy with this spiced zucchini cake topped with a luscious cream cheese frosting.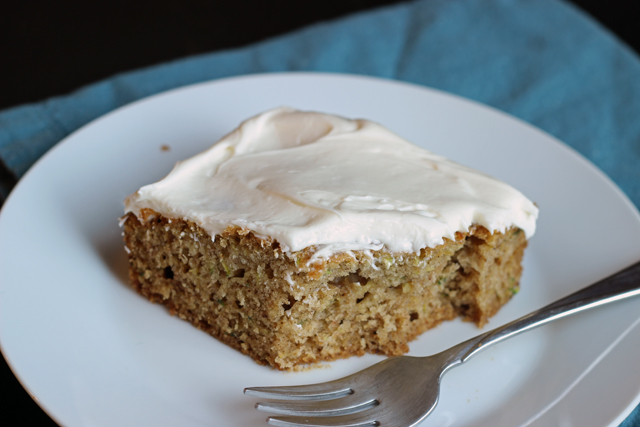 When it rains zucchini, it pours. At least in my neck of the woods. And when it does, I have two lines of defense: Ratatouille (to appease FishChick7) and baked goods (for the rest of the family). We have some very favorite zucchini recipes like Gramma Ruthie's Chocolate Zucchini Cake and my Bulk Zucchini Bread. And these Zucchini Fritters are definitely near the top of the list.
My new favorite is this cake. Rich in spices and a cream cheese frosting, it packs some great flavors. We took it on a picnic with the grandparents and one of their cowboy buddies. He was thrilled when I sent several pieces home with him. It's really yummy.
If I do say so myself.
Got zucchini? Make this.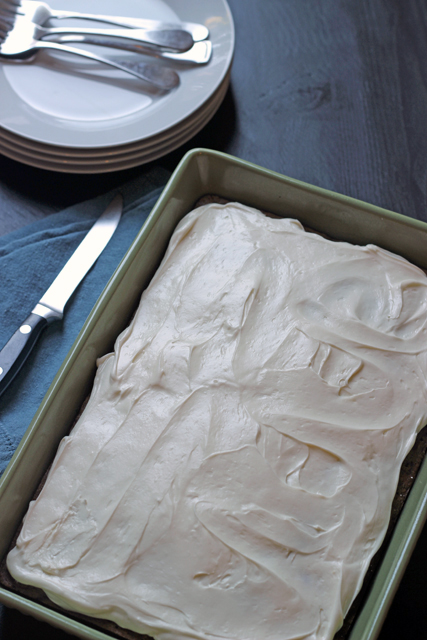 Recipe: Spiced Zucchini Cake with Cream Cheese Frosting
Ingredients
4 eggs
1 1/2 cups sugar
1 cup oil (I use sunflower)
2 cups shredded zucchini
2 1/4 cups unbleached, all-purpose flour
2 teaspoons baking soda
1 teaspoon salt
1 teaspoon ground cinnamon
1/4 teaspoon ground nutmeg
1/4 teaspoon allspice
1/4 teaspoon ground cloves
4 ounces neufchâtel cheese (light cream cheese), softened
1/4 cup butter, softened
2 cups powdered sugar
Instructions
Preheat the oven to 350°F. Spray a 9×13-inch baking dish with nonstick cooking spray.
In a large mixing bowl, beat the eggs, sugar, and oil. Stir in the zucchini.
Sift together the flour, baking soda, salt, cinnamon, nutmeg, allspice, and cloves. Stir gently until combined.
Pour into the prepared pan and bake for 35 minutes or until a tester comes out with a few crumbs attached. Cool on a rack.
To prepare the frosting, place the cheese and the butter in a large mixing bowl. Whip until light and fluffy. Add the powdered sugar and continue whipping until smooth. Frost the cooled cake and store the cake in the refrigerator until ready to serve.
Preparation time: 15 minute(s)
Cooking time:35 minute(s)
Number of servings (yield): 12