Making powdered sugar is a pretty simple process. Just grind together granulated sugar and cornstarch to make a homemade alternative.
Never be at a loss for the perfect topping for Sweet Almond Toasts or the makings of Homemade Buttercream Frosting when you can make your own powdered sugar with just two ingredients!
Jump to:
It's bound to happen. You think you have everything you need for the cake or frosting or cookie you were gonna make and when you go to the cupboard. Lo and behold! You don't.
There's not enough powdered sugar around to fulfill your destiny. There's brown sugar. And granulated sugar. There are even sugar cubes. But no powdered sugar.
Do you run to the store? Change your plans? Go cake- or frosting- or cookie-less?
May it never be!
If you've got sugar and a bit of cornstarch, well, then you can make powdered sugar yourself. True story.
Why This Matters
Now making your own powdered, or confectioner's, sugar may seem a little "extra," as my kids would say. And I think it probably is. Especially considering the mess it makes.
But, when you're in a pinch, I'd say it's a mess worth making!
Ingredients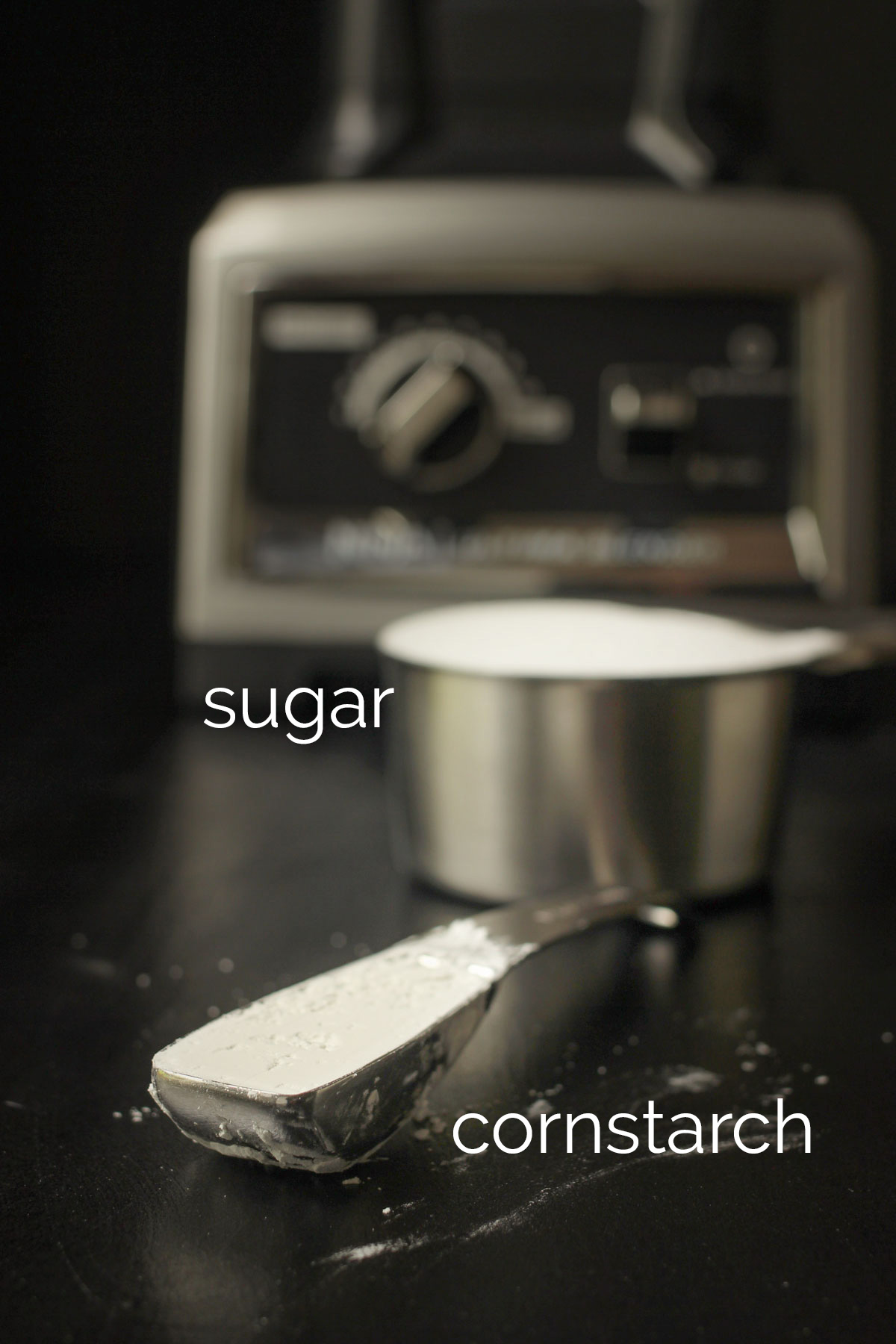 Here's what you need to make homemade powdered sugar:
sugar – You'll need granulated, white sugar for this process. Some readers have reported success using sucanat as well. You'll need to blend extra if you use a coarser sugar like that.
cornstarch – The finely ground sugar needs some kind of starch to prevent caking. If you prefer not to use cornstarch, you can use tapioca starch or arrowroot powder. 
Step-by-Step Instructions
Making confectioner's sugar is simple, provided you have four things:
granulated sugar
cornstarch
a blender or food processor
patience
Despite what the internet may say, powdered sugar does not come together in 30 seconds. In fact, in my experience, with a regular, sturdy blender, it takes a good five minutes of grinding to get the right texture.
Add the sugar and cornstarch to the blender. Secure the lid well. Turn on the blender and grind until you've achieved a fine texture. The sugar should feel soft to the touch with very little grit.
Storage
Once you've ground your granulated sugar into confectioner's sugar, it's ready to use. You can save it for later if you like, just store it in an airtight container in a cool, dry place.
FAQs
What is powdered sugar used for?
Powdered sugar is also called confectioner's sugar; it is granulated sugar that has been ground into a very fine powder. Cornstarch is added to help it prevent clumping. Ground so fine, powdered sugar dissolves quite easily, making it ideal for frosting, icings, glazes, and candy. It's also used to dust over baked goods.
Can I use regular sugar instead of confectioner's sugar?
Regular, granulated sugar doesn't dissolve in the same way as powdered sugar, so it won't work as a substitute unless you grind it into confectioner's sugar yourself. Thankfully, it's a pretty easy process.
Recipe Costs
The following are non-sale prices at a mid-range, US grocery store:
commercial confectioner's sugar: $0.37/cup
granulated sugar: $0.22/cup
cornstarch: $0.02/tablespoons
One batch of confectioner's sugar requires 1 cup granulated sugar and 1 tablespoon cornstarch for a total cost of $0.24 cents. This produces two cups of confectioner's sugar. This means that 1 cup of homemade costs just 12 cents, about a third the cost of commercial powdered sugar.
It's cheaper to make your own confectioner's sugar!
If you have the patience and the time to grind your own sugar, it could be a money-saver for you. Not a lot of course, but sometimes every little bit helps.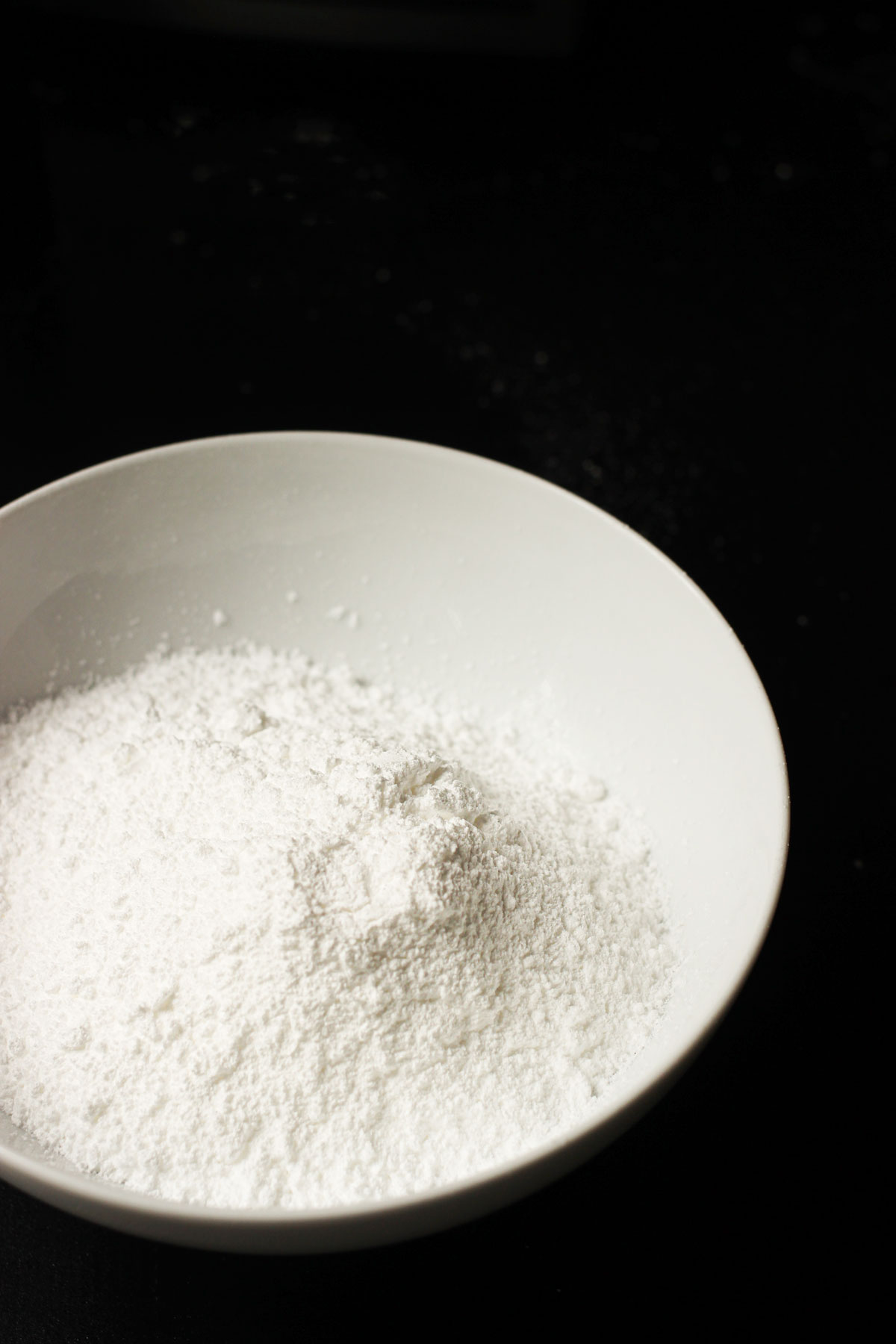 Delicious Frosting Recipes
Homemade Powdered Sugar
Making powdered sugar is a pretty simple process. Just grind together granulated sugar and cornstarch to make a homemade alternative.
Ingredients
1

cup

granulated sugar

1

tablespoon

cornstarch
Instructions
Place the sugar and cornstarch in a blender. Secure the lid.

Turn the blender on and grind until a fine texture is achieved, up to 5 minutes. Scrape down the sides as needed to make sure all the sugar is ground.

Store the sugar in an airtight container in a cool, dry place until ready to use.
Notes
Nutritional values are approximate and based on 2 cups. Store sugar in an airtight container at room temperature until ready to use.
Nutrition
Calories:
402
kcal
|
Carbohydrates:
104
g
|
Protein:
1
g
|
Sodium:
1
mg
|
Potassium:
2
mg
|
Fiber:
1
g
|
Sugar:
100
g
|
Calcium:
1
mg
|
Iron:
1
mg
This post was originally published on April 25, 2020. It has been updated for content and clarity.