Enchiladas are a perfect meal. Don't buy frozen and don't go out. Make these at home and enjoy the savings and the amazing flavor.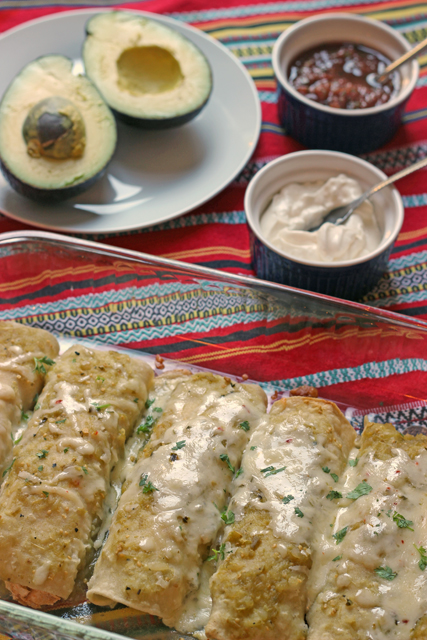 I think one of my favorite meals of all time is enchiladas. It doesn't really matter what kind, I like them all.
Except the ones made with flour tortillas. Kinda mushy and gummy, that. Enchiladas must be made with corn tortillas. I'm a purist.
If you're a flour tortilla enchilada lover, we will have to agree to disagree, 'cause I think that's wrong. Just like tomatoes in enchilada sauce. Yep, that's wrong, too. 😉
Anyway, lucky for us both, this recipe today is very versatile. I've presented it here the way I prefer it: corn tortillas with a green salsa topping. But, I've tried it many different ways and they are all good. I haven't made them with flour tortillas (see paragraph 2), but I know this filling would work for those as well, if that's your preference.
My friend Amy bakes this dish without the sauce and then serves several sauces at the table for her family to choose from. I think this is brilliant. You could also assemble the enchiladas in smaller dishes of say three per pan and then vary the sauces that way.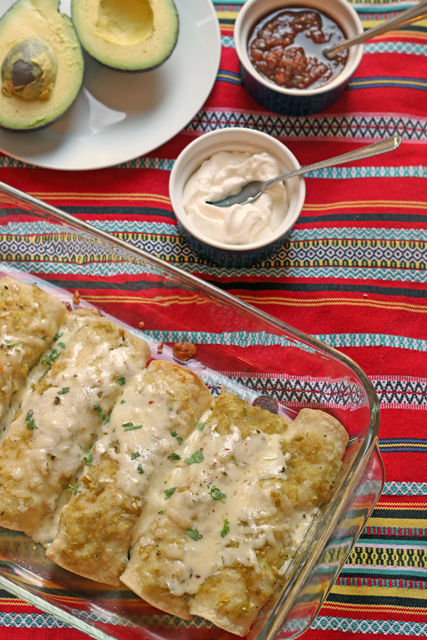 In addition to being very versatile, this recipe is also very freezer-friendly. Make up several batches, wrap, label, and freeze. You can enjoy enchiladas on a weekly basis without breaking a sweat.
These Creamy Chicken Enchiladas were originally printed in my first book, Not Your Mother's Make-Ahead and Freeze Cookbook. If you like these, you may want to check out the book. I bet your library has it.
(I'm only allowed to share a certain number of "cookbook recipes", so there are more yummy things where this came from.)
These creamy enchiladas are full of flavor and texture, with a little punch from the chipotle, pepper Jack cheese, and salsa verde, a tangy creaminess from the cream cheese, corn tortillas to give the dish body, and chicken to give it some heart. You'll love how easily these come together.
Creamy Chicken Enchiladas
Enchiladas are a perfect meal. Don't buy frozen and don't go out. Make these at home and enjoy the savings and the amazing flavor.
Ingredients
oil for frying the tortillas

4

cups

chicken (cooked and cubed)

8

oz

pepper jack cheese (shredded )

1

8-ounce package

cream cheese

softened, can also use neufchâtel cheese

½

onion

for ½ cup chopped

1

teaspoon

Chipotle Taco Seasoning Mix

salt

black pepper

2

cups

salsa verde
Instructions
Preheat the oven to 350°F. Spray a 9x13-inch baking dish with nonstick cooking spray.

Add oil to a small skillet to a depth of about an inch. Heat over medium heat until the oil starts to shimmer. Fry the tortillas in the hot oil for 30 to 45 seconds each, turning once with tongs. The texture starts to look a bit leathery. Drain the tortillas on paper towels and cool enough to be easily handled.

In a mixing bowl, combine the chicken, 1 cup of the Jack cheese, the cream cheese, onion, and taco seasoning mix. Season the mixture to taste with salt and pepper.

Assemble the enchiladas by placing 2 tablespoons filling on each tortilla. Roll and place the enchiladas, seam side down, in the prepared baking dish.

Pour the salsa over the enchiladas and sprinkle the reserved cheese over the enchiladas. Bake the enchiladas for 20 minutes, or until the dish is heated through and the cheese is melted.
Notes
To freeze: Wrap the dish after step 4 and chill in the refrigerator before freezing. Place the remaining cheese in a small zip-top, freezer bag and store both in the freezer for up to two months. To cook, thaw completely in the refrigerator before proceeding with step 5.
Nutrition
Calories:
224
kcal
|
Carbohydrates:
16
g
|
Protein:
11
g
|
Fat:
13
g
|
Saturated Fat:
6
g
|
Cholesterol:
41
mg
|
Sodium:
486
mg
|
Potassium:
231
mg
|
Fiber:
2
g
|
Sugar:
4
g
|
Vitamin A:
510
IU
|
Vitamin C:
2
mg
|
Calcium:
193
mg
|
Iron:
1
mg
What's YOUR favorite enchilada combination?