Get cozy this season with a bowl of this Creamy Chicken Noodle Soup. It comes together quickly with just five basic ingredients.
Soup season is here! And I am thrilled. A weekly soup night is a great way to use up what you have in the fridge and cupboards — and it's ideal comfort food for hard days or when illness strikes.
Chicken Noodle Soup is by far a favorite of my family's. There's something so cozy and comforting about the rich broth, tender chicken, and toothsome noodles. It tops the list of my kids' favorite soups.
When I was growing up, we only ate canned soup, and when we were sick, it was always chicken noodle. I remember one time when our neighbor Fayrene brought me some of her homemade chicken noodle soup after an illness. I had no idea you could make homemade chicken noodle soup! I still remember the thick noodles and bits of vegetables.
What ingredients do you need to make creamy chicken noodle soup?
This Creamy Chicken Noodle Soup is just like the one Fayrene brought me so long ago. One of the great things about it is that it's made with just five main ingredients, all real food: chicken stock, egg noodles, mixed veggies, chicken, and homemade cream of chicken soup.
As I mentioned before, my Homemade Cream of Chicken Soup is a great soup starter. While you can certainly make it fresh in order to prepare this soup, I suggest making a few batches to keep on hand in the freezer. It makes this soup prep come together lickety-split. I suppose you could use canned, but I don't recommend it. Make homemade for this recipe.
Can I make this soup in advance?
You can easily make a big batch of this soup and freeze it in meal-size containers — perfect for packing for work or to reheat for quick meals at home!
Pro tip: If you do make this soup to freeze, be sure to cook the noodles al dente. Noodles will soften more in the liquid, so if you freeze them a tad undercooked, everything should heat up really deliciously later.
Alternatively, if you make it a habit to make meal "components" to freeze, you could easily stash all the fixings in the freezer: bags of frozen mixed vegetables, cooked chicken, chicken stock, and cream of chicken soup. You can freeze the soup, too, of course, but keeping those components on hand gives you a lot more flexibility. You can easily whip up all kinds of casseroles, pot pies, and soups with those items on ice.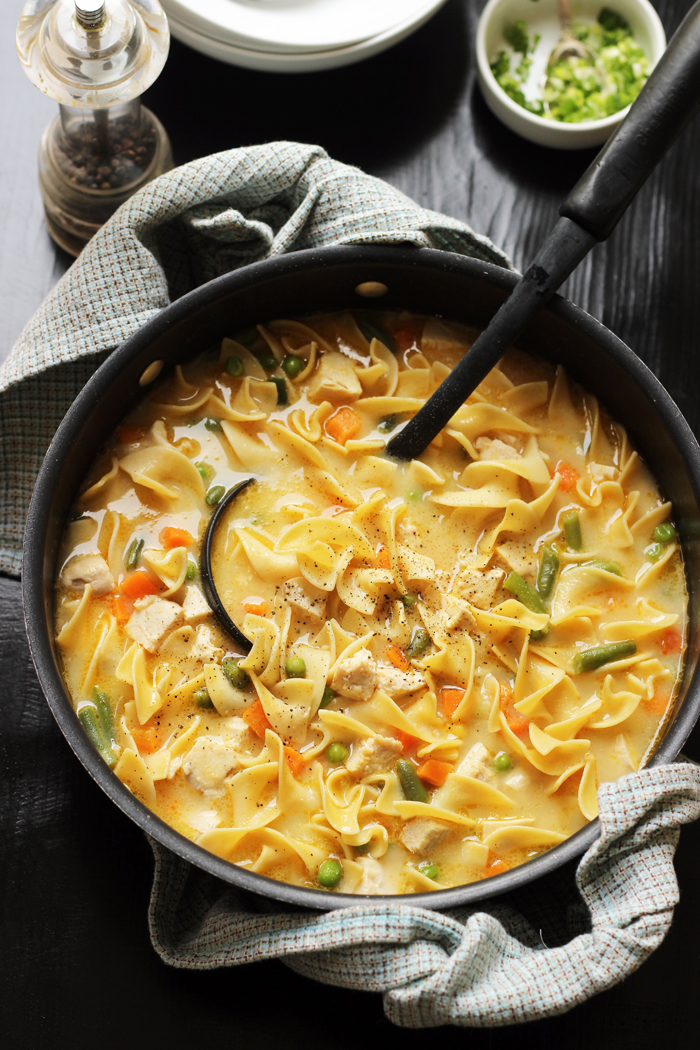 How to make this good and cheap:
Here are some of the strategies you can use to make this recipe more economical:
Stock up on ingredients when they are on sale. For instance, when I see a great price on frozen veggies or chicken stock, I'll buy 4-5 packages/containers and stash them for later.
Use a whole chicken! Cooking a whole chicken (or buying one that Costco roasted for you) can be more economical than buying chicken pieces. Plus, you can use the carcass to make homemade stock. You can easily make this soup with turkey when the whole birds go on sale in the fall.
Use up leftovers. I'm a big believer in tossing little bits of leftovers into the soup pot. They add great flavor and nothing goes to waste. Feel free to adapt this basic soup to use whatever meats or veggies you have on hand.
How I make this recipe easy:
Since one of you mentioned getting a rotisserie chicken every time you go to Costco, I've started doing the same. What a game changer! Having a pre-cooked rotisserie chicken makes my prep work a lot easier. The cost of the chicken is comparable to a whole chicken uncooked — and they taste great! Plus, the work is done for me.
Sometimes I just carve and cube the meat to freeze and then make stock from the bones. So convenient!
Having the right kitchen tools can really make your time in the kitchen more enjoyable. Over time, I've honed my collection so that they are perfect for my needs. Here are the tools that I use for this recipe:
Creamy Chicken Noodle Soup
Get cozy this season with a bowl of this Creamy Chicken Noodle Soup. It comes together quickly with just five basic ingredients.
Ingredients
6

cup

chicken stock

6

oz

wide egg noodles

2

cup

frozen mixed vegetables

no need to thaw

2

cup

chicken (cooked and cubed)

salt

black pepper

2

green onion

chopped
Instructions
In a large pot, bring the chicken broth to a low boil. Add the noodles and cook for five minutes.

Add the vegetables, cream of chicken soup, and chicken. Stir well to combine. Season to taste with salt and pepper.

Serve hot, garnished with chopped green onion
Nutrition
Calories:
254
kcal
|
Carbohydrates:
34
g
|
Protein:
16
g
|
Fat:
6
g
|
Saturated Fat:
2
g
|
Cholesterol:
48
mg
|
Sodium:
831
mg
|
Potassium:
585
mg
|
Fiber:
3
g
|
Sugar:
3
g
|
Vitamin A:
2590
IU
|
Vitamin C:
11.7
mg
|
Calcium:
33
mg
|
Iron:
1.6
mg