Homemade Cream of Chicken Soup is a wonderful, flavorful, healthy alternative to commercial canned cream soups. It's easy to make and freezes beautifully. Ditch the can, man!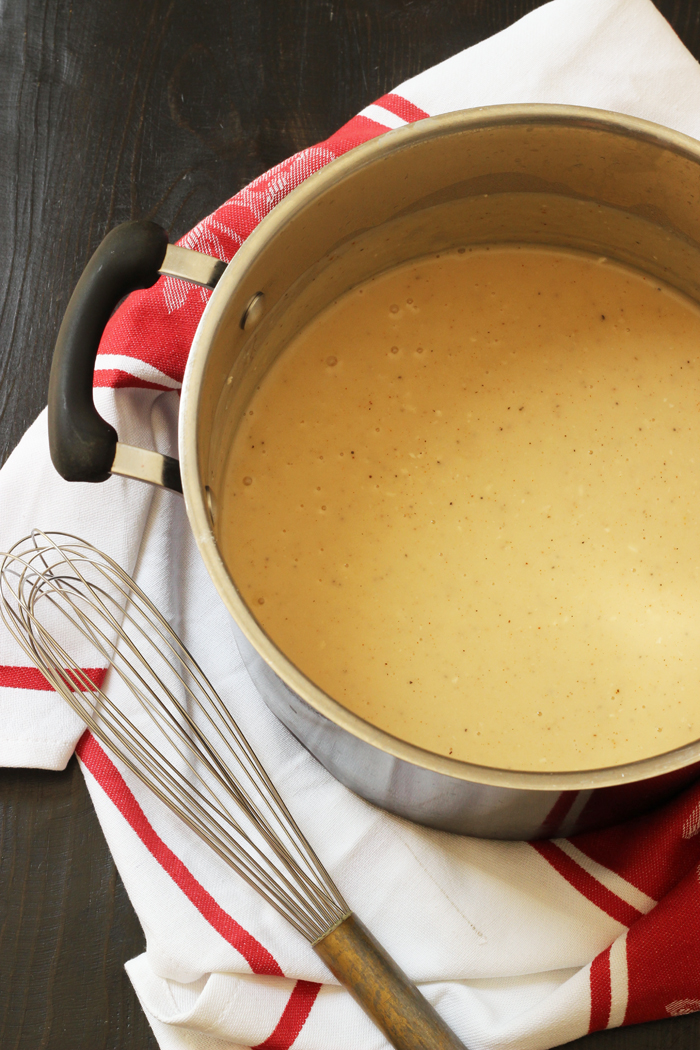 Most of my childhood summers were spent traveling from California to Minnesota and hunkering down for June and July with relatives. There were some really good times — and some excellent meals, particularly those prepared by Aunt Peg, Aunt Sandy, and Gramma John.
My Aunt Cass, though not a cook by any stretch of the imagination, excelled in fun experiences, like fireworks by the river and fancy lunches downtown. I remember the first time she deemed me old enough to go to lunch with her and my mom. We went to a quaint little cafe in downtown Winona.
It was one of those lunches where you're served in courses. I was smitten. particularly with the soup course: Cream of Chicken. I was stunned that I hadn't discovered something so delicious ever before. When we got back home, I asked my mom if I could have a can of cream of chicken soup for my lunch. She warned me that it wouldn't taste the same.
And it didn't.
Ugh. Have you ever eaten commercial cream of chicken soup from the can? I grew up on casseroles made with it and I loved them, but the soup itself? Blerg. Unfortunately for my husband eating that soup from the can was the norm for him growing up. Once we married, he refused to eat any casserole or dish made with the stuff.
Until I learned to make homemade cream of chicken soup.
Go figure. It's basically a gravy and a white sauce that got married and had a baby. It's super easy, absolutely delicious, and soooooo much better than anything you can buy in a can.
You can use this Homemade Cream of Chicken Soup in all your favorite casseroles, but you can also use it as a soup starter. Add broth, veggies, and noodles. Thin it a bit as is with some broth or stock and you can even serve it for your soup course as Cream of Chicken Soup itself. Amen! Hallelujah!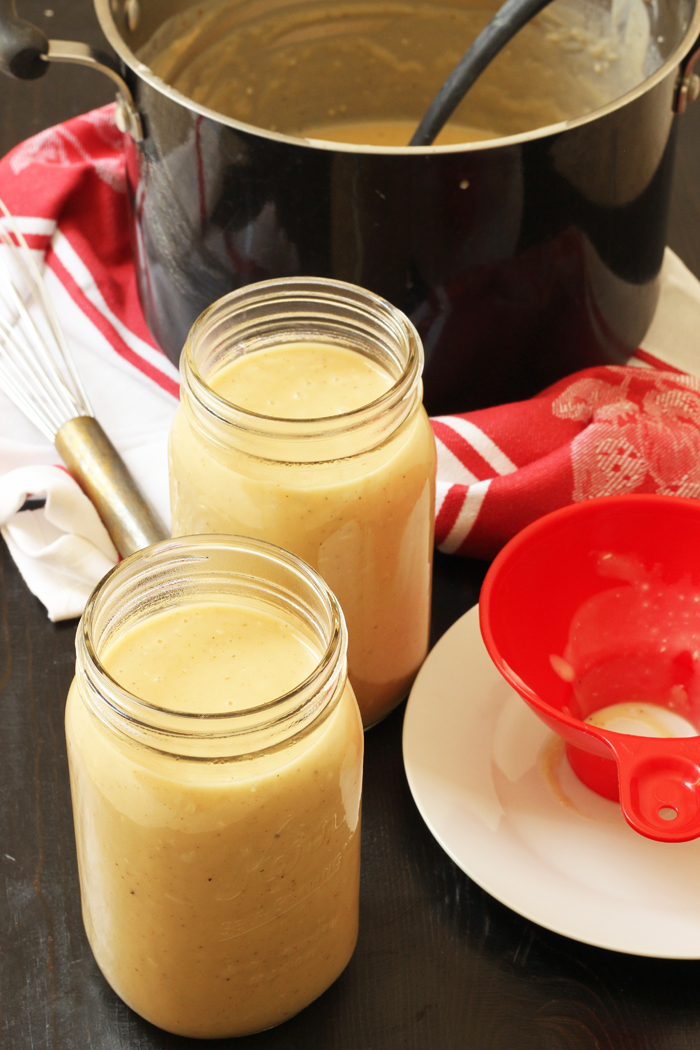 How I make this good:
Whenever possible I like to cook with plain old ingredients. While the convenience of mixes and canned sauces is nice, I feel better about feeding my family just real food whenever possible. (Go here for some of my reasons on all that.)
Making homemade cream of chicken soup is basically the epitome of this! What is more processed than canned cream soup?! Ha. Check out the ingredients list: butter, flour, milk, chicken broth, spices, and chicken. This is all real food. Real good food.
Cook a bulk batch and then divide the soup into 2-cup portions and stash them in the freezer. Homemade convenience at its finest.
(I do freeze soups and sauces in glass canning jars. I leave the lids off, allow for extra headspace, and freeze until firm. Then I lightly twist the caps on. Your mileage may vary. Use other containers for freezing if you prefer.)
How I make this cheap:
I'm sure that you can find canned cream of chicken soup on sale for cheap. However, I promise you this is better and totally worth the upgrade in cost.
Here are some of the strategies I use to make this recipe economical:
Use a whole chicken! Cooking a whole chicken (or buying one that Costco roasted for you) can be more economical than buying chicken pieces. You can use the carcass to make homemade stock. You'll only need a small amount of chicken meat for the soup itself, meaning you can are basically using the leftovers to make this soup. You can easily make this homemade cream of chicken soup with turkey when the whole birds go on sale in the fall. Just call it cream of turkey. 😉
Stock up on ingredients when they are on sale

. Whether it's buying whole chickens or commercial chicken broth on sale, I buy more than I need in the immediate future. Sales cycles last about 6 weeks, so I try to buy enough to last me that long. Same goes for items like butter and flour. I stock up on these when I find good prices.
Tools I use to make this recipe easy:
Having the right kitchen tools can really make your time in the kitchen more enjoyable. Over time, I've honed my collection so that they are perfect for my needs. Here are the tools that I like to use in this recipe.
Homemade Cream of Chicken Soup
Homemade Cream of Chicken Soup is a wonderful, flavorful, healthy alternative to commercial canned cream soups. It's easy to make and freezes beautifully.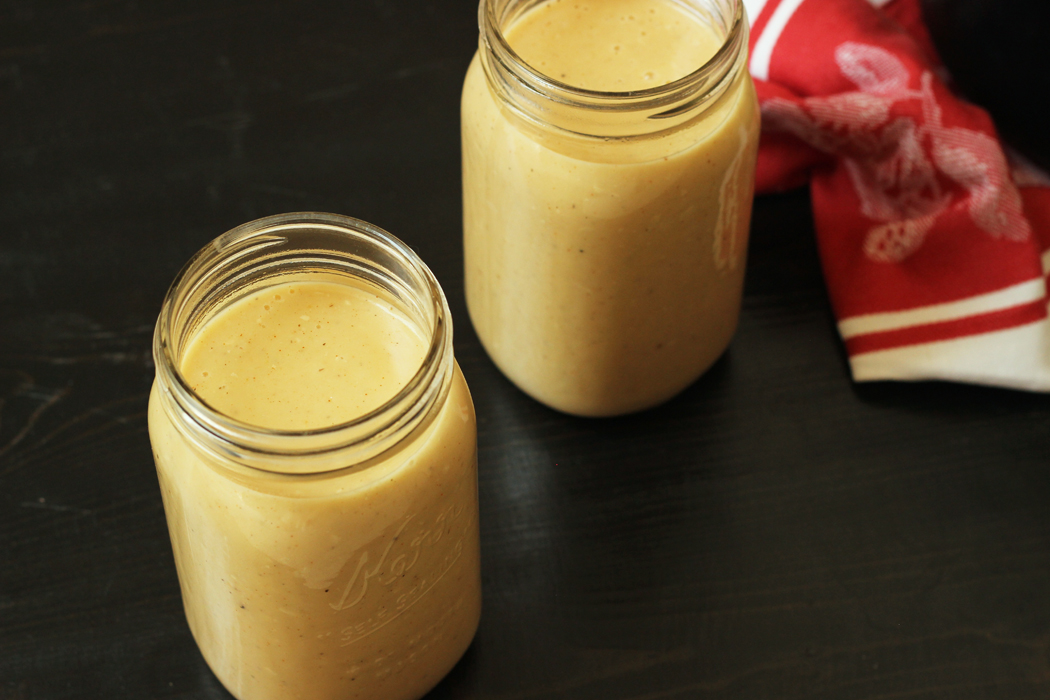 Preparation Time:10 minutes
Cook time:20 minutes
Total time:30 minutes
about 2 cups soup
Ingredients:
1/4 cup butter

1/4 cup unbleached, all-purpose flour

1 1/2 cups chicken stock or broth

1/2 cup milk

1/2 teaspoon fine sea salt

1/2 teaspoon garlic powder

1/2 teaspoon onion powder

1/4 teaspoon paprika

1/4 teaspoon black pepper

2 tablespoon finely minced cooked chicken
Instructions:

In a large saucepan, melt the butter. Whisk in the flour and cook, stirring until bubbly and fragrant. Whisk in the stock and milk slowly. Add the salt, garlic powder, onion powder, paprika, and black pepper. Simmer until thickened. Stir in the minced chicken.
Use in recipes calling for cream of chicken soup.
To freeze, chill the soup completely before storing in 2-cup portions in the freezer.Thaw and whisk to recombine before using.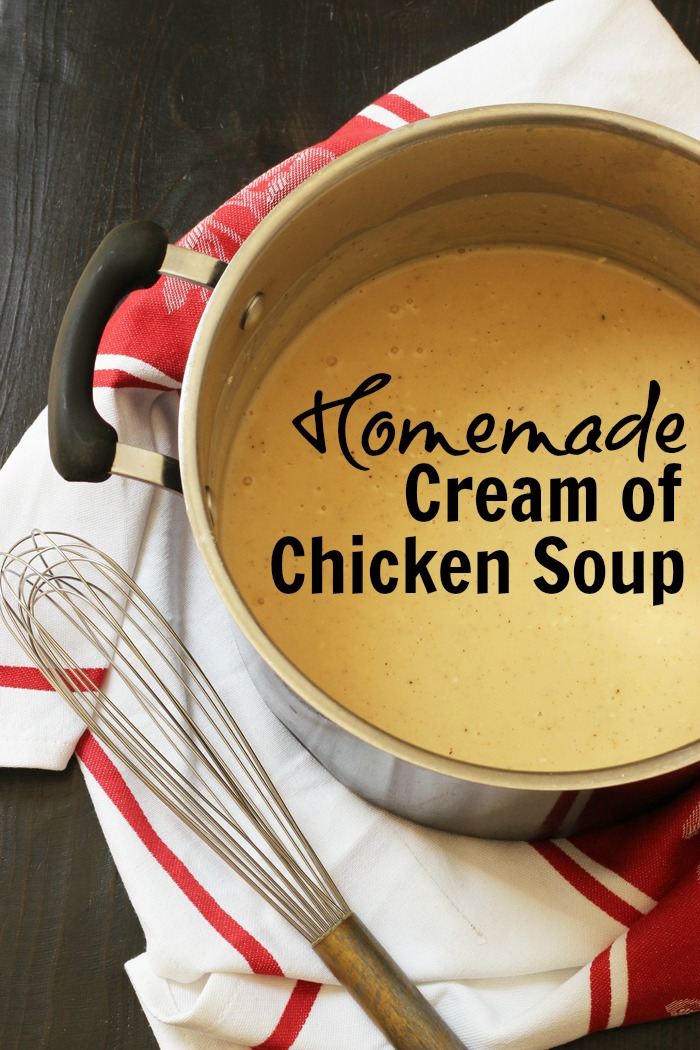 Are you looking for more good cheap eats?