Overnight Casserole is one of the easiest you can assemble. No need to boil the noodles, just stir together all the ingredients and chill overnight. Top with bread crumbs and bake.
You've heard about Overnight Breakfast Casseroles, but what about the overnight casserole you serve for lunch or dinner?
This dish is inspired by one that Gramma John used to make for our summer potlucks. I remember asking her for the recipe when I was ten or twelve and proceeding to make it many times over once we got home. It's so simple, it's not even funny!
Stir together milk, sour cream, and a homemade cream soup, stir in uncooked noodles, some cheese cubes, and whatever cooked chicken, turkey, or ham you have on hand.
Voila! Simple, easy, and super delicious!
Overnight Noodle Casserole
This Overnight Noodle Casserole is super versatile, allowing you to switch up the soup base, the noodles, the type of cheese, or the cooked protein. You can even add steamed veggies if you like.
You could probably make it a dozen different ways with this basic formula!
Consider some of these flavor combinations:
cheddar, chicken, penne, tarragon, dill, sage
swiss, ham, macaroni, dill, Dijon mustard
mozzarella, turkey, rigatoni, basil, oregano
pepper jack, chicken, ziti, oregano, cumin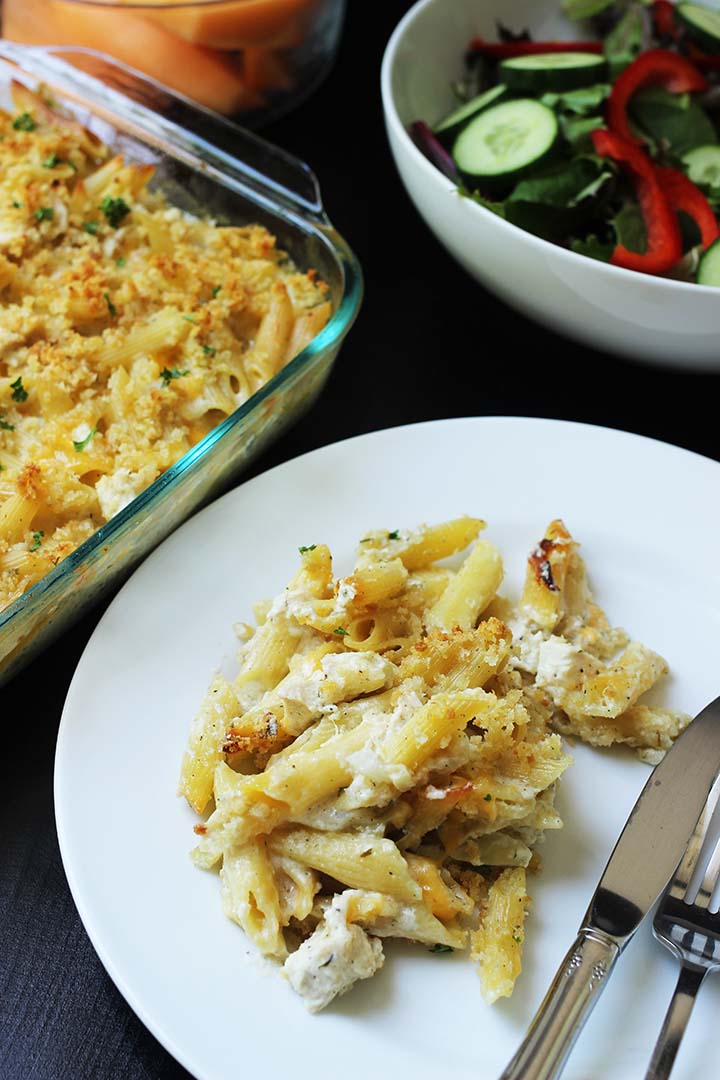 Can you make a casserole without cooking the noodles?
Casseroles are already pretty easy dishes to prep. Skipping the noodle-boiling step takes the ease to next level. I've always made my lasagna with uncooked noodles, and this is very similar.
Basically, the noodles absorb the liquid and then bake in it.
Keep in mind that different noodles will absorb liquids at different rates. Macaroni gets soft faster than penne. The recipe is designed for this, allowing you to add milk the next day if your noodles appear on the dry side.
Can you freeze a casserole with uncooked noodles?
I have tested this by freezing the dish instead of refrigerating it. Well, it is refrigerated as it thaws, but I wanted to know what would happen if I froze the uncooked noodles. Turns out it works out perfectly fine, making this a great candidate for your next freezer cooking session.
How do you make an overnight noodle casserole?
The process couldn't be easier!
In a mixing bowl, whisk together the cream soup, milk, and sour cream. Stir in the herbs.
Stir in the noodles, chicken, and cheese. Pour this mixture into a greased baking dish. Cover and refrigerate overnight.
The next day, stir the ingredients and add a bit of milk if it appears dry. Smooth out the top.
In a small bowl, combine melted butter and breadcrumbs. Sprinkle this over the top of the casserole.
Bake about 40 minutes, or until hot and bubbly. Serve immediately.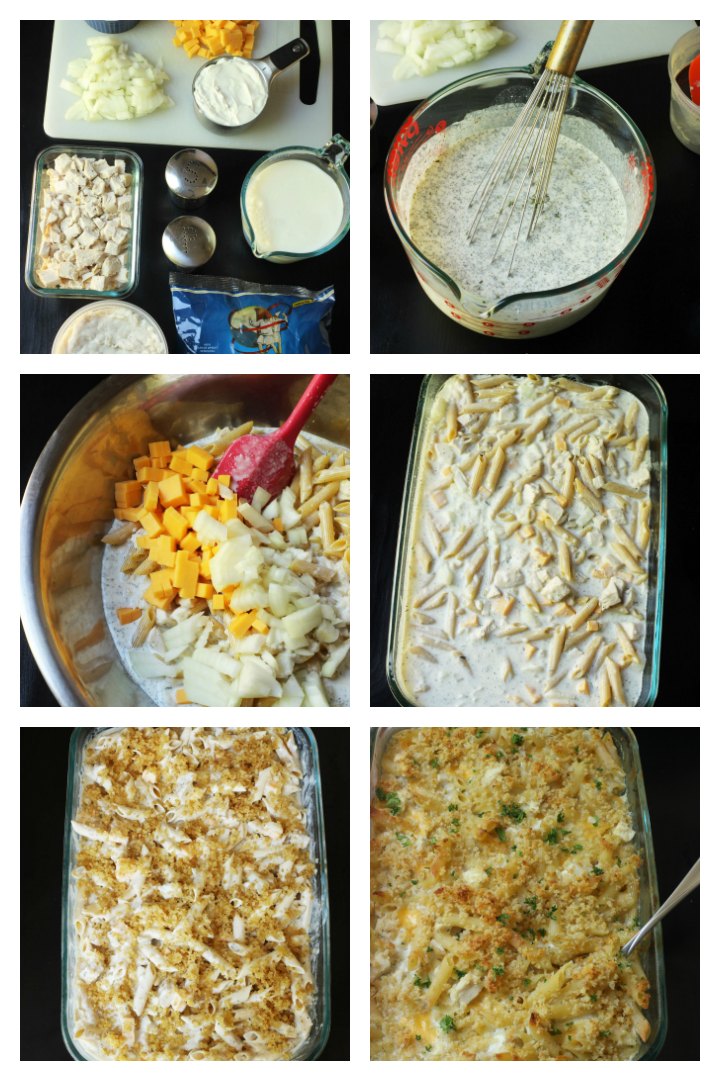 Is this casserole affordable?
We assume that making homemade will cost less money than buying it in a can. This is often, but not always the case. Let's see how much this casserole really costs, shall we?
Made from some basic ingredients, ingredients that when bought at regular, non-sale prices the costs break down as follows:
homemade cream soup – $0.75
milk – $0.28 ($3.09/gallon)
sour cream – $1.00 ($2.00/16 oz)
spices – $0.15
penne – $1.00
chicken – $0.75 ($1.99/lb)
cheddar – $1.20 ($4.79/16 oz)
onions – $0.35
panko breadcrumbs – $0.31 ($2.49/8 oz)
butter – $0.23 ($3.69/lb)
The total cost of this casserole amounts to $6.02 or 75 cents per serving!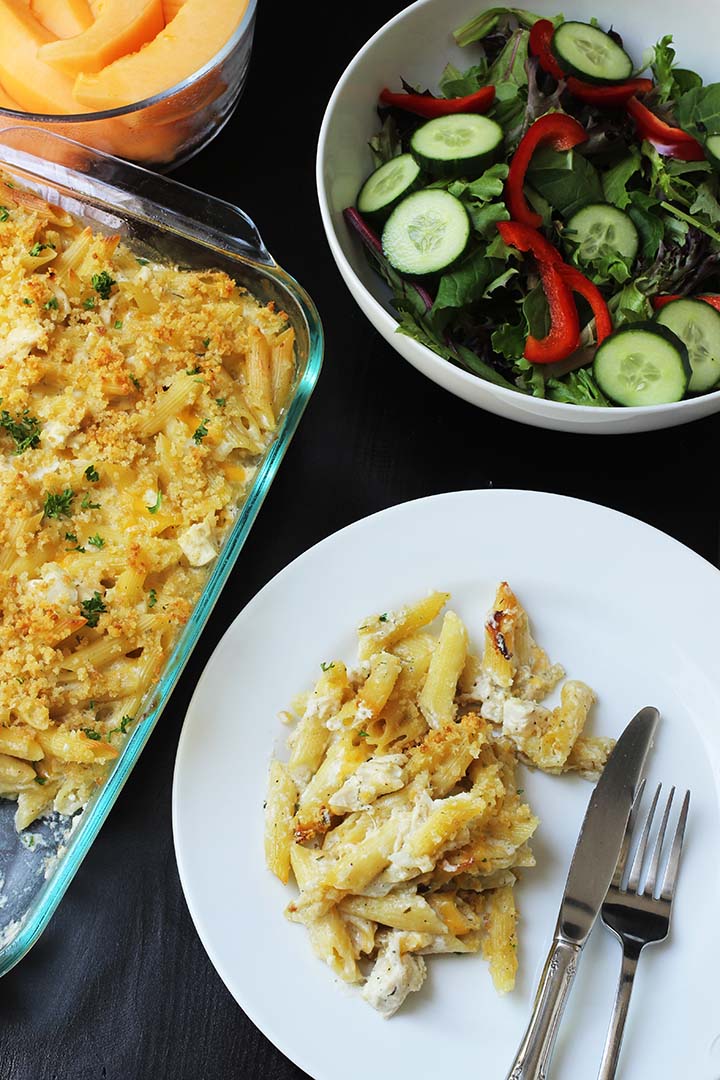 How can you make this even more economical?
Already, this is a pretty good cheap eat. Here are some of the strategies you can use to make this recipe more economical:
Stock up on ingredients when they are on sale. For instance, when I see a great price on pasta, cheese, or chicken, I'll buy lots of them and plan my meals around them.
Use a whole chicken! Cooking a whole chicken (or buying one that Costco roasted for you) can be more economical than buying chicken pieces. Plus, you can use the carcass to make homemade stock. You can easily make this dish with turkey when the whole birds go on sale at the holidays.
Make your own breadcrumbs. Making your own breadcrumbs is super affordable, especially when you use dry bread that might otherwise get chucked.
How I make this recipe easy:
Having the right kitchen tools can really make your time in the kitchen more enjoyable. Over time, I've honed my collection so that they are perfect for my needs. Here are the tools that I use for this recipe: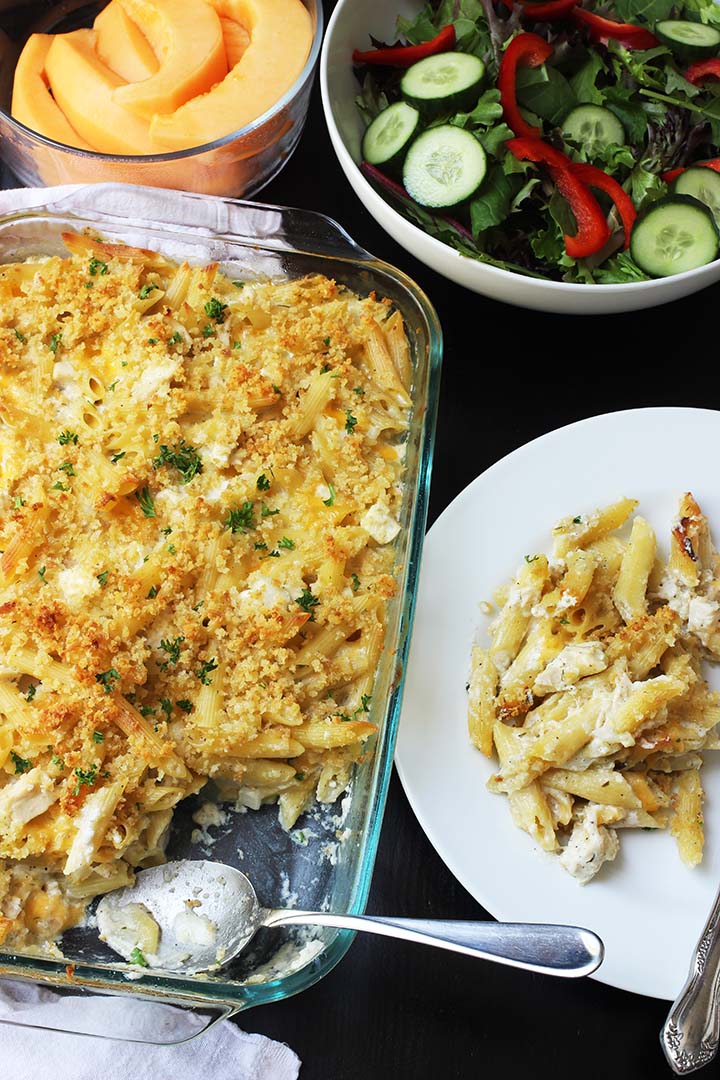 If you prepare this recipe, be sure to share a picture on social media and hashtag it
#GOODCHEAPEATS
. I can't wait to see what you cook up!
Overnight Casserole
Overnight Casserole is one of the easiest you can assemble. No need to boil the noodles, just stir together all the ingredients and chill overnight. Top with bread crumbs and bake.
Ingredients
1

batch

Homemade Cream of Celery Soup for Cooking

about 2 cups (can also use Homemade Cream of Chicken Soup)

2

cup

milk

1

cup

sour cream

½

teaspoon

dried tarragon

½

teaspoon

dried dill

½

teaspoon

dried rubbed sage

salt

black pepper

16

oz

penne pasta

uncooked

2

cup

chicken (cooked and cubed)

4

oz

cheddar cheese (cubed)

(1 cup)

½

onion

(for ½ cup chopped)

½

cup

breadcrumbs

2

tablespoon

butter

, melted
Instructions
Spray a 9x13-inch baking pan with nonstick cooking spray.

In a large mixing bowl, whisk together the cream of chicken soup, milk, sour cream, and dried herbs. Season to taste with salt and pepper.

Stir in the uncooked pasta, chicken, cheese, and onion. Pour this mixture into the prepared pan and refrigerate overnight or cover and place in the freezer.

If frozen, thaw the casserole in the refrigerator. Stir the mixture and pat smooth. Top the casserole with the buttered bread crumbs.

Preheat the oven to 350 degrees. Bake for 45 minutes or until hot and bubbly.
Notes
Leftovers can be stored, covered, in the refrigerator for 4 days
Nutrition
Calories:
280
kcal
|
Carbohydrates:
35
g
|
Protein:
11
g
|
Fat:
10
g
|
Saturated Fat:
6
g
|
Cholesterol:
31
mg
|
Sodium:
134
mg
|
Potassium:
210
mg
|
Fiber:
2
g
|
Sugar:
4
g
|
Vitamin A:
292
IU
|
Vitamin C:
1
mg
|
Calcium:
155
mg
|
Iron:
1
mg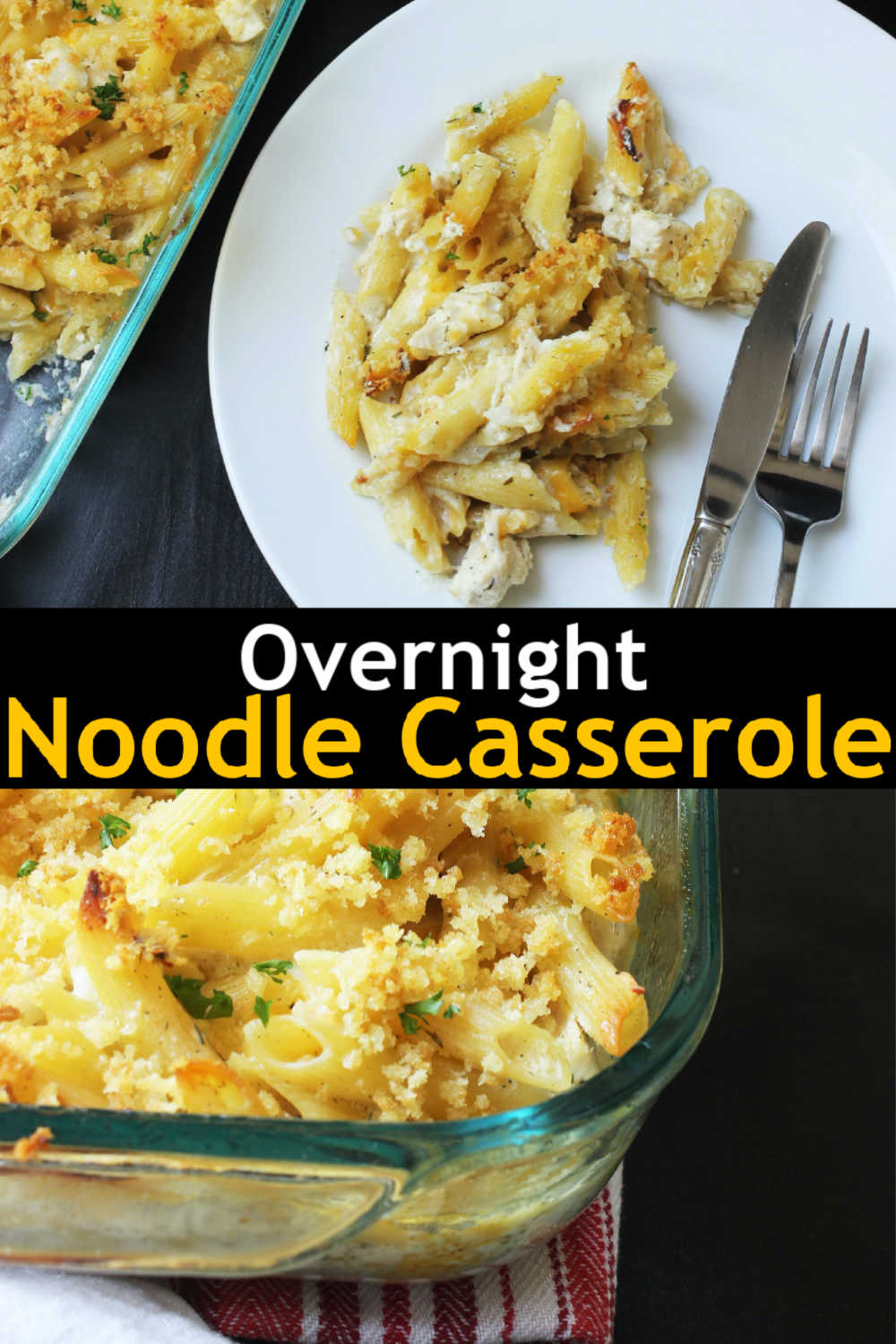 This post was originally published on November 15, 2016. It has been updated for content and clarity.