Start the morning on a high note with a lovely stack of homemade buttermilk waffles. This recipe allows for making it ahead as a mix or your own frozen waffles.
Waffles are all too often relegated to high priced weekend breakfasts and brunches at fancy pants restaurants. Or picked up in the freezer section and reheated in the toaster.
Both options deny the versatility, ease, and affordability of the homemade waffle. Time to change that!
Homemade Buttermilk Waffles
I'm not sure where or when I started making this yummy breakfast. But, it is one of our favorites. When the kids were little, I wrapped up the week by serving berries and waffles on Friday mornings.
These days we start the week off with them!
It's so easy to bake up a batch of waffles on Sunday afternoon and then serve them throughout the week, reheated until crisp and toasty. It's a step up from your frozen waffle but with all the same ease.
Bonus: you can still cook them fresh at home and do it up big for brunch.
What should you serve with waffles?
My favorite way to serve waffles is with whipped cream and berries. Waffles are also good with butter and maple syrup.
If you want more than waffles, eggs, bacon, sausage, and fruit are also great with waffles.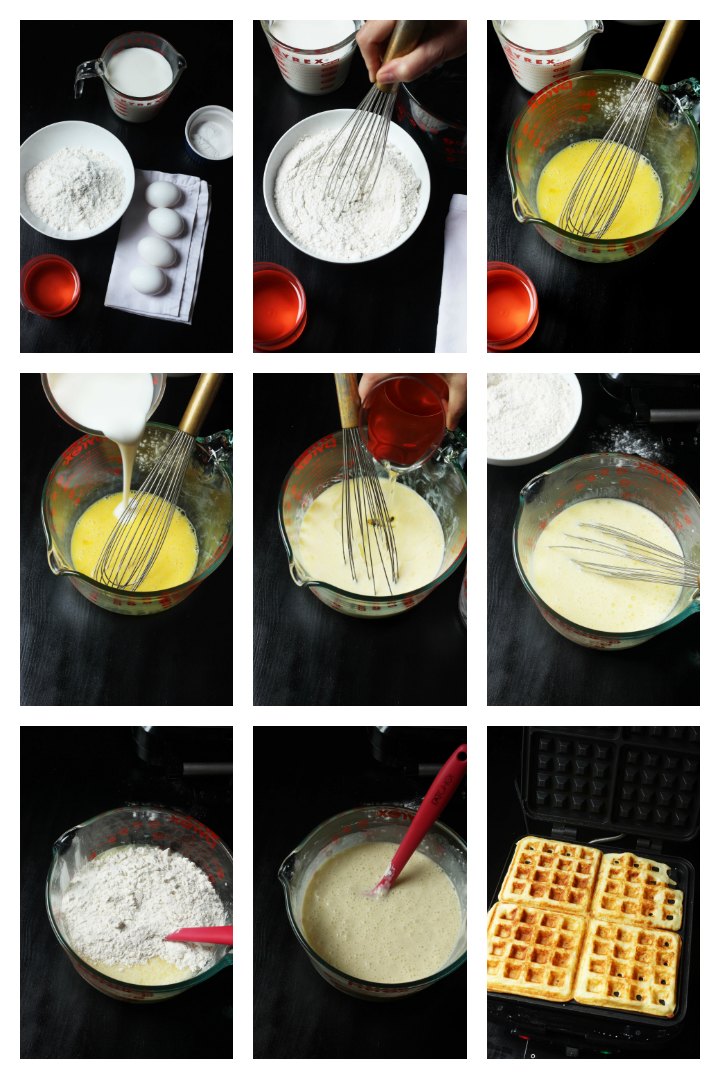 How do I make waffles from scratch?
Making waffles from scratch is super simple. Combine the wet ingredients in one bowl, the dry in another. Combine them both gently and then bake waffles in a waffle maker.
I highly recommend this Cuisinart waffle maker for making a lot of waffles at one time.
Can I make homemade waffles in advance?
If you're not in the mood to mix up these from scratch every time, you can prepare the recipe as a homemade mix or make your own frozen waffles.
To make a mix:
Place the dry ingredients in a jar or other airtight container.
Label what wet ingredients need to be added later.
Store the mix in a cool, dry place until you're ready to prepare the mix.
To make frozen waffles:
Bake up the batch of waffles.
Cool the waffles on a rack.
Wrap them for freezing.
To serve: reheat in a toaster or toaster oven.
Do I have to use buttermilk?
Buttermilk is what makes these buttermilk waffles.
However, if you don't keep buttermilk on hand regularly, you can easily prepare one of the following substitutes:
Pour one tablespoon lemon juice or white vinegar into a one-cup measure. Add milk to fill the measuring cup. Allow to sit for five minutes. Use in place of 1 cup buttermilk.
Combine equal parts of yogurt and milk to replace the buttermilk in the recipe.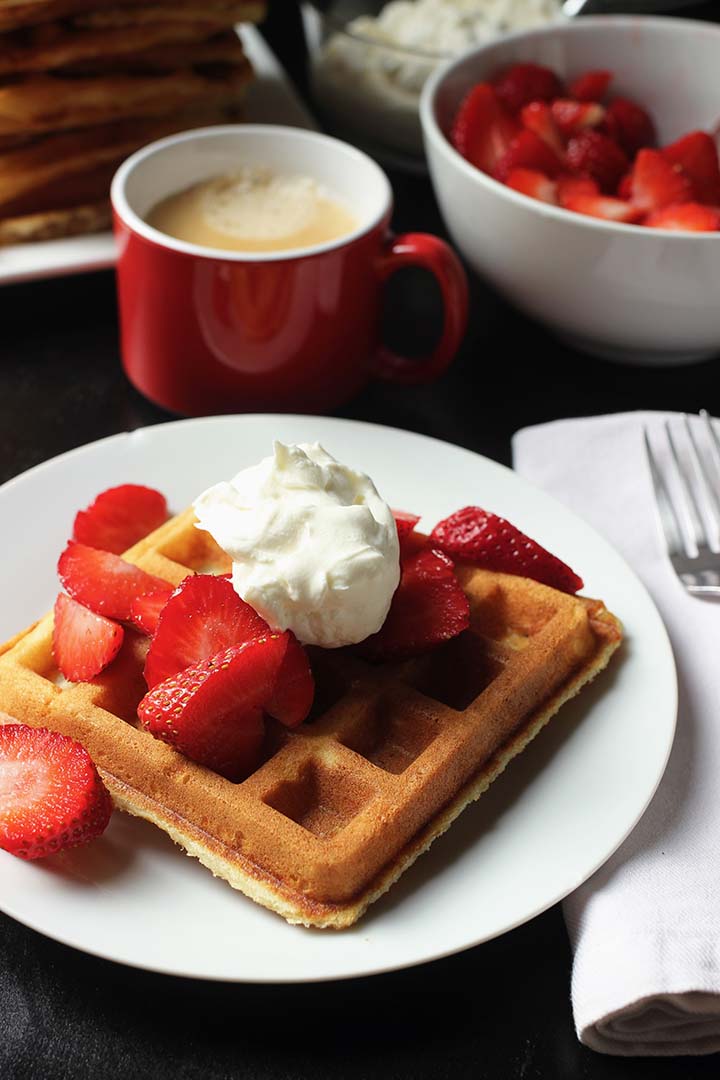 How much does it cost to make buttermilk waffles?
We often assume that homemade will cost less than the commercial brand. It typically tastes better and you can control the ingredients, but does it save you money?
Let's see how much these buttermilk waffles really cost, shall we?
Made from some basic ingredients, ingredients that when bought at regular, non-sale prices the costs break down as follows:
flour – $0.30 ($2.69/5#)
baking powder – $0.09 ($1.49/8.1 oz)
baking soda – $0.01 ($0.99/16 oz)
salt – $0.02 ($2.99/26 oz)
eggs – $1.00 ($2.99/dozen)
buttermilk – $1.60 ($3.19/32 oz)
oil – $0.32 ($1.99/48 oz)
A batch of homemade buttermilk waffles costs $3.34 or 21 cents a waffle. By contrast, check out these commercially-made equivalents:
frozen buttermilk waffles $2.59/10 or 26 cents a waffle.
dry buttermilk waffle mix $3.49/32 oz or 25 cents a waffle.
So, technically, homemade costs less than the frozen waffle equivalent as well as a commercial dry mix. Tastes better, too!
How can you make this more economical?
Stock up on ingredients when they are on sale. When I find regular kitchen staples on sale, I buy a lot. I'm currently using a price book to track prices and that's saving me money. For this recipe, keeping an eye on the price of flour, oil, and buttermilk can help keep the price down.
Cultivate your own buttermilk – Buttermilk is one of the more expensive ingredients in this recipe. You can cultivate your own buttermilk with just a bit of buttermilk and regular milk. Once you get it going, you can continue to make more from what you have, cutting your cost from 80 cents/cup to 19 cents/cup!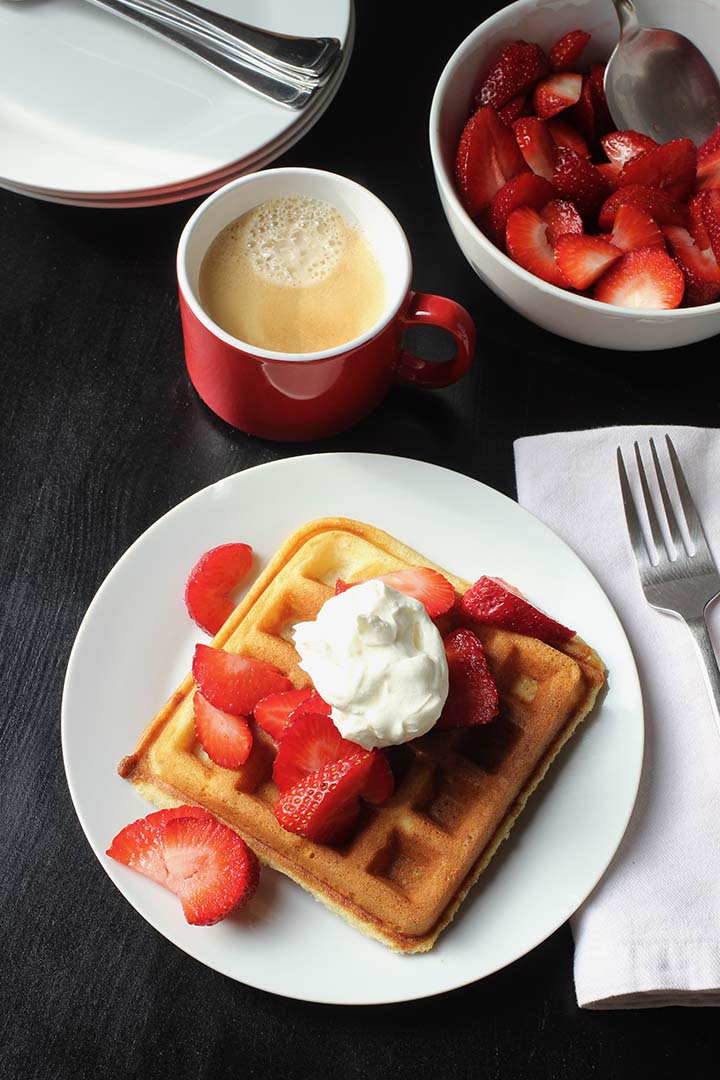 If you prepare this recipe, be sure to share a picture on social media and hashtag it
#GOODCHEAPEATS
. I can't wait to see what you cook up!
Homemade Buttermilk Waffles
Rich and flavorful, these homemade waffles will make your weekend mornings extra special. Bake up some extras so you can toast them for quick breakfasts mid-week.
Ingredients
2

cup

unbleached, all-purpose flour

1

tablespoon

baking powder

1

teaspoon

baking soda

1

teaspoon

salt

2

cup

buttermilk

4

egg

, beaten

1

cup

neutral oil
Instructions
In a large mixing bowl, whisk together the flours, baking powder, baking soda, and salt.

In another bowl, whisk the eggs. Add the buttermilk and oil. Whisk well.

Add the wet ingredients to the dry and stir well to combine.

Bake in a hot waffle maker.

Serve with butter and maple syrup or freshly whipped cream and berries.
Notes
To make as a mix: Take a large ziptop bag or container and label it with the wet ingredients and the baking instructions. Measure out the dry ingredients into the bag. Seal and store until ready to use.
To prepare the waffles in advance, prepare the recipe as directed. Cool the waffles on a rack and store in an airtight container for up to 3 days. Freeze for longer storage.
Nutrition
Calories:
205
kcal
|
Carbohydrates:
26
g
|
Protein:
8
g
|
Fat:
7
g
|
Saturated Fat:
2
g
|
Cholesterol:
88
mg
|
Sodium:
524
mg
|
Potassium:
314
mg
|
Fiber:
1
g
|
Sugar:
3
g
|
Vitamin A:
218
IU
|
Calcium:
152
mg
|
Iron:
1
mg
Tried this Recipe? Tell us what you think!
Your reviews help us develop better recipes and give newcomers the confidence to try your favorites. Scroll down to leave a starred comment.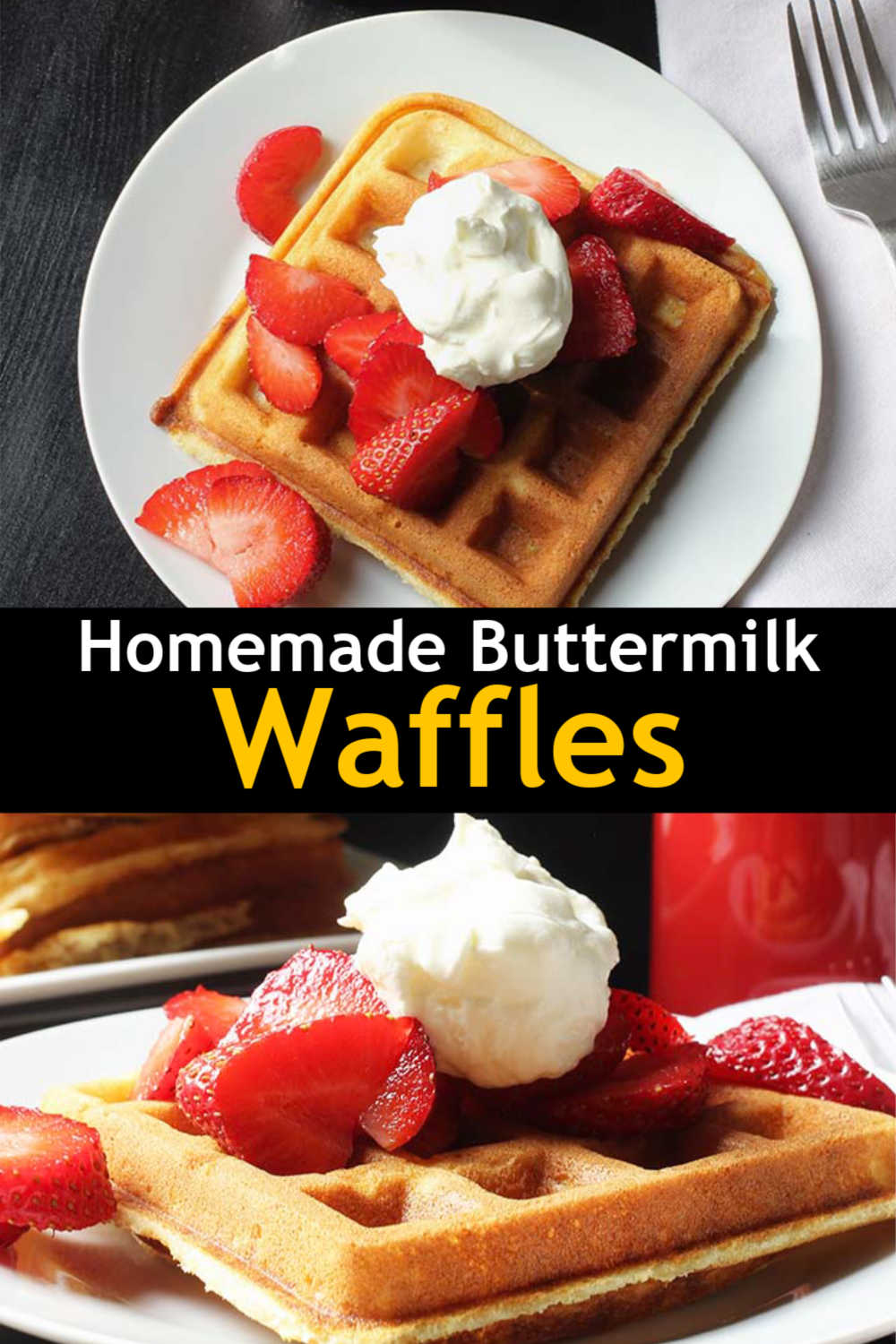 This post was originally published on November 28, 2008. It has been updated for content and clarity.