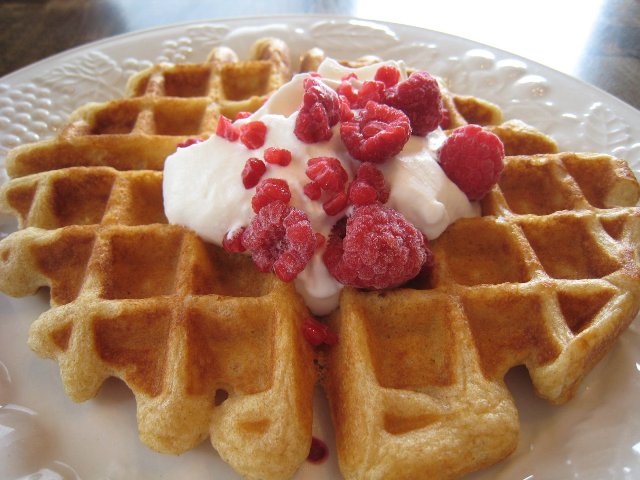 I'm not sure where or when I started making this yummy breakfast. But, it is one of our favorites. We usually wrap up the week by having waffles on Friday mornings.
My favorite way to serve it is with whipped cream and berries. It's probably more worthy of a weekend morning, but works for me on Fridays. Kinda makes the last day of a school week a mini celebration.
I vary the waffle recipe, but here's a great one:
Recipe: Homemade Waffles
Ingredients
1 1/2 cups unbleached flour
1/2 cup whole wheat flour
1 Tablespoon baking powder
1 teaspoon baking soda
1 teaspoon salt
2 cups buttermilk
4 eggs
1 cup oil
Instructions
Mix ingredients in the order listed and bake in waffle iron.
Serve with butter and maple syrup or freshly whipped cream and berries. (We use frozen berries most of the time. But, fresh is great!)
If preparing this as a mix, mark a quart-size ziptop bag with wet ingredients and cooking instructions. Combine the dry ingredients in bag and seal. Store in pantry until ready to use.
Quick Cuts:
If you're not in the mood to mix up these from scratch every time, prepare a bunch of homemade mixes at one time.
Don't keep buttermilk on hand? You can easily prepare a substitute. Pour one Tablespoon lemon juice or white vinegar into a one-cup measure. Add milk to fill the measuring cup. Allow to sit for five minutes. Use in place of 1 cup buttermilk.