Freezer-friendly, curried chicken and broccoli casserole has been making people happy at the dinner table for decades. The vintage classic chicken bake has gotten an upgrade, though. No canned soups or packaged mixes in this Chicken Divan with Curry. Just good, real food.
Serve it alongside Oven Baked Rice for a full meal, pack it in serving size dishes for a workweek meal prep, and be sure to tuck an extra pan in the freezer for another night.
So, casseroles get a bad rap. They're considered dated, unhealthy, unhip.
The reality, though, is that casseroles can be delicious. Many casseroles will strum the chords of nostalgia in your heart and have your mouth watering just at the mere mention of their names.
Chicken Divan with Curry is one of those casseroles.
Though not a true Indian curry, this layered dish of juicy chicken and tender broccoli, luxuriating in a bath of a homemade curried cream sauce is divine. Served over rice alongside a few more veggies it's not only delicious, but not unhealthful, either.
Why Make This
It's quick and easy. Chicken Divan assembles in about 15 minutes, meaning you can slide it in the oven and go about your merry way until dinnertime.
It's versatile. This curried chicken and broccoli casserole is very customizable. There are likely so many versions of chicken divan out there because folks have difference preferences.
My sister makes it without mayonnaise because she doesn't like mayo. My husband prefers it with less sauce. One son prefers it with less cheese.
If you make it into small individual sized casserole dishes, you can customize each person's dish just how he or she likes.
It's freezer-friendly. Something this tasty, easy, and crowd-pleasing deserves space in your freezer! Make a double or triple batch so you can enjoy it for weeks to come.
Ingredients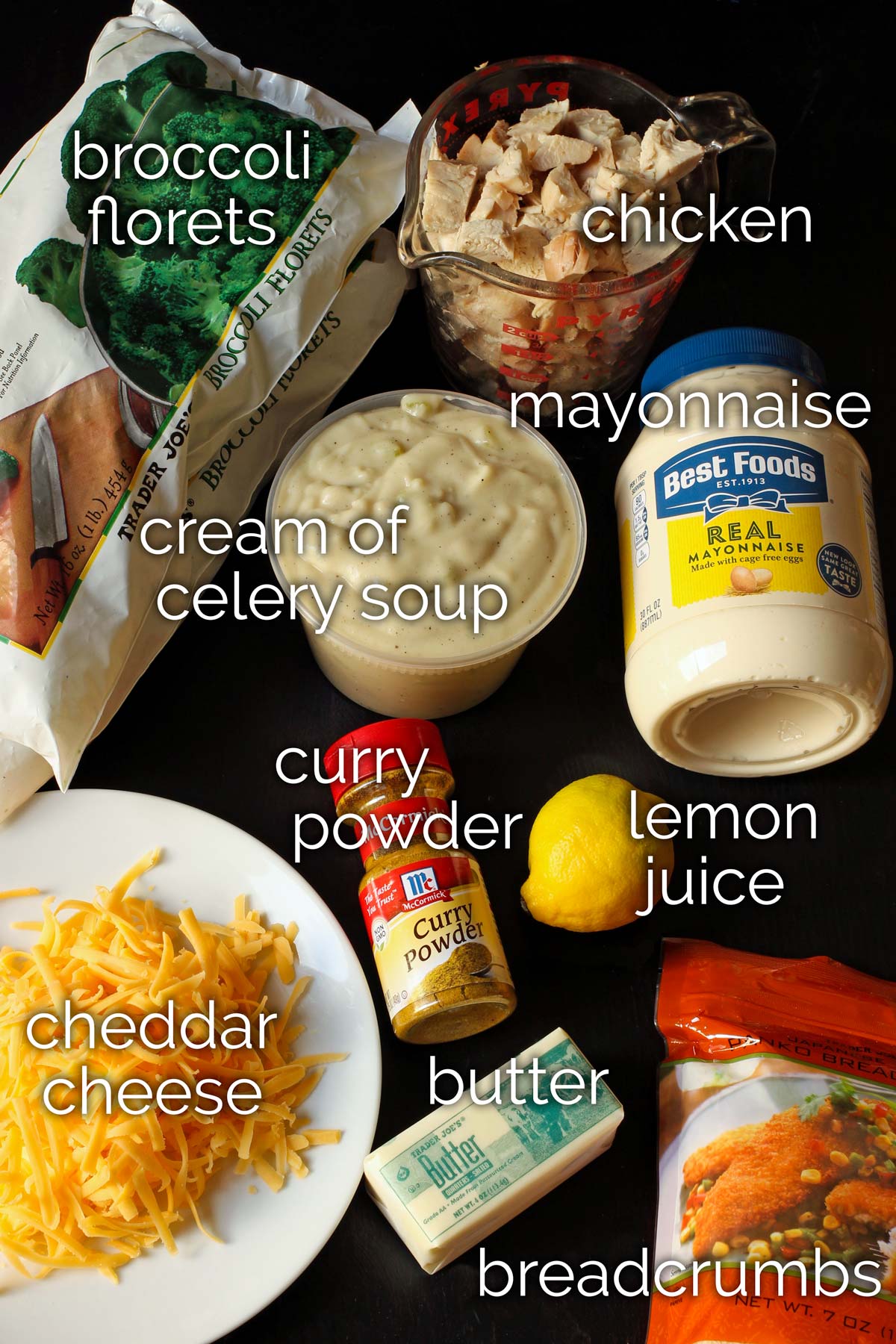 It might look like a largish ingredients list, but trust me, it's simple and worth the few minutes to measure things out. For a homemade Chicken Divan that's out of this world, you'll need:
broccoli – You can use fresh or frozen broccoli florets. To save time, you can steam the broccoli ahead of time and quickly assemble the casserole. Cooking extra for dinner the night before is also a great strategy.
cooked chicken – Use cubed or shredded chicken that you've cooked in the skillet, oven, or slow cooker. I like to use Instant Pot Poached Chicken, but you can use rotisserie chicken or leftover roast chicken if that's what you have. You can even use leftover turkey.
cream of celery soup – The best cream soup for casseroles is the one you make yourself. Make my celery version or up the chicken flavor with Homemade Cream of Chicken Soup. You can also use a simple White Sauce.
mayonnaise – I prefer Best Foods, but use whatever your preferred brand is.
lemon juice – Lemon juice adds some nice tang to the sauce in Chicken Divan. This can be bottled, fresh, or frozen. You can even substitute lime juice if you're in a pinch.
curry powder – There are many different curry powders available commercially. I prefer Spice Islands and McCormick's and really do not like Trader Joe's. Find the one you like and stick with it!
cheddar cheese – The lid on this Chicken Divan is made from tangy cheddar cheese topped with buttered bread crumbs. You can try another type of cheese, but cheddar is the classic.
breadcrumbs – You can use regular or panko, commercial or homemade breadcrumbs. In a pinch, you can use crushed crackers or cornflakes.
butter – You only need two tablespoons, but the butter is essential. Coating the breadcrumbs in some type of oil or fat prevents them from absorbing the sauce and becoming mushy. Buttered breadcrumbs are the perfect topping for this casserole.
Step-by-Step Instructions
One of the beauties of Chicken Curry Casserole — besides how delicious it tastes — is that it comes together super quickly.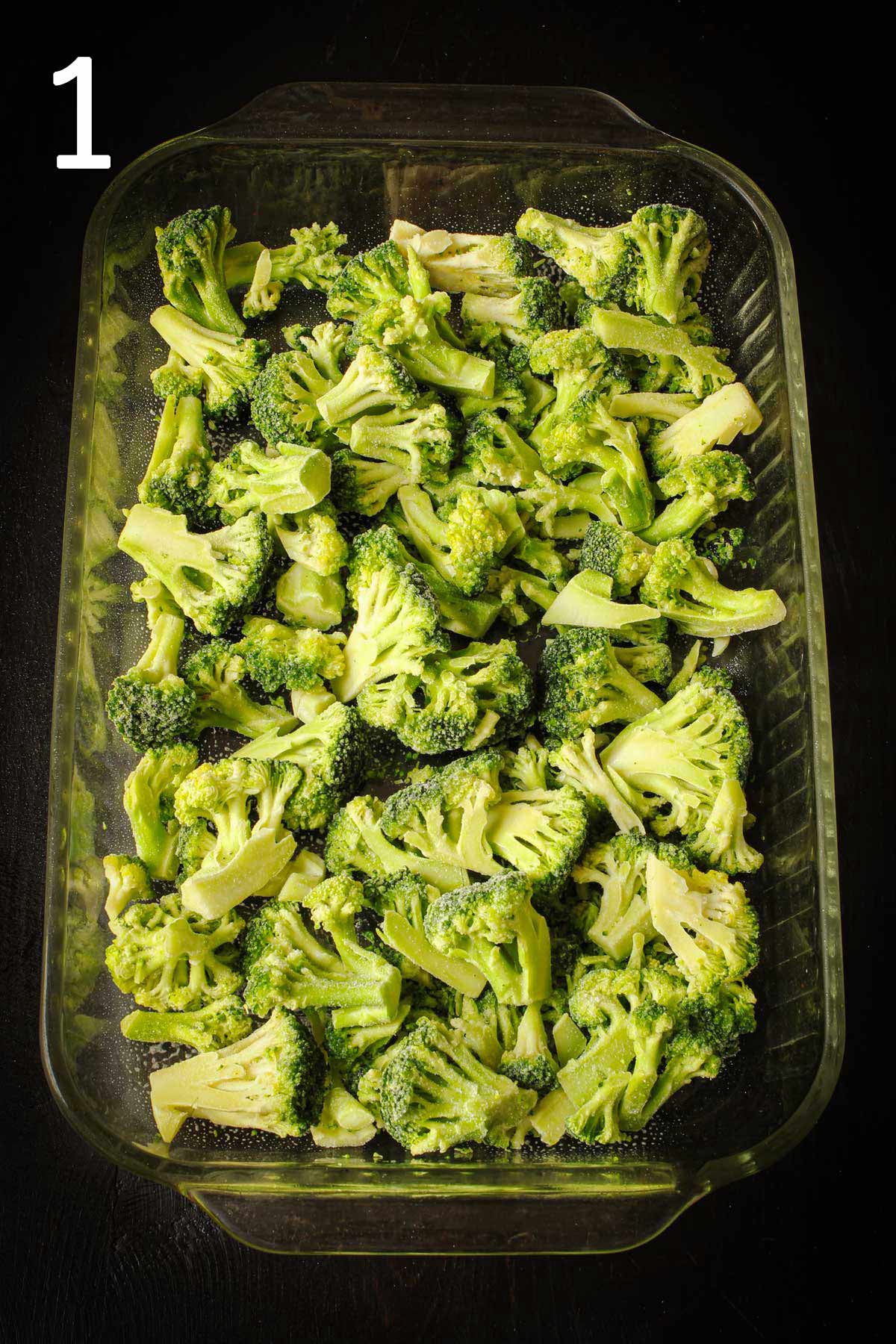 1. Spray a 9×13-inch baking dish or single-serve gratin dishes with cooking spray. Spread the broccoli florets in the pan. Layer on the chicken.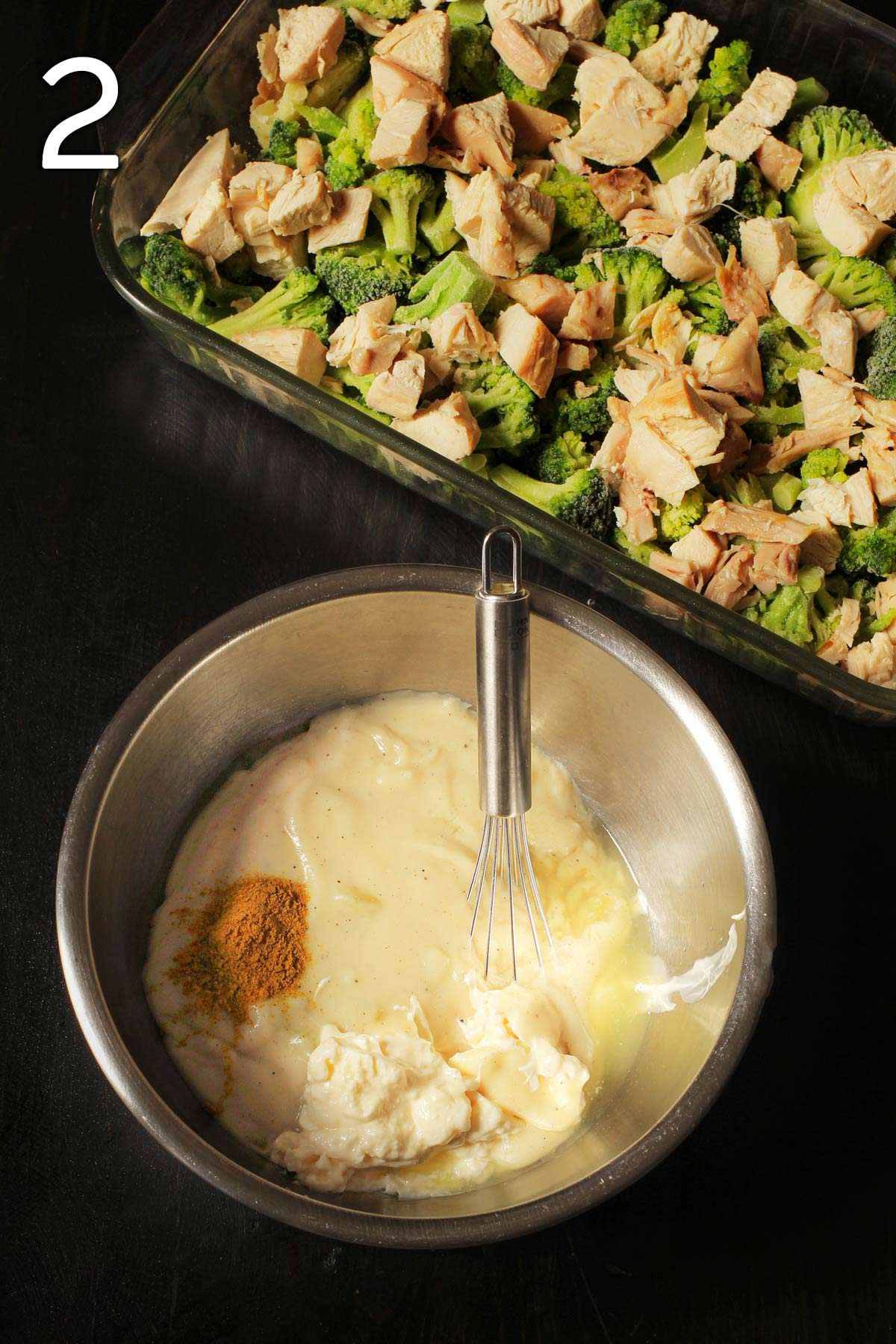 2. Whisk together the soup, mayonnaise, lemon juice, and curry powder in a large mixing bowl. Pour this mixture over the chicken and broccoli in the prepared dish.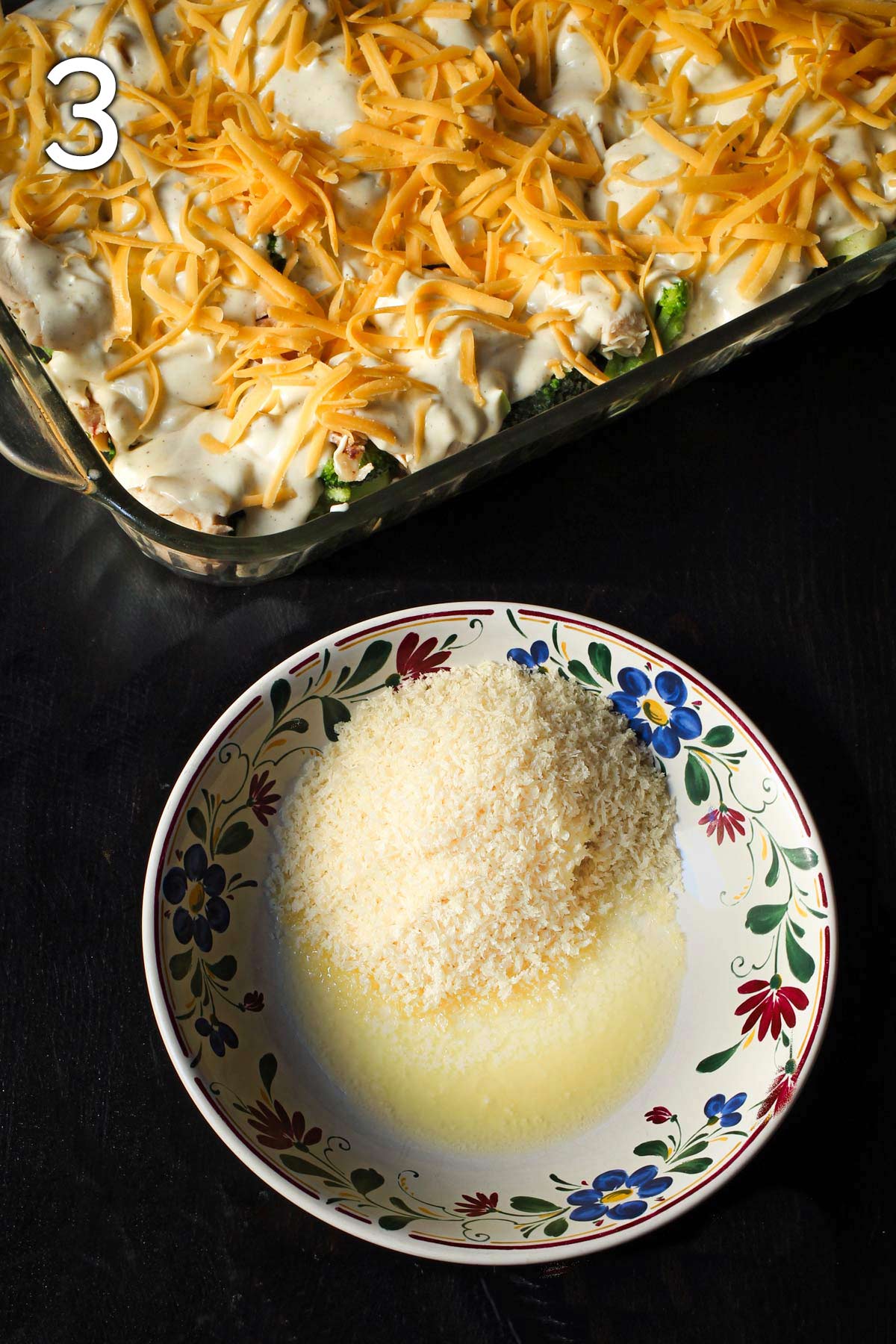 3. Sprinkle the cheese over the sauce layer. In a small bowl, mix together the bread crumbs and melted butter. Sprinkle this mixture over the cheese layer. Bake immediately, cover and refrigerate to bake later, or freeze for longer storage.
Freezing Instructions
Freezing Chicken Divan is super simple. Making several casseroles at one time and freezing the extras is a great habit to get into as it helps you stretch your time and money investments and gives you a night off cooking at a later date.
Remember that cold food freezes more quickly and has a lower chance of developing ice crystals for freezer burn, so be sure to use chilled ingredients for best taste and texture at serving.
Assemble the casserole, cover, label, and store in the freezer. Voila! Super simple.
If the ingredients are not already cold when you assemble the casserole, place the prepared dish in the refrigerator for several hours before storing in the freezer.
For best taste and texture, it's usually best to thaw the casserole completely prior to baking. Transfer the frozen dish from the freezer to the refrigerator for safest thawing. A casserole may take 12 to 36 hours to thaw, depending on the temperature in your refrigerator.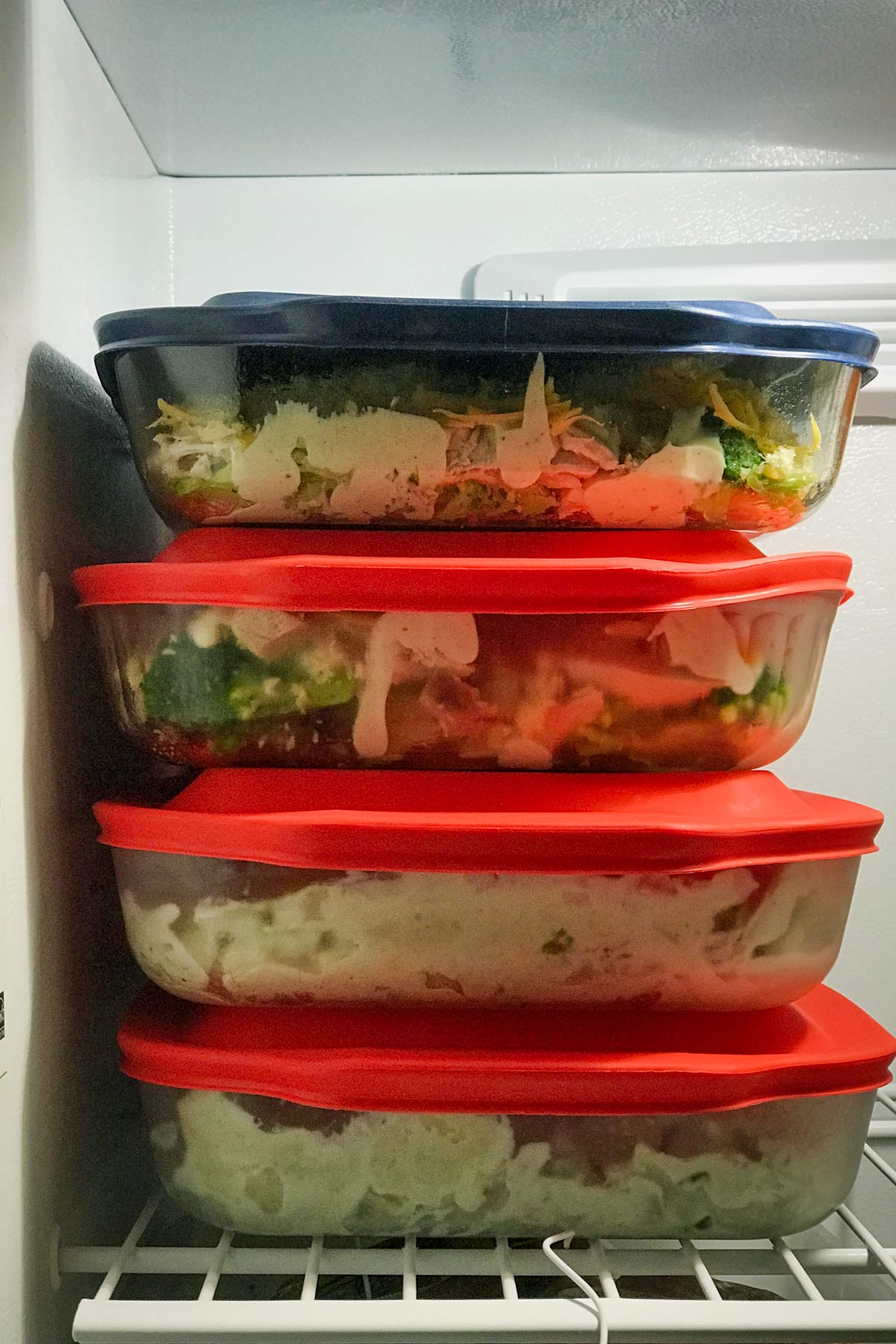 FAQs
What is chicken divan?
Chicken Divan is a chicken casserole made with broccoli and Mornay sauce, invented in NYC over 60 years ago. Then the canned soup companies got a hold of it and made it over into all kinds of things, under the guise of "it's too hard for the average home cook to make her own sauce."

If you've got any vintage church cookbooks on your shelf, chances are there are more than a few versions of Chicken and Broccoli Casserole or Chicken Curry Casserole. Originally the dish was called Chicken Divan.
What kinds of casseroles are there?
There are dozens of casserole recipes out there, ranging from mac and cheese to lasagna, enchiladas to pot pie. Chicken and Broccoli Casserole is a classic with variations including the addition of rice or curry powder.
How do you make a casserole healthy?
A basic casserole includes a sauce, mix-ins (like noodles, rice, or protein), and a topping, such as cheese or buttered breadcrumbs. On every level you have options to make your favorite casserole a little healthier: use whole grains instead of simple carbs, focus on lean proteins instead fattier ones, use less cheese, spray the bread crumb topping with oil instead of dousing it in butter, make your own white sauce instead of buying the canned varieties.
Recipe Costs
Knowing how much it costs you to prepare a recipe can help you decide if it's the type of recipe to make regularly or one you might want to save for special occasions. Let's crunch some numbers and see how this recipe pencils out.
broccoli – $2.00
chicken – $0.99
cream of celery soup – $0.96
mayonnaise $1.11
lemon juice – $0.10
curry powder – $0.09
cheese – $0.50
breadcrumbs – $0.31
butter – $0.23
Purchased at a mid-range grocery store at non-sale prices, the ingredients for Chicken Divan add up to about $6.29 for 8 servings or 79 cents per serving!
Save even more
All the recipes on Good Cheap Eats are already pretty affordable. However, there are some strategies you can use to make this particular recipe more economical:
Stock up on ingredients when they are on sale. When I find regular kitchen staples on sale, I buy a lot. It's a great way to save money on your groceries without clipping a single coupon. I'm currently using a price book to track prices and that's saving me money. For this recipe, keeping an eye on the price of cheese, chicken, and mayonnaise is key. Buy them on sale when you can.
Make your own cream of soup. Making my own creamed soup with flour, butter, and milk is so simple and easy. Plus, the sauce freezes well, so I can make big batches so I can have some always to hand. You don't need no stinking cans, man.
Make your own breadcrumbs. Homemade breadcrumbs are practically free if you use bread that's past its prime for sandwich making. Alternatively, check the bakery clearance rack for day-old bread that is perfect for making into crumbs.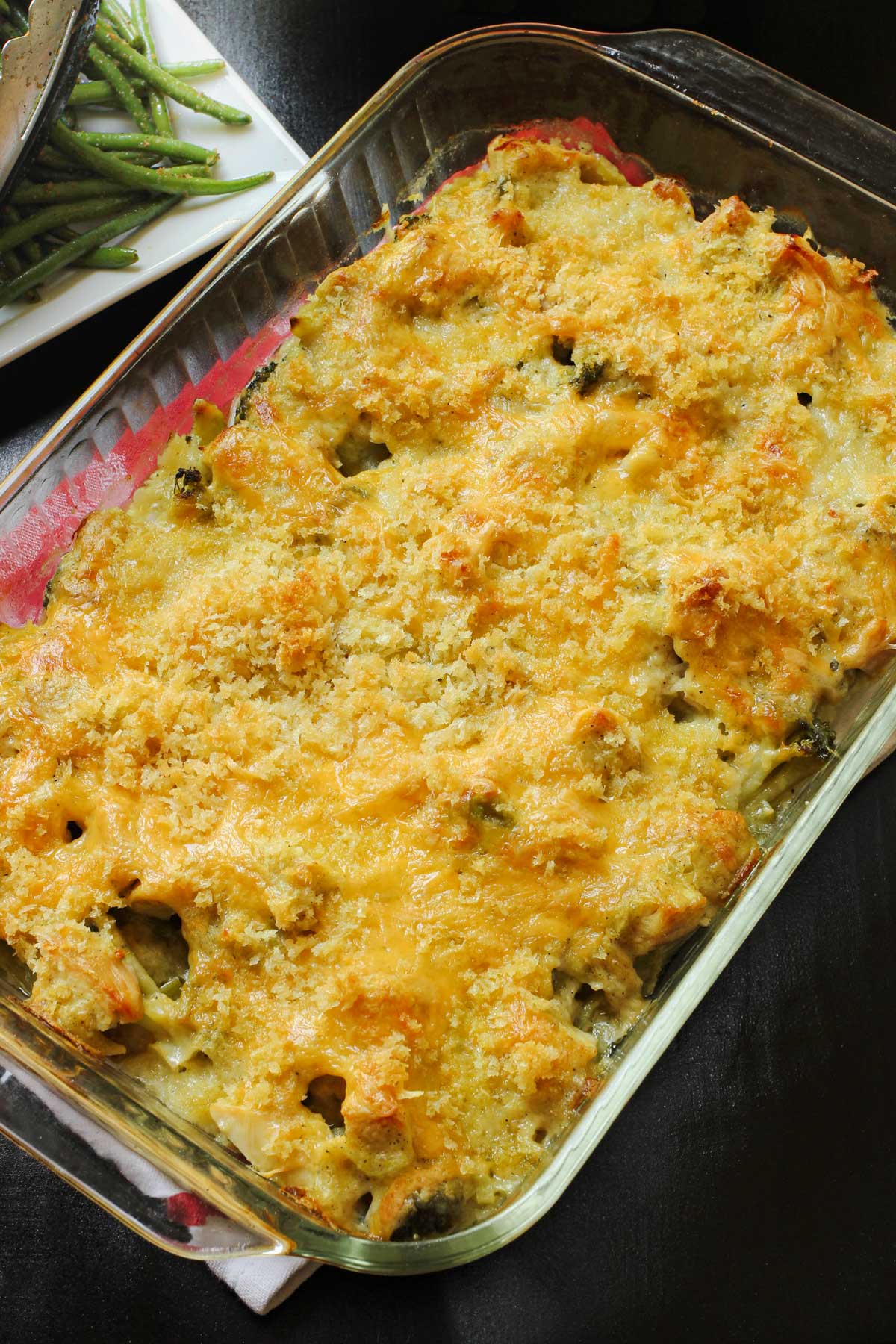 More Great Casseroles
Chicken Divan with Curry
This freezer-friendly, curried chicken and broccoli casserole is fully homemade. No canned soups or packaged mixes in this Chicken Curry Casserole. Just good, real food. 
Ingredients
2

heads

broccoli

cut into florets

2

cup

chicken (cooked and cubed)

1

cup

mayonnaise

1

tablespoon

lemon juice

½

teaspoon

curry powder

4

oz

cheddar cheese (shredded)

(1 cup)

½

cup

breadcrumbs

2

tablespoon

butter

melted
Instructions
Preheat the oven to 350 degrees. Grease a 9×13-inch pan with nonstick cooking spray.

In a pot on the stove, the microwave or a vegetable steamer, cook the broccoli until crisp-tender. Arrange the broccoli on the bottom of the prepared pan.

Layer the chicken over the broccoli.

In a mixing bowl combine the soup, lemon juice, mayonnaise, and curry powder. Pour the sauce over the chicken.

Top with the grated cheese.

In a small bowl, combine the bread crumbs and butter. Mix well and sprinkle over the top of the casserole. Bake for 30-35 minutes or until the sauce is bubbly, the cheese is melted, and the crumb topping is toasted.
Notes
To make to freeze: If freezing, allow the casserole to cool slightly. Wrap, label, and chill in the refrigerator before freezing. To bake, thaw completely before baking.
Promptly store leftovers in an airtight container in the refrigerator, for up to 3 days.
Nutritional values are approximate and based on ⅛ the recipe.
Substitutions: There are a number of swaps you can make for this recipe.
use cauliflower instead of broccoli.
cream of chicken soup can be used instead of cream of celery.
crushed crackers can be used instead of breadcrumbs.
Nutrition
Calories:
381
kcal
|
Carbohydrates:
16
g
|
Protein:
12
g
|
Fat:
31
g
|
Saturated Fat:
9
g
|
Cholesterol:
44
mg
|
Sodium:
400
mg
|
Potassium:
539
mg
|
Fiber:
4
g
|
Sugar:
4
g
|
Vitamin A:
1213
IU
|
Vitamin C:
137
mg
|
Calcium:
189
mg
|
Iron:
2
mg
This post was originally published on September 18, 2019. It has been updated for content and clarity.