This freezer-friendly, curried chicken and broccoli casserole is fully homemade. No canned soups or packaged mixes. Just good, real food. Make one for now and one for the freezer.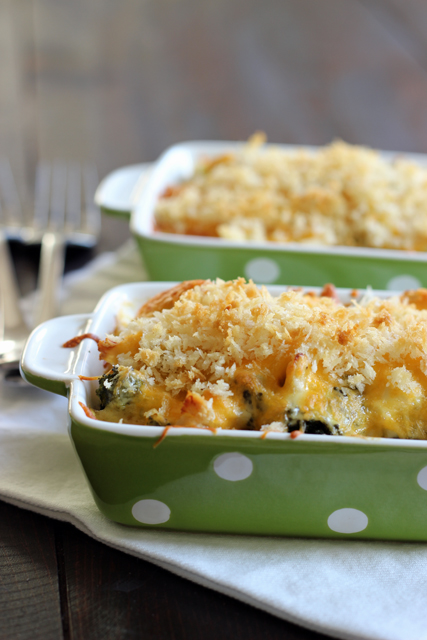 When my siblings and I were growing up, my mom let us choose our birthday dinner. Since I had a love of creamy, cheesy chicken casseroles, this dish was frequently on the menu. My mom got the recipe at a church function. It was called Chicken Curry.
This is what I called it my entire childhood until I realize that "curry" was not the concoction of creamed soup, chicken, cheese, broccoli, and curry powder. What can I say? I lived a sheltered life. I had no idea that curry referred to spicy Indian and Thai dishes.
At our house, chicken and broccoli casserole always had curry powder in it and was topped generously with cheddar cheese and buttered bread crumbs. It was one of my very favorite dishes as a child. To this day, it makes me happy to eat this.
However, I've played around with Mom's original recipe, and tweaked it a few different ways. If you have a copy of Not Your Mother's Make-Ahead and Freeze Cookbook, you'll find a non-curried version that is delicious and very freezer-friendly. Today's recipe is a simplified, curried version of that.
Instead of using canned cream soup, I make my own white sauce and doctor it up just the way mom did with mayonnaise, lemon juice, and curry powder. It sounds odd, I know, but it's so delicious!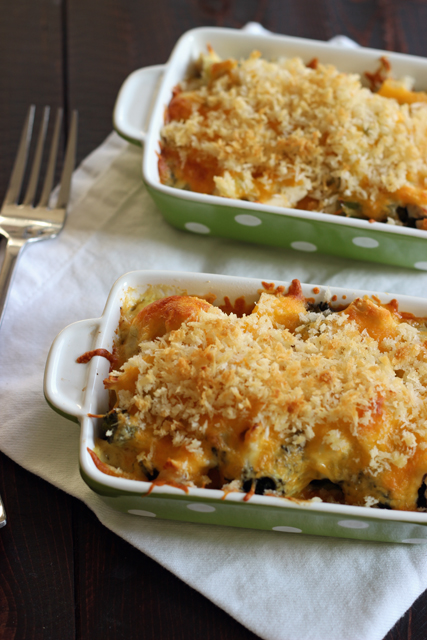 I also typically serve this with rice. My husband prefers it with less sauce. One son prefers it with less cheese. If you make it into small individual sized casserole dishes, you can customize each person's dish.
Either size goes great in the freezer. Just double wrap the pan in foil once it's cooled. Chill in the fridge and then pop it in the freezer. Thaw it before baking.
Recipe: Homemade Curried Chicken and Broccoli Casserole
Ingredients
2 heads broccoli, cut into flowerettes
2 cups cooked, chopped chicken (about 2 breast halves)
1 cup mayonnaise
1 tablespoon lemon juice
1/2 teaspoon curry powder
1 cup grated sharp cheddar cheese
1/2 cup panko bread crumbs
2 tablespoons melted butter
Instructions
Preheat the oven to 350. Grease a 9×13-inch pan with nonstick cooking spray.
Steam the broccoli until tender. Arrange the broccoli on the bottom of the prepared pan.
Layer the chicken over the broccoli.
In a mixing bowl combine the soup, lemon juice, mayonnaise, and curry powder. Pour the sauce over the chicken.
Top with the grated cheese.
In a small bowl, combine the bread crumbs and butter. Mix well and sprinkle over the top of the casserole. Bake for 30-35 minutes or until the sauce is bubbly, the cheese is melted, and the crumb topping is toasted.
If freezing, allow the casserole to cool slightly. Wrap, label, and chill in the refrigerator before freezing. To bake, thaw completely before baking.
Preparation time: 15 minute(s)
Cooking time:35 minute(s)
Number of servings: 6 to 8
Tools I Use for This Recipe: