This Single Crust Pot Pie comes together quickly, particularly if you've got holiday leftovers. Be sure to add it to the rotation for this holiday season.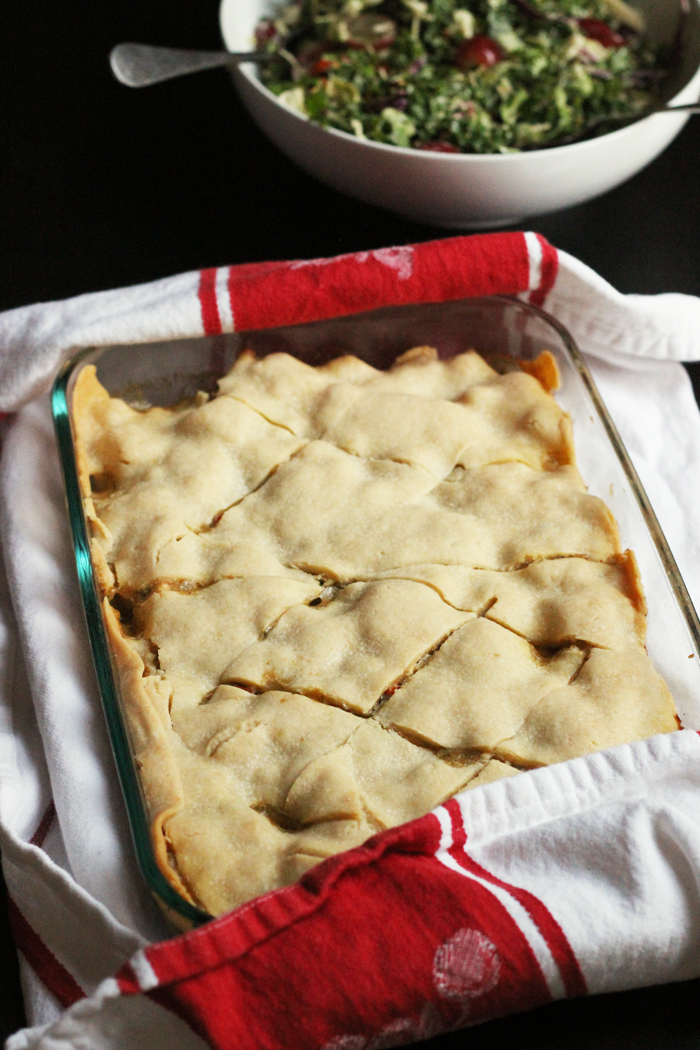 What says cozy, cold-weather dinner than a chicken pot pie? I'm not sure there is anything more comforting. Flaky pie crust, creamy sauce, succulent chicken and veggies – what could be better?
This is one of my family's favorite recipes, and a Single Crust Pot Pie is really so simple. It's an ideal casserole to make this holiday season, especially if you've got leftovers from a roast chicken or turkey. Serve it with a simple side salad, and you've got the perfect weeknight meal!
I love this particular version for it's mirepoix and mushroom base that adds such a woodsy, fall flavor to it.
But I'll tell you a secret. Chicken Pot Pie, single crust or not, can be very labor-intensive if you're making it all from scratch just for one dinner pie. The homemade sauce, the freshly cooked veggies and chicken, the delectable pie crust — they are must-makes, but they do take some time.
I have two pet strategies that will allow you to enjoy this Single Crust Pot Pie all winter long.
Make many chicken pot pies at once.
You knew you could freeze chicken pot pie, right? It's great for freezing. Make several at one time so that your time investment is well served. Make a large batch of Homemade Cream of Chicken Soup, cook up a bulk batch of potatoes and chicken, and get to sauteing the mirepoix and mushrooms.
Chill the filling and then assemble several pies to freeze. Be sure to use red potatoes for best texture after freezing.
Plan for leftovers.
Another great strategy for making this Single Crust Pot Pie is to plan for leftovers the next time you roast a chicken or turkey.
Ding. ding. ding. Think about the upcoming Thanksgiving dinner. You're likely already cooking potatoes, roasting turkey, chopping vegetables, and rolling out pie crust. Slip the different components of this dish into your Thanksgiving Prep.
Chop extra onions, celery, carrots, and mushrooms when you're making other dishes.
Set aside enough cooked potatoes before you mash the rest.
Chop up some turkey when you're putting away the leftovers.
Serve Homemade Cream of Chicken Soup for Cooking as your gravy and be sure to make lots! (Secret's out. It really is just a creamy gravy.) Or you can just use leftover gravy instead of my creamy sauce.
Make extra pie crust and stash it in the fridge while you're making your other pies.
See? Make your pot pie indulgences easy peasy.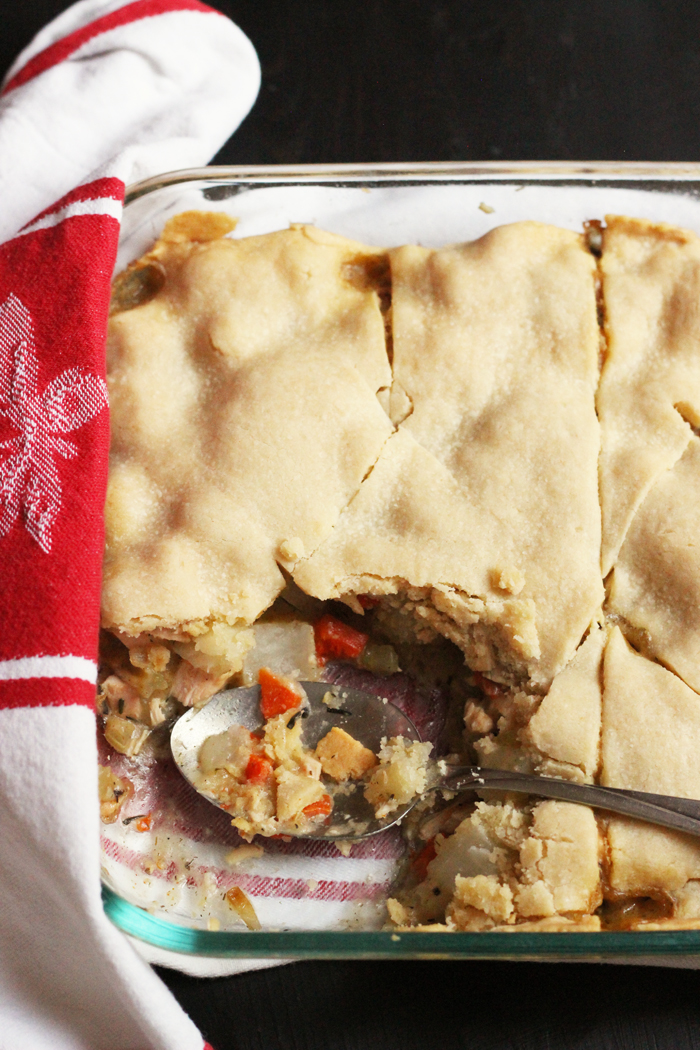 How to make this good and cheap:
Here are some of the strategies you can use to make this recipe more economical:
Stock up on ingredients when they are on sale. For instance, when I see a great price on veggies or chicken stock, I'll buy lots of them and plan my meals around them.
Use a whole chicken! Cooking a whole chicken (or buying one that Costco roasted for you) can be more economical than buying chicken pieces. Plus, you can use the carcass to make homemade stock.
Use up leftovers. It doesn't matter what kind of veggies you throw in. They add great flavor and nothing goes to waste. Feel free to adapt this basic pie recipes to use whatever meats or veggies you have on hand.
Having the right kitchen tools can really make your time in the kitchen more enjoyable. Over time, I've honed my collection so that they are perfect for my needs. Here are the tools that I use for this recipe:
Print Recipe
Single Crust Pot Pie with Chicken or Turkey
This Single Crust Pot Pie comes together quickly, particularly if you've got holiday leftovers. Be sure to add it to the rotation for this holiday season.
Ingredients
2

tbsp

olive oil

1

onion

chopped

3

ribs

celery

chopped

1

cup

mushrooms (sliced)

1

cup

carrots (chopped)

salt

black pepper

4

cup

red potatoes

cooked and cubed

3

cup

chicken (cooked and cubed)

turkey can also be used

1

batch

Homemade Cream of Chicken Soup

about 2 cups or leftover gravy

1/2

tsp

dried dill

1/2

tsp

dried summer savory

1/2

tsp

dried thyme

1 1/2

cup

unbleached, all-purpose flour

1/2

cup

butter

cut into cubes

1/4

cup

water

cold
Instructions
Preheat the oven to 375 degrees. Spray a 9x13-inch baking pan with nonstick cooking spray.

In a large nonstick skillet, heat the oil until shimmering. Add the onion, celery, mushrooms, and carrots. Saute on low for 15 minutes until the vegetables are tender and caramelized. Season to taste with salt and pepper.

Meanwhile, simmer the potatoes in salted, boiling water if you don't already have leftover cooked potatoes to use.

In a large bowl, combine the cooked vegetables, cream of chicken soup, chicken, and herbs. Pour this mixture into the prepared baking dish.

Prepare the pastry crust. In a food processor fitted with a metal blade, pulse together the flour, butter, and 1/2 teaspoon salt, until coarse crumbs are formed. Alternatively, you can do this in a bowl with a pastry blender or two table knives. Add the water a few drops at a time until the dough comes together easily. Transfer the dough to a lightly floured surface and roll out to a 10x14 inch rectangle. (If you are freezing a pot pie, chill the filling prior to fitting the crust.)

Fit the dough over the top of the chicken filling. (If you're going to freeze the pie, wrap it well and store in the freezer at this point.)

Cut a few vent holes and bake for 45 to 60 minutes until the crust is golden brown and the filling is bubbly.

If baking a frozen pie, do not thaw. Place the pie in a 400 degree oven for 15 minutes. Then reduce the heat to 375 degrees and continue baking until done, about 45 minutes more.
Notes
Store leftovers covered in the fridge for up to 4 days.
Nutrition
Calories:
236
kcal
|
Carbohydrates:
18
g
|
Protein:
8
g
|
Fat:
15
g
|
Saturated Fat:
6
g
|
Cholesterol:
42
mg
|
Sodium:
108
mg
|
Potassium:
284
mg
|
Fiber:
2
g
|
Sugar:
2
g
|
Vitamin A:
2096
IU
|
Vitamin C:
5
mg
|
Calcium:
20
mg
|
Iron:
1
mg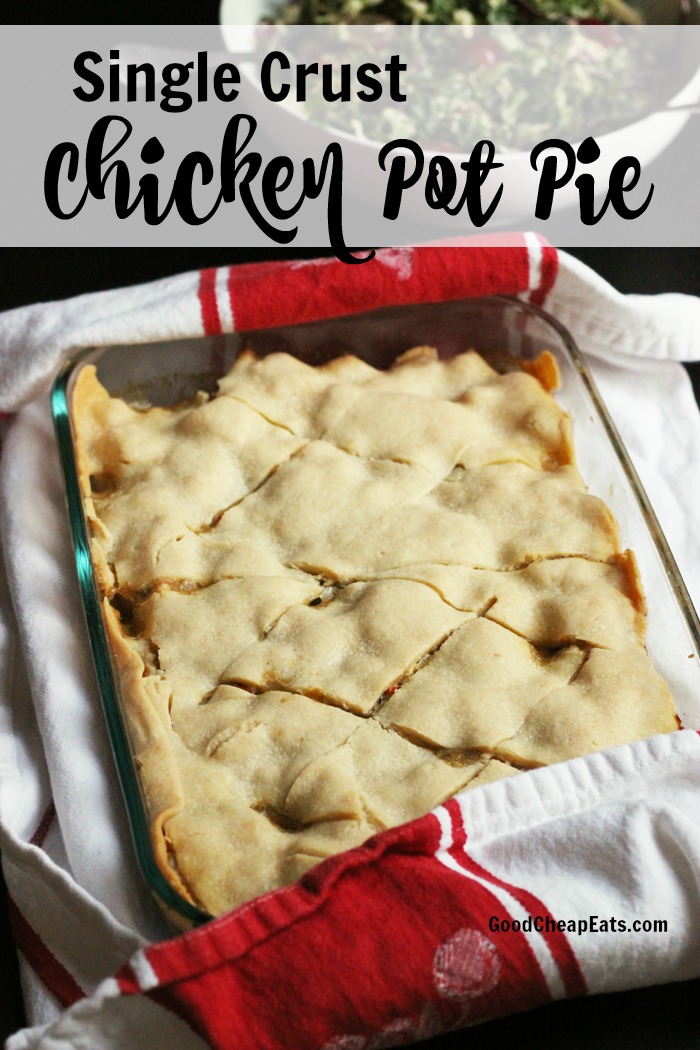 Are you looking for more good cheap eats?