Looking for some easy comfort? A cozy chicken casserole is just the thing! Whether you're making Chicken Pot Pie or a Curried Chicken Divan, you're bound to have a hearty, meal when you have winning chicken casserole recipes in your regular menu repertoire.
Check out these Easy Chicken Casserole recipes for fresh inspiration and meals that you can easily make ahead and freeze.
Jump to:
Chicken is a stellar protein to use in a frugal kitchen. It's generally well-liked, affordable, widely available, and easy to prepare.
Bonus: chicken casserole recipes are money in the bank to prep stellar comfort foods everyone loves.
In the Good Cheap Eats Club recently, Alicia mentioned that she cooks two whole chicken in the slow cooker every week or two and then uses the chicken meat in a variety of different recipes. Cooking the chicken on a regular basis gives her a routine and a regular rhythm to her meal prep while having the cooked chicken ready to go allows her to be creative and mix up her meal plan. Brilliant strategies!
If casseroles and chicken are on your radar this month, then I've got you covered. I've rounded up some of our favorite Good Cheap Chicken Casserole Recipes for your dining pleasure. All of them are make-ahead and freezer-friendly, giving you lots of options when it comes to your winner winner, chicken dinners.
Why Make This
Casseroles are the sovereign matriarch of the culinary world. I say matriarch because I think there are many a grandmother out there who made a mean casserole. My Gramma John's Overnight Noodle Casserole is proof of that. Our foremothers should get the credit, don't you think?
They are some of the best, make-ahead comfort foods on the planet.
Ingredients to keep on hand
Chicken casserole recipes can range widely in their ingredients, but there are some common ingredients to keep on hand so you can stir together a casserole any night of the week:
cooked chicken – You can cook the chicken yourself just for the recipe, use leftover chicken, or buy canned chicken. Scroll down for details on all these methods.
veggies – Often cooked vegetables, such as broccoli, green beans, mushrooms, carrots, onions, or peppers are stirred into chicken casseroles. The veggies are cooked first so as not to water down the sauce.
sauce – The sauce can be a simple White Sauce or Bechamel, homemade gravy, or a cream of chicken soup or cream of celery soup. Salsa, sour cream, or a mixture of salsa and sour cream is also added to chicken casserole recipes.
starch – The starch can be cooked pasta, biscuits, tortillas, or pie dough, like in a pot pie.
cheese – While not a requirement, many chicken casserole recipes call for some kind of cheese, such as shredded mozzarella, jack, or cheddar cheese.
other toppings – Additional toppings might include chopped green onions, sliced olives, buttered breadcrumbs, or fresh herbs.
FAQs
What is a casserole?
Casserole refers to a large baking dish as well as the recipes that are often baked in said pan. In the US casseroles generally consist of a protein, veggies, and some type of starch, such as pasta, tortillas, or pastry. They may or may not feature a cheesy or breadcrumb topping. Chicken casserole recipes feature cooked, boneless chicken as the main protein.
Can you put raw chicken in a casserole?
Most chicken casserole recipes call for cooked and cubed (or shredded) chicken. This allows for quick prep and a great way to use up leftovers. It also makes sure that the chicken is safely cooked and that the juices don't water down your sauce.
What can I add to chicken casserole to make it better?
There are so many delicious add-ins for chicken casserole recipes. Consider stirring in fresh herbs, chopped fresh garlic, chopped water chestnuts, or chopped onion. You can also top it with yummy things like tater tots, buttered breadcrumbs, shredded cheese, and more fresh herbs.
Tips for Success
Casseroles are not typically complicated, but there are some strategies to give you best results:
Don't overcook the noodles. Often chicken casserole recipes call for cooked noodles (though there are many that don't). If yours does, be sure not to overcook the noodles as they will continue to cook in the sauce. Additionally, if you're going to freeze the dish, they will soften even further. Stick with a minute or two under al dente.
Make sure your veggies and proteins are cooked. Precooking vegetables and proteins, however, is a must. This will help you avoid watery casseroles as both veggies and proteins will let off liquid during the cooking process.
Chill out before you freeze. If you plan to freeze the casserole, be sure to do one of two things: use cold ingredients or chill the assembled casserole before freezing. This will help the casserole freeze more quickly, thereby avoiding large ice crystals and freezer burn.
Make your own creamed soups. Canned cream soup, the building block of American chicken casserole recipes, just can't compete with homemade. Whether Cream of Chicken or Cream of Celery is what you're looking for, make it yourself when time allows.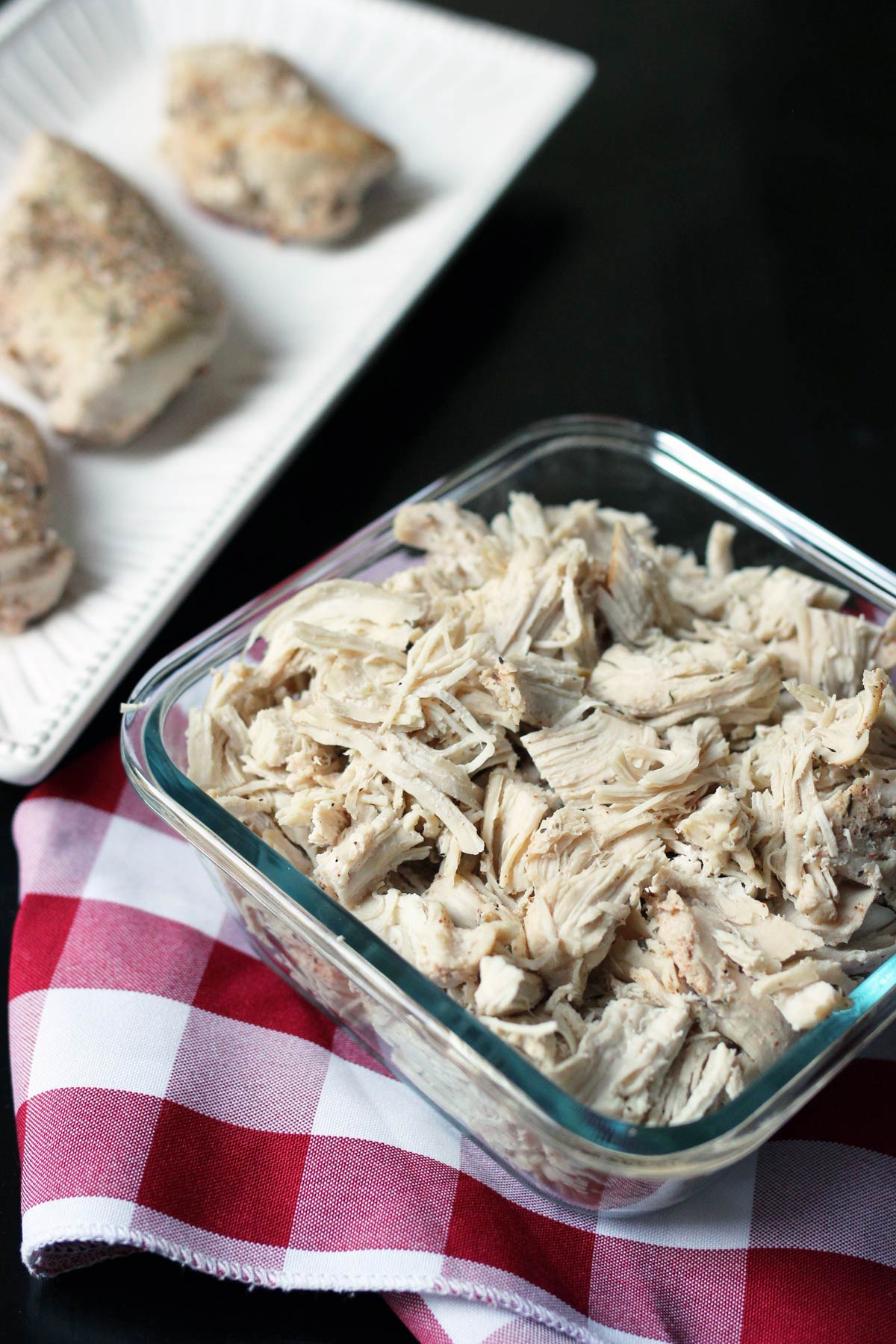 How to Cook Chicken for Casseroles
Making a casserole is a great way to use up leftover chicken or turkey that you have from another night, but sometimes you want to make a chicken casserole on purpose, not just as a clean-up hitter.
Here are some good ways to cook chicken for casseroles:
Cook a whole chicken in the slow cooker. This is simple and handsfree. It does take several hours though.
Roast a whole chicken. Roasting a chicken in the oven is nice, too. While it has a shorter cook time than the slow cooker method, it will still take over an hour.
Bake chicken pieces. Baking many pieces at one time is a great way to bulk-prep chicken for casserole making. It should take about 30 to 45 minutes depending on what kinds of pieces you choose.
Cook chicken in the instant pot. Poaching chicken on the stovetop or in the instant pot is another quick method for the cooked chicken you'll need for casseroles. Since the IP takes awhile to get up to pressure, you're still looking at a good 30 to 45 minutes in terms of time-investment.
Consider canned chicken. I typically have a few cans of Kirkland chicken on hand for quick recipes, like casseroles and chicken salad. It's more tender than most home cooked chicken, but most people (ie picky kids and spouses) shouldn't notice too much of a difference.
Go for the rotisserie. Another quick, done-for-you option is to grab a roasted bird from the grocery store. They're quite affordable and there are so many ways to use a rotisserie chicken.
Recipes to Try