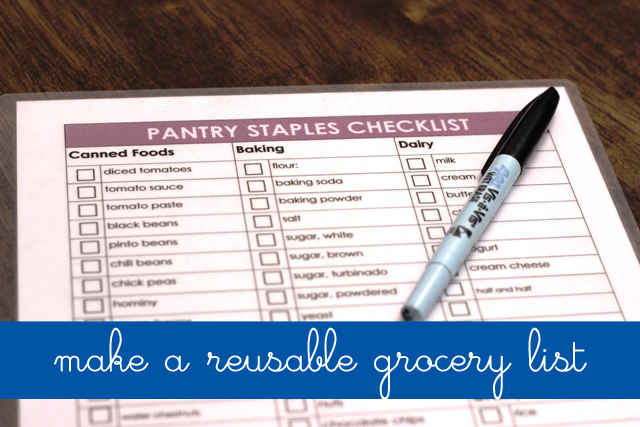 If you go to the grocery store on any kind of regular basis, chances are you're making a list each time. And if you're making a list each time, you're probably adding the same things to that list fairly often. You can save time by using a reusable grocery list.
A reusable grocery list is one that has the items you use frequently. You don't need to write milk on the list each week if milk is already listed.
You save time in a number of ways:
You aren't recreating the wheel each time you make a list.
You aren't making a special trip to the store when you forget to put something on your list.
You're making a list in short order since it's only a matter of checking off your inventory.
You can make this reusable grocery list by whatever means suits you, digital or paper. For instance, on an iphone or ipad you can use the reminders app to list the things that you regularly buy. Adjust the settings so that it will add those things to your list regularly, ie on a weekly basis.
Or you can use the old fashioned paper and pen method. You can type it into your computer and print it each week or laminate a nice copy and have it laminated. That's what I did. I can go through the list, cross out the things we don't need and check off the new things that we do need when I'm shopping at the store.
This post is part of the Kitchen Time Savers series. You can follow along this month as we explore lots of ways to make more efficient use of our time in the kitchen.

Don't want to miss a post in this series? Subscribe to 31 Days of Kitchen Time Savers here. Get updates via email here.