You can truly set it and forget it when you cook a pot roast in the slow cooker. A quick assembly in the morning allows you to enjoy a great dinner at night.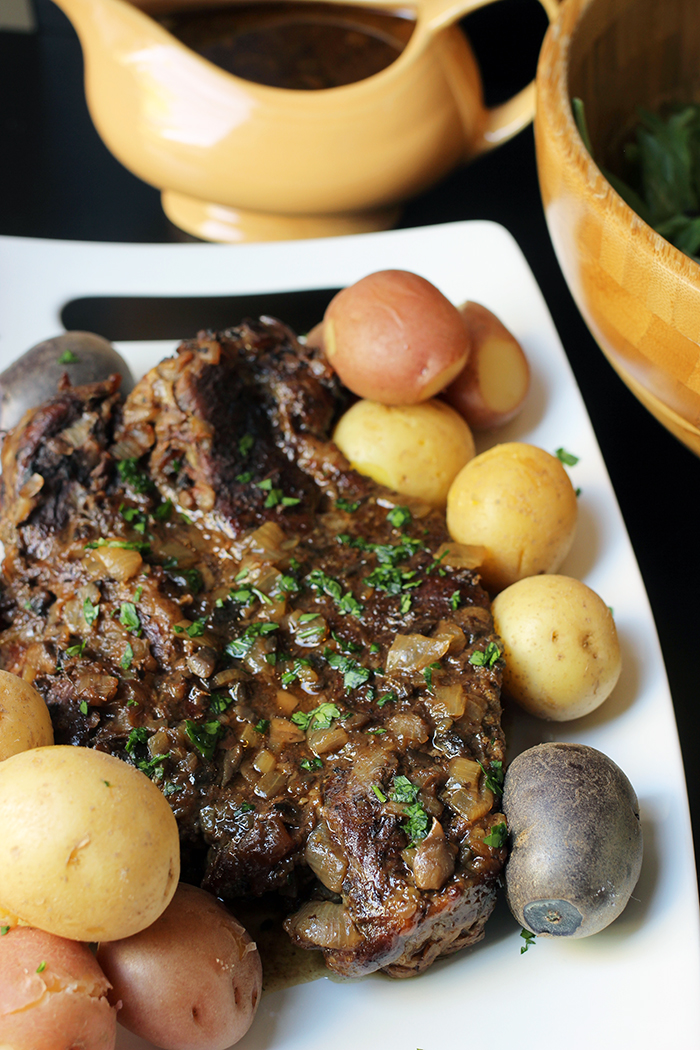 You've probably heard of the beauty of the slow cooker and what delicious roasts you could cook in one. But maybe it just hasn't worked out for you.
Maybe your efforts have resulted in utter disaster. Tough meat. Jerky-like, chewy meat. Not even edible meat.
Maybe you gave up on roasts entirely.
That was my experience as a newlywed. I knew that cooking a pot roast in the slow cooker was supposed to work, but I wasn't sure how.
I asked friends who made delicious roasts. I read recipes. And I figured out some general guidelines for a great tasting roast.
How to Make a Pot Roast in the Slow Cooker
The following are some tips to help you enjoy pot roasts, like we do now, with the ease of the slow cooker. With these steps, you'll find opportunities to mix and match different flavors, based on the aromatics, spices, and liquids you choose, resulting in innumerable flavor combinations for your pot roasts.
You will need a slow cooker, of course. My favorite is a simple, no bells and whistles 8-qt slow cooker by Crock-pot.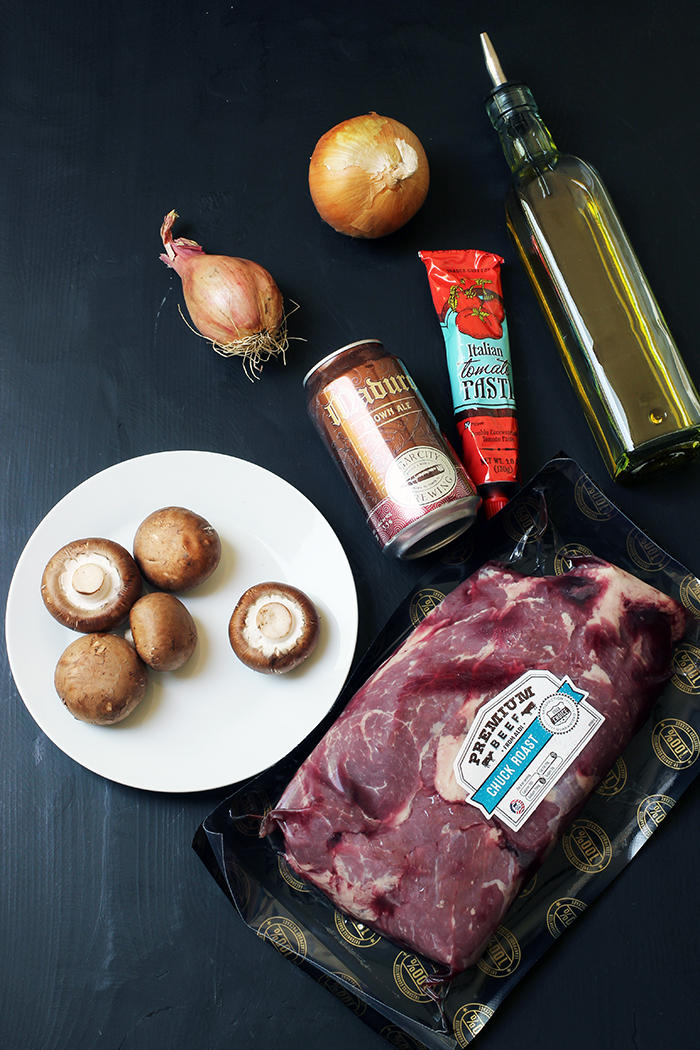 Use the right cut of meat.
Some cuts of meat are meant for braising, others are for dry roasting. If you use the wrong cut, the texture will be off.
What is braising?
Braising is when food is browned in fat, then cooked, tightly covered, in a small amount of liquid for an extended period of time, exactly like the slow cooker.
What kind of meat do you use for braising?
The best cheap cut of meat for braising is the chuck roast. I like to use boneless chuck roasts so that I'm not paying for the bone. However, using a bone-in cut may be cheaper per pound, and the bone may contribute a bit more flavor.
I prefer the boneless chuck roast because it is generally fairly lean, easy to carve, and fairly economical. I stock up on roasts when they are on sale. I've seen them at ALDI for $2.49/pound while the regular grocery store sale price is about $3.99/pound.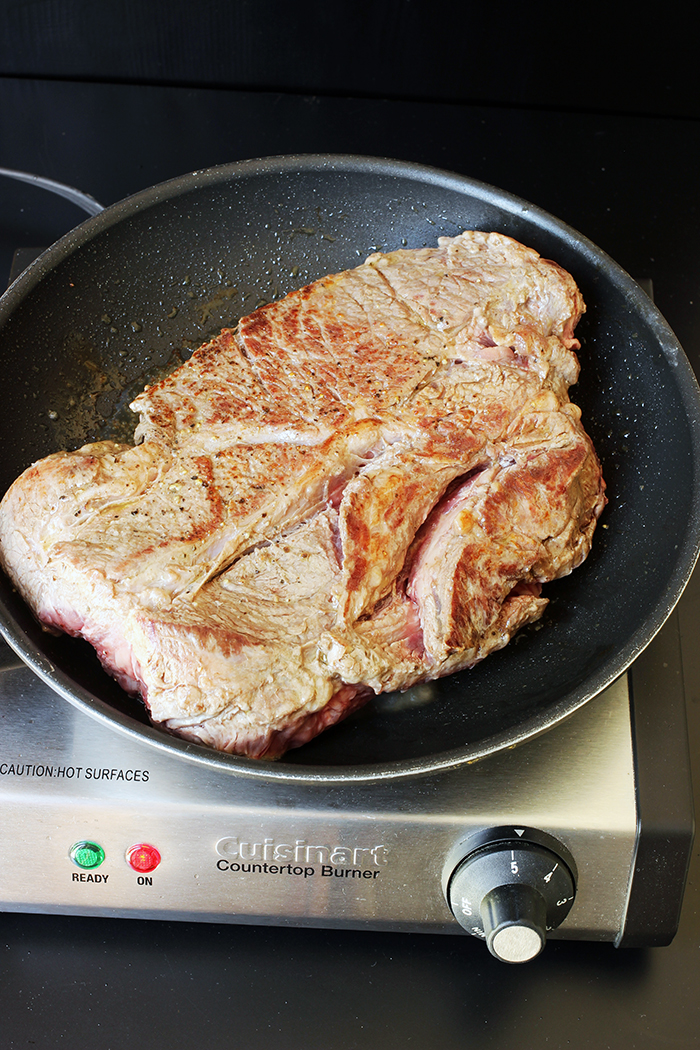 Brown the meat first.
Browning your roast in a bit of fat prior to placing it in the slow cooker is important as it creates the Maillard reaction, a process that increases the flavor components in the finished dish.
Do you have to brown a roast before putting it in the crockpot?
My experience is that just tossing a hunk of meat into the slow cooker is not going to result in the depth of flavor or tender texture that you will get if you brown the meat first. Yes, it's an extra step, but it totally pays off in the end.
It is worth the ten minutes and a dirty pan.
(And yes, those dump freezer crockpot recipes that tell you otherwise are nonsense.)
Salt and pepper the roast well and then brown it on all sides in a little hot oil or butter in a skillet. You can use bacon drippings as well.
Remove the roast at that point and place it in the slow cooker. As long as you prep the next ingredients immediately, it's okay to let the roast sit for a few minutes.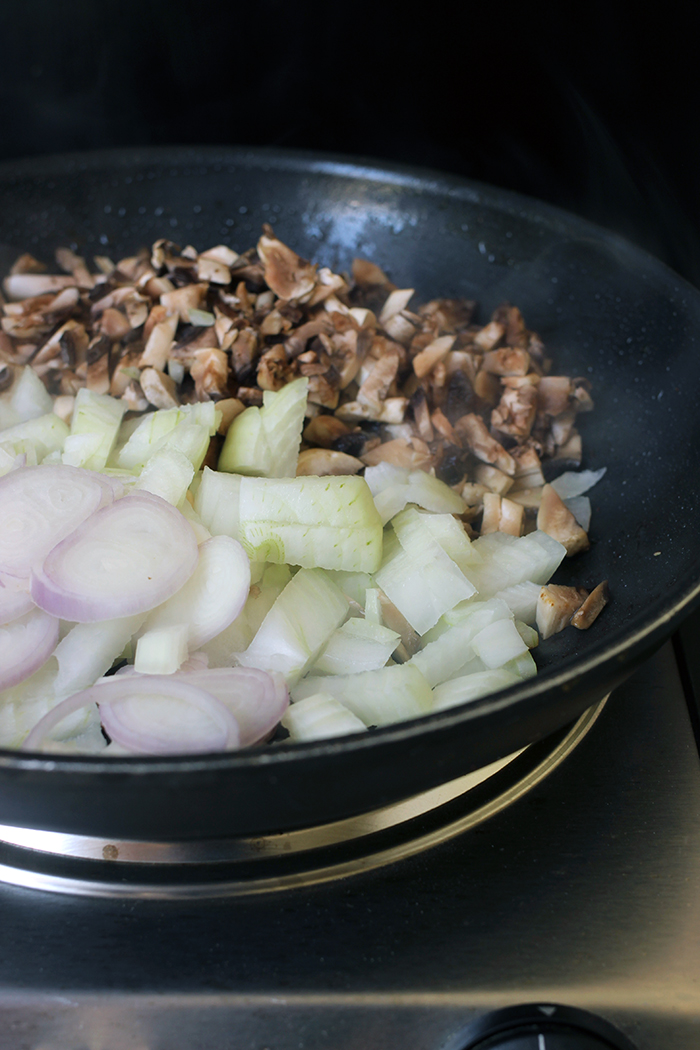 Add flavor and aromatics.
Next you want to add some flavor. Saute some aromatics in the drippings left in the skillet.
Consider these aromatics:
chopped or sliced onions
crushed or minced garlic
chopped or sliced shallots
chopped or sliced leeks
chopped or sliced carrots
chopped turnips
chopped or sliced mushrooms
other hearty vegetables
Cook your aromatics on low heat until the onions are clear and the vegetables start to brown lightly.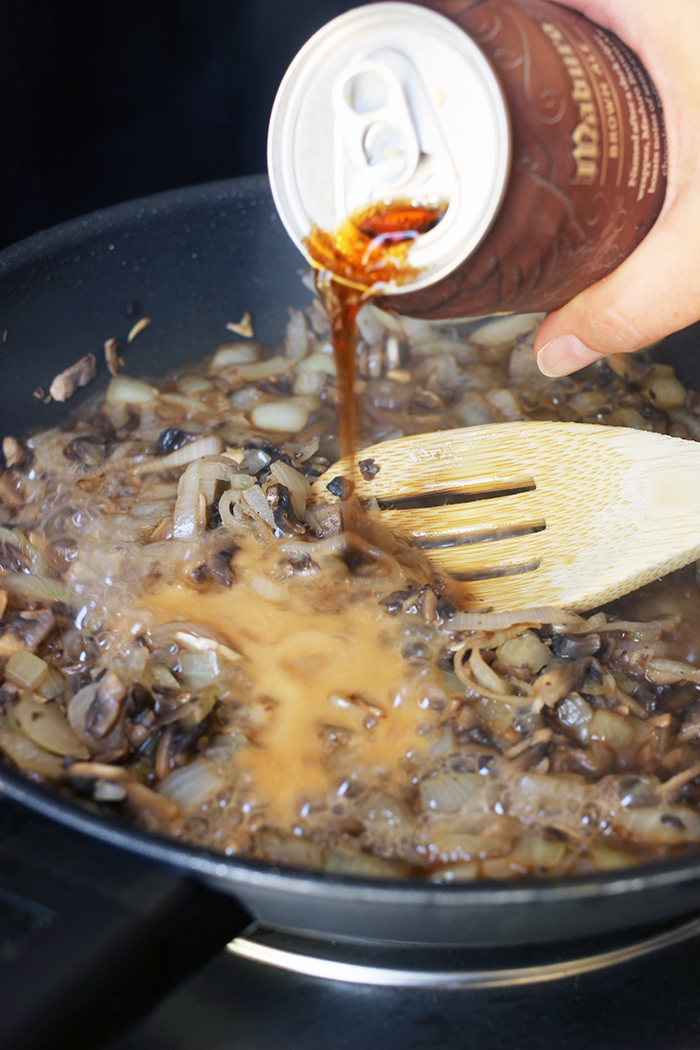 Add a braising liquid.
Once the onions are tender and browned, stir in some liquid to deglaze the pan. Your choices include
water
beef or chicken broth
fruit juice
tomato sauce
wine, beer, or ale
By varying your aromatics, liquids, and spices, you can create a number of different flavor combinations for pot roast in the slow cooker.
Should the roast be covered with liquid in the slow cooker?
You don't need a lot of liquid to cook a roast in the slow cooker. In fact, I often cook very fatty pork roasts without any liquid at all.
However, the liquid adds flavor and keeps a lean roast from getting dry.
How much water do I put in a crock pot for a roast?
At minimum, you only need about 1/4 cup, though you can add more (up to 12 ounces) if you are relying on the drippings to create a gravy later.
As you add the liquid, stir it well with the aromatics and scrape up any browned bits from the bottom of the skillet. You can also add tomato paste, fresh herbs, and spices at this point.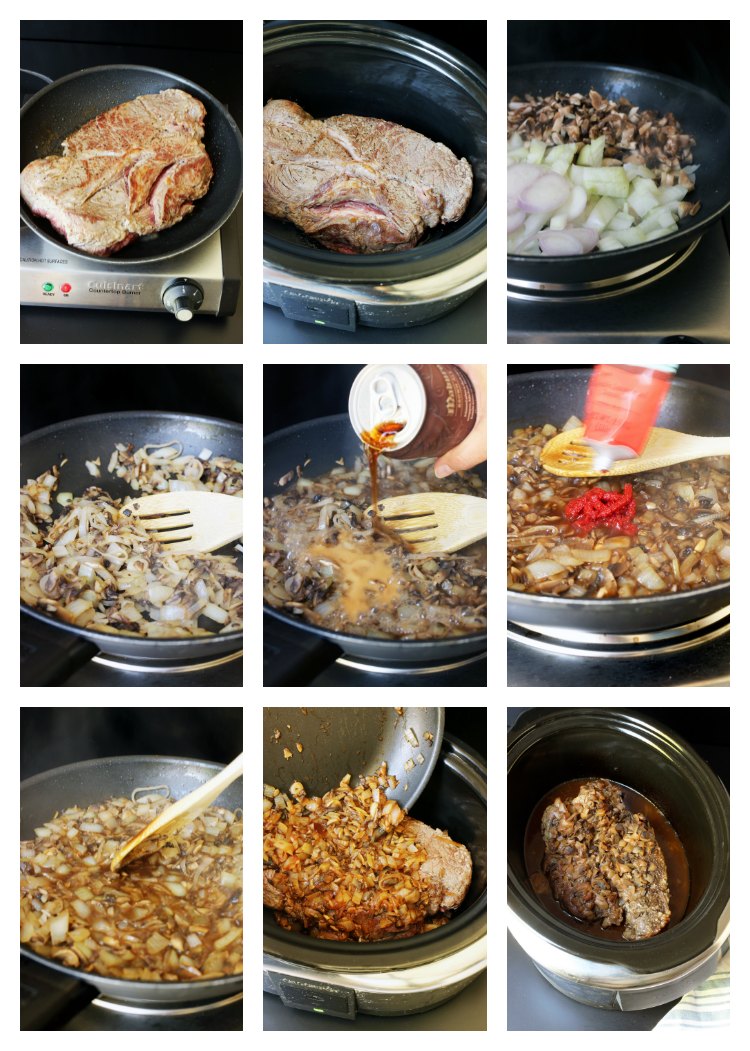 Cook the pot roast in the slow cooker.
Finally, add this vegetable/liquid mixture to the roast in the slow cooker. Cover. Turn the heat on low and walk away for 6 to 8 hours.
The meat should be meltingly tender at the end of the cooking time. Remove it from the cooker and while it rests, you can create a gravy or a pan sauce with the remaining liquid.
Remember that you can incorporate the leftovers into any number of dishes, allowing you to cook once and eat three times.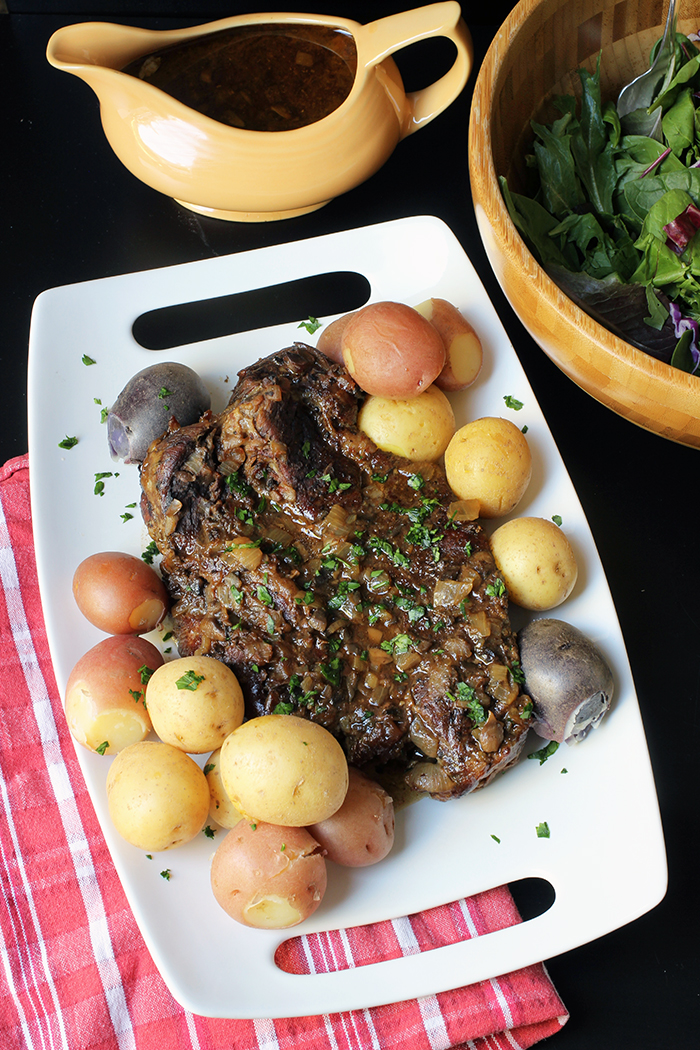 If you prepare this recipe, be sure to share a picture on social media and hashtag it
#GOODCHEAPEATS
. I can't wait to see what you cook up!
Basic Pot Roast in the Slow Cooker
You can truly set it and forget it when you cook a pot roast in the slow cooker. A quick assembly in the morning allows you to enjoy a great dinner at night.
Ingredients
2

tbsp

olive oil

3

lb

boneless, beef chuck roast

salt

black pepper

1

onion

sliced

8

oz

mushrooms

sliced

1

shallot

sliced

12

oz

ale

can also use beef broth

1

tbsp

tomato paste
Instructions
In a large skillet heat the oil until shimmering. Season the chuck roast to taste with the salt and pepper. Sear the meat in the hot oil, turning it to brown all sides. Transfer the roast to the crock of a slow cooker.

Add the onion, mushrooms, and shallot to the drippings. Cook, stirring until the onions are clear and the mushrooms are lightly browned. Add the ale and the tomato paste to the pan. Season with salt and pepper. Transfer this mixture to the slow cooker.

Cover and cook on low for 8 to 10 hours or on high for 4 to 6 hours. The meat should be fall-apart tender.

Serve the roast with the drippings.
Notes
Note: this recipe is a basic template that you can vary however you like, based on what you have on hand. See recipe post for more details.
Promptly store leftovers in an airtight container in the refrigerator, for up to 4 days.
Nutritional values are approximate and based on 1/8 the roast.
Nutrition
Calories:
371
kcal
|
Carbohydrates:
5
g
|
Protein:
34
g
|
Fat:
23
g
|
Saturated Fat:
9
g
|
Cholesterol:
117
mg
|
Sodium:
158
mg
|
Potassium:
717
mg
|
Fiber:
1
g
|
Sugar:
2
g
|
Vitamin A:
53
IU
|
Vitamin C:
2
mg
|
Calcium:
34
mg
|
Iron:
4
mg