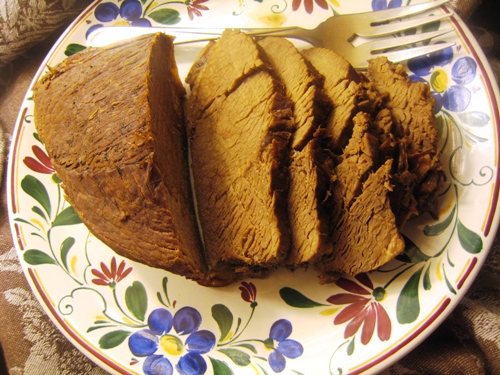 When I was a young newlywed, I'd always heard of the beauty of the slow cooker and what delicious roasts you could cook in one. Well, the first time I tried, it was an utter disaster. The meat was tough and chewy. I'm not sure it was even edible. I gave up on roasts for about five years.
And then I learned a few tricks. I asked friends who made delicious roasts. I read recipes. And I figured out some general guidelines for a great tasting roast.
The following are some tips to help you enjoy roasts, like we do now, with the ease of the slow cooker.

The Meat Matters
Some cuts of meat are meant for braising, others are for dry roasting. Braising is when food is browned in fat, then cooked, tightly covered, in a small amount of liquid for an extended period of time, exactly like the slow cooker. I like to use boneless chuck roasts for this type of dish.
I prefer this cut because it is generally fairly lean, easy to carve, and fairly economical. I stock up on roasts when they are $2.49/pound.

Brown the Meat First
My experience is that just tossing a hunk of meat into the slow cooker is not going to result in the depth of flavor or tender texture that you will get if you brown the meat first. Yes, it's an extra step, but it totally pays off in the end. It is worth the ten minutes and a dirty pan.
I simply salt and pepper the roast well and then brown it on all sides in a little hot oil in a skillet. Remove the roast at that point and place it in the slow cooker.

Add flavor
Next I want to add some flavor. I saute some aromatics in the drippings left in the skillet. Add chopped onions, garlic, or shallots to the pan. Cook them on low heat until clear and starting to brown lightly. You can even saute chopped carrots, turnips, mushrooms, or other hearty vegetables at this time.

Add liquid
Once the onions are tender and browned, stir in some liquid to deglaze the pan. This could be water, broth, juice, tomato sauce, wine, or beer. (If you are doing Whole 30, be sure NOT to use wine or beer; choose water, broth, juice, or tomato sauce.)
You don't need a lot, only about 1/4 to 1/2 cup. As you add the liquid, stir it well with the aromatics and scrape up any browned bits from the bottom of the skillet. You can also add fresh herbs and spices at this point.

Cook it slow
Add this mixture to the slow cooker. Cover. Turn the heat on low and walk away for 6 to 8 hours. The meat should be meltingly tender at the end of the cooking time. Remove it from the cooker and while it rests, you can create a gravy or a pan sauce with the remaining liquid.
Now, what's stopping you?