Spinach Salad topped with orange slices, dried cranberries, and sunflower seeds, and drizzled with balsamic vinaigrette makes for a tasty and affordable dish.
Jump to:
Spinach has something going for it. It's plentiful year-round, generally affordable, and available even in the dead of winter as sometimes the only affordable, familiar, and decent-looking salad green to be had.
Not only that, it's a powerhouse of nutrition.
That said, folks don't often know what to do with spinach. It conjures unfavorable images for some. At the least, beefy, bald guys with tattoos.
If you only know spinach from a can or a frozen brick, its time to meet fresh baby spinach. Delicious tucked into sandwiches, folded into egg bakes, and stirred into soup, baby spinach is also delicious in salads.
What is spinach salad?
The classic spinach salad, a la Julia Child features a hearty portion of bacon and the greens are wilted in a warm dressing made of the drippings. Delicious as it is, sometimes you want something fresh and bright.
This spinach salad boasts bright, sunshiny flavors with the addition of oranges, dried cranberries, and sunflower seeds—all of which lend texture and complexity at the same time as sweet, tart, and nutty goodness to otherwise bitter spinach.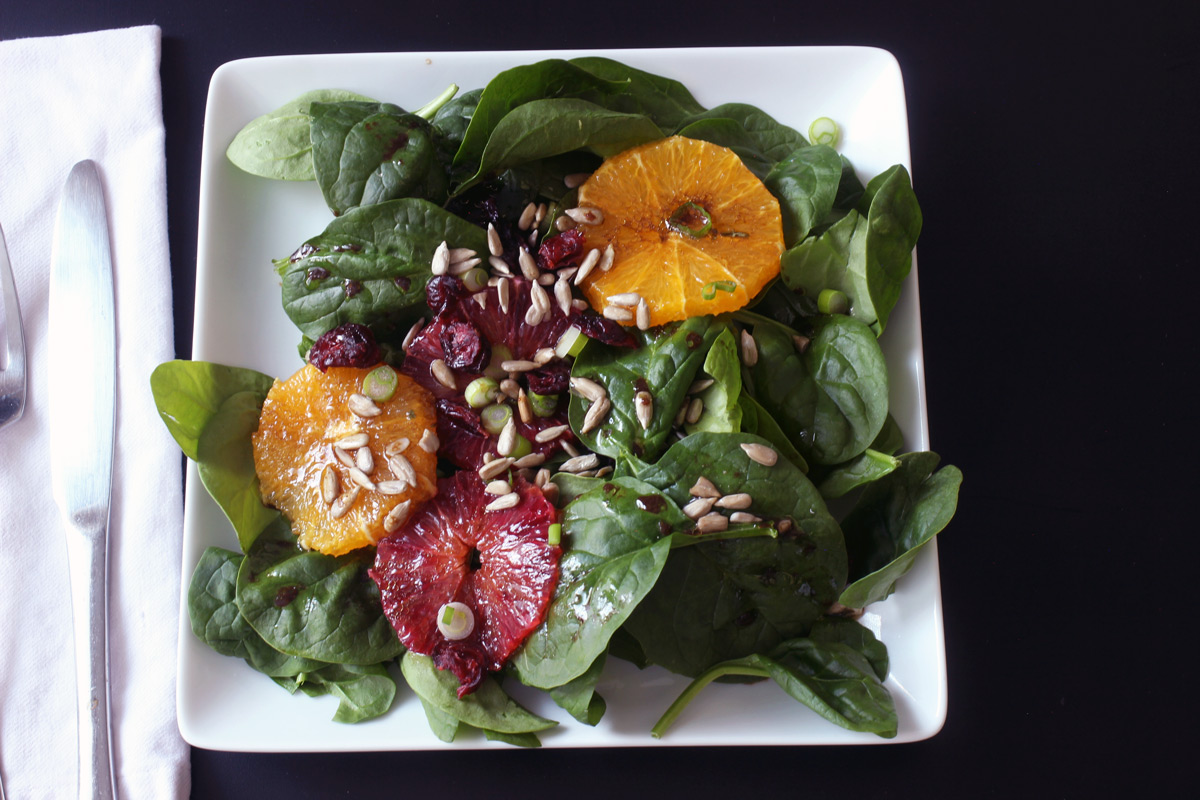 Serving suggestions
This salad is delicious as a simple starter or side salad, but can also serve as a vegan main dish.
Feel free to add cooked chicken, bacon, beans, or nuts to up the protein content and make it a full entree meal.
Ingredients
No need for anything fancy here. These ingredients are regular grocery store staples.
baby spinach – Spinach is grown in a sandy medium, so try to buy the bagged variety as it's been washed. Baby spinach is more delicate. Examine the bag carefully and avoid bags containing wilted leaves. Once home, store the spinach, refrigerated, in an airtight container amid layers of paper toweling to prolong its life.
oranges – We used one navel orange and one blood orange here, but you can use any mixture of orange, mandarin, or grapefruit. All are delicious in this salad.
dried cranberries – Cranberries are a sweet contrast to the tart oranges, but you can also use dried cherries or raisins.
sunflower seeds – I like the texture and color of sunflower seeds, but you can also use pepitas or your favorite type of chopped nut if that's what you have.
green onion – Scallions offer a bright, fresh flavor, but you can also use thinly sliced shallot or sweet onion instead.
balsamic vinaigrette – Homemade balsamic vinaigrette is simple to make, but you can use the bottled variety if you prefer.
Instructions
This is a type of salade composee, a salad where the ingredients are layered one atop the other.
If you're serving the salad right away, you can toss the spinach in the vinaigrette prior to assembling the salads.
To remove the peel and pith from the oranges, follow this tutorial for cutting grapefruit. It's the easiest way. Once removed, you can slice the oranges into rounds or cut them into supremes.
Divide the spinach among four plates, then the orange slices, then the green onions, then the cranberries, then the sunflower seeds. Serve with the dressing.
Make-ahead instructions
If making these salads for meal prep, keep the wet ingredients (the dressing and the oranges) separate from the dry. A divided meal prep container or separate plastic bag or container is helpful for this. Assemble just before serving.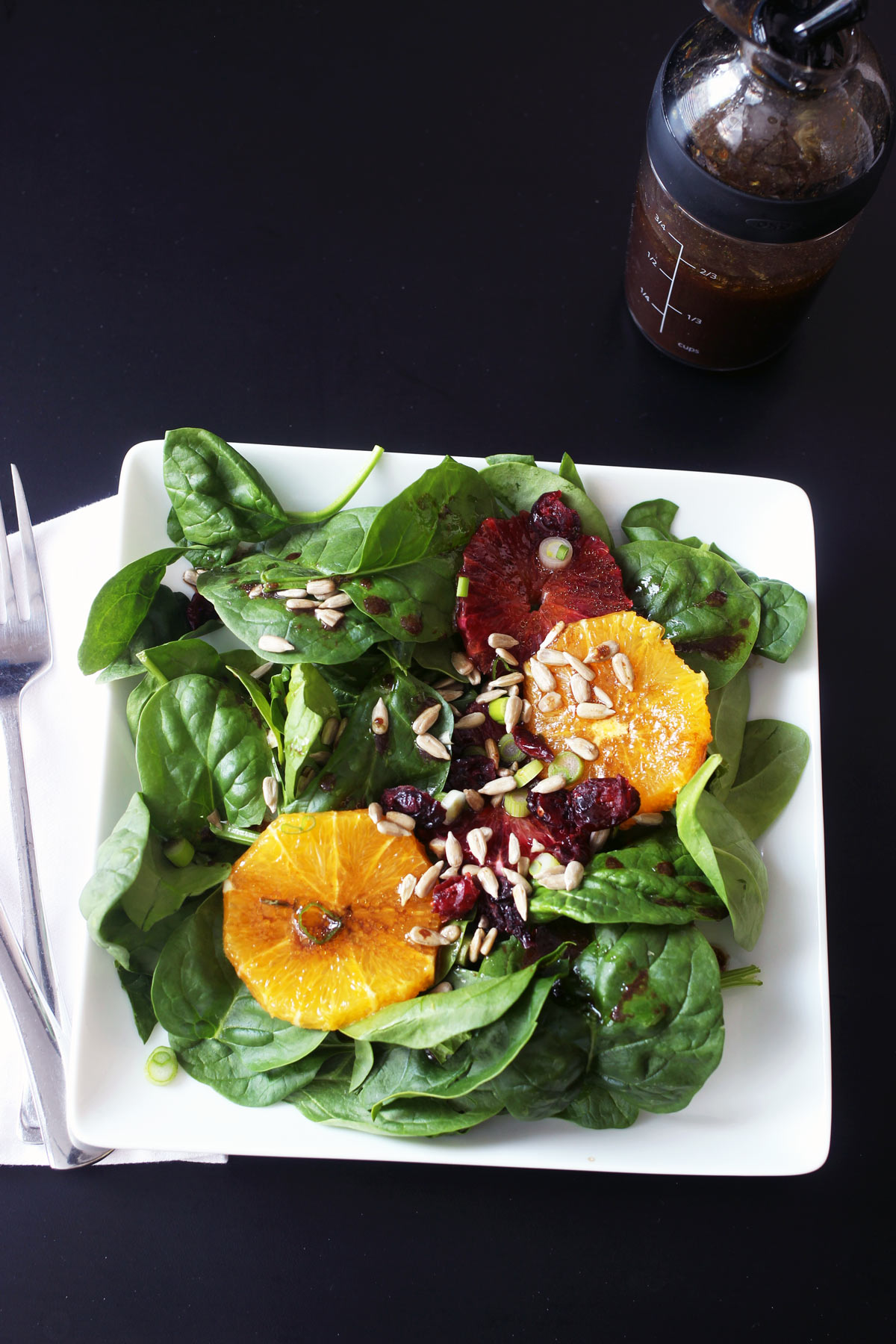 Recipe costs
Knowing how much it costs you to prepare a recipe can help you decide if it's the type of recipe to make regularly or one you might want to save for special occasions. Let's crunch some numbers and see how this recipe pencils out.
baby spinach – $3.00
oranges – $1.30
dried cranberries – $0.25
sunflower seeds – $0.16
green onion – $0.15
balsamic vinaigrette – $0.20
Purchased at a mid-range grocer's for non-sale prices, this salad pencils out to $5.06 per batch or $1.27/serving.
By contrast, an individual salad (with bacon) in the produce section sells for $3.33. You can add your own bacon for far less.
Save even more
You can cut the costs of this recipe by working the Good Cheap Eats System:
Use what you have – See the ingredients section for possible substitutions or get creative with what you already have on hand.
Make a plan for leftovers – Be sure to use leftovers in the package of cranberries, sunflower seeds, and vinaigrettes.
Shop the sales and clearance – Spinach is regularly a marked down item, due to its short shelf life. Grab it when you find a deal.
Cook from scratch – Make your own salad dressing for pennies.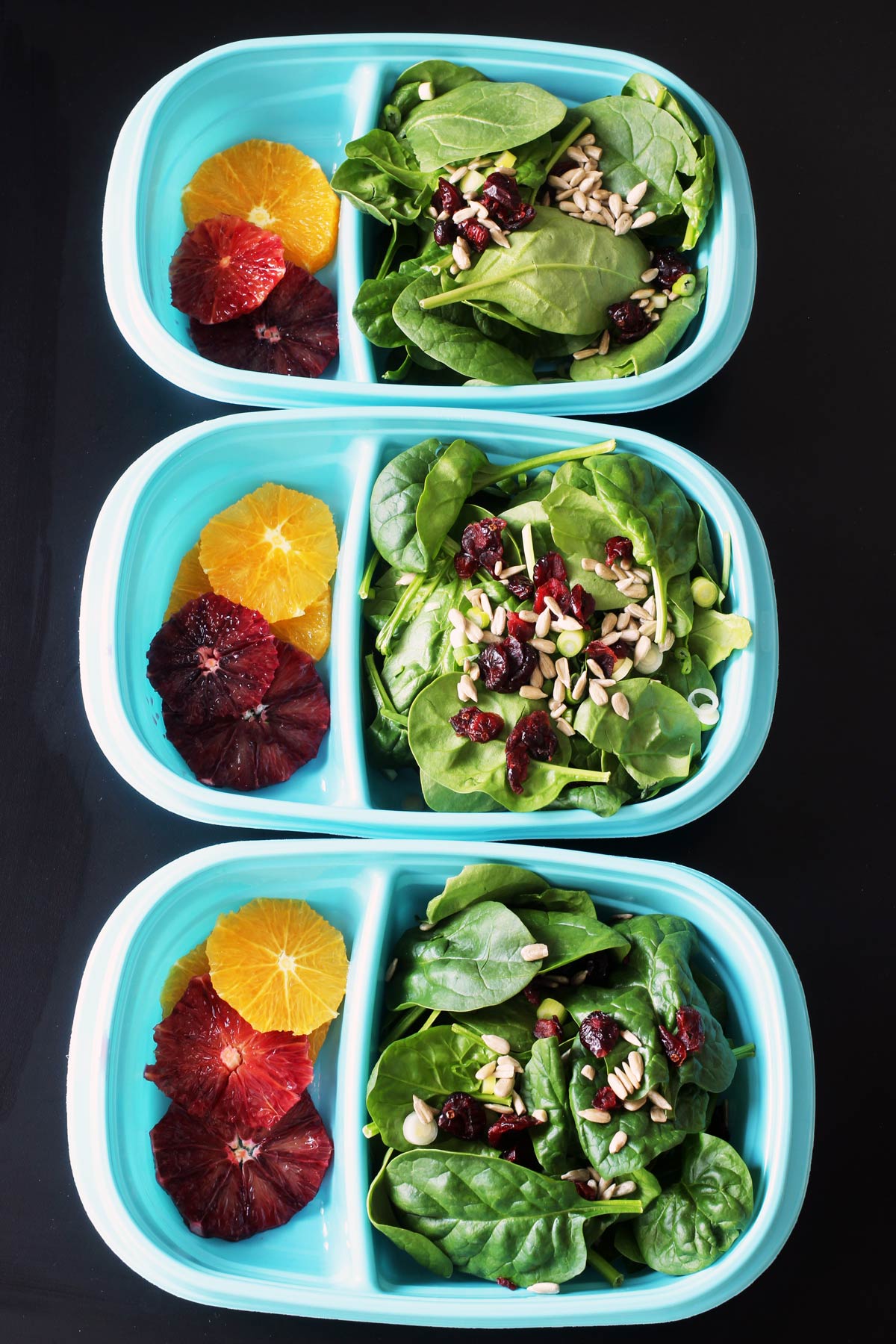 Kitchen equipment
This recipe really couldn't be easier than it is, but having the right kitchen tools can really make your time in the kitchen more enjoyable. Over time, I've honed my collection so that they are perfect for my needs.

If you prepare this recipe, be sure to share a picture on social media and hashtag it
#GOODCHEAPEATS
. I can't wait to see what you cook up!
Spinach Salad with Oranges & Cranberries Recipe
Spinach Salad marinates in balsamic vinegar before being topped with orange slices, dried cranberries, and sunflower seeds, resulting in a flavorful and sunshiny fresh salad.
Ingredients
1

6-ounce package

baby spinach

2

orange

peel cut away and sliced into thin rounds,

4

tablespoon

dried cranberries

2

tablespoon

sunflower seeds

2

green onion (chopped)

¼

cup

balsamic vinaigrette
Instructions
Divide the spinach into four plates or meal prep containers. Arrange the orange slices on the spinach. If packing for later, consider placing the oranges in a separate container.

Divide the cranberries, sunflower seeds, and green onion among the four salads.

Serve with the balsamic vinaigrette.
Notes
Store salad ingredients in separate airtight containers in the refrigerator, for up to 4 days.
Nutritional values are approximate and based on ¼ the recipe.
Nutrition
Calories:
161
kcal
|
Carbohydrates:
22
g
|
Protein:
2
g
|
Fat:
8
g
|
Saturated Fat:
1
g
|
Sodium:
134
mg
|
Potassium:
166
mg
|
Fiber:
3
g
|
Sugar:
17
g
|
Vitamin A:
203
IU
|
Vitamin C:
36
mg
|
Calcium:
35
mg
|
Iron:
1
mg
This post was originally published on February 15, 2012. It has been updated for content and clarity.