Grapefruit, as healthful as it is to your diet contains a bitter pith. How to cut a grapefruit into sections, or supremes, will transform your grapefruit experience.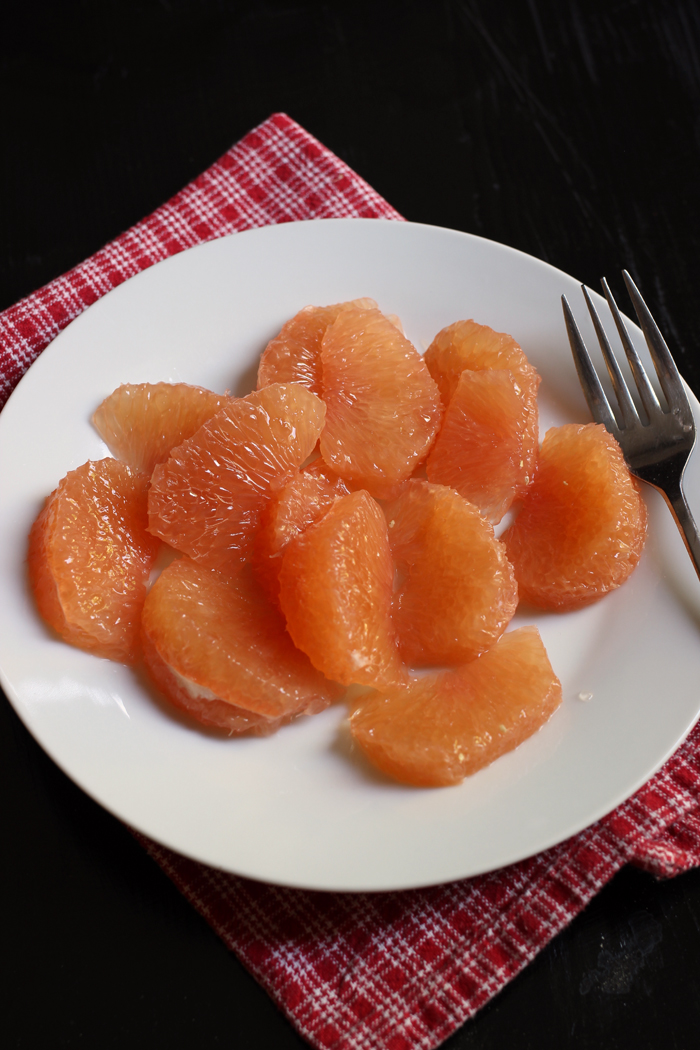 The easier a task is, the more often you will do it. Make it easy to put away your clothes, you'll never have piles of laundry. Make it easy to pay your bills, you'll be late less frequently. Make it easy to eat grapefruit?
Well, you'll have food fit for a king.
It's true.
While grapefruit can be one of the most economical choices in fruit, particularly in the winter when you can get it on great sales, many people don't really know what to do with it. I suppose you can peel it and eat in super tart sections. Or you can cut it in half and laboriously scoop out bites.
But, really, neither of those sound easy. Or delicious. The first, a peeled grapefruit, guarantees that you'll be puckering up all day long. And the latter? Well, it takes copious amounts of sugar and patience to make that an enjoyable eating experience.
I should know.
When we first started budget-eating, I would snatch up the sale grapefruit and cut them into quarters to pack in my husband's lunch, similar to a soccer kids mid-game snack. Only decidedly less sweet.
No, it wasn't the tastiest of options, I confess. But, we were new home-owners and just had to suck it up, quite literally.
Then, I read in a magazine about cutting grapefruit sections, or supremes as they are often called. I tried out the technique that night and packed a little tupperware of grapefruit sections in my husband's lunch the next day. He came home, calling it "a lunch fit for a king."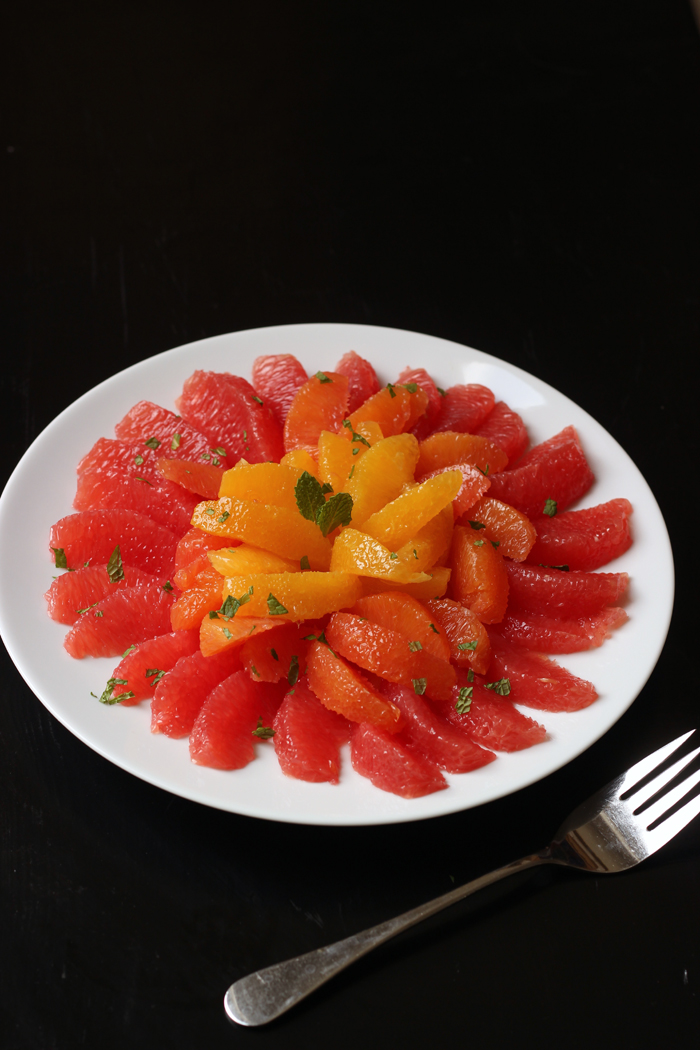 Cutting grapefruit sections = lunch fit for a king!
Since then, there's been no turning back. I've been cutting grapefruit sections like this for over 20 years and haven't looked back.
Grapefruit, one of the more affordable winter fruits, can offer a tremendous punch of fiber and vitamins to your diet, it's a shame not to make them a regular addition. However, folks don't always love the bitterness that sometimes accompanies this colorful citrus. Cutting grapefruit sections, or supremes, eliminates the bitter pith and transforms your grapefruit experience.
Taking that little extra effort makes the humble grapefruit just a little sweeter.
But first, you'll need the following kitchen tools:
Tips for cutting a grapefruit into sections
Place your cutting board onto a cookie sheet. This will help catch any juices so they don't run all over your cutting board.
Rinse the outside. Wash the grapefruit with a little bit of vinegar and water so you can kill off any germs and bacteria before you cut into the grapefruit.
Stand it up. You want to cut off both ends and stand it up so it doesn't rock and roll around on you potentially risking injury.
How To Cut A Grapefruit Into Sections – Step By Step
1. Rinse the outside of the grapefruit with water and vinegar.
Even though you aren't going to eat the peel, you are going to cut through it, thereby possibly exposing the inner flesh to bacteria and other germs. I like to use white vinegar, a cheap cleaning agent, to kill surface bacteria.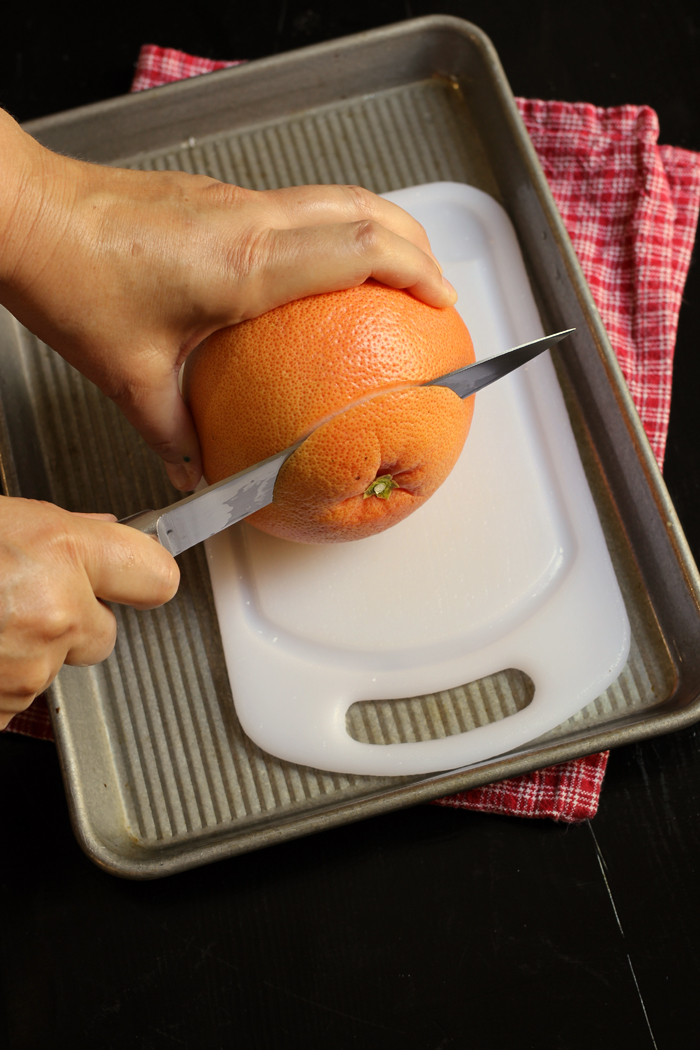 2. Cut off the end of the grapefruit.
You'll want to cut enough of the grapefruit end off so that you see the wagon wheel shape of all the sections.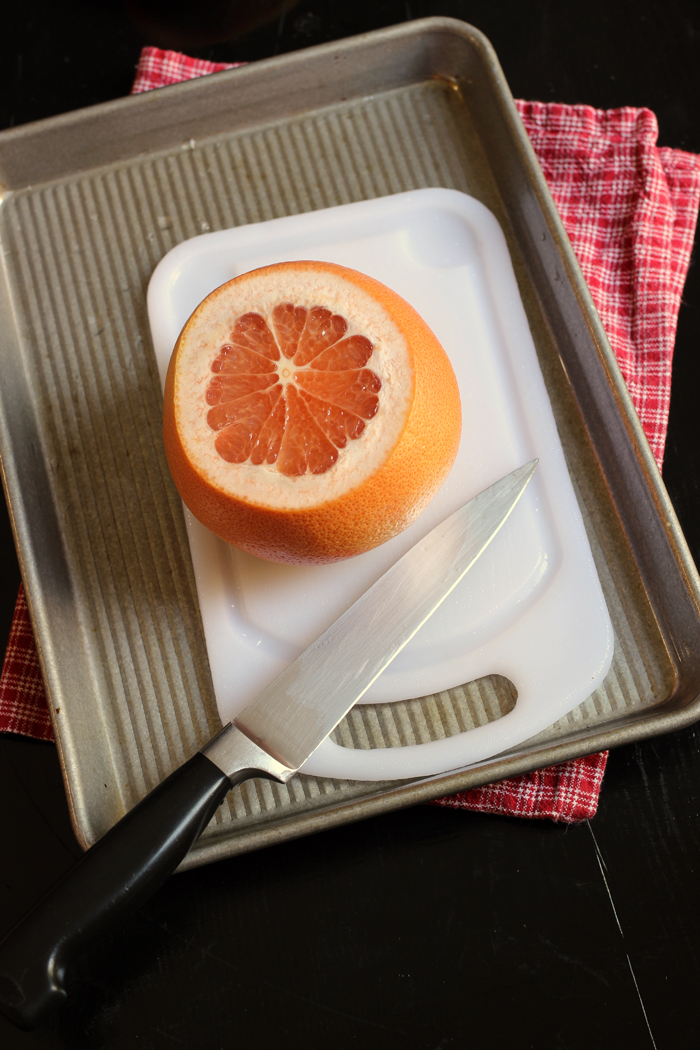 3. Once you've cut off both ends, stand up the grapefruit on one end.
You want it to stand firmly with no risk of rocking and rolling.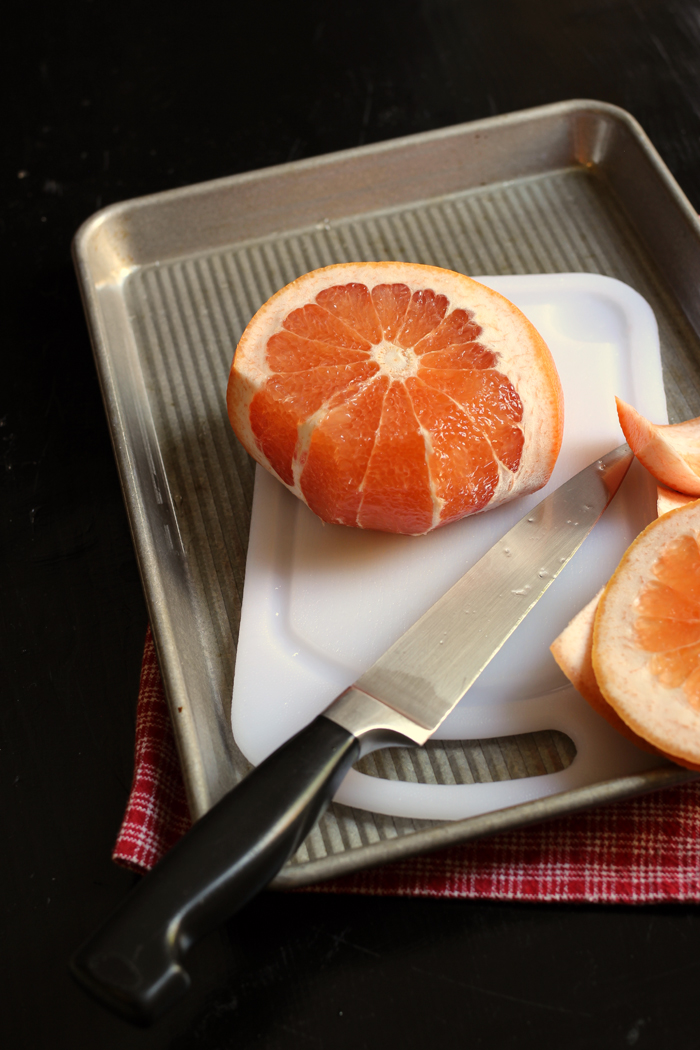 3. Cut away the peel and pith from around the sides of the grapefruit.
With a chef's knife, cut away the rind, curving your cuts between the rind and flesh, around the shape of the fruit. Proceed around the sides of the grapefruit until all the rind is removed.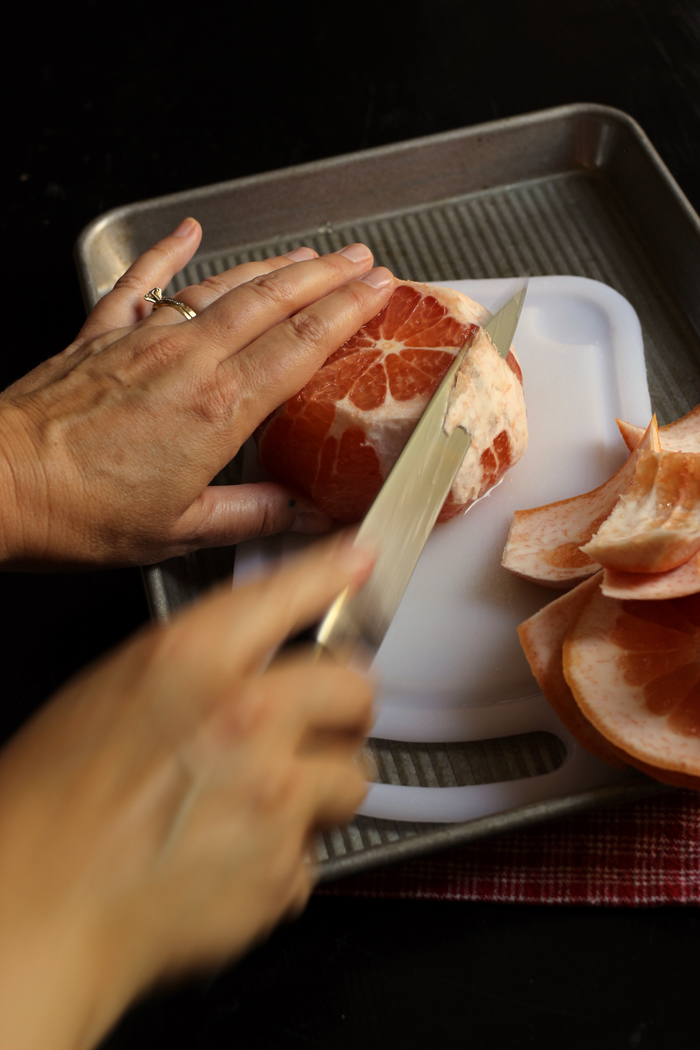 4. Trim away any bits of pith you might have missed.
Sometimes a cut doesn't get every bit of pith. Move around the fruit, trimming any pith that the knife overlooked. It should look like this when you're done: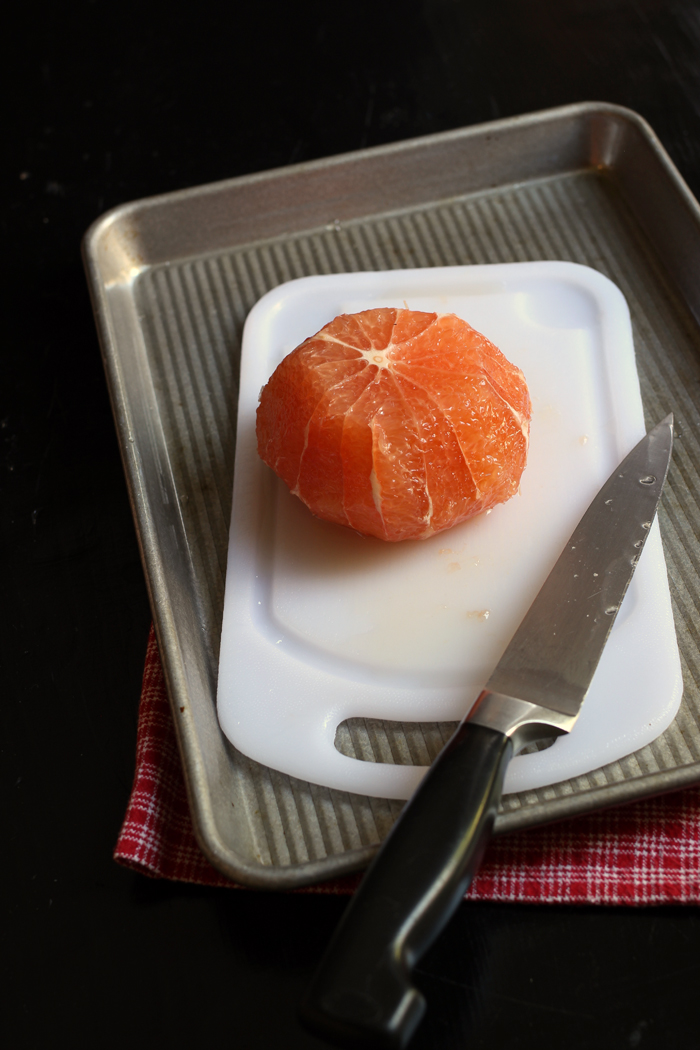 By the way, I like to trim juicy fruit on a cutting board set into a rimmed cookie sheet. This makes clean up so much easier and prevents juice from running all over the table or countertop.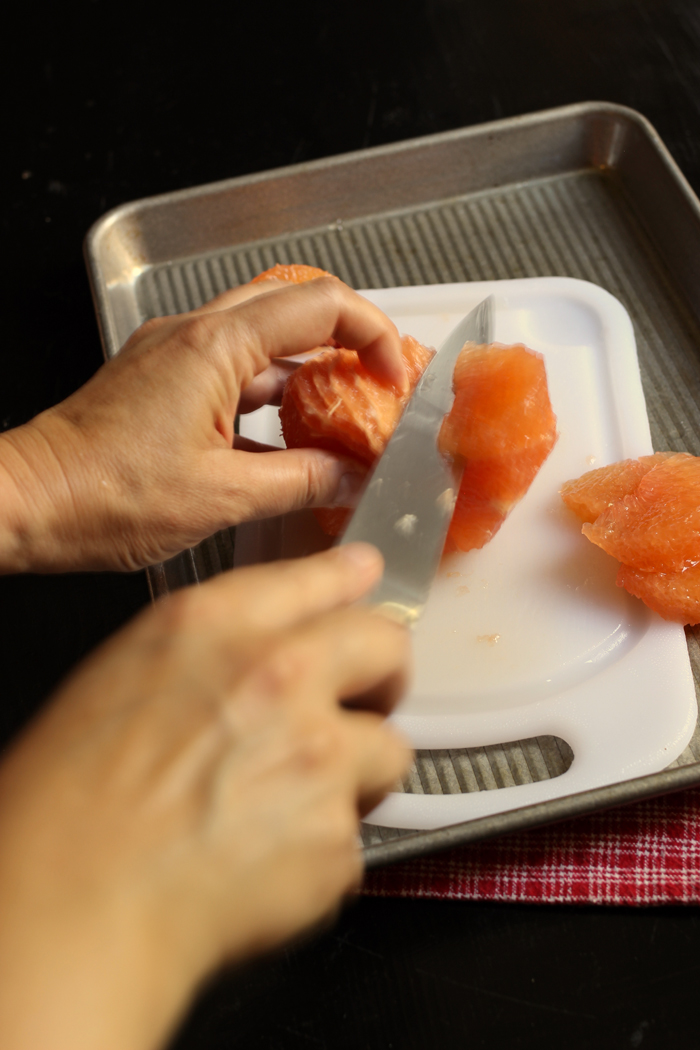 5. Cut each grapefruit section out of the diving membrane.
Once all the rind is removed, slice into the fruit, along the edge of one membrane. Cut along the other side of that section to remove the first section.
After the first section is removed, it will become easier to remove the remaining sections. Cutting down one side, you can insert your knife under the inner edge of the pulpy section and cut from the inside if the fruit to the outer edge. This will allow you to keep more of the fruit's flesh.
Work all the way around the fruit, removing the grapefruit sections from the membrane.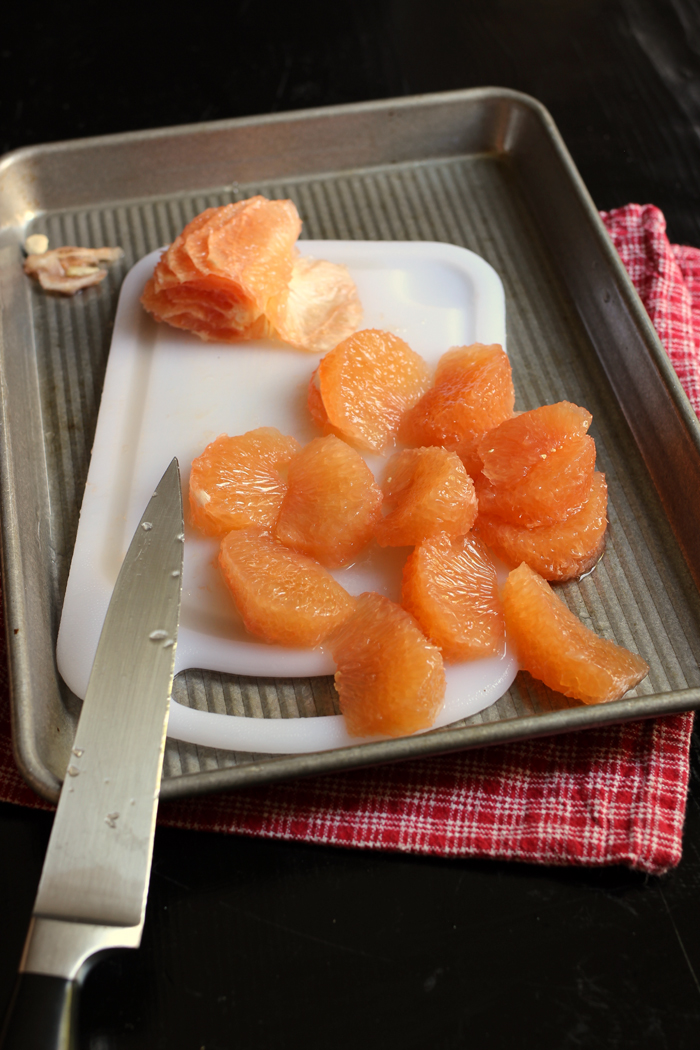 Can I use this technique with other citrus?
You can do this same thing to oranges. It's nice to serve a combination of oranges with yellow, pink, and ruby red grapefruits. So pretty — and so much fun to eat!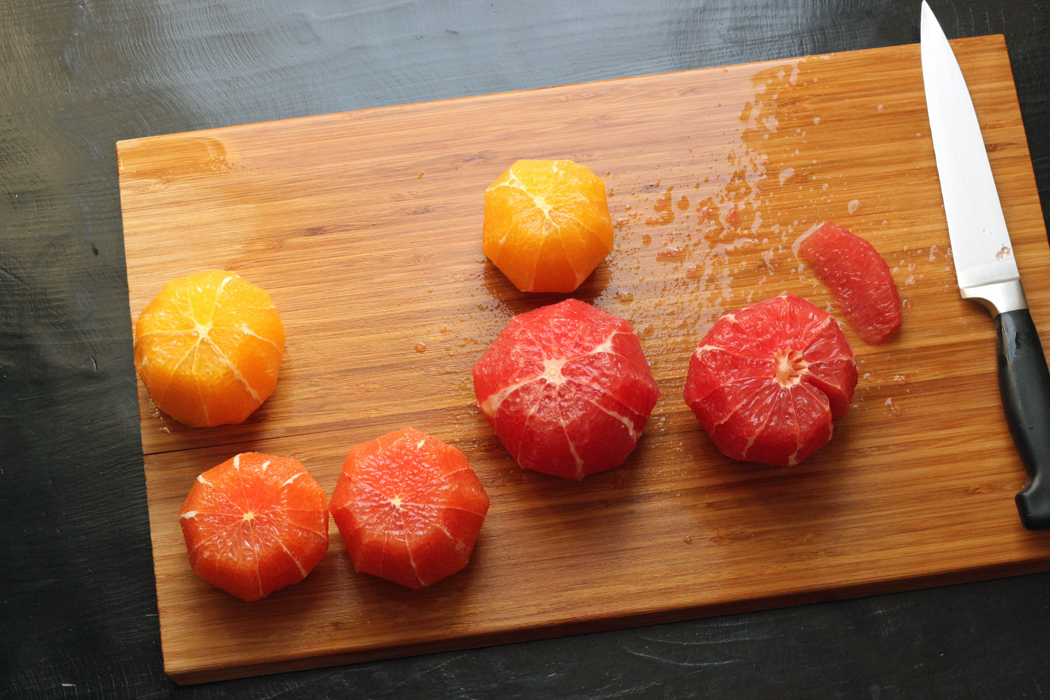 If you can find blood oranges and the Cara Cara variety as well as the differing colors of grapefruit, you can serve a citrus salad that is destined to impress!
You see, cutting grapefruit sections is not difficult at all, but it really makes a difference in the presentation as well as the taste of the fruit. It's absolutely worth your while!
Need more tips on prepping fruits and vegetables for easier eating?
Check out these tutorials:
Prepping Grapes for Easier Eating
Recovering the Lost Art of the Carrot Stick