Over the past fifteen years, pre-cut baby carrots have become the main way that consumers buy this highly nutritious root vegetable. But unless there's a good sale, my experience – both in the Midwest and West Coast – is that a pound of carrots costs at least $1.50/pound.
But, there is a better way. A way that was good enough for our moms and our grandmothers: Buying whole carrots and cutting them yourself. Who woulda thunk it?
A one-pound bag of whole carrots costs about 50 cents – about 1/3 to 1/2 the cost of baby-cut carrots. Plus, I've found that they taste better than baby carrots. Here's a simple, easy way to create your own carrot sticks.
And it's not hard.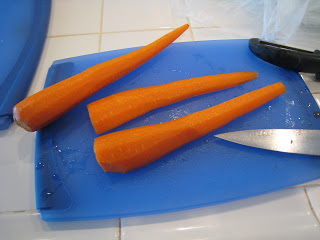 Wash and peel your carrots. Cut off the two ends. Split the carrot in half, lengthwise.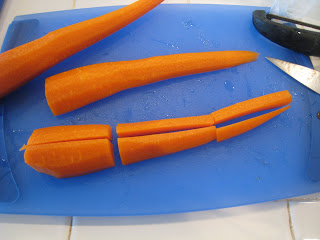 Cut each half in half again, lengthwise. Then, chop each of those quarters into serving size pieces. I like thirds.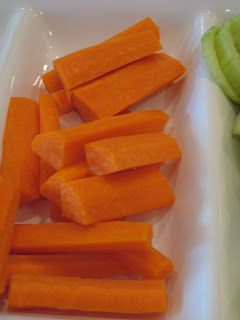 Pretty, easy, good, and cheap.