The blogosphere has practically exploded with cute and utterly adorable lunch ideas. Who knew that sandwiches could be cut into so many interesting and fascinating shapes?
Cute as these lunches may be, they aren't the best thing since sliced bread if your kid won't eat them — or worse, they break the bank. I'm all about making meals appealing to the eye, but pretty is as pretty does. Lunchtime needs to fit the bill!
How can we make lunchtime, nutritious, fun, and affordable?
There are a number of ways where you can curb costs when it comes to packing lunches for school or work. Techniques as varied as savvy coupon shopping and baking your own granola bars can definitely play a part in keeping costs down while maintaining the fun factor.
Let's look at your options: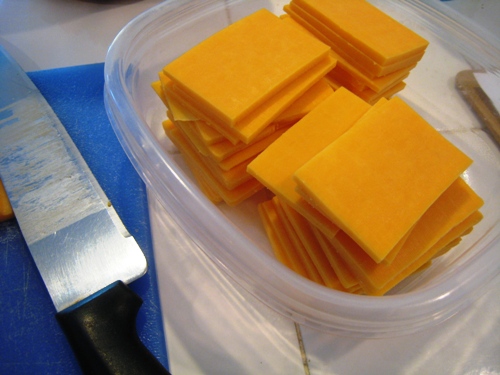 1. Make your own convenience items.
One can easily roam the aisles of the grocery store and find all kinds of packaged goods in individual-sized servings that will pull together into a great lunch. Recently, I found these perfectly shaped cracker cuts of cheese packed in little plastic boxes. The cheddar cost $4/pound, more than I like to pay. So, instead I took my big block of cheese ($3/pound) and cut cheese sticks and cracker cuts myself. Stored in a plastic box in the refrigerator, these convenient cheeses made for easy lunch packing without extra expense.
You can do the same with cooked, sliced meats, trail mix, yogurt, and applesauce. Take a larger, less expensive package or a homemade version and divide it into reusable containers. Do this at the start of the week and you've made lunch packing easier for the coming days.
(Download this handy-dandy meal prep checklist to make things even easier.)
2. Bake someone happy.
Browsing the baked goods aisle, I've noticed that boxed crackers, granola bars, and cookies cost a minimum of $3 a package in my neck of the woods. Surely, you can find these items for a lower price if you watch for coupons and good sales. However, if you've got a food allergy like we do, or are looking toward reducing processed foods, or just don't have time to troll the sales, it's just as easy — and sometimes cheaper — to make your own.
Some of my favorite (and freezer friendly) recipes are these: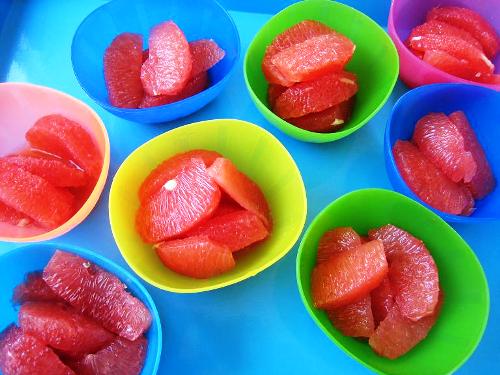 3. Veg Out.
Don't forget to fill your lunches with enough fruit and veg. Buy what's in season and on sale and make the most of it. I stock up when I see a great price and then try to be creative with it.
Carrot and celery sticks, cucumber slices, broccoli florets, and red pepper spears all go well with Homemade Ranch or Hummus Dip. Salads are easy to pack, especially if the dressing is on the side. Check out Aimee's homemade dressings.
Fruits that kids love? Try berries, applesauce, apple slices, pink grapefruit supremes, pineapple spears, and grape clusters. Make things as appealing and as easy to eat as possible: remove the berry stems, treat the apple slices with lemon juice to prevent browning, section the grapefruit, cut fresh pineapple, and cut the grapes into small clusters.
4. Chill.
Food spoilage is not your friend. No good eats. And a waste of money. It's imperative to keep your cool when it comes to packing a lunch.
Sometimes refrigeration is available at school or work, and sometimes you're on your own. Check out these food safety tips from Simple Bites to make sure you're packing in the healthiest way possible.
You don't need to spend a lot of money on special gel packs or lunch boxes. An insulated cooler or lunch bag is a great idea, though. You can buy reusable ice packs for a low price and then make sure they get refrozen at night. We keep a few extras on hand in case we forget.
Make sure cold contents are cold when you pack them. Freeze juices and yogurts to keep them cool. They should thaw by lunchtime.

5. Use reusable packaging.
Reusable packaging can be a great way to save money. Not only are you keeping more plastic and paper from entering a landfill, but you are also saving money by not buying the same things over and over again. We've found these great boxes that easily hold sandwiches and snacks. They're like bento boxes without the bells and whistles — or the high price.
There are also all kinds of reusable lunch wraps that you can make yourself.
6. Shop the sales and use coupons.
Now is the time when convenient lunch items go on sale. Keep your eyes open on coupons for products that you normally use. Stroll the clearance sections. Often, granola bars and serving size produce are marked down due to an upcoming sell-by date or simple overstock. You will be surprised at what you can find on mark down.
Lunchtime can very easily be affordable, nutritious and fun. With a little planning and creativity, you've got it all boxed up!
How do YOU keep lunches affordable?