Want to spice things up this week? Try this Spicy Southwest Chicken Marinade to add flavor and kick to your grilled chicken.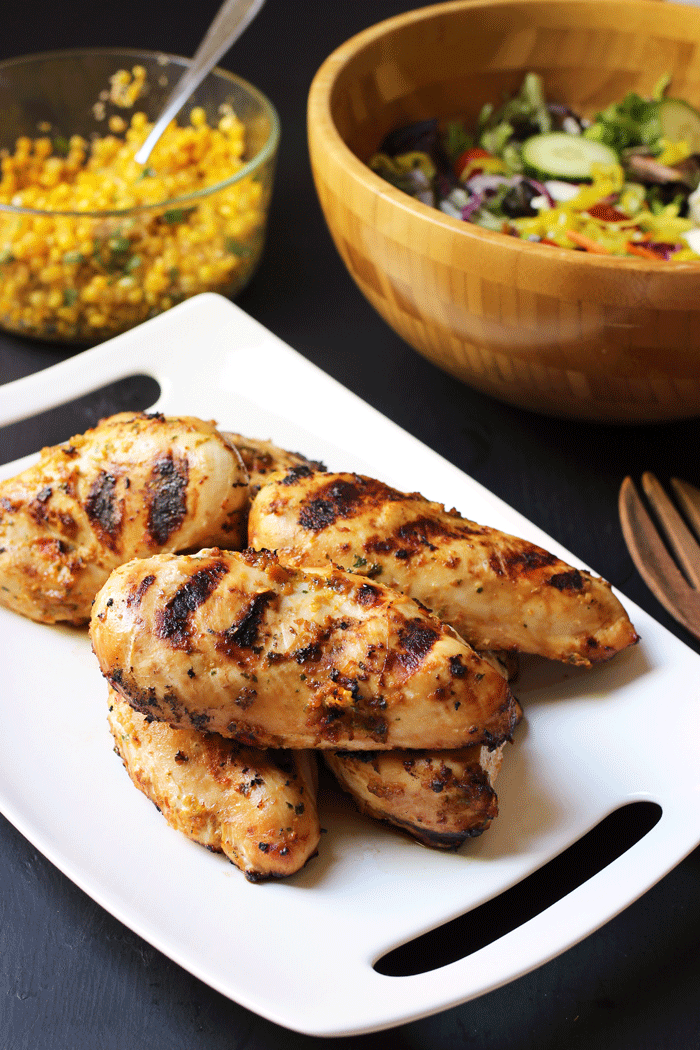 You come home from a busy day. It's beautiful outside. You want to enjoy it. The last thing you want to do is spend the next couple hours indoors.
Good thing you planned ahead. You've got chicken breasts marinating in a spicy, southwest marinade — all ready to throw on the grill.
Evening made.
Okay, so maybe you don't have all the good ready to go right now, but you will by the time you finish reading.
This Spicy Southwest Chicken Marinade is incredibly easy to make. So easy, you can pull it together in the morning before you leave the house and let the chicken just bathe in the fresh herbs, veggies, and spices until you get home.
It will make for a super simple meal, made from healthy, whole foods, perfect for devouring.
And if the weather isn't grill-worthy? No problem. You can cook this chicken in the broiler.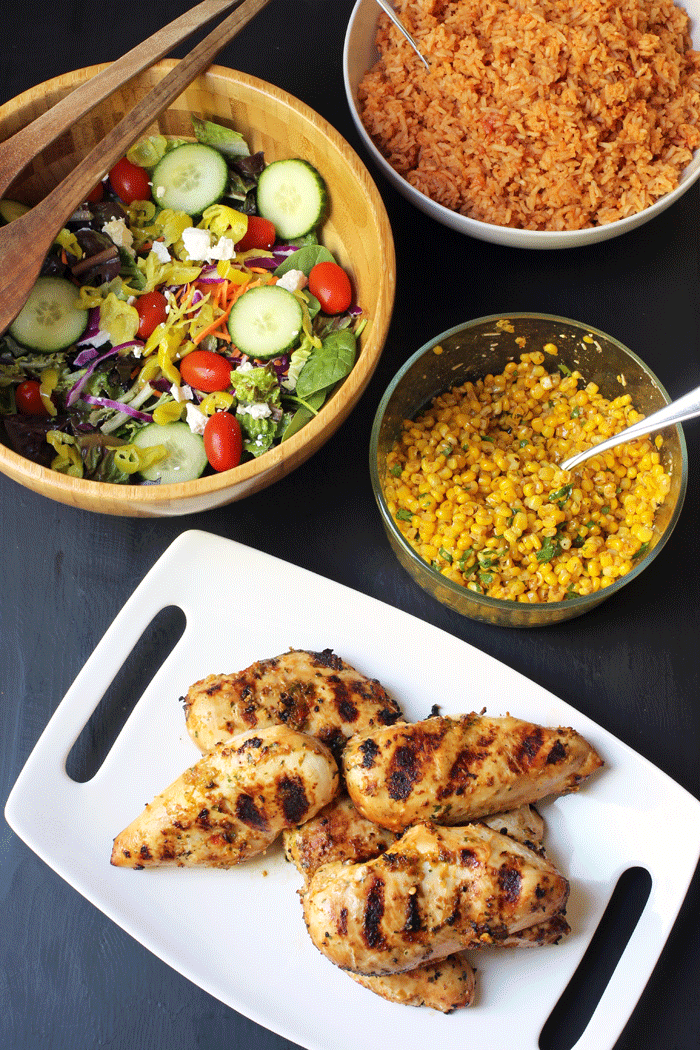 Marinating chicken takes a little more time and planning than using a spicy chicken rub, but it's a great way to add flavor and sometimes tenderize the humble chicken breast.
How long do you marinate chicken?
Marinate boneless skinless chicken breast for a minimum of 2 hours. Too long and the chicken may become mushy.
Can you marinate frozen chicken?
If you've only got frozen chicken on hand, place it in a bag or container with the marinade and allow it to thaw and marinade at one time in the refrigerator.
Can you freeze chicken in marinade?
Freezing chicken in marinades is one of the easiest freezer meals you can make! Just place the marinade and the chicken pieces together in a ziptop freezer bag or airtight container. Freeze for 4 to 6 weeks. Thaw in the refrigerator and then cook it up and enjoy!
(And yes, there is a difference between ziptop freezer bags and regular ones.)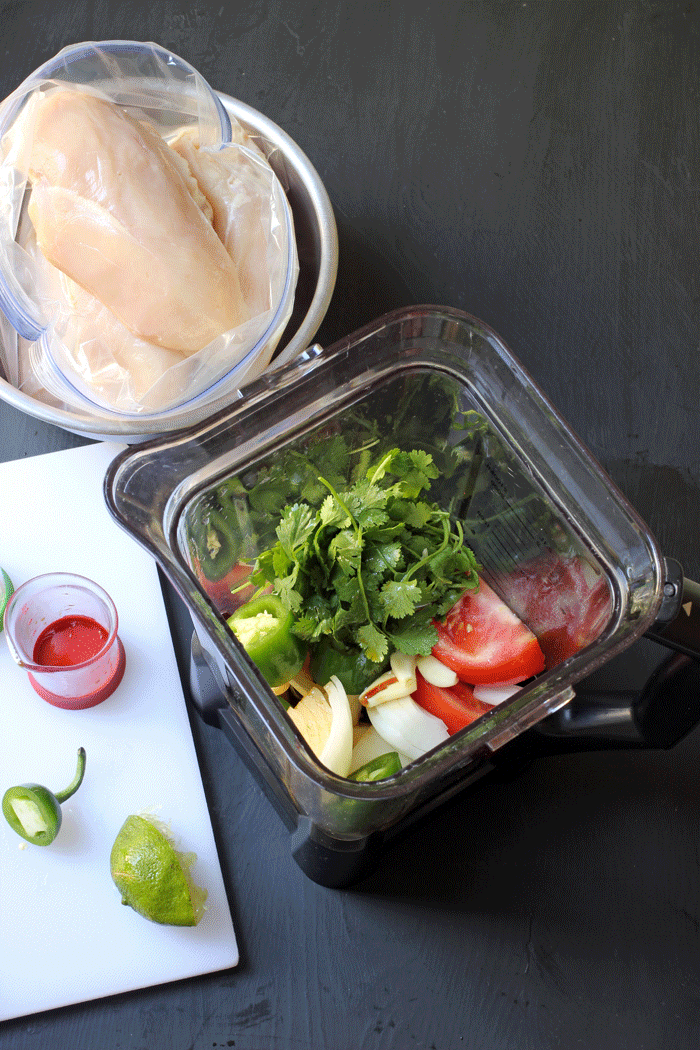 How do you make chicken marinade?
Many chicken marinades are made by simply whisking together acids, oil, and spices together.
This Spicy Southwest Chicken Marinade takes one extra step. Since the marinade is made with onion, jalapeño, tomatoes, and fresh herbs, you'll need to blend it up together in a blender or food processor.
Add it to your chicken and let the flavors get to work!
If I know that I'm going to freeze the chicken in the marinade, I place it in a ziptop freezer bag, labeled with the name and date. If I'm going to cook it that day, I just use a large container with a lid. Either way, it needs to be refrigerated or stored in the freezer right away.
What should you serve this chicken with?
This chicken is great on its own alongside rice, beans, and salad. It's also a great filling for tacos, burritos, and burrito bowls.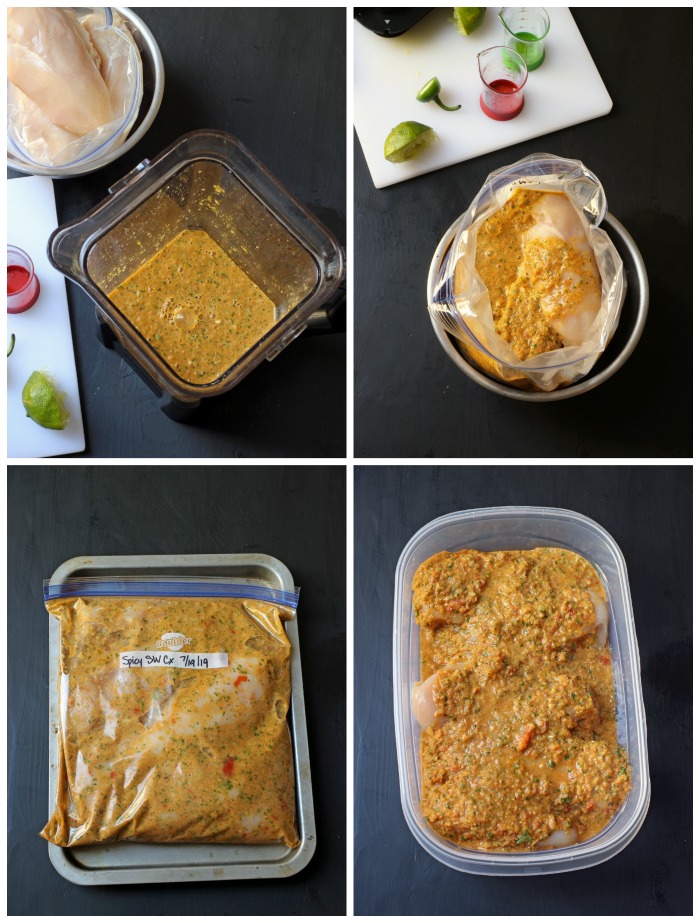 How to save money making this recipe:
Here are some of the strategies I use to make this recipe more economical:
Meal plan around what's on sale. Don't decide to make this when chicken is $5/pound and you have none in the freezer. Next time you see chicken on sale, add this to your meal plan!
Do a price comparison. I know that ALDI is the best place for me to buy chicken when there isn't a great sale elsewhere. It's normally $1.89/lb! I keep track of prices so that I know who has the best deal where.
Stock up on ingredients when they are on sale. Buy extra chicken as well as marinade ingredients and stash them away in your pantry so you can make this dish whenever you want.
Tools you might need to make this recipe easy:
This is a pretty straight-forward dish. You don't need any fancy equipment. However, having some good basic kitchen tools can really make your time in the kitchen more enjoyable. Over time, I've honed my collection so that they are perfect for my needs. Here are the tools that I like to use in this recipe.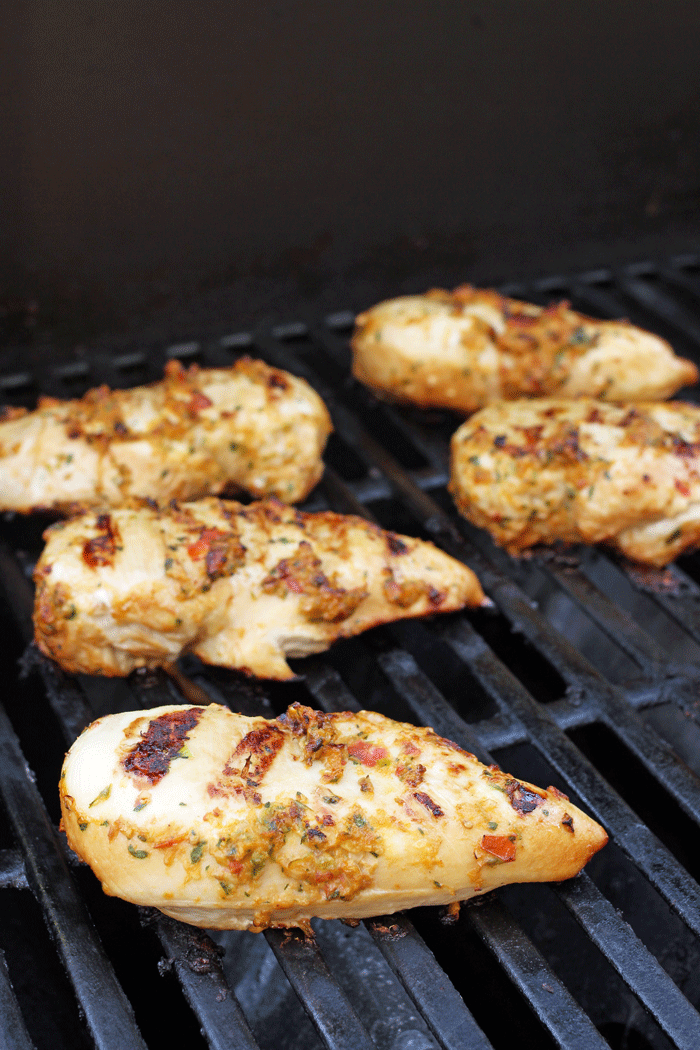 After you've prepared the recipe, would you do me a favor? I'd really appreciate it if you came back and left a starred review. Thanks in advance for your feedback!

If you prepare this recipe, be sure to share a picture on social media and hashtag it
#GOODCHEAPEATS
. I can't wait to see what you cook up!
Spicy Southwest Chicken Marinade
This delicious chicken marinade features the flavors of the southwest: tomatoes, jalapeno, onions, and cilantro, and adds a great kick to grilled chicken.
Ingredients
1

tomato

quartered

1/2

onion

cut into chunks

1

jalapeno

1/4

cup

fresh cilantro (chopped)

2

clove

garlic

1/4

cup

olive oil

1/4

cup

soy sauce

1

tbsp

lime juice
For marinating:
6

boneless, skinless chicken breast
Instructions
Combine the tomato, onion, jalapeno, cilantro, garlic, oil, soy sauce, and lime juice in the bowl of a blender or food processor fitted with a metal blade. Blend until smooth.

Place the chicken pieces in a container with a lid or a ziptop freezer bag. Add the marinade. Massage the bag or move the chicken pieces around in the container to coat completely with the marinade. Allow to marinate for 2 hours.

Heat an outdoor grill or grill pan. Remove the chicken from the marinade and cook on the hot grill, turning once, until an internal temperature of 165 degrees. Cover and rest for 10 minutes before serving.
Notes
To freeze: place the chicken and marinade together in a ziptop bag or airtight container. Massage the bag to coat the chicken completely. Place on a tray in the freezer until frozen solid. Remove the tray once the chicken is frozen and keep the bag of chicken in the freezer until about 24 hours before serving. Thaw in the refrigerator overnight on a tray to catch drips before proceeding with the recipe.
Nutrition
Calories:
227
kcal
|
Carbohydrates:
3
g
|
Protein:
25
g
|
Fat:
12
g
|
Saturated Fat:
1
g
|
Cholesterol:
72
mg
|
Sodium:
673
mg
|
Potassium:
501
mg
|
Fiber:
1
g
|
Sugar:
1
g
|
Vitamin A:
275
IU
|
Vitamin C:
9
mg
|
Calcium:
14
mg
|
Iron:
1
mg