Serving a Pasta Salad Bar is a cool and easy way to serve a meal that everyone likes. Provide cooked pasta and toppings so each can make his own pasta salad.
Do you serve dinner family style? Individually plated? Or buffet-style?
Each has its benefits, but I find buffet style to work the best for us. Everyone can choose what he likes and leave what he doesn't. Within reason, of course.
But, after teaching six kids to feed themselves, I've learned that some things just can't be forced. And so buffet style it is!
The buffet dinner opens a world of possibilities in terms of foods and flavor profiles: Consider all the different dinner bars you could serve: pasta, taco, burrito, burgers, baked potato, rice bowl, even a sandwich bar!
One new one that I'm particularly fond of?
The DIY Pasta Salad Bar
For nights when I really don't want to cook, I lean on the Pasta Salad Bar. Not only is it easy to serve, but it's also very DIY so everyone gets what he wants.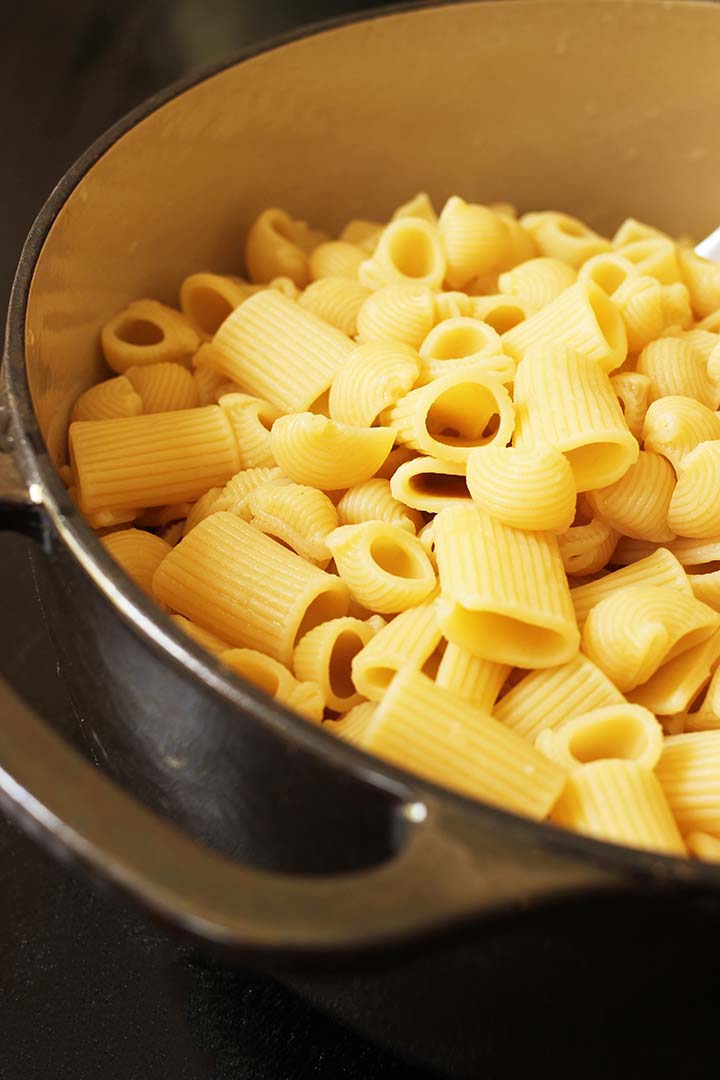 What is a pasta salad?
A pasta salad is a dish made of cooked and cooled pasta, tossed with a sauce or dressing and studded with vegetables, cheeses, meats, and beans. There are so many different ways to prepare pasta salad that serving the elements on a buffet makes a lot of sense.
Since you don't need a lot of any one ingredient — aside from pasta, of course — you can use up the little bits of leftovers you might have from previous meals.
Here's how you, too, can feed the people easily while keeping your cool.
1. Cook up a big pot of pasta.
It's best to choose something small, like rigatoni or penne. Rinse and drain and set aside.
Bonus: you don't need to keep anything hot.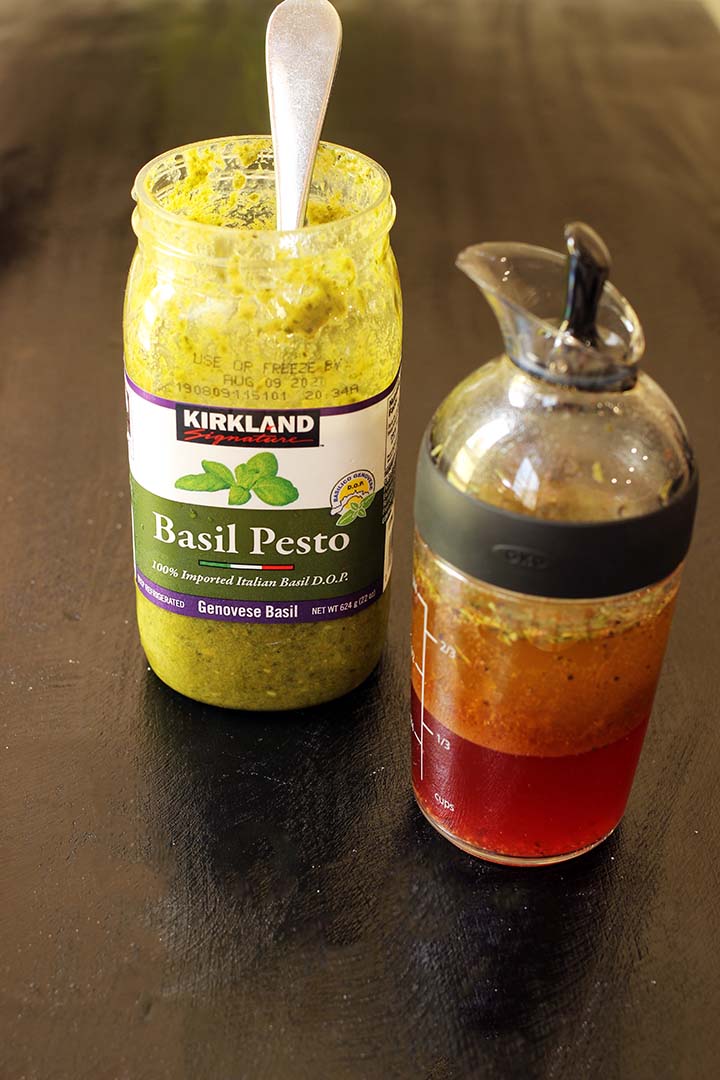 2. Mix up a big jar of dressing or sauce.
Making your own vinaigrette is super easy. Just assemble vinegar and spices and herbs in a jar. Cap and shake. Add olive oil. Cap and shake again.
You can also use a sauce, such as pesto, to add flavor to your salad.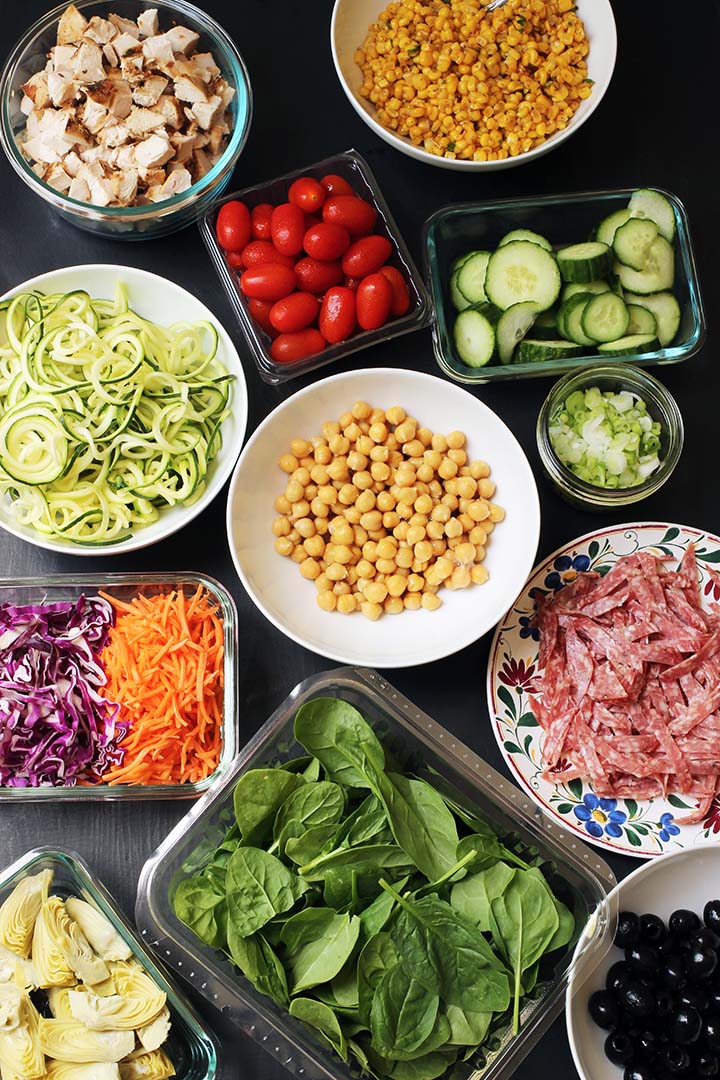 3. Lay out the salad toppings or mix-ins.
The point of the pasta salad bar is to let diners choose what they want in their pasta salad. Lay out a variety of toppings for them to choose. I usually make these low fuss. Choose from these options or dream up your own.
shredded or crumbled cheese
cooked, chopped chicken or turkey
sliced salami
olives
artichoke hearts
asparagus
assorted grilled vegetables
corn and peas
diced peppers
shredded carrot
sliced or chopped onion
chopped fresh spinach
diced tomatoes
garbanzo beans or other favorite bean
fresh, chopped herbs
chopped zucchini or even zoodles

4. Pull out a medium mixing bowl (or two).
Now the point of the pasta salad bar is that each person can mix his own personal pasta salad. We like doing the mixing in a bowl larger than a dinner plate.
A bowl makes it easier to mix up all the ingredients without flinging them across the counter. However it's important not to use too big of a bowl. Your people might end up mixing more than they can eat.
If that happens, just have them put their leftovers in a food storage container, and you've got a perfect lunch for school or work.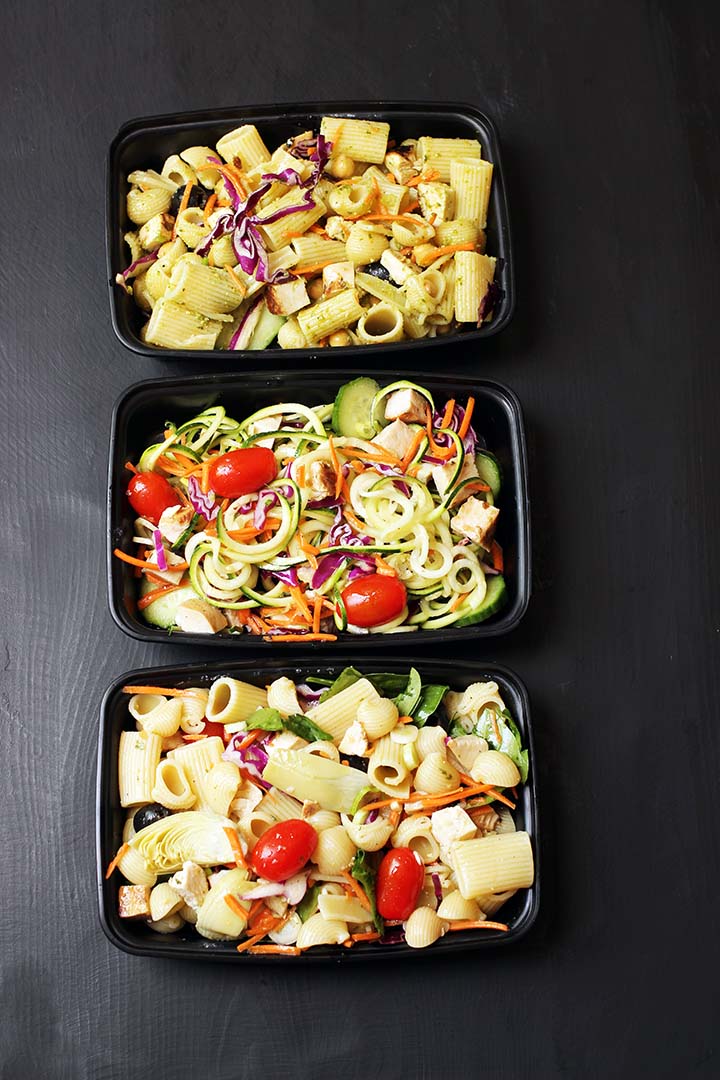 Speaking of which, setting up a pasta salad bar like this is a great way to get a few days of lunches packed. You can make each day's salad different from the others, and each person can have exactly what he wants.
Whether lunch is served at home or away, it will be all ready to go and super delicious.
What's YOUR favorite mix-in?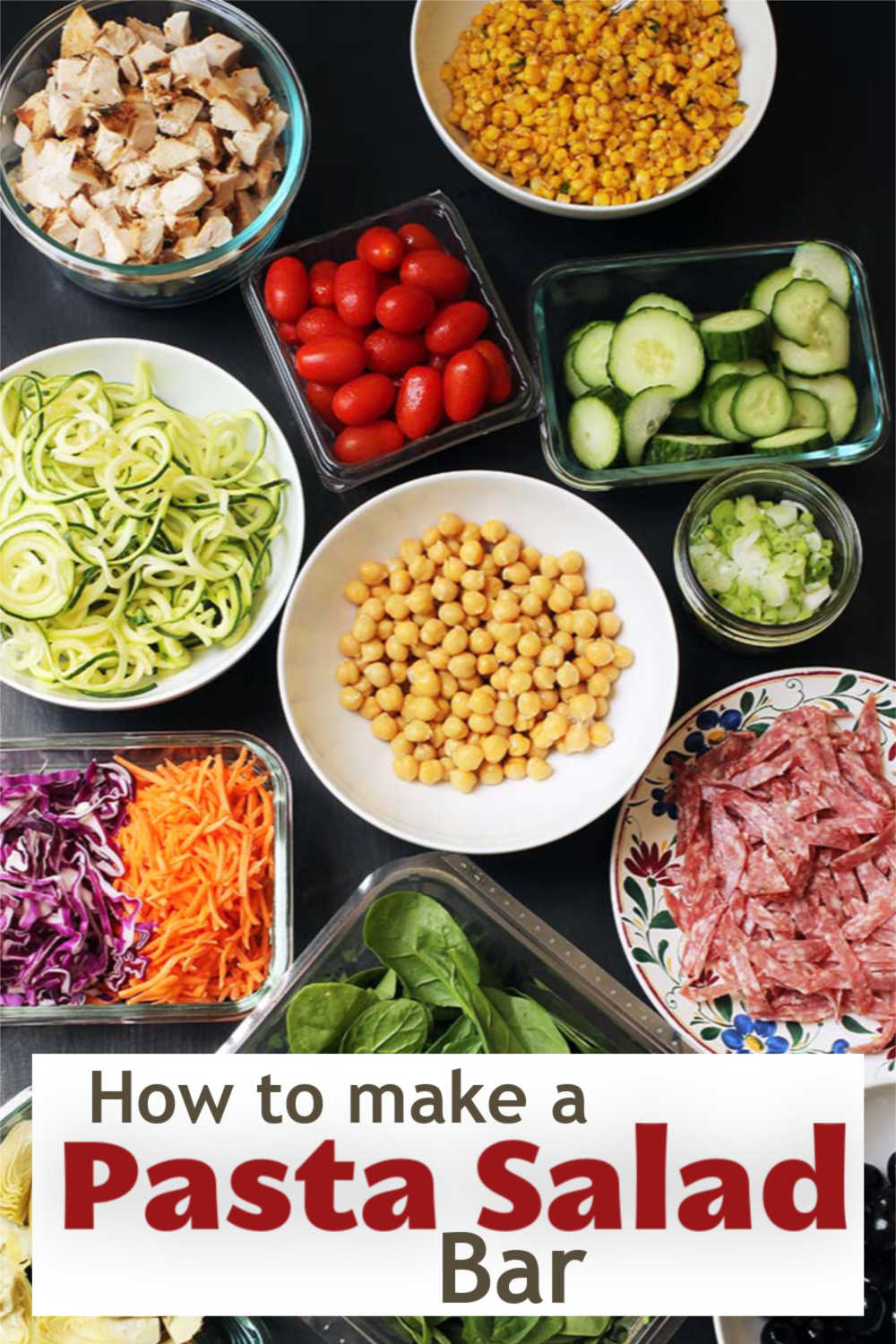 This post was originally published on August 20, 2015. It has been updated for content and clarity.