Serving a Pasta Salad Bar is a cool and easy way to serve a crowd of varying tastes. Provide cooked pasta and toppings so each can make his own pasta salad.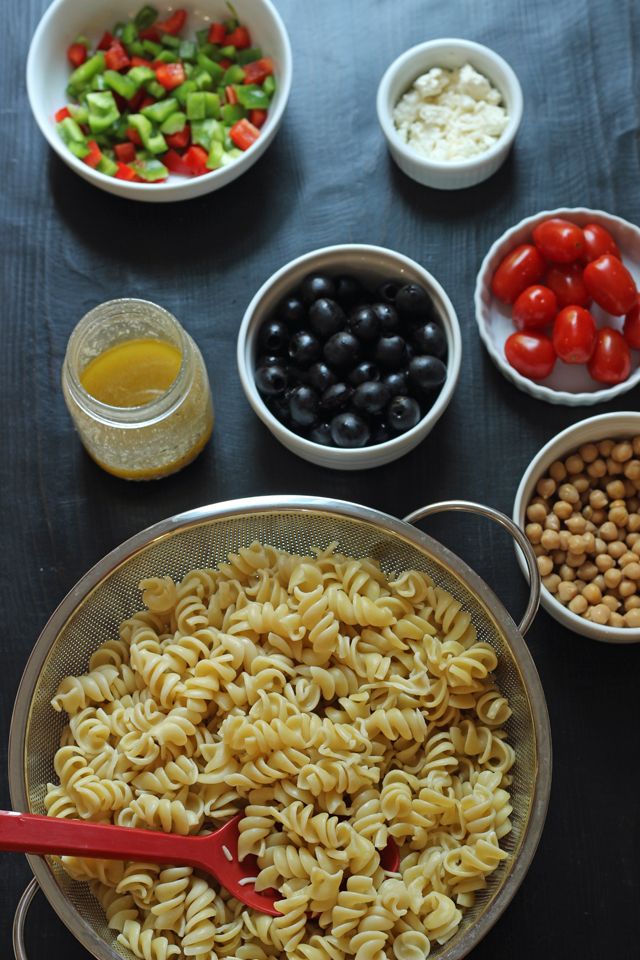 I tend to serve dinner one of two ways: individually plated or buffet style. Our years of having babies and toddlers at the table got us out of serving family-style. I just wasn't willing to let a toddler help himself. Nowadays, without tots about, we still serve buffet style. My kids haven't quite mastered the art of passing the potatoes.
So buffet style it is!
Over the years I've developed a few different dinner bars: taco, burrito, burgers, even a sandwich bar! One new one has the family totally stoked:
How Do I Make Pasta Salad?
For hot nights when I really don't want to cook, I lean on the Pasta Salad Bar. Not only is it easy to serve, but it's also very DIY so everyone gets what he wants
Here's how you, too, can feed the masses easily while keeping your cool.
Cook up a big pot of pasta.
It's best to choose something small, like rigatoni or penne. Rinse and drain and set aside. Bonus: you don't need to keep anything got.
Mix up a big jar of dressing.
Making your own vinaigrette is super easy. Just assemble vinegar and spices and herbs in a jar. Cap and shake. Add olive oil. Cap and shake again. And making your own dressing is just one of six ways you can save money on your groceries.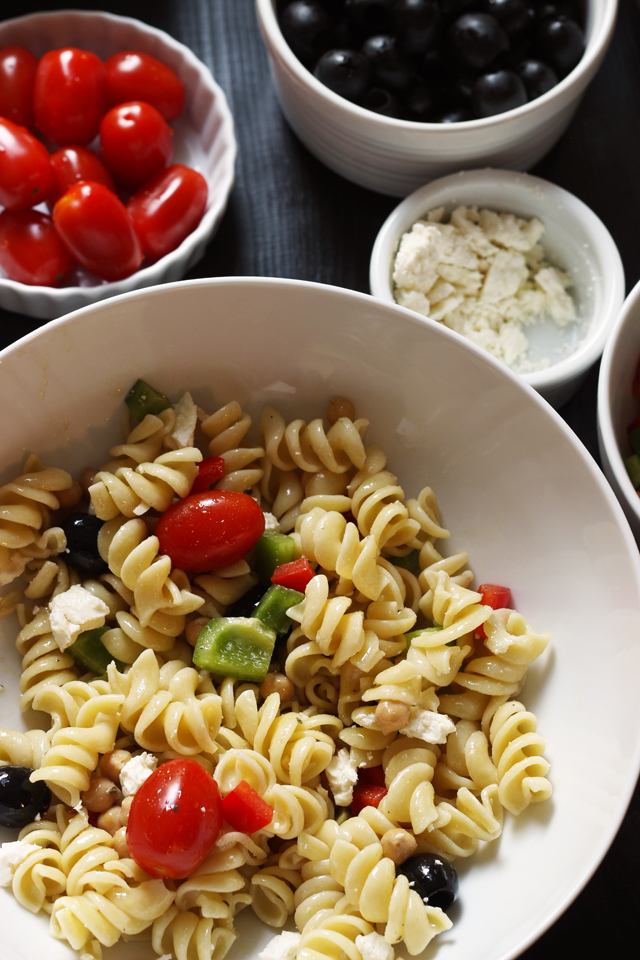 What Can I Put In A Pasta Salad?
The point of the pasta salad bar is to let diners choose what they want in their pasta salad. Lay out a variety of toppings for them to choose. I usually make these low fuss. Choose from these options or dream up your own.
shredded or crumbled cheese
cooked chicken
sliced salami
olives
artichoke hearts
asparagus
assorted grilled vegetables
corn and peas
diced peppers
shredded carrot
sliced or chopped onion
chopped fresh spinach
diced tomatoes
garbanzo beans or other favorite bean
fresh, chopped herbs
Pull out a medium mixing bowl (or two).
Now the point of the pasta salad bar is that each person can mix his own personal pasta salad. We like doing the mixing in a bowl larger than a dinner plate. A bowl makes it easier to mix up all the ingredients. However it's important not to use too big of a bowl. Your people might end up mixing more than they can eat. Ask me how I know!
If that happens, just have them put their leftovers in a food storage container, and you've got a perfect lunch for school or work.
In fact, setting up a pasta salad bar like this is a great way to get a few days of lunches packed. You can make each day's salad different from the others and each brown bagger can have what he wants. Waste less, and enjoy great lunches away from home!
What's YOUR favorite pasta salad mix-in?
Originally published August 20, 2015.