Offering a sandwich bar for dinner is a great way to feed a crowd on a budget. Here are some tasty ideas to include in your build your own sandwich bar.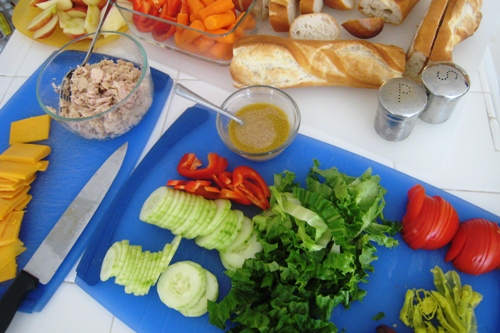 Sandwiches and salads are among some of my favorite good cheap eats. There are so many ways that you can combine ingredients that there are endless opportunities to make your sandwiches and salads different and unique. Sandwiches specifically are highly portable, one-dish dinners that please almost anyone.
Since our family represents a variety of ages and tastes, I often offer sandwiches as a serve-yourself-sandwich bar.
Here's what I include:
Breads
Since bread is the foundation of a sandwich, it's important to have the good stuff. Our favorites include

Protein
Next in the sandwich ingredient hierarchy is the protein. It doesn't have to be pricey. Quality deli meats often start at $10/pound, but there are some tasty work-arounds

Toppings
The toppings are where the fun comes in. Fresh veggies and spreads add richness and flavor. They also show that you've put a little more care into the preparation. I try to keep toppings prepped and ready to go in a divided plastic container in the fridge, so that sandwiches can be a quick, pick-up meal.
I buy these items on sale when I can. Since no sandwich requires a lot of any one of these items, I don't really count the cost. These are the extras that I serve as we have them.
Some of Our Favorite Sandwiches
While I love me a $5 footlong sub, I also keep in mind that I can make a ton of sandwiches at home for a fraction of the price. And usually they are tastier than what we would buy in a sandwich shop.
What do YOU include in your sandwich bar?
Do you consider sandwiches to be budget-friendly?