Pita Bread will take on a whole new identity when you bake it yourself. Print off this recipe for Homebaked Pita Bread and bake someone happy.
When I was in high school, my girl friends and I packed pita bread sandwiches all. the. time. We filled the pocket breads with chopped meats and cheeses, lettuce, cucumbers, and tomatoes and then packed salad dressing to add at the last minute. It wasn't really "cool" to pack a lunch, but we were all on a budget, even then, and found a way to have a "cool" lunch regardless.
Forget the fact that we hunkered down by the lockers to eat our lunches, lest any cooler kids spy us.
I don't buy pita bread any more — not since I first baked it at home. It's a little time intensive, but so good! And it's so fun to watch the rounds of dough puff in the oven, creating a pocket. It really works!
Making homemade pita breads is a little bit of a long process, but the result is fun and the puffing is cool. Enjoy your pita breads for gyros, sandwiches, or as a side dish. So good!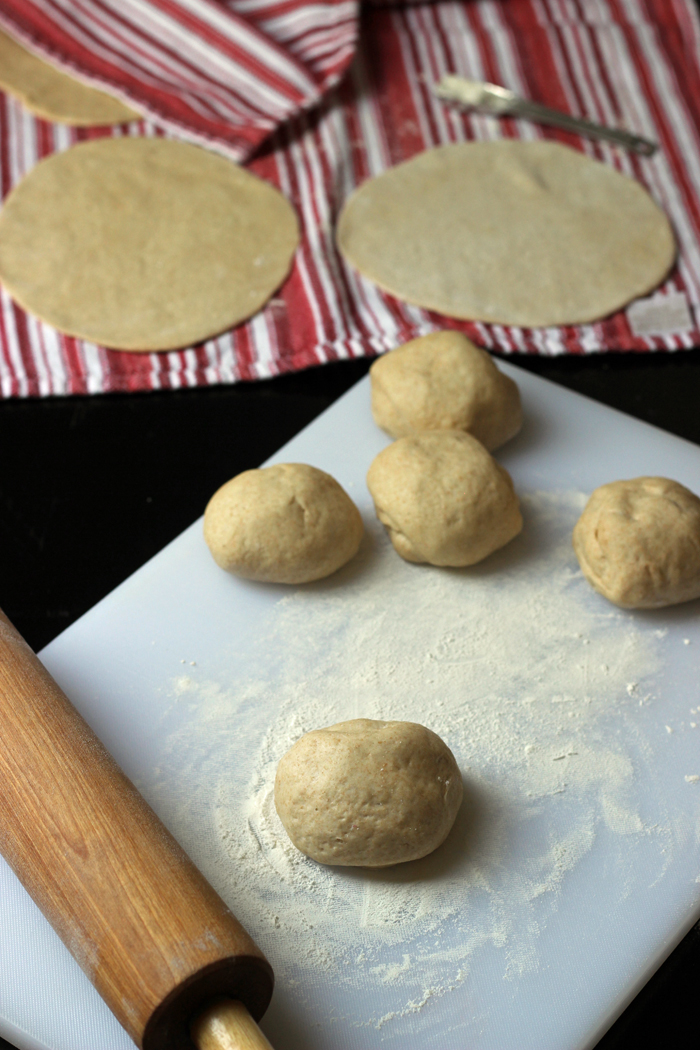 How to make this good and cheap:
Here are some of the strategies you can use to make this recipe more economical:
How I make this recipe easy:
This recipe really couldn't be easier than it is, but having the right kitchen tools can really make your time in the kitchen more enjoyable. Over time, I've honed my collection so that they are perfect for my needs.
Here are the tools that I use for this recipe:
stand mixer – super helpful for mixing dough.
bench knife – I love this tool for easily cutting dough into pieces.
sheet pans – I LOVE my set of steel sheet pans. They make such a difference in baking.
Homebaked Pita Bread
Pita Bread will take on a whole new identity when you bake it yourself. Print off this recipe for Homebaked Pita Bread and bake someone happy.
Ingredients
1 ¼

cup

water

warmed

1

teaspoon

honey

2 ¼

teaspoon

active dry yeast

3

cup

unbleached, all-purpose flour

1

cup

whole wheat flour

½

teaspoon

salt
Instructions
To make the dough in a stand mixer:
In the mixing bowl of a stand mixer, place the water, honey, and yeast. Allow the yeast to proof for five minutes. Add the flours and salt. Mix with the dough hook until a smooth dough ball forms. Transfer the dough to a greased bowl and cover with a tea towel. Let rise until doubled in bulk.
To make the dough in a bread machine:
Alternatively, you can use a bread machine. In the bread machine pan, place ingredients in the order recommended by the manufacturer. In my case, that means liquids first, then dry ingredients with yeast last. Set on dough cycle.

When the dough is ready, remove dough to lightly floured surface. Preheat the oven to 450 °.

Divide the dough into 12 equal-sized pieces. Roll into balls. Roll each ball into a 5-inch circle and rest on floured kitchen towel. Continue process. until all 12 pieces are rolled.

Place two rounds on a baking sheet and bake for 2 minutes. Flip and bake another 1 ½ to 2 minutes. Do not brown. Dough will puff during baking. Cool on a rack.

Continue the process, allowing oven to reheat for another couple minutes in between batches. Serve immediately. These taste best the day they are made.
Notes
Nutritional values are approximate and based on 1 pita bread.
Nutrition
Calories:
156
kcal
|
Carbohydrates:
31
g
|
Protein:
6
g
|
Fat:
1
g
|
Saturated Fat:
1
g
|
Sodium:
100
mg
|
Potassium:
89
mg
|
Fiber:
2
g
|
Sugar:
1
g
|
Calcium:
8
mg
|
Iron:
1
mg