Labor Day is the ideal time to gather a crowd for one last summer hurrah. Host a BBQ or a pool party and just enjoy these last few carefree days of summer.
It's not a great party, though, without some great eats. And feeding a crowd can be a huge undertaking. One of my favorite meals to serve to large groups is the Taco Salad.
Yeah, yeah, I know, real men don't eat salad. But they will if you load it up with all these macho taco fixings. Lay out a DIY bar with a variety of toppings like spicy pico de gallo and hearty proteins like seasoned taco meat, shredded beef or chicken, and cooked pinto beans. Yum!
And yes, it's okay if some of the males in your midst don't add lettuce. Then you call it, Not Soggy Nachos.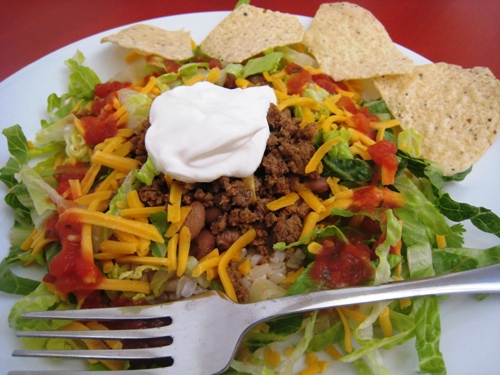 How about you? How do YOU feed a crowd?