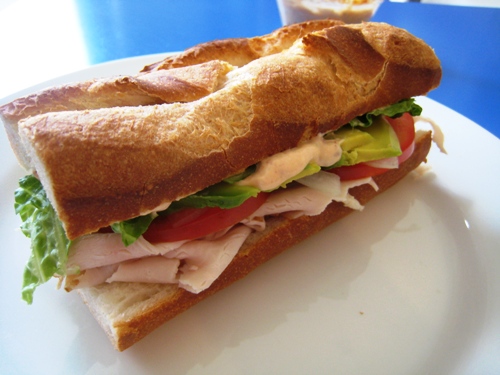 Currently, we live about 20 to 30 minutes from my husband's work. It's not the worst of commutes, but with gas prices what they are, we often consider moving closer. However, we live less than five minutes from an authentic French bakery. It's a regular stop on our weekend jaunts.
He commented recently that it was almost worth the commute to live near the bakery. Yes, yes, it is.
Usually we clean them out of baguettes on a weekend day, usually buying four batons to bring home and make sandwiches with. And snack on. And maybe have petit dejeuner if we hit the boulangerie early enough in the morning.
But, baguette sandwiches are a favorite.
And one of my favorite sandwiches is a mix of cultures, much like my home state of California. French baguette, California avocado, turkey breast, and a chipotle mayonnaise. Throw in some tomato and sweet onion for good measure. So good!
I was craving it Monday morning, but alas, that's the morning the bakery opens late. I would have seriously eaten this sandwich for breakfast.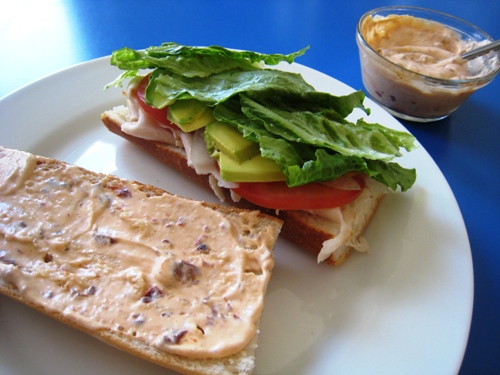 Recipe: Turkey Avocado Baguette Sandwich with Chipotle Mayonnaise
Summary: for each sandwich you will need:
Ingredients
1/3 French baguette, split horizontally
1 to 2 Tablespoons Chipotle Mayonnaise
2 ounces sliced Deli turkey
avocado slices
sliced tomato
sliced sweet onion
lettuce leaves
Chipotle mayonnaise = 1/2 cup regular mayonnaise mixed with 1 chopped chipotle pepper with adobo sauce
Instructions
Spread the chipotle mayonnaise on the top of the baguette.
On the bottom of the baguette, layer the turkey, avocado, tomato, onions, and lettuce.
Place the top of the baguette on the sandwich.
Serve immediately.
Let's Hit the Road!
This sandwich is hitting the road! Thanks to a program sponsored by Kraft Foods, this sandwich will be featured on the "Take a Sandwich Road Trip with Kraft Foods!" – on July 18th at Outstandwich.com. Kraft Foods is launching a virtual road trip around the country, in search of the best regional sandwiches. I get to be a part of this — and so do you!
Some of the sandwiches will be inspired by the Kraft Kitchen Experts, but others will come straight from bloggers and their readers.
Plus, you get the chance to win a $100 AmEx gift card!
Good Cheap Eats gets the opportunity to submit one recipe (this one) as well as one reader's recipe. Not only will that one reader receive a $100 AmEx gift card, but their sandwich will also have a chance at being included in the Sandwich Road Trip.
How to Enter

1. Submit a recipe for a sandwich that represents your region. (You must include a clickable link to GoodCheapEats.com in your post.) Link up your post's permalink below.

2. Encourage your mom, friends, and neighbors to come here to vote. Submissions will close and voting will begin at noon, on June 26th, 2011.

3. The sandwich with the most votes by midnight on June 29th will be the winner.
THE CONTEST IS NOW OVER. CONGRATS TO THE OKLAHOMA KID.
Please make sure that you only link up a sandwich. All other recipes will be disregarded and deleted.
Disclosure: Kraft Foods has provided one giftcard for me and one to giveaway.