Enjoy the classic English sandwich with a twist when you make this Cheese and Pickle Baguette. It's delicious and packed with flavor!
Have you ever had a meal on vacation that you kept thinking about long after you'd returned home and finally unpacked your bags?
A meal that was simple but delicious and had your mouth salivating at just the thought of it?
A dish that you worked to recreate at home because it was just that good?
This sandwich is that dish.
How can a simple sandwich be all that?! You may ask.
I have no idea, but after several trips to the UK and much dining at Pret a Manger, a delicious take-away shop, I am convinced that the Cheese and Pickle sandwich is the bomb.
There's a reason why this sandwich was rated #1 in the UK and at Pret, specifically, was rated the #1 Pret sandwich. And there's a reason why I love it so much.
Cheese and Pickle Baguette Sandwich
Crispy/chewy baguette bread, tangy English Pickle, nutty white cheddar, sweet-tart sun-dried tomatoes, crisp greens, and kicky onion? So good together that you'll want to enjoy this sammie on the weekly.
While I can't hop a plane for the UK today, I can make this awesomely delicious, super satisfying sandwich at home. With a few tweaks for the American kitchen, this copycat version of the Pret a Manger Posh Cheddar and Pickle Baguette will have you nodding your head in agreement.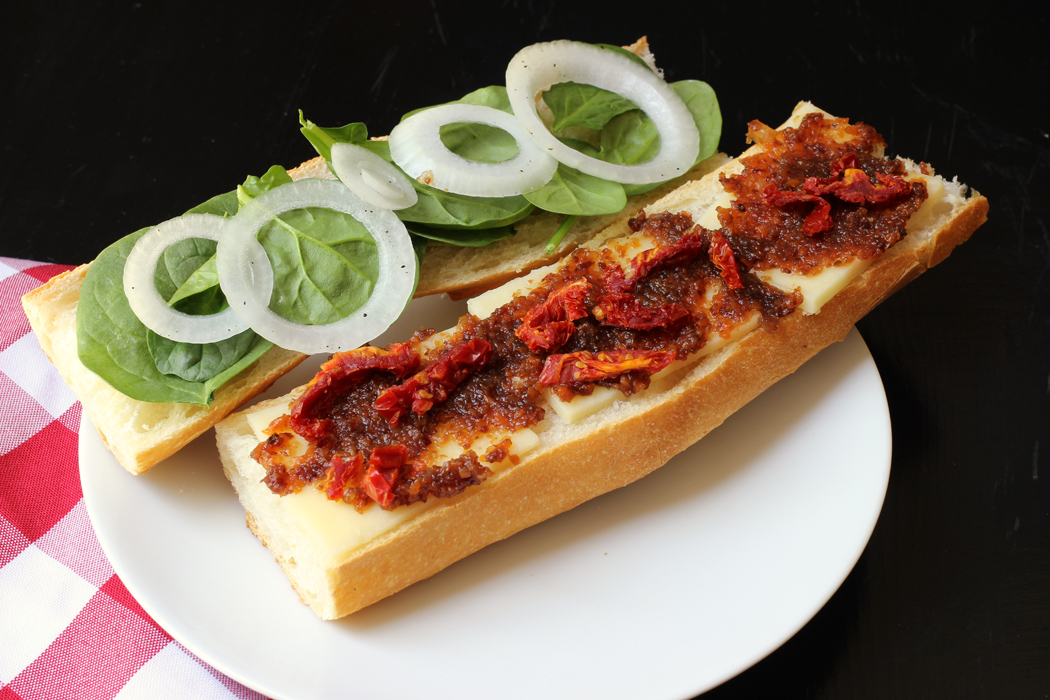 If you've ever watched the BBC detective series Endeavour, you may already be familiar with the cheese and pickle sandwich. DI Thursday's wife packs him such a sandwich each week — on Mondays, to be exact.
What is a cheese and pickle sandwich?
The cheese and pickle sandwich or cheese and chutney sandwich is a very British sandwich, in the same way that PB&J is for Americans.
A traditional cheese and pickle sandwich is made on sandwich bread with English pickle, cheddar, butter or mayo, and sometimes lettuce or arugula. This version is a bit more upscale.
Pret a Manger's Posh Cheddar and Pickle Baguette is an elevated tweak to a classic. And now, you can have it at home in the States.
A note to my fellow Americans: even if you're not the Anglophile that I am, and even if the idea of English pickle sounds really weird to you, I urge you to give this baguette sandwich a try.
The combination of tangy pickle with creamy, nutty cheese is really amazing!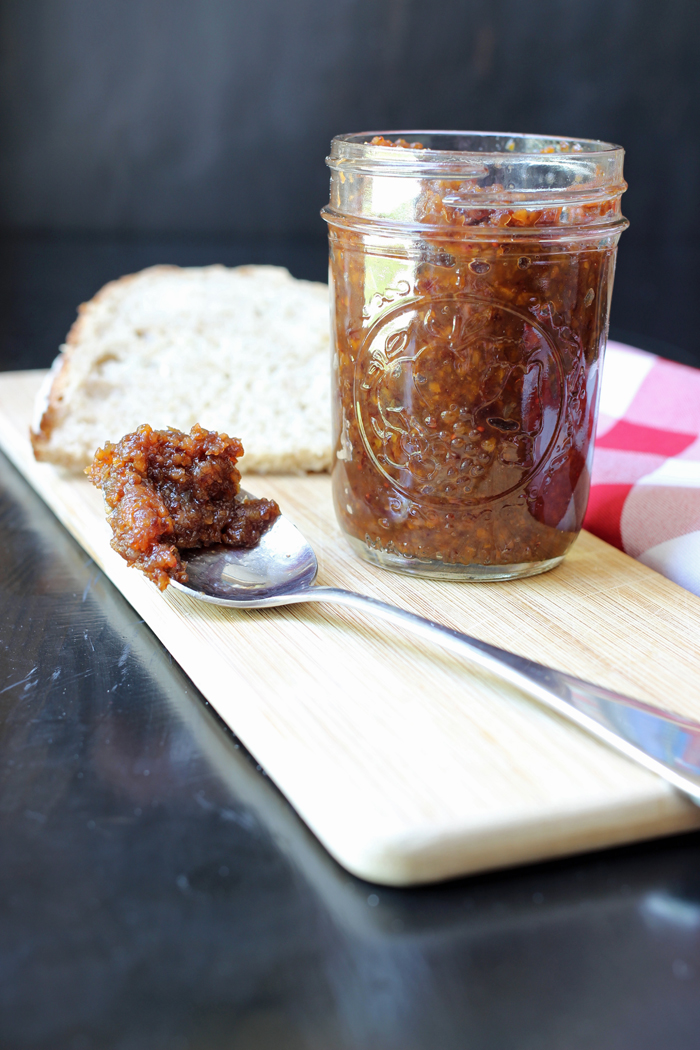 Now, first some clarification…
What is pickle in the UK?
English Pickle is not cucumber pickles like we're used to in the States, but more like a tangy, fruit and vegetable jam. It's delicious!
While Pret a Manger does have select locations in the US, the cheese and pickle sandwich is not part of their American menu. You have to hop across the pond to enjoy it.
Second, the ingredients in this recipe are not exact to what you'll find in the UK because of availability issues. Sprouts of any kind are difficult to source in American grocery stores, so I've substituted baby spinach for the mustard cress that Pret uses and the arugula often seen in the UK.
Of course, to make this sandwich you'll also need to make a batch of English pickle or grab a jar of Branston Pickle from World Market. Trust me; it's worth it!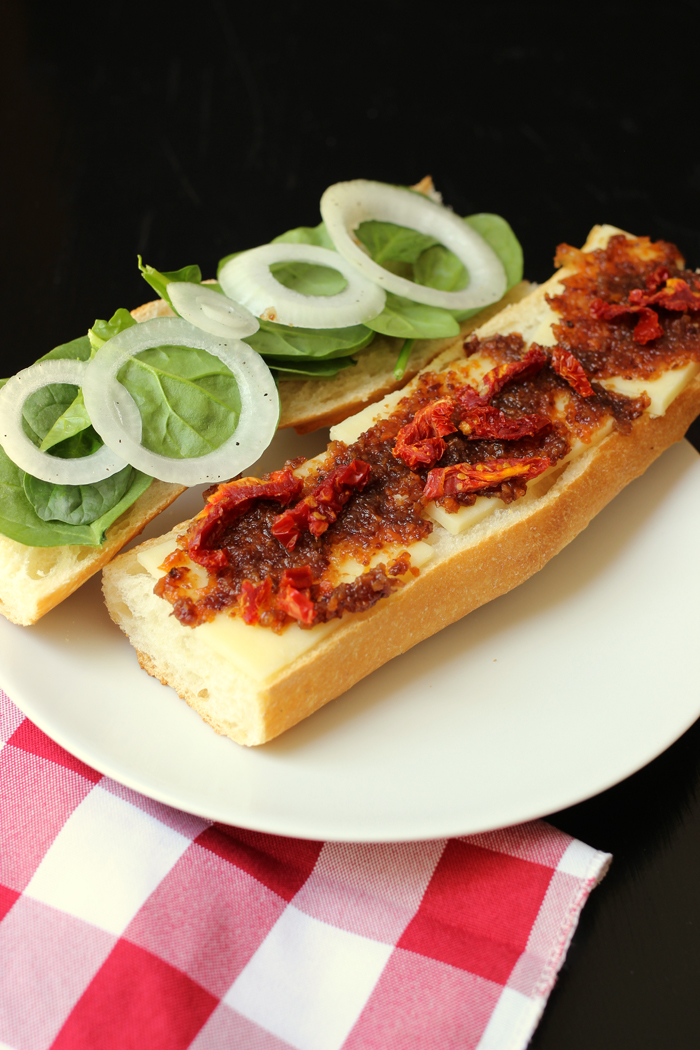 How do you make a Posh Cheddar & Pickle Baguette?
This is a super simple sandwich recipe, so simple, yet so packed with flavor. Here's how to make it:
Cut a baguette into 6-inch lengths. Split each length in half through the middle. Separate the two halves.
Layer sliced cheddar, a smear of English pickle, and a sprinkling of julienned, sun-dried tomatoes, onions, and spinach on one half.
Top with the other half of the baguette and serve.
How to save money making cheese and pickle baguettes:
Here are some of the strategies I use to make this recipe more economical:
Bake your own bread. Homebaked bread is delicious and can be more economical than purchased sandwich bread. Homemade baguette is easier than you think.
Do a price comparison. I know that Costco is the best place for me to buy good quality cheddar cheese when there isn't a great sale elsewhere. I keep track of prices so that I know who has the best deal where.
Make you own English pickle. Depending on where you can find the imported English preserve, you'll likely do better making your own, at least in the States,
Tools you might need to make this recipe easy:
This is a pretty straight-forward dish. You don't need any fancy equipment. However, having some good basic kitchen tools can really make your time in the kitchen more enjoyable. Over time, I've honed my collection so that they are perfect for my needs. Here are the tools that I like to use in this recipe.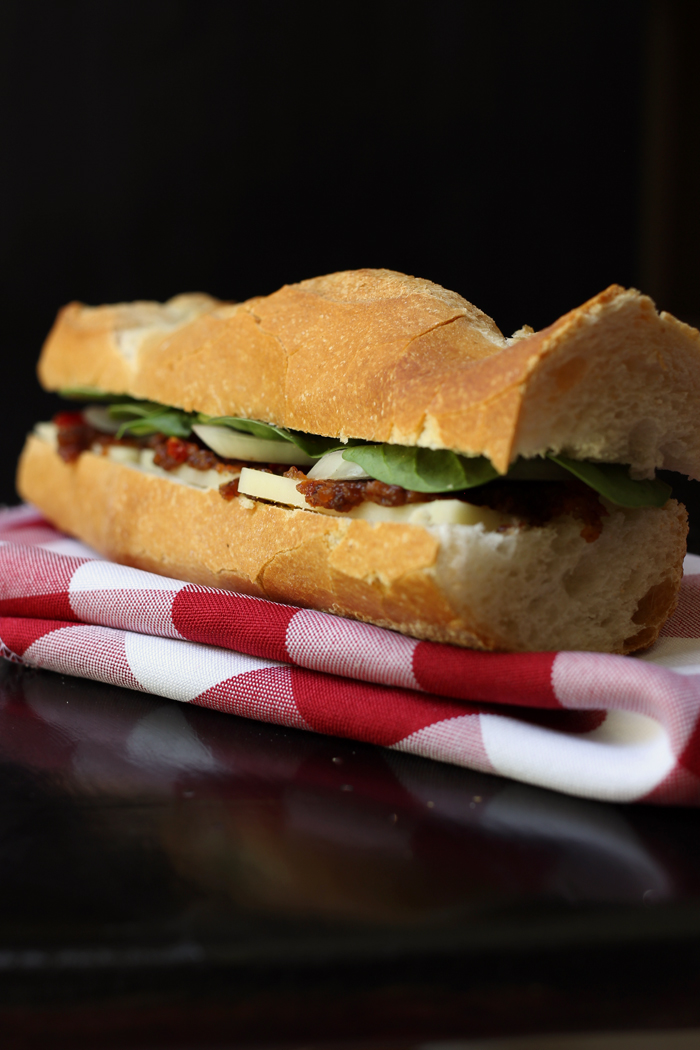 If you prepare this recipe, be sure to share a picture on social media and hashtag it
#GOODCHEAPEATS
. I can't wait to see what you cook up!
Cheese and Pickle Baguette
A Posh Cheddar and Pickle Sandwich is a fancy way to make the classic English sandwich, the Cheese and Pickle. It's delicious and packed with flavor, a perfect copycat of the one at Pret a Manger.
Ingredients
½

onion

thinly sliced

2

tablespoon

white wine vinegar

salt

black pepper

4

sections

French baguette

split lengthwise

4

oz

white cheddar cheese slices

¼

cup

English pickle

homemade or from a jar

¼

cup

sundried tomatoes (julienned)

2

cup

baby spinach
Instructions
Place the onion slices in a small bowl. Pour the vinegar over the top and season to taste with salt and pepper. Allow this to sit for about ten minutes. The process takes the bitterness out of the onion.

Lay out the baguette sections on a work surface. Place one ounce of cheese on one side of each baguette. Spread one tablespoon of English pickle atop the cheese slices. Sprinkle the sundried tomatoes over the pickle.

On the other side of each baguette, layer on baby spinach leaves. Top the spinach with onion slices.

Close the sandwich and serve.
Notes
Note: If packing for take-away, wrap each sandwich carefully and consume within a few hours.
Promptly store leftovers in an airtight container in the refrigerator, for up to 3 days.
Nutritional values are approximate and based on 1 sandwich.
Nutrition
Calories:
802
kcal
|
Carbohydrates:
138
g
|
Protein:
29
g
|
Fat:
14
g
|
Saturated Fat:
4
g
|
Cholesterol:
18
mg
|
Sodium:
1887
mg
|
Potassium:
612
mg
|
Fiber:
8
g
|
Sugar:
10
g
|
Vitamin A:
60
IU
|
Vitamin C:
5
mg
|
Calcium:
211
mg
|
Iron:
8
mg