Freezer sandwiches are a great, make-ahead item to add to your freezer cooking repertoire. The variety is endless as is the convenience when you've got breakfast, lunch, and dinner sandwiches all ready to go in the freezer.
Everyone knows that sandwiches are pretty easy to make on the fly. But, there are times when having your sandwich already made is just more apropos. Consider:
when you need a meal quickly without any prep or mess
when you have more time in advance for meal prep than you do on the spot
when you find a great deal on sandwich fillings or bread but can't eat it all up in a short amount of time
when you just want to dole out an easy, on-the-go to the kids on a busy school day
Freezer sandwiches fit the bill during these situations and beyond.
And… of course, making your own sandwich will save you money!
Freezer Sandwiches: How and What to Freeze
Freezer sandwiches can serve as quick meals at breakfast, lunch or dinner. An English muffin or biscuit, filled with cheese and sausage is a great start to the day. A frozen PB&J tossed in the lunch box in the morning will thaw to perfection by lunchtime. And a hot sub sandwich filled with meats, cheese, and bacon is a great way to wind down a long day.
While having sandwiches three times in one day may be excessive, know that frozen sandwiches can give you a quick shortcut meal when you need it, any time of day.
What sandwiches can be frozen?
Over the years, I've experimented with many different kinds of freezer sandwiches. I've played with different fillings and different ways to reheat sandwiches until I've landed on some options that are sure-fire winners. Be sure to scroll down for our winning freezer sandwich recipes!
Building a sandwich to freeze is akin to building a sandwich fresh: you want to keep the textures in mind and avoid sogginess wherever possible. I've found that these sandwiches freeze best:
nut butter and jam/jelly – be sure to have nut butter on both sides of the bread
cheese sandwiches – to eat cold or as a grilled cheese that you cook later
meat sandwiches with or without cheese – to serve cold or as a hot sandwich
Tips for freezing sandwiches
Cook and chill the fillings, if needed.
Avoid sauces or package them separately.
Some thick spreads like pesto can be added, just tuck it in between the fillings instead of on the bread.
Store individual sandwiches in foil or deli wrap and then in a freezer bag.
Store frozen sandwiches in the freezer no longer than six weeks for best taste and texture.
Thaw the sandwiches in the refrigerator if serving cold. Otherwise, they can usually be cooked from frozen.
Freezing cooked v. uncooked sandwiches
Having done a lot of freezer cooking this last 25 years, I've found that the taste and texture is always best for most cooked meals if they are cooked right before serving. This is true for sandwiches, with one caveat:
Cook the fillings first!
Since a sandwich is a multi-layered affair and you would never assemble a sandwich (hot or cold) with uncooked fillings, you're not going to do this with sandwiches you could freeze, either.
Whether you're filling your sandwiches with bacon, chicken, beef, or pork, be sure to cook the filling well. Cool it completely before assembling the sandwich to eliminate sogginess.
Whether you serve the end sandwich cold or hot, really depends on your preferences.
How to prep freezer sandwiches
There are two main ways to prep your sandwiches for freezing:
Assemble the sandwiches fully and wrap them individually. In this way, they will be all ready to go and packaged so that you can pull out however many that you need at a given time. This is great for breakfast sandwiches, PB&J, and sandwiches with dry fillings.
Assemble a sandwich kit so that all the components of the sandwich are ready to go. Once thawed, you can assemble the recipe and serve. This works best for very saucy sandwiches, like the Meatball Sub or French Dip Sandwich.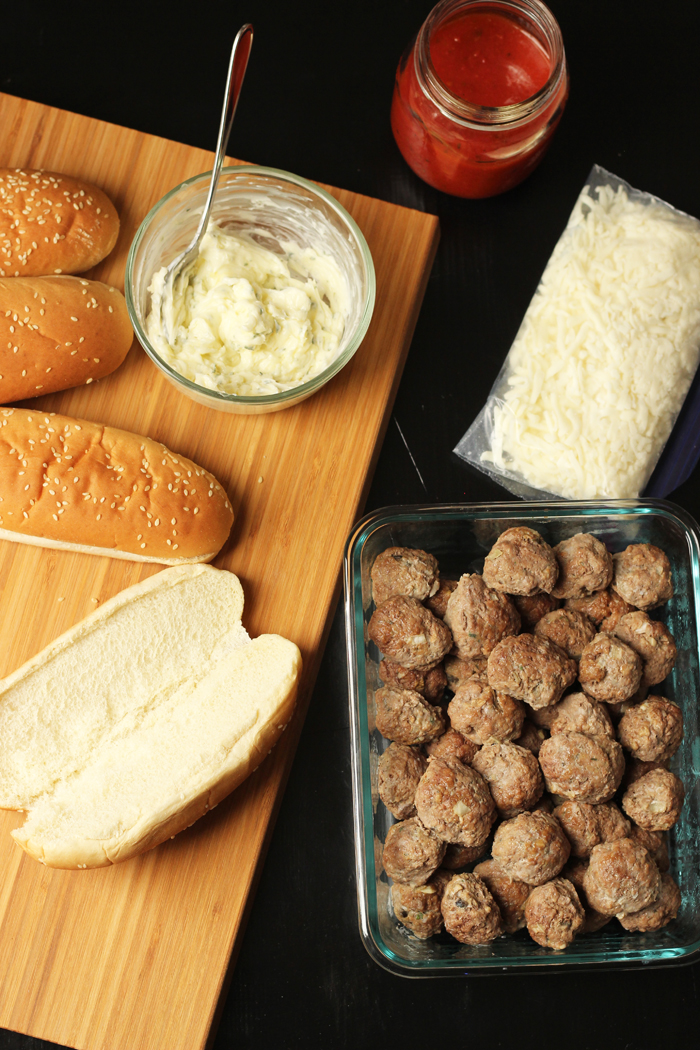 Can you freeze sandwiches with mayo?
Mayo doesn't really like to be frozen. It tends to separate and make things soggy. Better to add your mayo when you serve the sandwich.
Garlic butter is a good alternative to mayonnaise in freezer sandwiches. You can also add herbs to the butter to add more flavor and pizazz.
This means that it is best NOT to freeze tuna salad, chicken salad, or egg salad.
Can you freeze egg sandwiches?
There are several kind of egg sandwiches: egg salad and the breakfast type. Neither do well for freezing as the texture of the egg changes. Best to make those sandwiches fresh.
Does it matter what kind of bread you use for freezing sandwiches?
Any bread is acceptable for freezing sandwiches. Just remember the sogginess factor. A hearty roll is going to hold up better than a slice of a more delicate bread.
Can you freeze sandwiches or wraps with dressing?
Adding a dressing before you freeze the sandwich or wrap will increase the chances of a soggy sandwich. Better to save the dressing for right before serving time.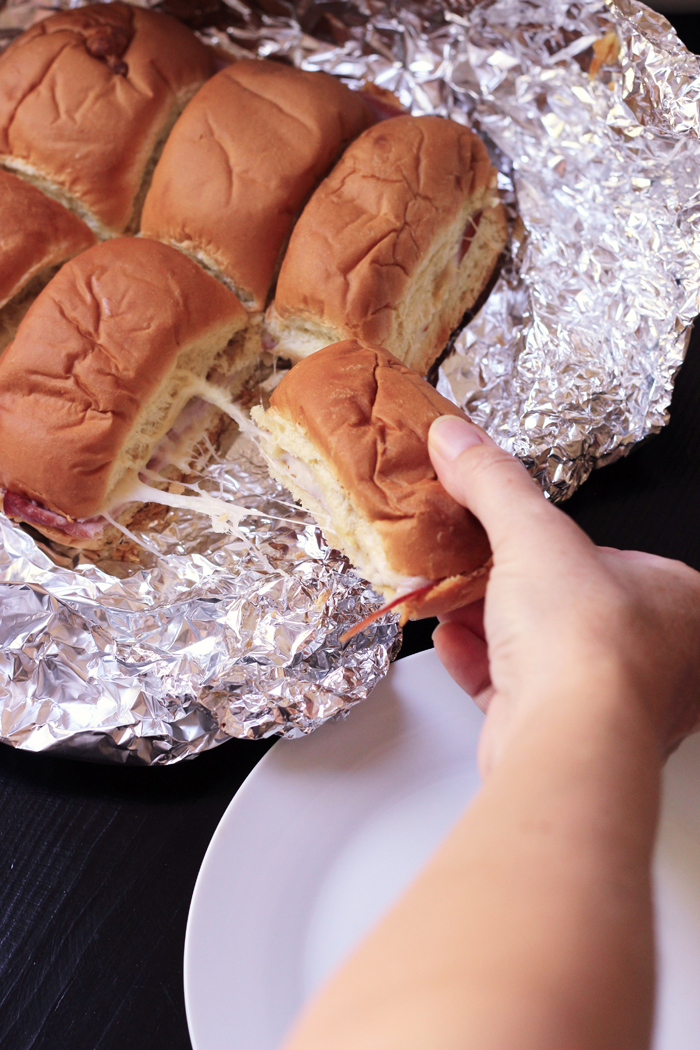 Freezer Sandwiches for Quick & Easy Meals
Sandwiches to Make as Kits
These recipes should be prepared as kits. Package the bread and fillings separately. Chill completely before freezing and store in the freezer until the night before serving. Thaw and assemble according to the recipe.

Meatballs Subs will come together quickly and easily when you have packs of buns, meatballs, sauce, and cheese all ready to go in the freezer. Just, thaw, heat/toast, and assemble.

French Dip is a delight, but it's also pretty soup. Package the garlic bread separately from packets of meat and jus. Thaw, heat, and assemble.

Make a double batch of this Hot Italian Beef Sandwich, storing half the meat and a package of rolls in the freezer alongside a bag of veggies. Thaw, reheat, and assemble.

Sweet and Sour Pulled Chicken is delicious and juicy. Store the chicken in the juices in a freezer-safe container alongside a package of Hawaiian rolls. Thaw, heat, and assemble.

This pulled pork really is the best ever. It makes a large batch, so divide the meat into meal size portions and freeze alongside your favorite buns. Reheating is quick and easy in the microwave.
Sandwiches to Assemble Individually & Freeze
These sandwiches do well assembled completely and then reheated before serving.

Ham, Swiss, and a bit of Dijon will sweep you away to the Alps with this hot and toasty slider perfect to fill you up.

Slather garlic butter on a large French loaf and then layer on crispy bacon, tender chicken, and slices of cheese. Wrap in foil and freeze. This is a perfect meal to easily feed a crowd without a lot of work.

Pizza in a sandwich? You betcha. Stuff Italian rolls with cheese, sauce, and your favorite pizza toppings. It's the cheater calzone that will have you coming back for more.

These Cheesy Italian Sausage and Pepper Sandwiches can easily be reheated in the oven or in the slow cooker! Cook as many as you like at a time.

Start the day right with a Sausage and Cheese Muffin Sandwich. Add a fresh egg if you've got the time. If not, just grab and go with this hearty goodness in hand.

Pesto is layered between the cheese and meat in these delightfully flavorful sandwiches that reheat well on the panini press.

Prep sandwiches for the freezer to grill later! It's easy and saves a few steps, especially if you cook your grilled cheese in the panini press.