Let your slow cooker do the work with an easy sweet and sour pulled chicken filling perfect for sandwiches and wraps. This simple crockpot recipe will save you time and money!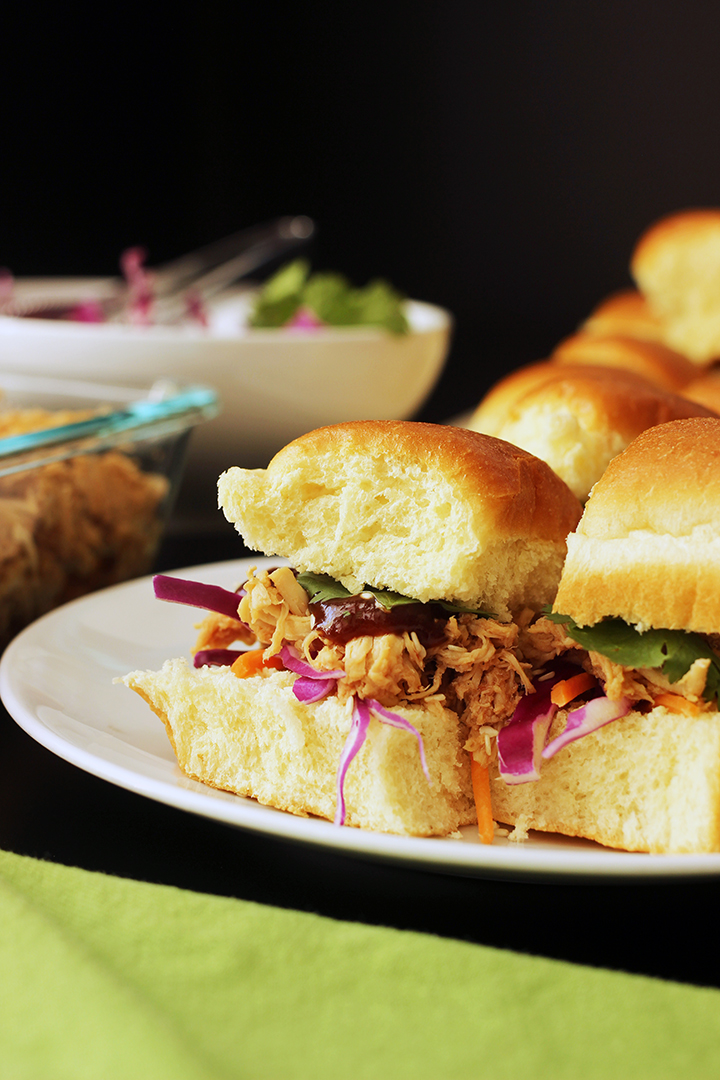 I've found that having a plan, and even better, a make-ahead meal, makes for a really relaxed atmosphere in our house. If I know in advance what I'll be serving and can communicate that to my family so that they can help facilitate or even do some or all the prep work, life feels calm and peaceful.
I realize that not everyone has seven other people asking them what's for dinner on any given day. But, still, I think this advance prep would work for you, too.
Believe me, I'm not so organized that it happens every day, but when it does? Wow! I feel like I'm on top of the world. And it's just one meal!
Sweet and Sour Pulled Chicken
Today's recipe is easy, make-ahead, and perfect for game days, mocktail/cocktail parties and really, any time. It cooks in the slow cooker, pretty quickly on high, makes for a fantastic slow cooker freezer meal, either before or after cooking, and tastes amazing.
The last few times, I've served it on Sweet Hawaiian Rolls. I think the sweet rolls go along well with the Asian seasonings, and the size is perfect for little hands. The smaller rolls also make it a great finger food for parties and special occasions like New Year's. Go with what you like.
You can actually use whatever roll or bread you prefer or even serve the sweet and sour pulled chicken in lettuce cups. Everyone at our house agrees that it would make a fantastic banh mi filling. Just split baguette, layer on the chicken, add sliced cucumbers, julienned carrots and cabbage, and loads of cilantro. Maybe a few slices of jalapeño. Yum!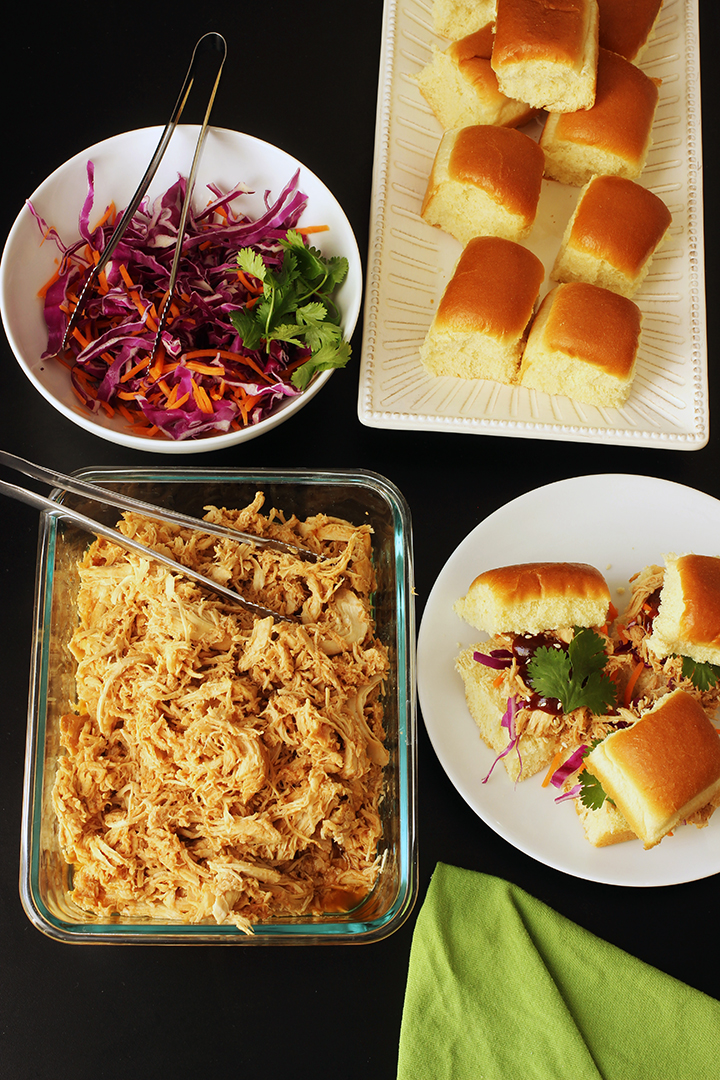 What are sweet sour dishes?
Sweet and sour is a generic name for sauces and cooking styles commonly used in parts of Asia and England for hundreds of years. The Food Lover's Companion defines sweet-and-sour as,
to describe dishes that have a flavor balanced between sweet and pungent, usually accomplished by combining sugar and vinegar. The flavor is often incorporated into a sauce or dressing that can be served with meat, fish, or vegetables. The Chinese are famous for their sweet-and-sour specialists and the Germans are noted for their delicious sweet-and-sour cabbage dishes.
What is sweet and sour chicken sauce made of?
Sweet and sour sauce is typically made with sweet elements, such as brown sugar or honey and sour, or pungent ingredients, such as rice vinegar and sherry. The sauce for this sweet and sour chicken also includes soy sauce, tomato paste, garlic, and ginger.
How do you serve sweet and sour pulled chicken?
The sweet and sour pulled chicken filling also goes well in lettuce wraps, in banh mi style sandwiches, and in tortilla wraps as well as a a filling in any kind of bread or roll. You can also serve the pulled chicken in Asian bowls or scattered on a pizza, like this Thai Chicken Pizza.
What do you eat with pulled chicken?
Just like with pulled pork, pulled chicken is delicious in a sandwich topped with shredded cabbage or coleslaw and BBQ sauce.
Alongside, you can serve side dishes, such as cucumber salad, french fries, potato salad, macaroni salad, and chips or crisps.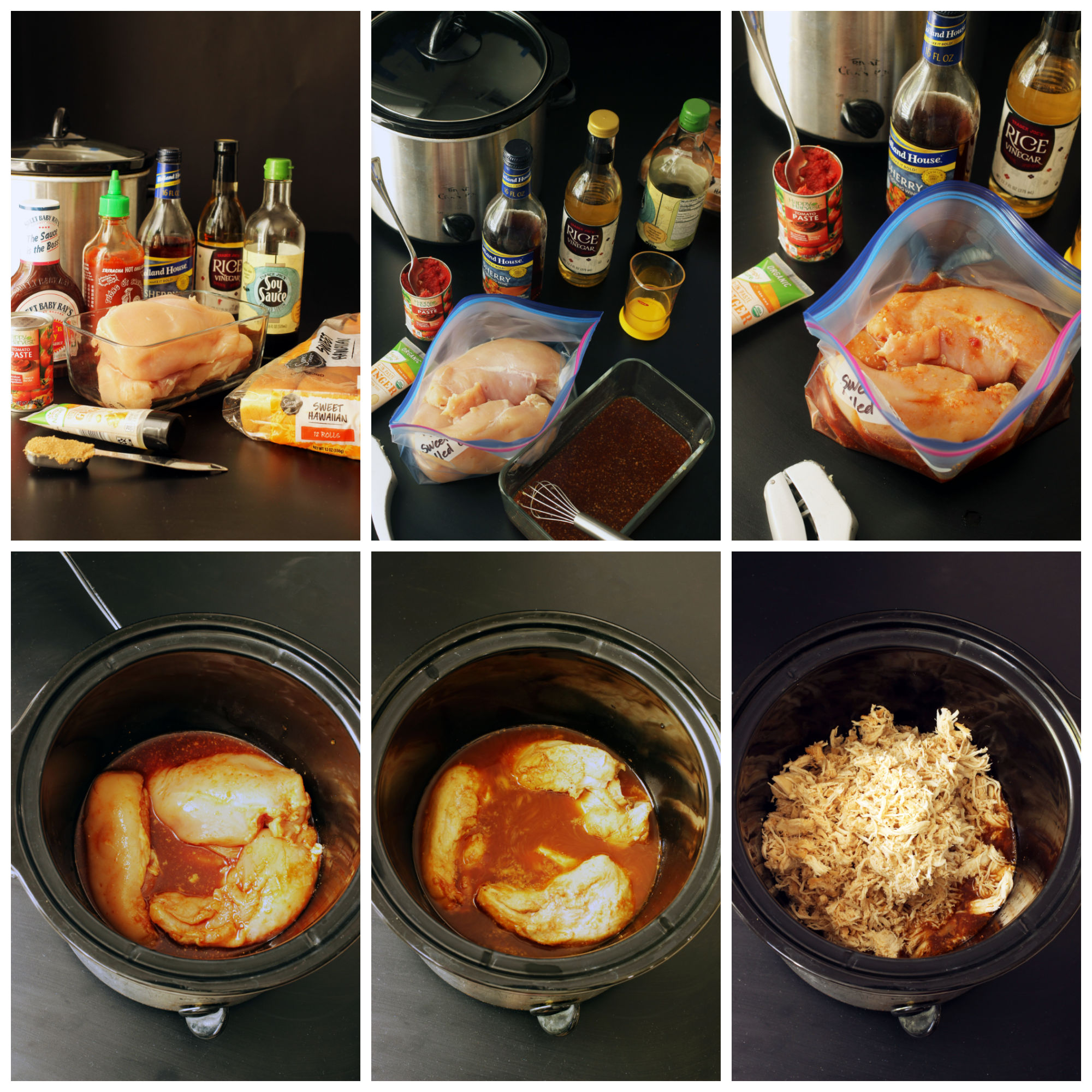 How do you make sweet and sour pulled chicken?
This recipe is super simple to prepare:
Lay out all your ingredients so you don't forget anything.
Combine the sauce ingredients, whisking together the soy sauce, sherry, vinegar, brown sugar, tomato paste, garlic, and ginger.
Add the chicken and sauce to the slow cooker, cover, and cook on high for 2 to 4 hours and on low for about six. The chicken will shred easily once cooked through.
Add the shredded chicken back to the sauce in the pan and stir to combine.
Serve the chicken as a sandwich or wrap filling or atop rice bowls.
Can you freeze pulled chicken?
This makes a fair amount of chicken. You can cool and freeze half of it for another meal or simply invite friends over to share.
If you do want to freeze it, you have two options:
Freeze the chicken and sauce together, uncooked, in a ziptop freezer bag. Thaw before continuing with the recipe.
Freeze the cooked chicken in its sauce in a ziptop freezer bag or freezer-safe container. Thaw, reheat, and serve according to the recipe instructions.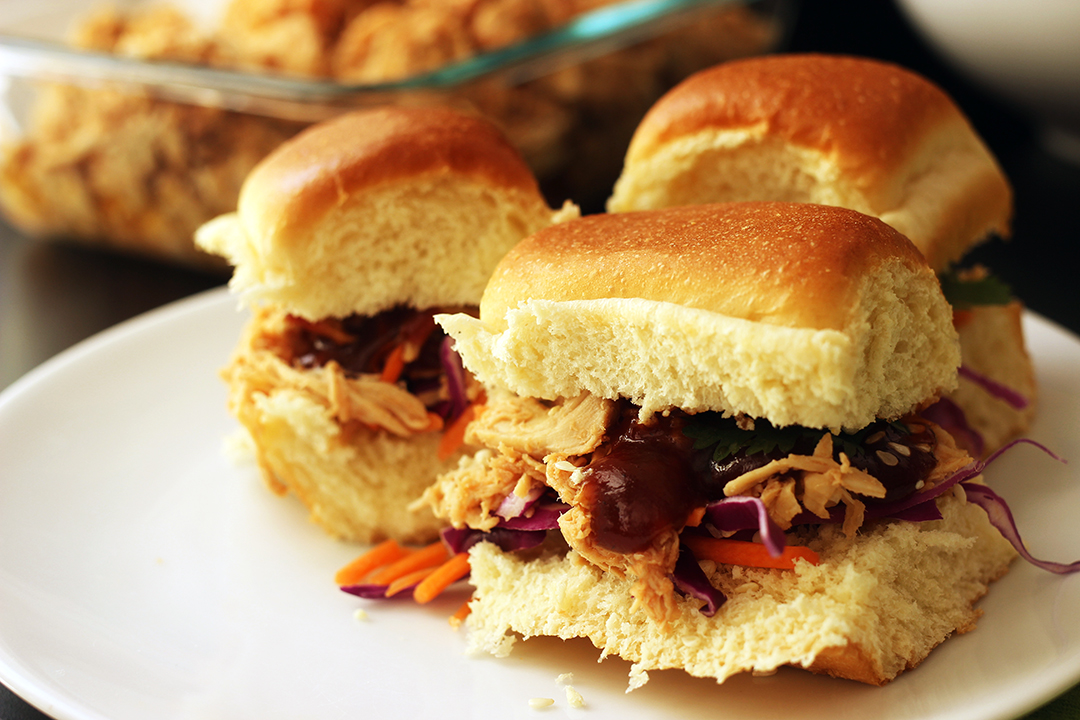 If you prepare this recipe, be sure to share a picture on social media and hashtag it
#GOODCHEAPEATS
. I can't wait to see what you cook up!
Sweet and Sour Pulled Chicken Sandwiches
Ingredients
2

lb

boneless, skinless chicken breast

1/4

cup

soy sauce

1/4

cup

dry sherry

1/4

cup

rice vinegar

1

tbsp

brown sugar

1

tbsp

tomato paste

1

clove

garlic

minced

1

tsp

fresh ginger (chopped)

12

sweet Hawaiian rolls

1

cup

BBQ sauce

cole slaw mix for topping sandwiches

optional
Instructions
Place the chicken breasts in the bottom of a 4-quart slow cooker.

In a small bowl combine the soy sauce, sherry, rice vinegar, brown sugar, tomato paste, garlic, and ginger. Pour this mixture over the chicken.

Cover the crock and cook on HIGH for up to 4 hours and on LOW for 6 hours.

The chicken will be very tender and easy to shred. Remove the chicken and shred the meat. Return it to the crock and mix with the juices.

Serve on rolls with barbecue sauce, if desired. Chicken mixture is also good inside a lettuce or napa cabbage wrap.

To freeze: the shredded meat and any sauce can be frozen for a later date. Simply cool and store in an airtight container. Chill completely before freezing. To serve: thaw completely in the refrigerator. Reheat or serve cold.
Notes
Nutritional values are approximate and are based on 1/12 of the recipe. Refrigerate leftovers promptly and use within 4 days.
Nutrition
Calories:
230
kcal
|
Carbohydrates:
26
g
|
Protein:
20
g
|
Fat:
4
g
|
Saturated Fat:
1
g
|
Cholesterol:
58
mg
|
Sodium:
698
mg
|
Potassium:
362
mg
|
Fiber:
1
g
|
Sugar:
13
g
|
Vitamin A:
96
IU
|
Vitamin C:
1
mg
|
Calcium:
13
mg
|
Iron:
1
mg
This post was originally published on December 26, 2013. It has been updated for content and clarity.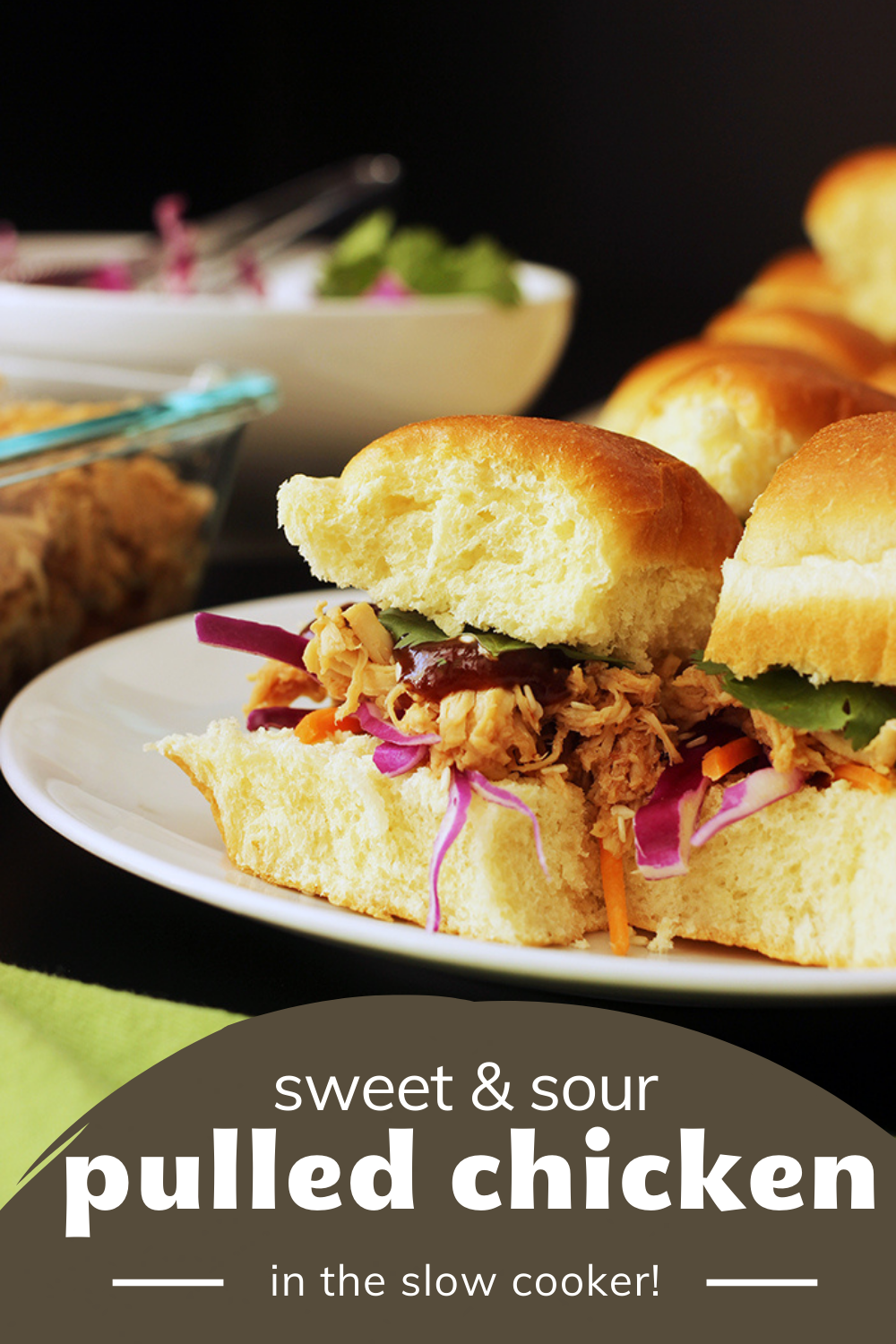 Have YOU got a favorite make-ahead meal?
I'd love to hear about your favorite make-ahead meal in the comments. Be sure to share your starred rating on the recipe card after you've prepped the recipe. I can't wait to hear what you think!