Today as part of the DIY Convenience Foods series, we're going to tackle something that fast food restaurants have battled over for years: the fried chicken sandwich.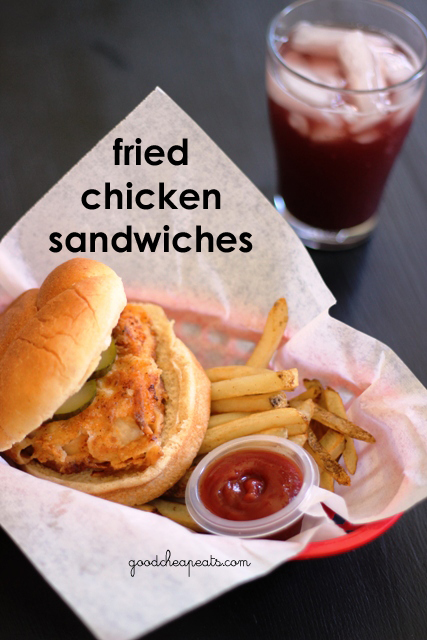 I did not grow up in the South. My mother never made friend chicken — unless it was from a box. But, I do loved fried chicken.
However, it's intimidating. I don't know why. It shouldn't be. Folks have been making fried chicken for hundreds of years.
My people love to order fried chicken sandwiches when we are at fast food places, so I decided that it was the perfect thing to try to make myself.
Making it yourself
I took boneless, skinless chicken breast and cut each one into three portions. Chicken breasts these days are so huge, you don't need a whole piece. I cut off the triangle end and then sliced the other half in half again horizontally. That means that each breast made three pieces.
I dipped the chicken in buttermilk and then a flour-panko breadcrumb mixture. Then I fried some of the chicken in sunflower oil. The others I baked in the oven. Both were yummy.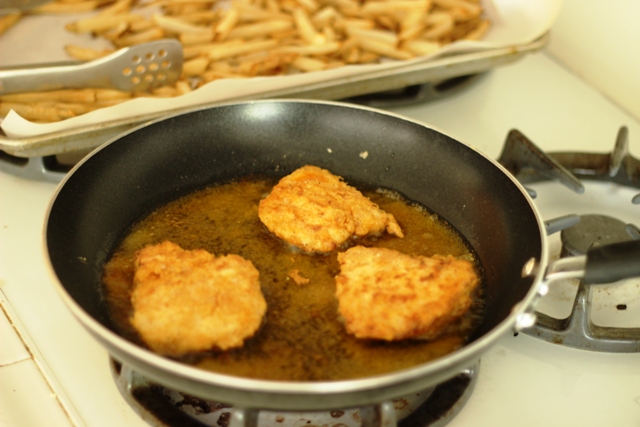 Making it cheaper
The chicken breast I bought was on sale for $1.99/pound. I used about 1/3 a pound for each sandwich, making the cost per serving about $0.66. The hamburger buns were white whole wheat buns that I bought on sale at the health food store; 8 buns for $2, or $0.50 $0.25/bun. I'm estimating the costs for the flour, spices, panko, oil, and buttermilk to be about $1.60 for the batch, or $0.20/serving.
Each sandwich cost about $1.11, at least half the price it would cost at a fast food restaurant.
Sure, it was more work that heading toward the drive-thru, but I know that we got better quality food for less. For the deluxe experience serve it with home-baked french fries and a fun drink.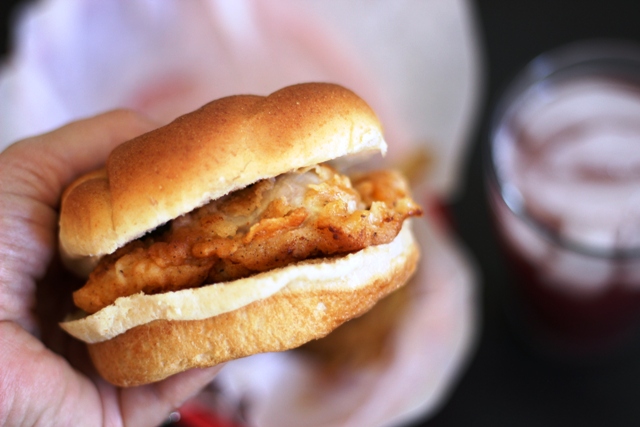 Fried Chicken Sandwiches
Keyword:
fried chicken, fried chicken sandwich, sandwich
Ingredients
2.5

pounds

boneless, skinless chicken breast,

cut into 8 cutlets

1

cup

buttermilk

2

cups

unbleached, all-purpose flour

1/2

cup

panko bread crumbs

1

tablespoon

paprika

1

teaspoon

fine sea salt

1

teaspoon

garlic powder

1

teaspoon

black pepper

8

hamburger buns

Optional toppings: sliced pickles, mayo, BBQ sauce
Instructions
Preheat the oven to 400°. Line a baking sheet with parchment paper.

In a small dish, soak the chicken pieces in buttermilk.

In a shallow dish, combine the flour, panko, paprika, salt, garlic powder, and black pepper.

Dip the chicken in the flour mixture and place on the baking sheet. Spray the surface of the chicken well with nonstick cooking spray.

Bake 25 minutes, or until cooked through. An instant read thermometer should register 165°.

Alternatively, you can fry the chicken pieces in hot oil in a skillet, until golden and cooked through.

Serve the chicken on hamburger patties with toppings.
Recipe Notes
Nutritional values are approximate and are based on 8 chicken sandwiches and no optional toppings. Refrigerate leftovers promptly and use within 4 days.
Nutrition Facts
Fried Chicken Sandwiches
Amount Per Serving
Calories 433
Calories from Fat 63
% Daily Value*
Fat 7g11%
Cholesterol 94mg31%
Sodium 731mg32%
Potassium 685mg20%
Carbohydrates 50g17%
Protein 39g78%
Vitamin A 523IU10%
Vitamin C 2mg2%
Calcium 130mg13%
Iron 4mg22%
* Percent Daily Values are based on a 2000 calorie diet.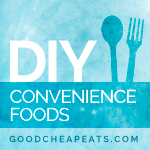 This is part of the DIY Convenience Foods series.
Don't want to miss a post in this series? Subscribe to 31 Days of DIY Convenience food here. Get updates via email here.