Got leftover cooked chicken and rice? Then you've got the makings of a great meal.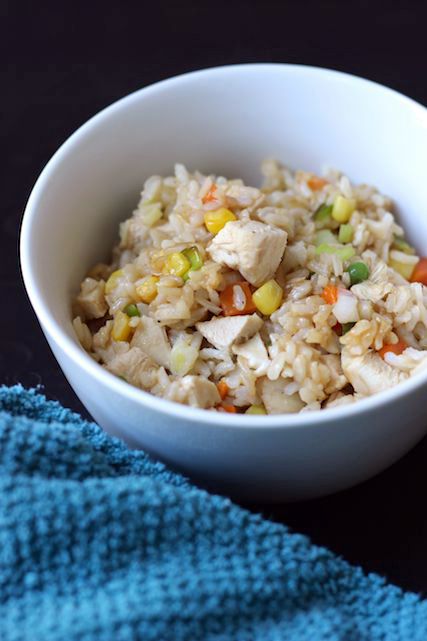 Since my youngest daughter was officially diagnosed (through extensive testing) with a peanut and walnut allergy, our Chinese takeout experiences have dwindled. To nothing. It's probably a good thing. I never read the ingredients list for a Panda Feast, but I'm guessing it probably wasn't much that I could actually put in a shopping cart.
So, I've been experimenting. My kids aren't super impressed – yet. But they will be. Someday.
One thing that I am pleased with is my Fried Rice. My kids were a bit confused the first time I made it. It was perfectly authentic, complete with the scrambled egg. But since we've never ordered fried rice at an Asian restaurant, they didn't know what to make of it. They politely asked me to omit the egg in the future. Ha!
Anyway, this is a dish that I'm made many times over the last few months. It's a great way to use up leftover cooked meats and any cold, cooked rice you have on hand. It has to be cold rice, otherwise it won't work. This last batch I made with a mixture of both brown and white rice. Obviously, it will seem more like Lui's Kitchen if you use long-grain white rice, but it'll be more whole-grainy if you use brown. Choose your poison.
The ultimate beauty of this recipe is that it comes together in less than 30 minutes.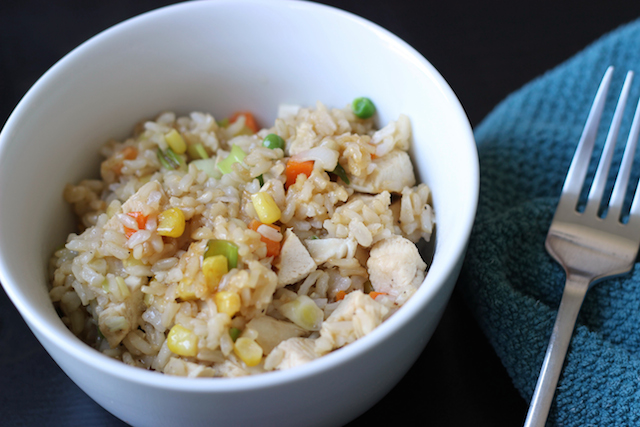 Other recipes I've seen call for sugar, I've substituted honey instead. You can do either. It tastes great both ways.
Recipe: Chicken Fried Rice
Ingredients
1/4 cup sunflower oil
4 cups cold, cooked rice
1 to 1 1/2 cups cooked chicken, chopped
1 cup mixed frozen vegetables (peas, carrots, and corn)
4 scallions, sliced
1/2 cup chicken broth
2 tablespoons soy sauce
1 tablespoon sesame oil
1/2 teaspoon honey
1/4 teaspoon black pepper
Instructions
In a large skillet over high heat, heat the oil until shimmering. Add the rice and cook, stirring, breaking up any clumps. You want to "fry" each grain in the oil so that it's its own separate entity, about five minutes.
Add the chicken, vegetables, and scallions and cook, stirring for 2 minutes.
Add the broth, soy sauce, sesame oil, honey, and pepper. Cook, stirring for 1 more minute. Cover and cook another minute or so.
Preparation time: 5 minute(s)
Cooking time: 8 minute(s)
Number of servings (yield): 4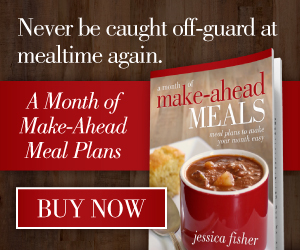 Make-ahead meals can make your month!
Grab this month's meal plans
to take it easy and enjoy great home-cooked meals.