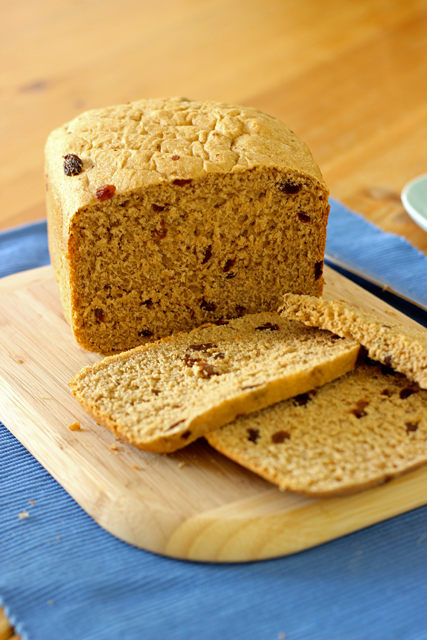 As you know by now, we're working to eliminate "added sugars" this month. It's an experiment to teach my kids about what's in their food and hopefully direct them in a different direction in terms of what they choose to eat and what they end up preferring. (You can read along with our sugar fasting experiment here.)
Certainly there are plenty of "sugars" naturally occurring in grains, milk, and fruits, but we're trying to avoid the "extras". It's been going okay. I can't tell you how THRILLED I am when I find a processed food that is safe. Needless to say I'm spending a lot of time in the kitchen.
One thing that helps in that department is enlisting the aide of my children, in this case, my oldest daughter, aka FishChick7. Last week we made several loaves of bread in the bread machine as I go through the process of training her to use the machine on her own. I figure that it's not any more complicated or dangerous than an Easy Bake Oven, and a lot more practical. You know how I love my bread machine.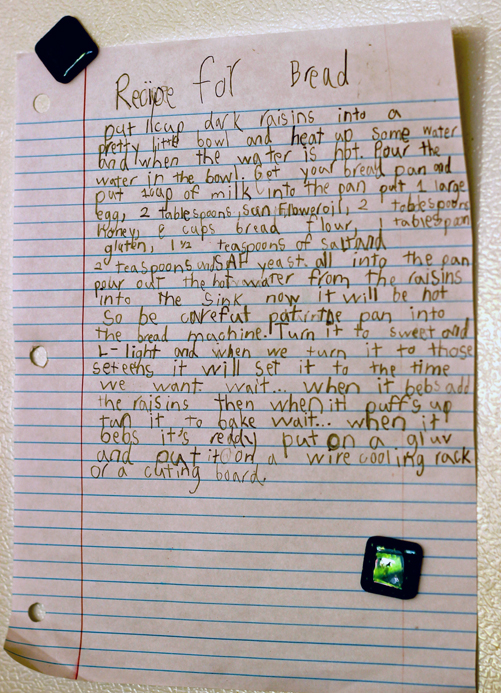 After her first batch of bread, she wrote out the recipe. I can't tell you how AMAZED I am at that! That recipe, my friends is a keepsake!
This bread has turned out to be a great afternoon snack for my people. It takes about 3 hours from start to finish which means it's done just about the time we're done with school. The kids spread butter on the warm, honey-sweetened bread and it makes for a great snack. Leftovers are good toasted and buttered for breakfast.
Note: this is not an overly sweet bread. So, if you're used to very sweet breads, you may be a bit surprised.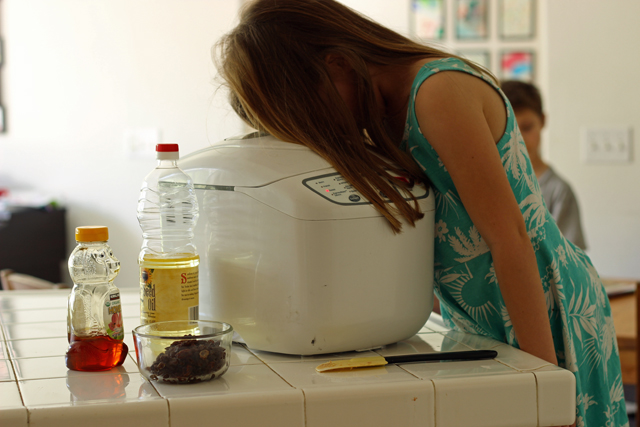 Once she gets the ingredients in the pan, my girl loves to watch it need the dough. It's pretty fun, actually.
We've adapted a raisin bread recipe from Beth Hensperger's Bread Lover's Bread Machine Cookbook. It's one of my favorite resources for bread baking. We obviously changed the sweetener, used all whole wheat flour, and switched up the oil, because honestly, I don't think canola is all it was cracked up to be a few years ago. I use sunflower oil instead.
I often use the bread machine just for making the dough and then switch it to a regular pan for baking in the oven. But, I want my girl to feel a sense of independence in tackling this on her own. We tested this recipe with milk as well as water. The water-based recipe rose higher and did not sink as bread machine loaves are apt to do. Go figure. Your mileage may vary.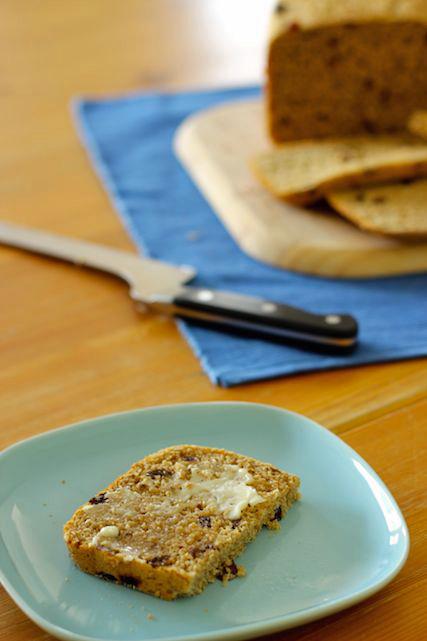 Recipe: Honey-Sweetened Raisin Bread in the Bread Machine
Ingredients
1 cup raisins
1 cup milk or water
1 egg
2 tablespoons sunflower oil
2 tablespoons honey
3 cups whole wheat flour (white whole wheat is nice)
1 tablespoon gluten
2 teaspoons ground cinnamon
1 1/2 teaspoons fine sea salt
2 teaspoons yeast
Instructions
Place the raisins in a small bowl and add hot water to cover. Allow them to stand for 10 minutes, drain, and set aside.
Combine all of the ingredients in your bread machine according to the manufacturer's instructions. Program the machine for the sweet and light settings and start the machine.
When the machine beeps for "add-ins" add the raisins. You may need to use a rubber spatula to help them incorporate into the dough. Not all machines handle this part really well. Some raisins will be left on the bottom of the pan if you don't help them out.
When the baking cycle ends, remove the bread from the pan and allow it to cool on a rack before slicing.
Preparation time: 10 minute(s)
Cooking time: 2 hour(s) 50 minute(s)
Number of servings (yield): 12
Note: you can, of course, prepare the dough by hand and bake it in a traditional loaf pan in the oven at 350, for 30 to 50 minutes, or until golden brown and hollow-sounding when knocked on the bottom. I haven't baked it this way, so I'm not absolutely positive on the baking time.