Bake up a batch of these energy bars, full of whole grains, seeds, and dried fruit. They are a great way to start your morning.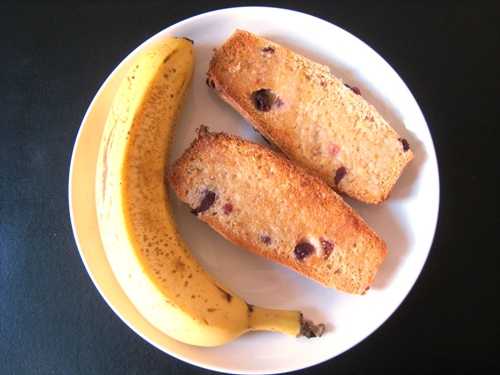 Years ago I worked as a server for a small Santa Barbara restaurant group. Brigitte and Norbert owned Brigitte's, Brigitte's Bakery, and Cafe B. I was fresh out of college, newly engaged, and shaking in my boots to work for this very intense couple. Norbert was the chef/baker of the lot. Brigitte took care of things up front in the restaurant, a white table cloth and extensive wine list kind of place.
I worked in the bakery where it was quiet, serving coffee drinks and muffins to whoever happened along. Back in 1994, this was the equivalent of what Starbucks is today, I suppose. Except the coffee wasn't as good. The baked goods, however, beat Starbucks flat.
As scary as Norbert was in his tall, bulky German way, I gotta admit: he knew food.
I had had a little experience with food prior to this job. I knew grocery retail from my days at Lucky. And I knew prep kitchen stuff, having worked for the University catering company in college.
At Brigitte's, I expanded my food knowledge. I asked lots of questions and got to try lots of great food. One of the perks of working there was that you got one free meal per shift.
I loved the Caesar Salad from the restaurant, the fried ravioli, the salmon with pesto, and the mango muffins. I first met foccacia there as well as goat cheese tart. I ate so well that year. It was a pretty nice gig for the nine months I worked there before grad school.
One of the bright spots of working in the bakery was getting an education in the variety of baked goods that could be dreamed up. Every morning trays and trays of baked goods slid out of the oven and we stocked the bakery case. One such goodie was the energy bar. It was chock full of fruits, nuts, and seeds, very tasty when toasted and coated in butter.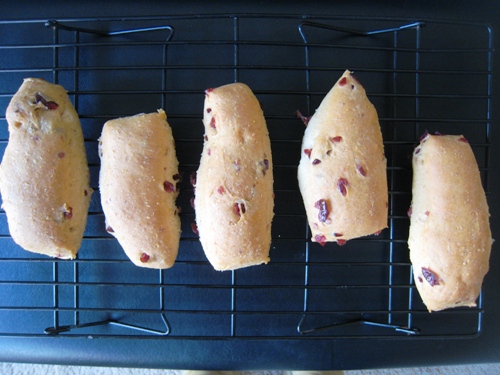 Norbert never gave me the recipe. And I would have died before I asked for it. He scared me.
So, I monkeyed in the kitchen a few years ago to recreate the energy bars of my memory. These are fabulous. I can't keep them in the house; my kids eat them up too quickly.
These bars are a part of a recipe collection known as Not Your Mother's Make-Ahead and Freeze Cookbook. Yep, these are very freezer friendly. So, bake up a batch and hide them from your kids in the freezer to enjoy later.
Wholesome Energy Bars
Enjoy these whole grain, nut- and fruit- filled rolls. They are delicious split and toasted and served with a bit of butter.
Ingredients
1

cup

milk

3

tablespoon

olive oil

3

tablespoon

honey

1

teaspoon

vanilla extract

1

cup

whole-wheat flour

2

cup

unbleached, all-purpose flour

½

cup

oat flour

¼

cup

cornmeal

1

tablespoon

orange zest

(from 1 orange)

1

teaspoon

ground cinnamon

2 ¼

teaspoon

active dry yeast

1

teaspoon

salt

¼

cup

dried cranberries

¼

cup

golden raisins

¼

cup

raisins

¼

cup

sunflower seeds
Instructions
Combine all of the ingredients in your bread machine according to the manufacturer's instructions. Program the machine for the dough setting and start it.

Grease a baking sheet. When the cycle is complete, turn the dough out onto a lightly floured surface. Press the dough into a 1-inch-thick rectangle. Cut into 12 rectangles and place them on the prepared baking sheet.

Preheat the oven to 350°F. Allow the bars to rise for about 20 minutes.

Bake the bars for 20 minutes, or until golden brown. Cool the bars on a rack.

Freezing instructions: Place the cooled bars in the freezer bag and seal, removing as much air as possible. Freeze.

To thaw and serve: Thaw the desired number of bars at room temperature. Serve at room temperature, or cut the bars in half horizontally, toast, and serve with butter.
Notes
Nutritional values are approximate and are based on making 24 bars from the recipe. Freeze or use within 4 days.
Nutrition
Calories:
127
kcal
|
Carbohydrates:
21
g
|
Protein:
3
g
|
Fat:
3
g
|
Saturated Fat:
1
g
|
Cholesterol:
1
mg
|
Sodium:
104
mg
|
Potassium:
101
mg
|
Fiber:
2
g
|
Sugar:
5
g
|
Vitamin A:
19
IU
|
Vitamin C:
1
mg
|
Calcium:
20
mg
|
Iron:
1
mg