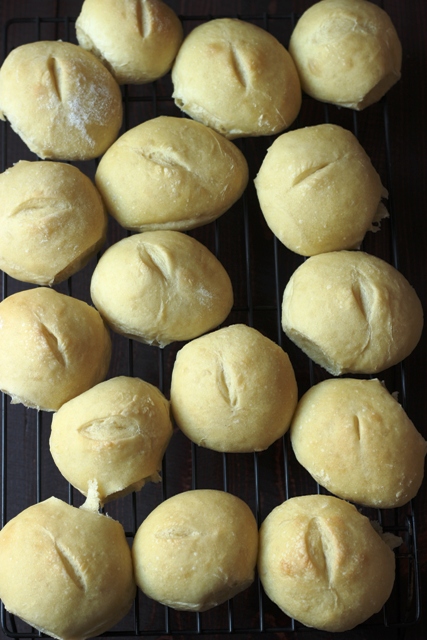 A five-pound bag of flour costs $2.99 at Trader Joe's. It's unbleached, all-purpose. If I want to take my baking up a notch, I can buy the white whole wheat flour for $3.99.
This, my friends, plus a little oil, water, and yeast, can bring you many meals of utter enjoyment. Of course there's pizza, but there's also homemade baguette, and of course sweet little Italian sandwich rolls.
For the unschooled, please know that there are "about" 16 cups of flour per bag. Since the average bread, pizza dough, or roll recipe calls for about 4 cups of flour, this means that for a buck plus the oil and yeast, you can make yourself a load of deliciousness.
Case in point: these rolls. They were NOT difficult to prepare. The aforementioned ingredients have a party in the bread machine. I walk away. They don't need me. Once they've danced the night away, I cover the pan and slip it into the fridge overnight.
In the morning, I form the sticky dough into rolls and again, walk away. An hour later I slide them into a hot oven. Mere minutes later, piping hot rolls appear.
Magic? No. Delicious? Absolutely.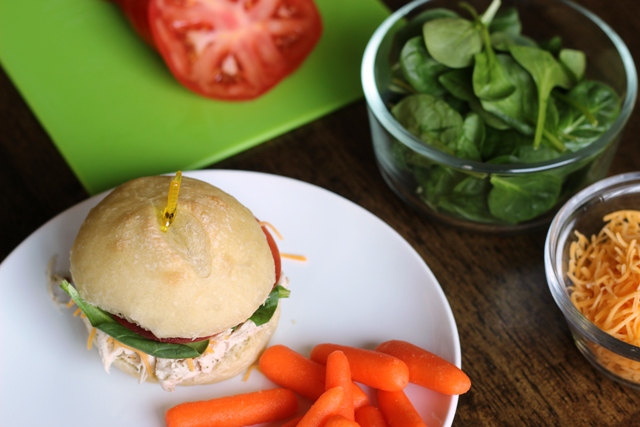 I served these as sandwich rolls, but you could easily just pass them in the bread basket as a side to tonight's dinner. The batch makes 16 rolls. That means the normal family will have leftovers.
We, of course, are not normal. They were gone in one sitting. But, they are easy enough to make again.
And again.
They're good cheap eats! Here's my price break-down for these rolls:
oil $0.35
flours $1.00
allowance for leavening $0.25
Per batch: $1.60, or about 10 cents per roll.

Recipe: Italian Sandwich Rolls
Ingredients
1 1/2 cups water
1/4 cup olive oil
4 cups flour (you can use unbleached, all-purpose or white whole wheat)
2 teaspoons salt
1 tablespoon yeast
Instructions
Combine the water, oil, flours, salt, and yeast in the pan of your bread machine according to the manufacturer's directions. Set on the dough cycle and start the machine.
(If making the dough by hand: Place the water and oil in a medium saucepan and warm slightly. Transfer the mixture to a large bowl and add the yeast. Stir and allow the yeast to proof for 5 minutes. Add the flour and the salt. Stir to combine well. Turn the mixture onto a lightly floured surface and knead. Continue kneading for 5 minutes to create a smooth, elastic dough, adding more of the all-purpose flour as necessary. Transfer to a greased bowl and turn the dough ball to coat. Allow to rise until doubled in bulk, about 1 hour.)
When the machine beeps or the dough has doubled in bulk, Refrigerate overnight to develop the flavors or proceed to the next step.
Line a large baking sheet with parchment paper or a silicone baking mat. Remove the dough from the pan and divide it into sixteen equal parts. Form each part into a short, thin oval and place equi-distance apart on the prepared baking sheet.
Preheat the oven to 400ºF.
Allow the rolls to rise for 20 minutes or longer, until doubled in bulk.
Bake the rolls for 15 to 20 minutes until golden brown. Cool on a rack before serving.
Baked and cooled rolls can be stored in an airtight container in the freezer for longest storage. Thaw at room temperature before serving.
Preparation time: 2 hour(s)
Cooking time: 20 minute(s)
Number of servings (yield): 16
Fill these rolls with: