Mac and Cheese is a classic comfort food, particularly for these cold winter months. Try this version that has a garlicky, Alfredo twist.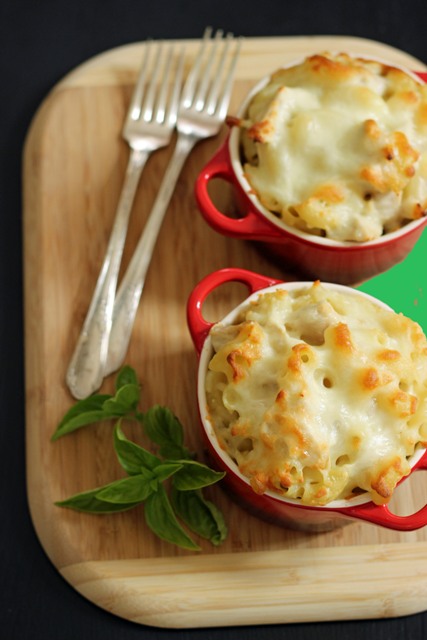 I've been making Mac and Cheese from scratch for a really long time. I've been making Fettucine Alfredo for just as long. This winter, I decided to make the ultimate smash-up. The result was a creamy, garlicky, cheese, noodle dish that can go from stove to oven to table in less than 30 minutes. While it bakes, steam some broccoli or toss together a salad for a complete meal.
How's that for pretty awesome?
Years ago, like more than 30, I read a series of books about a girl named Ginnie. My favorite in the series was Ginnie and the Cooking Contest. It's unfortunately out of print right now, else I'd be buying up the whole series to read with my girls. Proof that I was a foodie, even in third grade.
If memory serves me correctly — and I am getting on in age — Ginnie learned how to make all kinds of things, including macaroni and cheese. This of course was before it came in a blue box. I was fascinated. The only mac and cheese I knew came in a box, and the powdered cheese was way better than the canned. Way.
Years ago I started experimenting with homemade mac and cheese, and in the  process learned how to make white sauce. Otherwise known as Bechamel, it's made with a butter and flour roux to which you whisk in milk. That's the beginning of this dish as well.
However instead of stirring in your classic cheddar, we're going to go Italian. I've used Asiago, Romano, and Parmesan. Asiago seems to be the most affordable in my neck of the wood. It adds great flavor to the sauce. In addition to the hard cheese, this recipe calls for a softer shredding cheese like mozzarella. It adds the gooey cheesiness.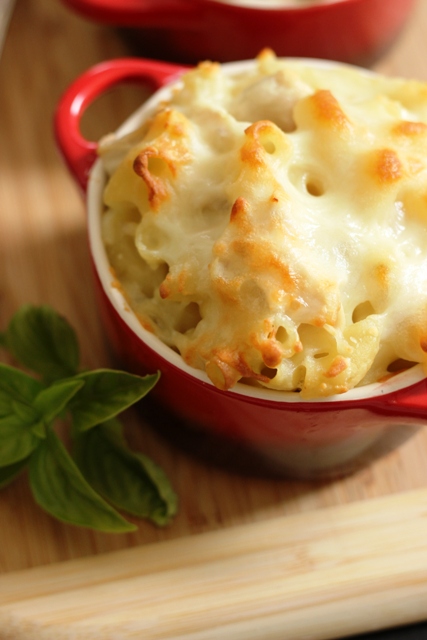 Another cheese alternative is to use jack cheese instead of the mozzarella. It has a bit more moisture and flavor which I think would take this over the top.
I've made this with leftover turkey stirred in, but we prefer the plain "just cheese" version. Also, recently, I made it with a sprinkling of green onion (aka scallions, to my cookbook editors) and I really liked the extra bite the onion added. Do with it what you will.
Once you mix up the sauce and add it to the cooked pasta, you'll run it all through a hot oven. In between the mixing and the baking, you could cool, wrap, and chill for baking later or for freezing. If you take that route, you'll need to adjust the baking time to allow for the cold pasta to warm up. I'd recommend adding an extra 10 to 15 minutes, but check it. Your pasta may have absorbed more sauce or not be as cold as another pan. Ovens run differently, etc.
You can bake the noodles in a large 9×13 pan or in individual serving dishes. Both have their place. Cooking for a crowd like I do, making one big pan is easier. If you're cooking for fewer people, then divide it into meal-size pans and freeze the extras.
Tools I use for this recipe:
Alfredo Mac and Cheese
Mac and Cheese is a classic comfort food, particularly for these cold winter months. Try this version that has a garlicky, Alfredo twist.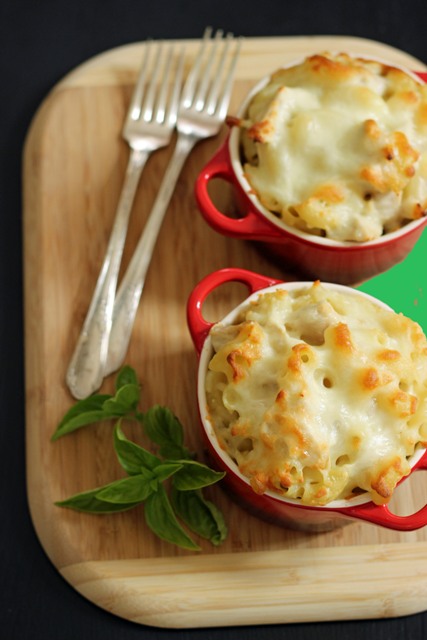 Preparation Time:15 minutes
Cook time:15 minutes
Total time:30 minutes
8 servings
Ingredients:
1 pound elbow macaroni

1/4 cup butter

1/3 cup unbleached, all-purpose flour

4 cloves garlic, crushed, or 1 heaping teaspoon of crushed garlic from a jar

2 1/2 cups milk

2 cups shredded mozzarella or jack cheese

1 cup shredded Asiago, Romano, or Parmesan cheese

fine sea salt and freshly ground black pepper, to taste

optional garnish: chopped scallions
Instructions:

Preheat the oven to 400°. Grease a 9×13-inch pan.
In a large pot of boiling, salted water, cook the macaroni according to package directions, drain.
Meanwhile, in a medium sauce pan, melt the butter. Add the flour and garlic, whisking until smooth. Cook over medium-high heat until bubbly.
Slowly whisk in the milk, whisking until smooth. Cook over medium-high heat until thickened into a sauce.
Whisk in 1 cup of the mozzarella cheese as well as the Asiago. Season to taste with salt and pepper.
Combine the cheese sauce with the cooked noodles, stirring to distribute the sauce throughout. (It will be pretty stringy thanks to the mozzarella.)
Transfer this into the prepared baking dish. Sprinkle on the remaining 1 cup mozzarella cheese and scatter the scallions, if using, over the top. At this point, you can cool, wrap, and freeze/chill for a later baking time.
Bake for 15 minutes. If you've refrigerated the dish, add another 5 to 10 minute. If you've frozen the casserole, thaw it completely in the refrigerator first.