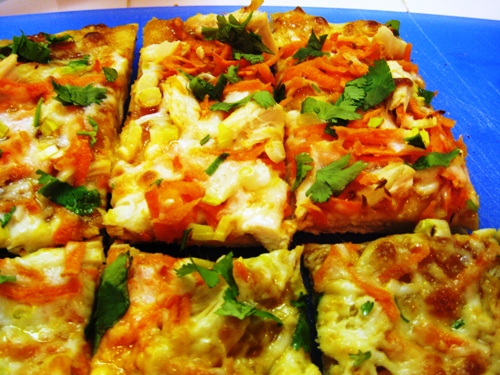 Hey! It's Pizza Friday again. I just am having too much fun to stop playing with pizza recipes. This time I took Asian flavors to Italy, just like Marco Polo. Even my husband who doesn't normally like sweet flavors, devoured several slices of this pizza. One of the things that I love about this pizza is that it's made of frugal pantry staples.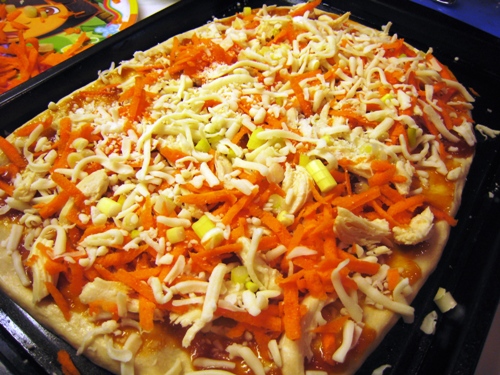 Thai Chicken Pizza
1/4 batch of basic pizza dough
1/2 cup prepared Pad Thai sauce
1 cup grated mozzarella cheese
1/2 cup chopped green onion
1 medium carrot, grated
1 cup chopped, cooked chicken
1/4 cup chopped cilantro
Preheat oven to 475°. Prepare dough according to recipe directions. Grease baking pan. Divide dough into four portions and use one to stretch to fit into pan. Freeze the other three balls of dough or make other kinds of pizza, like Cheese or the Jalapeno Burn.
For this pizza, spread Pad Thai sauce over pizza round. Sprinkle with 1/2 mozzarella cheese. Sprinkle over the top with green onions, grated carrot, chicken and additional cheese. Bake 10 – 12 minutes or until crust is crisp and cheese is gooey and golden. Remove from oven and sprinkle with chopped cilantro.
What do you think of nontraditional pizza toppings?