Today I'm sharing my Whole Wheat Pizza Dough, a variation of my standard recipe that is just a little bit healthier, at least for pizza.
Pizza Night is somewhat of an event at our house. It begins late on Friday afternoon when I head to the kitchen to make pizza dough. While it's a ritual almost 20 years in the making, my methods have changed a bit over the years.
When my 4th bread machine in 14 years bit the dust, my 10-year old KitchenAid mixer led the charge and has continued to churn out pizza dough faithfully for several years now. Once upon a time I could make a batch of dough and freeze half for another time, I'm now making a double batch that is devoured in one sitting.
Such is life with a large family.
Pizza night would be rather expensive if I didn't make it myself. But, 20 years ago, making homemade pizza intimidated me and/or grated on my nerves that it didn't taste quite as good as my childhood favorite pizza from ChiChi's.
But, that was 20 years ago, after much trial and error, I've found what works for me, for us. Usually, it's fresh homemade dough with a homemade sauce and a smattering of toppings. Pepperoni and mushrooms are my go-to toppings, but we're adventuresome at our house; my eldest put flaked crab meat on his pizza a few weeks ago.
Some nights when I'm too tired, I ditch the homemade dough for French bread, pita, or a biscuit crust, but everyone prefers homemade dough, baked in a very hot oven where the crust sometimes bubbles up in spots, just like at ChiChi's.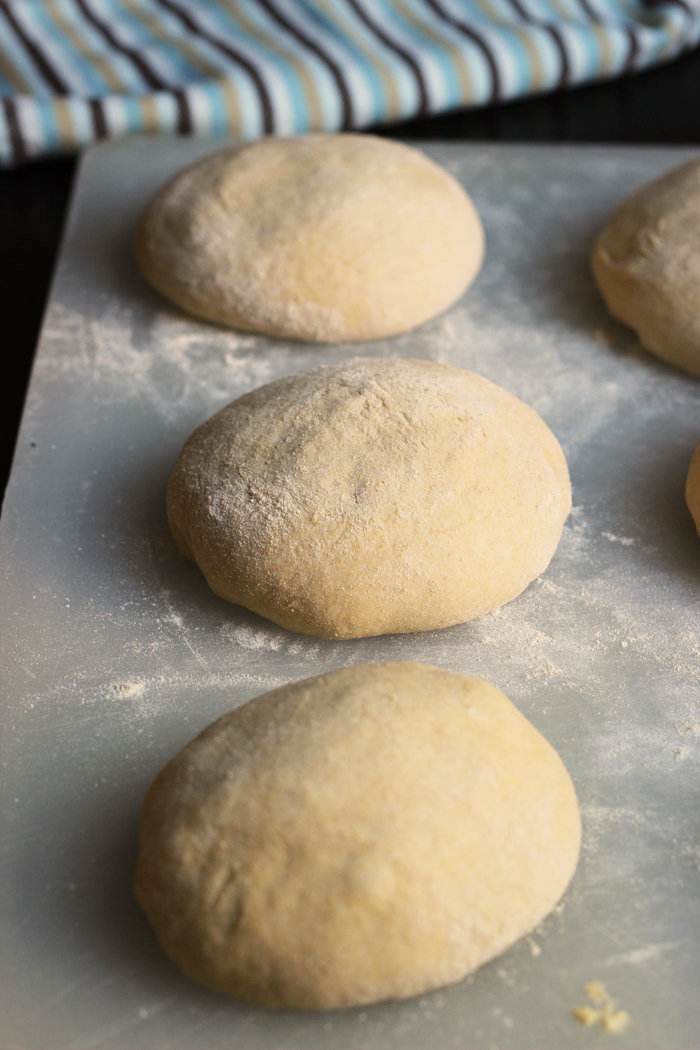 There probably aren't that many different ways to make pizza dough in the world. I have a few different recipes that I've shared here and in my cookbooks, but it didn't dawn on me until the last few weeks that I haven't shared the one version that I use all the time. All the time.
It's basically the pizza dough recipe that I have memorized now. I make a double batch every week and there are rarely leftovers, much to our chagrin. We like pizza. What can I say?
This dough isn't hugely different from the other one here on the site, but I have made a few changes.
Early this summer my husband's doctor recommended that he follow the South Beach Diet. It was a thing a few years ago and has probably fallen out of vogue. Regardless, we like it when a doc actually considers diet changes instead of popping a pill, so we both read the book.
While I don't agree with the fake food and sweeteners prescribed in the book, there were a few things that struck me:
If you're going to eat grains, eat whole grains.
Sugar is sugar, so avoid excess carbs, particularly sweeteners.
We aren't ready to dismiss pizza altogether, but we've made a couple small changes in our pizza making. First off, I use at least half whole wheat flour, often the Ivory Whole Wheat from Bob's Red Mill. Second, I use agave nectar instead of honey or sugar. In doing so, I make pizza a wee bit healthier, giving it whole grain goodness and taking away some of the excess sugar.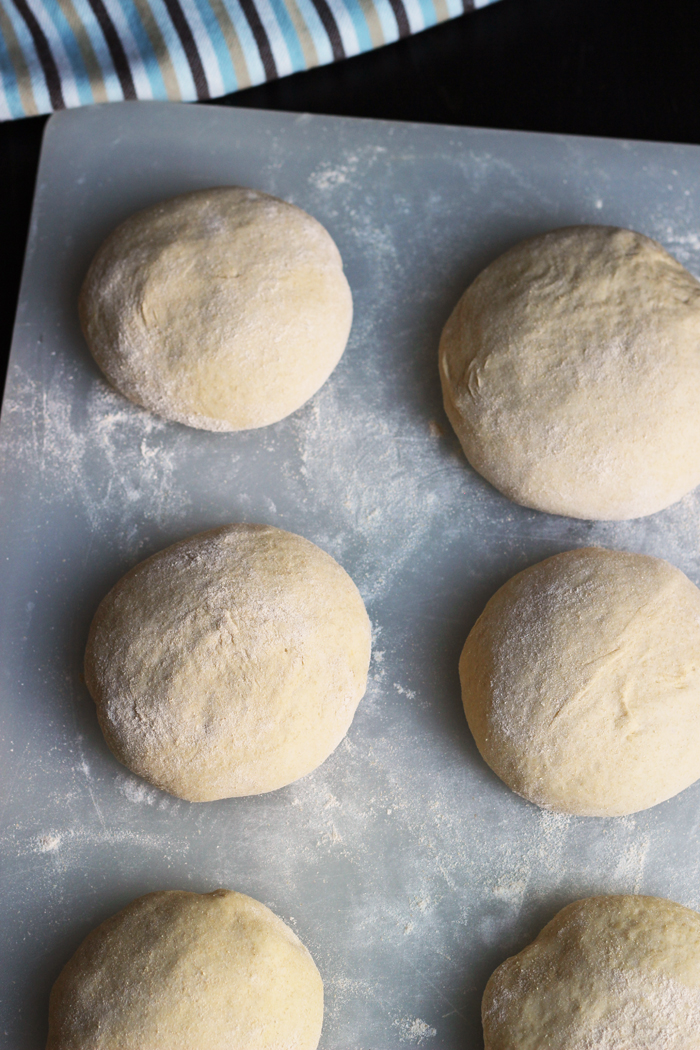 The beauty of the whole experiment is that my family doesn't even notice the difference! Whole wheat pizza dough tastes great. And I feel a little bit better about the small change in our nutrition.
As I said I make a double batch each week that results in six pizzas, sometimes seven if I make the girls smaller, personal pizzas for them to decorate themselves. Pizza night is a BIG DEAL around here; grown-men weep if I skip it.
Other pizza things you should know:
–> Here are some of our favorite toppings.
–> Here are the pizza tools I lean on. (The food scale is a must!)
–> Here's my lazy day sauce recipe.
Whole Wheat Pizza Dough Recipe
Today I'm sharing my Whole Wheat Pizza Dough, a variation of my standard recipe that is just a little bit healthier, at least for pizza.
Ingredients
1 ½

cup

water

, warmed

2

tablespoon

granulated sugar

1

tablespoon

active dry yeast

¼

cup

olive oil

2

cup

unbleached, all-purpose flour

(9 ounces)

2

cup

white whole wheat flour

(9 ounces)

1 ½

teaspoon

salt
Instructions
Place the warm water in the bowl of a stand mixer. Stir in the agave nectar. Sprinkle the yeast over the surface of the water and stir gently. Allow to proof for a few minutes until foamy.

Add the olive oil, flours, and salt. Place the bowl on the mixer and stir with the bread hook until a dough ball forms around the hook, scraping down the sides. (Alternatively, you can stir in the flour with a wooden spoon.)

Knead the dough ball for several minutes, either with the dough hook or by hand on a lightly floured surface.

Once the dough ball is smooth and elastic, grease the bowl and place the dough ball in the center. Cover and allow the dough to rise until doubled in bulk, about 1 hour.

When the dough is ready, remove it to a floured surface and cut into three portions. Shape each portion into a round ball. Allow the dough to rest for a few minutes and then proceed with your pizza recipe.

Form each dough ball into a thin flat disk and place on a greased pizza pan or baking dish. Top with sauce and toppings and bake in a 475 degree oven for 9 to 10 minutes or until the crust is crisp and the cheese is melted.
Notes
You can freeze dough for up to 3 months, simply let thaw overnight in the refrigerator before using.
Nutrition
Calories:
777
kcal
|
Carbohydrates:
131
g
|
Protein:
20
g
|
Fat:
20
g
|
Saturated Fat:
3
g
|
Sodium:
1172
mg
|
Potassium:
190
mg
|
Fiber:
11
g
|
Sugar:
10
g
|
Calcium:
70
mg
|
Iron:
6
mg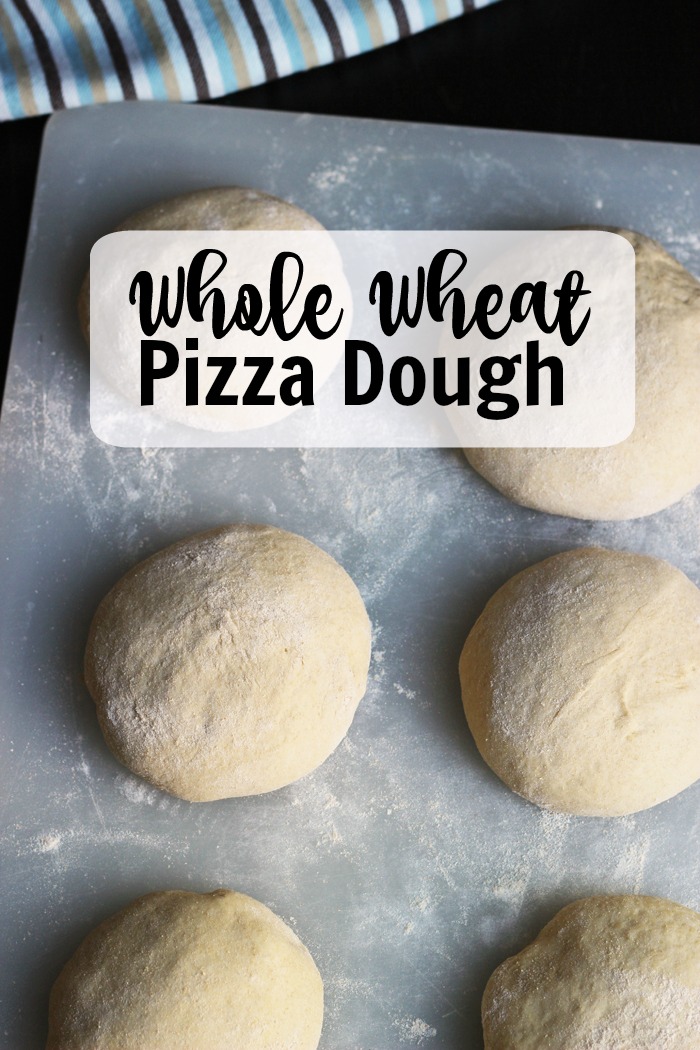 Are you looking for more good cheap eats?