These Chicken Bacon Subs disappear lickety split at my house. They are so easy to assemble, and make a perfect freezer meal.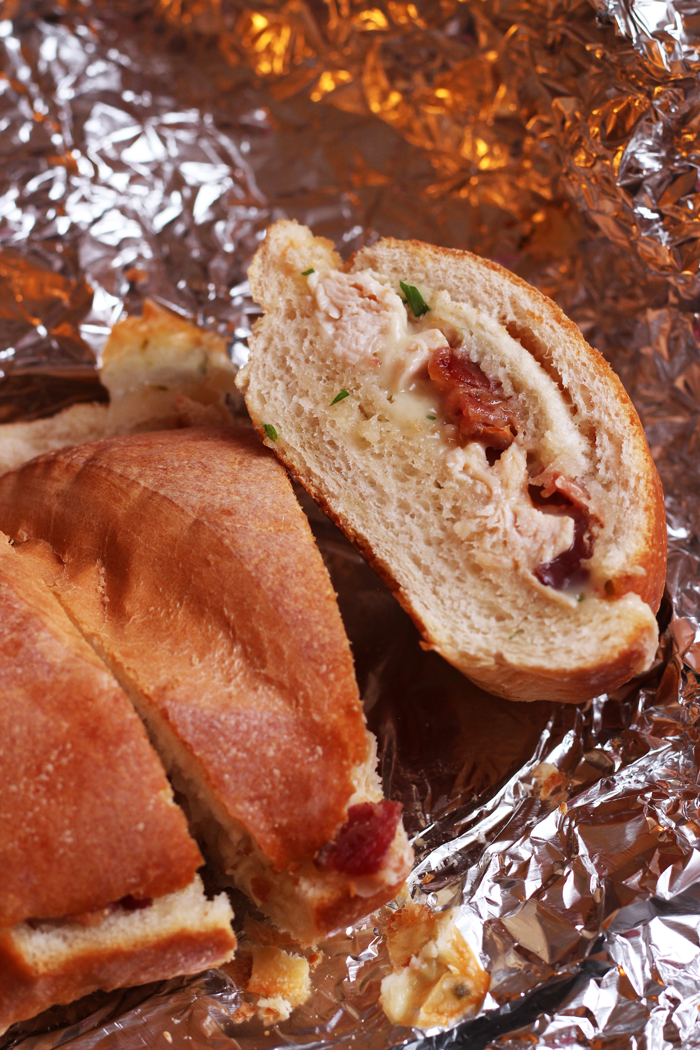 Are you ready for a freezer meal that's going to knock your socks off? This is it! Chicken Bacon Subs, a FishFamily favorite since 2010.
I created this recipe on a whim one day. I was in the middle of a freezer cooking session, and found myself with the fixings for garlic bread, baked bacon, and shredded chicken. Hmmm, says I, I wonder what would happen if I put these together? 
What happened was awesomeness!
Freezer Cooking with Bone-in Chicken Breast
One of my favorite ingredients for freezer cooking is chicken. And since our family prefers white meat, I often buy bone-in chicken breasts. While boneless, skinless chicken breasts are certainly more convenient, chicken on the bone has a richer taste, and the cost is much lower than the boneless version.
For freezer cooking sessions, I often buy chicken in bulk when I see a good sale and then bake it all in the oven at one time. I then shred all the chicken at one time to use in chicken freezer recipes, like these: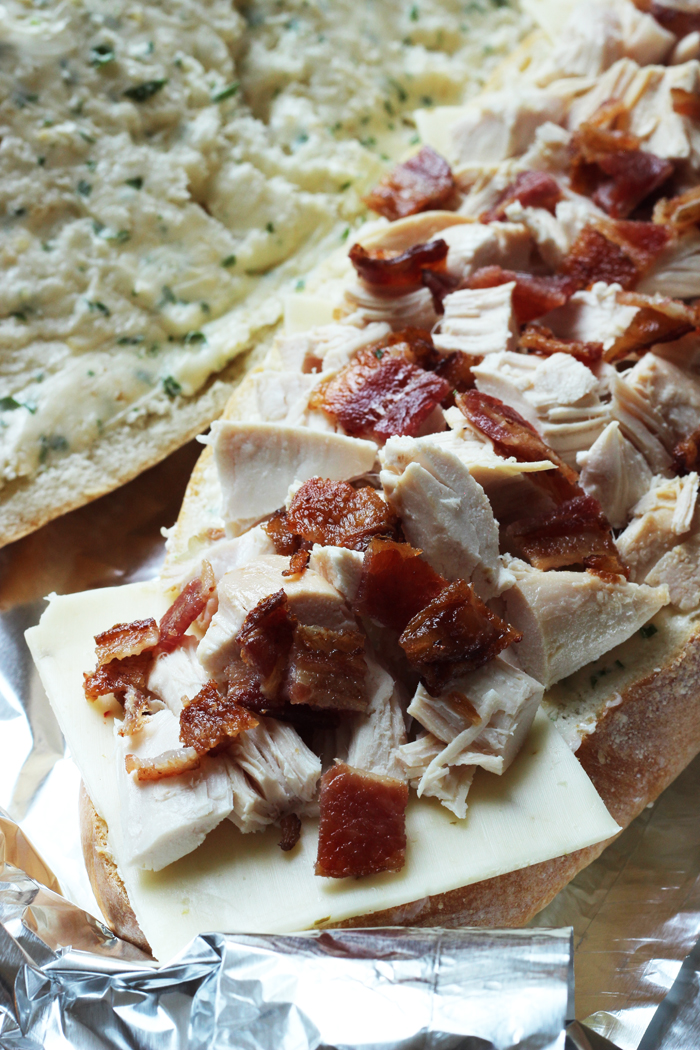 But these Chicken Bacon Sub Sandwiches are one of the biggest hits to cross my kitchen table. They are basically a large loaf of garlic bread stuffed with chicken, bacon, and jack or mozzarella cheese.
The recipe is super versatile, allowing you to switch up the cheese — I love it with pepper jack — or the bread — my kids love individual ciabatta loaves. The best thing is that you can make several/many/multitudes at one time and stash them in the freezer. Reheat in the oven, or even the slow cooker if you make personal size subs, and you are good to go.
Dinner is served in all its gooey, cheesy awesomeness.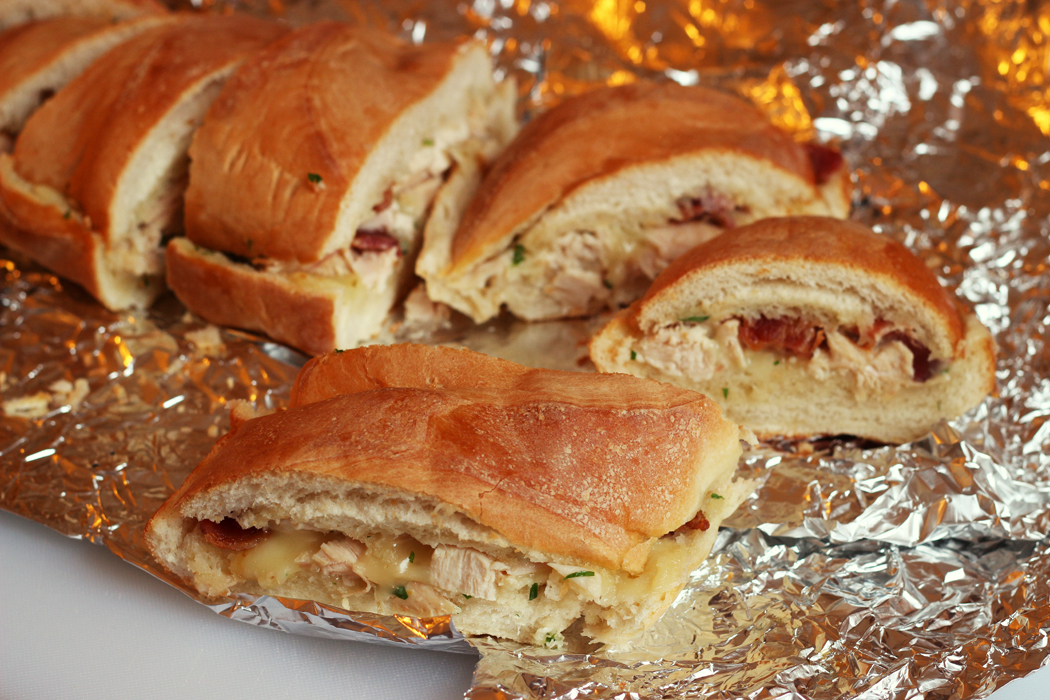 Chicken Bacon Subs for the Freezer
These Chicken Bacon Subs disappear lickety split at my house. They are so easy to assemble, and make a perfect freezer meal.
Ingredients
1

large French loaf

sliced lengthwise or 12 sandwich rolls, split

1/2

cup

garlic butter

2

cup

chicken (cooked and shredded)

4

slices

bacon

chopped and cooked crisp

5

oz

jack cheese (sliced)
Instructions
Place the French loaf on a large sheet of aluminum foil or each roll on its own square of foil. Spread the garlic butter on both halves. Layer cheese slices over the bread. Next layer the shredded chicken over the cheese. Sprinkle bacon over the chicken. Place the top half of the bread on the sandwich. Wrap in foil.

If serving right away, bake in 350 oven for about 25 minutes, depending on the thickness of the bread. If preparing to serve later, freeze.

On serving day, bake for 50-70 minutes if frozen. If thawed, bake for 25-30 minutes.
Notes
I like to make these on small ciabatta rolls and wrap them individually in foil. I've found that they reheat really well in the slow cooker, for about four hours on low, turning once if possible.
Nutrition
Calories:
361
kcal
|
Carbohydrates:
29
g
|
Protein:
19
g
|
Fat:
19
g
|
Saturated Fat:
11
g
|
Cholesterol:
71
mg
|
Sodium:
501
mg
|
Potassium:
158
mg
|
Fiber:
1
g
|
Sugar:
1
g
|
Vitamin A:
489
IU
|
Calcium:
119
mg
|
Iron:
2
mg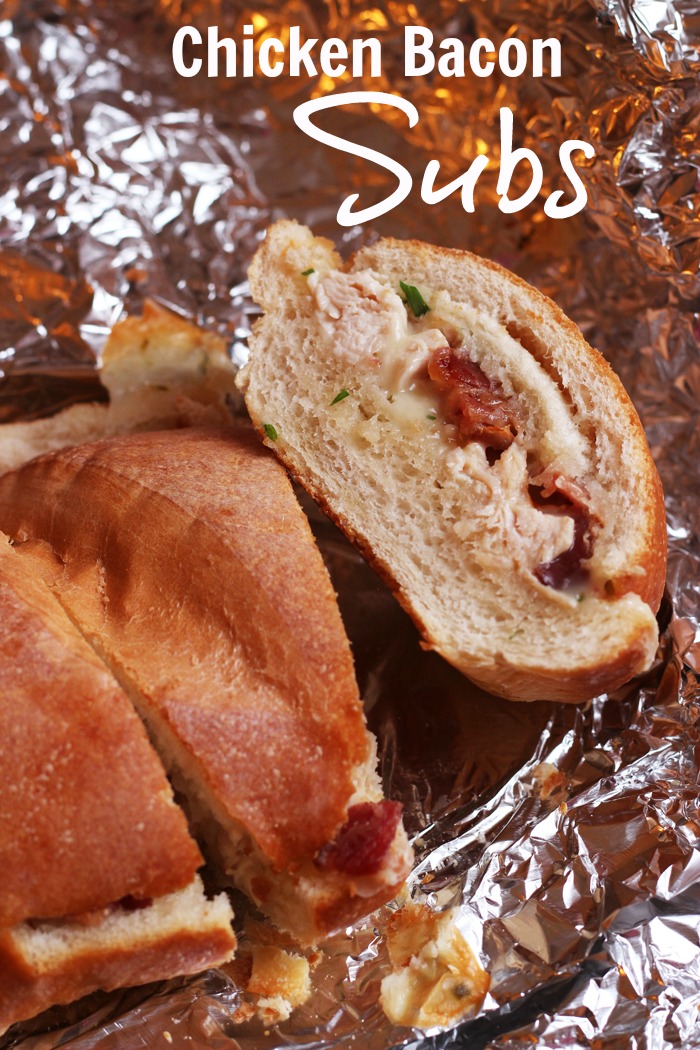 Are you looking for more good cheap eats?
check out my recipes on Life as Mom
Originally published June 7, 2010. Updated September 17, 2016.