These Hot Chicken Subs with Bacon will disappear lickety-split at your house. They are so easy to assemble and make a perfect chicken freezer meal.
Stock the freezer with these Chicken Bacon Subs and a batch of Ham and Swiss Sliders or Turkey Pesto Panini and you'll have a freezer stash of great freezer sandwiches to enjoy for weeks to come.
Jump to:
Are you ready for a freezer meal that's going to knock your socks off? This is it! Chicken Bacon Subs, a FishFamily favorite since 2010.
I created this recipe on a whim one day. I was in the middle of a freezer cooking session, and found myself with the fixings for garlic bread, some baked bacon, and leftover shredded chicken. Hmmm, says I, I wonder what would happen if I put these together?
What happened was awesomeness!
These Hot Chicken Subs with Bacon are one of the biggest hits to cross my kitchen table. A large loaf of garlic bread stuffed with chicken, bacon, and jack cheese? Where can you possibly go wrong?
Why Make This
The recipe is super versatile. You can switch up the cheese — I love it with pepper jack — or the bread — my kids love individual ciabatta loaves. With the base of chicken in a hot sandwich, you can make all kinds of swaps, based on what you have in the house.
They're freezer-friendly. The best thing is that you can make several/many/multitudes at one time and stash them in the freezer.
They can be reheated in lots of ways. Reheat in the oven, toaster oven, or even the slow cooker for personal size subs, and you are good to go. Dinner is served in all its gooey, cheesy awesomeness!
Ingredients
Here's what you'll need to prep these hot chicken sub sandwiches: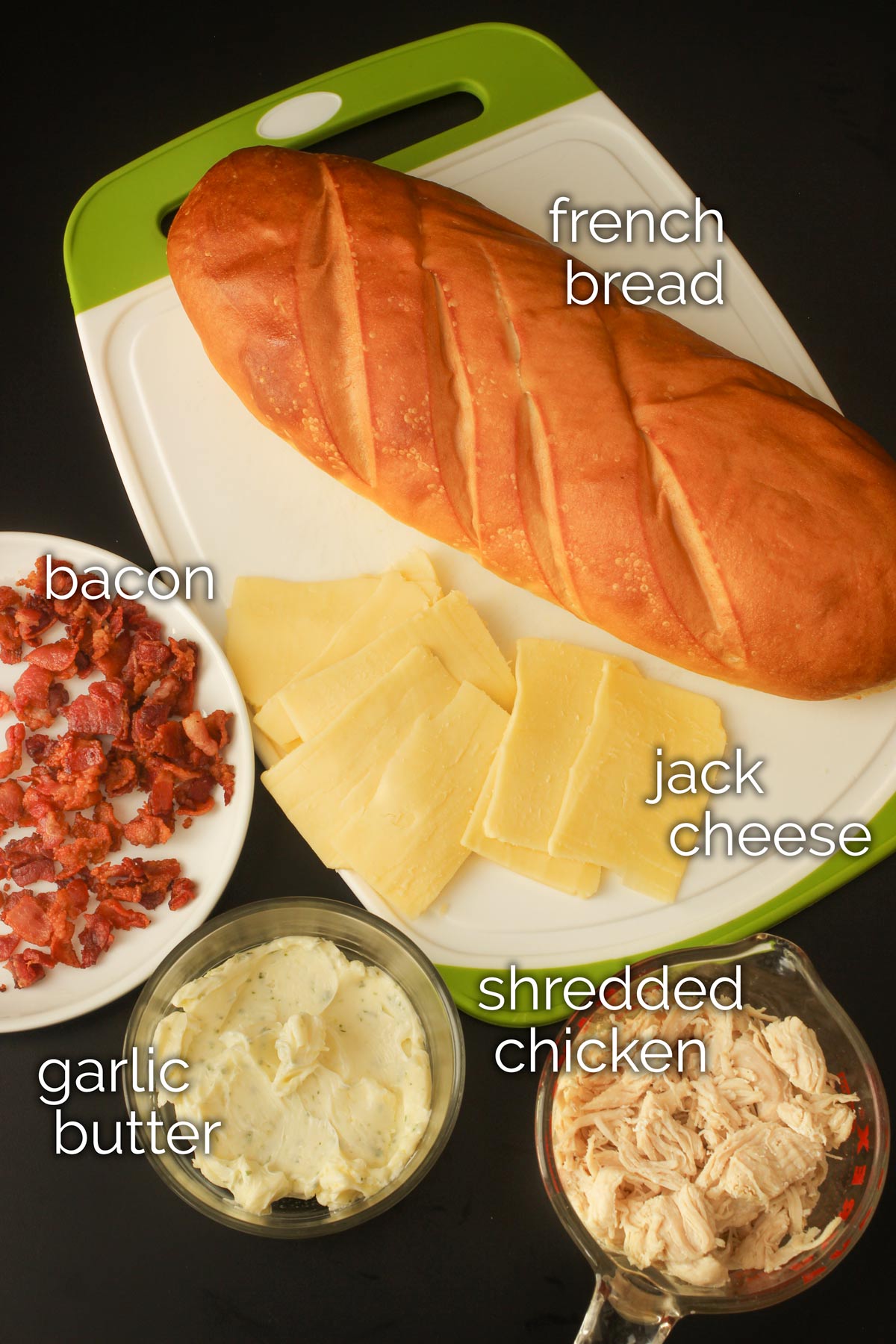 large loaf French bread – This recipe makes one large hot chicken sandwich that you can cut into eight portions. Buy the large fluffy loaf of bread from the grocery store, not the thinner style baguette. If you prefer, you can assemble smaller single-serve sandwiches on sub rolls, kaiser buns, or ciabatta rolls. They'd be amazing on Everything Hamburger Buns!
garlic butter – Make your own garlic butter for best flavor and pricing. It's basically butter and garlic or garlic powder mixed together. Easy peasy.
jack cheese – I love Jack cheese for how well it melts. You can swap in another melting cheese, like mozzarella, pepper jack, or cheddar.
cooked chicken – You'll shredded or chopped chicken cooked for your recipe. If you've got a rotisserie chicken, this recipe will come together super quickly.
bacon – Baked bacon is super simple and easy to pre, but you can cook the bacon however you like, or even buy precooked bacon. (Just be sure not to waste the leftovers; they're good in a Bacon and Pepper Jack Salad.)
If you love the chicken-bacon combo, be sure to try Creamy Chicken and Bacon Pasta!
Step-by-Step Instructions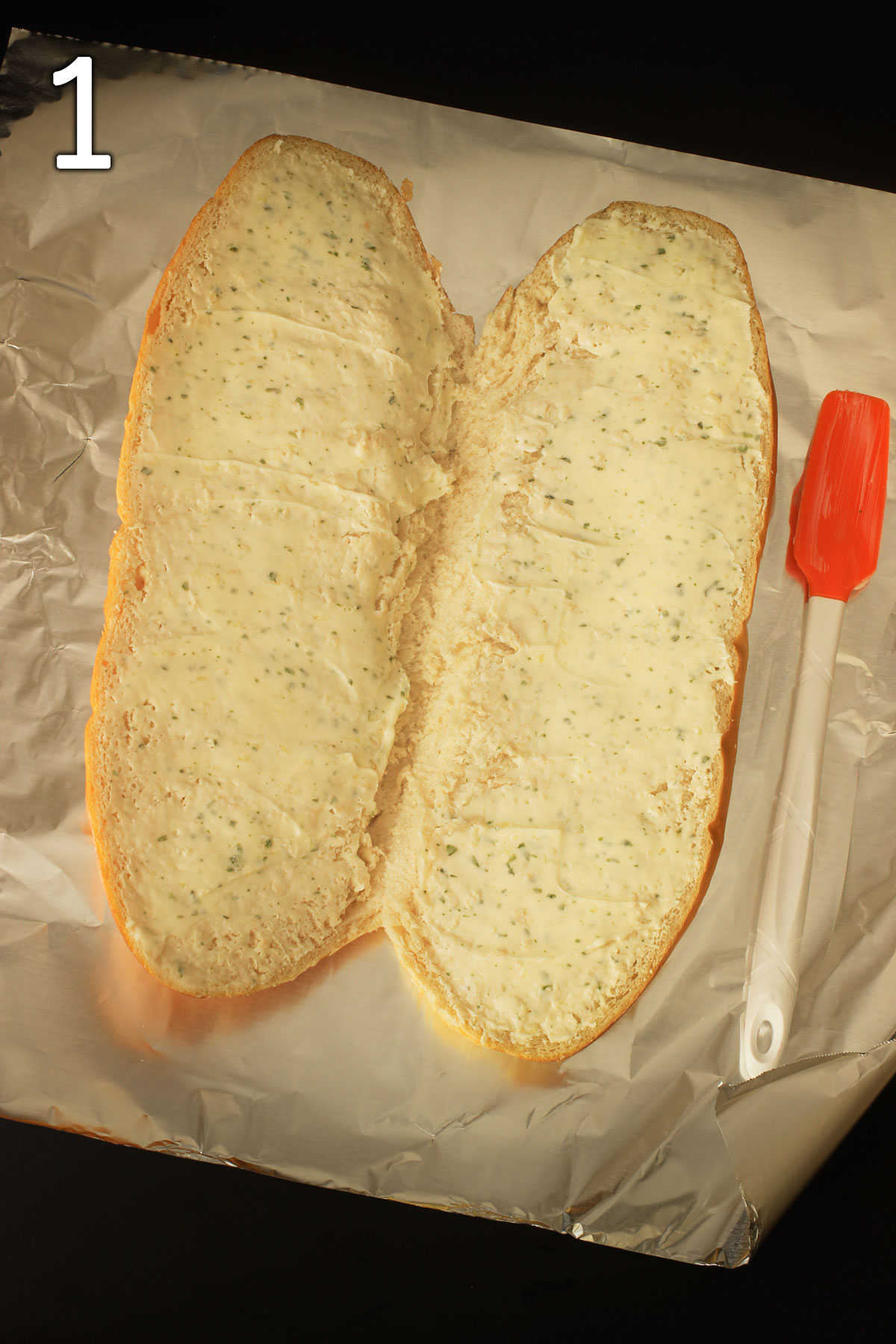 1. Assemble the sandwich.
Cut the large French loaf lengthwise, leaving a hinge along one long side. Place the loaf open on a large piece of aluminum foil.
Divide the garlic butter evenly between both halves and spread it evenly to coat.
Layer on the cheese on one side of the bread.
Layer the chicken atop the cheese.
Sprinkle the bacon across the top of the chicken. Close the sandwich and wrap it securely in foil. At this point you can bake it right away or freeze it for another time.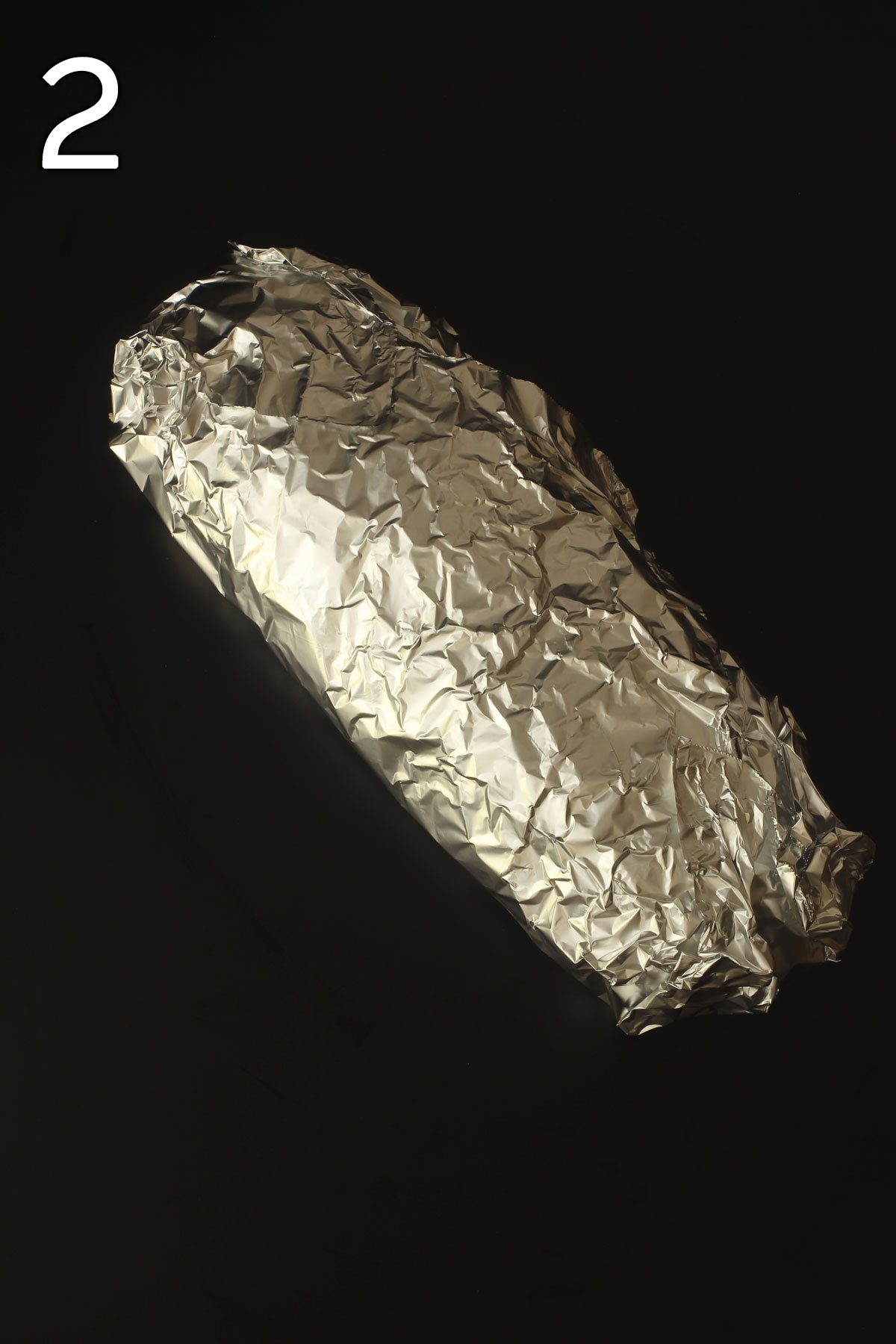 2. Bake the sandwich.
Preheat the oven to 350 degrees and bake for 25 to 30 minutes until the cheese is melted and the sandwich is hot through.
Carefully unwrap the foil and slice the chicken sub into eight portions. Serve hot.
Slow Cooker Option
If you make single-serve sandwiches, they are ideal for reheating in the slow cooker. Set them for 4 hours on LOW, turning them once or twice.
FAQs & Take-out Copycats
How can I make this like a Nashville Hot Chicken Sandwich?
While a Nashville Hot Chicken Sandwich typically features fried chicken, you can approximate some of the flavors by the following additions: Toss the chicken with 1 tablespoon Frank's Hot Sauce prior to adding it to the sandwich and add a layer of bread and butter pickles prior to serving. Serve the sandwich alongside Creamy Coleslaw.
How can I make this like a Chicken Bacon Ranch at Subway?
The Chicken Bacon Ranch at Subway contains chicken, bacon, and Monterrey Jack cheese as well as ranch dressing. Serve some Homemade Buttermilk Ranch Dressing with the hot chicken subs and you're good to go. If you like, you can also add shredded lettuce, sliced tomatoes, and sliced onions.
Recipe Costs
Knowing how much it costs you to prepare a recipe can help you decide if it's the type of recipe to make regularly or one you might want to save for special occasions. Let's crunch some numbers and see how this recipe pencils out.
French loaf – $1.50
garlic butter – $0.99
Jack cheese – $1.00
cooked chicken – $1.50
bacon – $1.00
Shopping at a mid-range grocer at non-sale prices, you can expect to pay $5.99 or 75 cents per serving. Compared to a take-out sub or hot chicken sandwich, this is a steal! Plus it's so very yummy!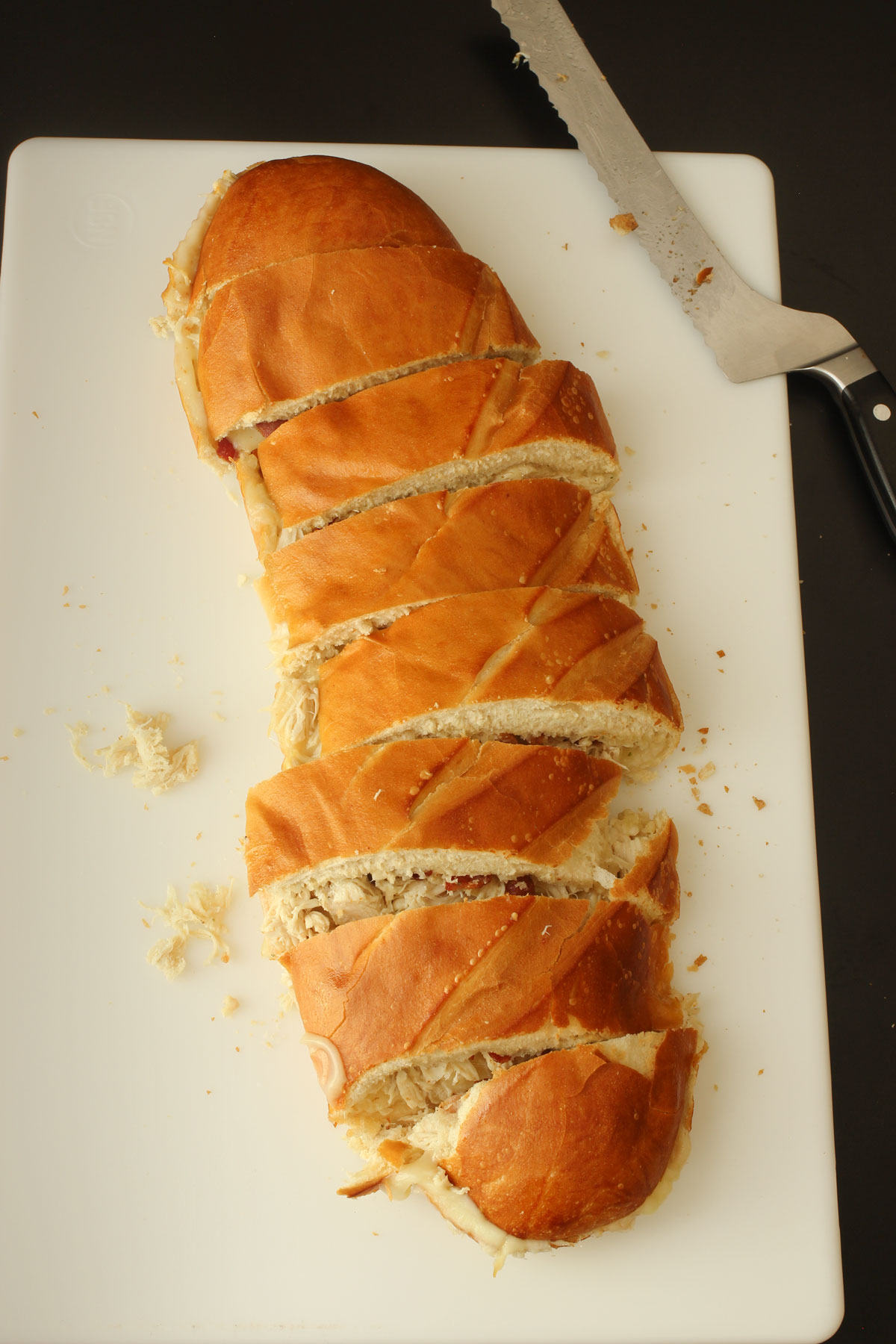 More Great Sandwiches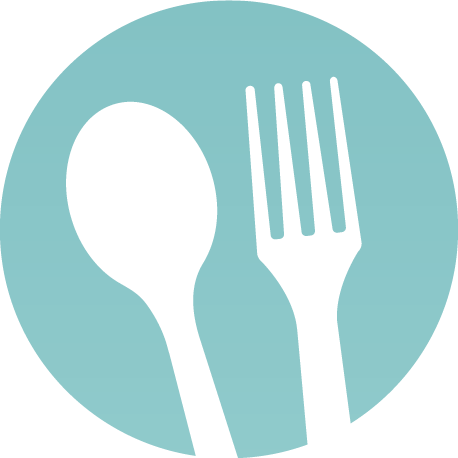 Tell us what you think!
We love to hear your experiences with Good Cheap Eats. Click the STARS on the recipe card or leave a STARRED comment to let us know what you think of the recipe.
Hot Chicken Sub with Bacon
These Chicken Bacon Subs disappear lickety split at my house. They are the perfect hot chicken sandwich, so easy to assemble and very freezer-friendly.
Ingredients
1

large French loaf

sliced lengthwise or 12 sandwich rolls, split

½

cup

garlic butter

2

cup

chicken (cooked and shredded)

4

slices

bacon

chopped and cooked crisp

5

oz

jack cheese (sliced)
Instructions
Place the French loaf on a large sheet of aluminum foil or each roll on its own square of foil. Spread the garlic butter on both halves. Layer cheese slices over the bread. Next layer the shredded chicken over the cheese. Sprinkle bacon over the chicken. Place the top half of the bread on the sandwich. Wrap in foil.

If serving right away, bake in 350 oven for about 25 minutes, depending on the thickness of the bread. If preparing to serve later, freeze.

On serving day, bake for 50-70 minutes if frozen. If thawed, bake for 25-30 minutes.
Notes
Variations:
You can use large French bread loaves as directed or make single-serve sandwiches on sub rolls or small ciabatta rolls. Wrap each individually in foil.
You can swap out the jack cheese for pepper jack, mozzarella, or cheddar.
If you want to make a Bacon Ranch Chicken Sub, swap out the garlic butter for ranch dressing.
Slow cooker instructions: You can reheat these sandwiches in the slow cooker, for about four hours on LOW, turning once if possible.
Nutritional information is approximate and based on ⅛ the large loaf sandwich.
Refrigerate leftovers promptly and consume within 4 days.
Nutrition
Calories:
361
kcal
|
Carbohydrates:
29
g
|
Protein:
19
g
|
Fat:
19
g
|
Saturated Fat:
11
g
|
Cholesterol:
71
mg
|
Sodium:
501
mg
|
Potassium:
158
mg
|
Fiber:
1
g
|
Sugar:
1
g
|
Vitamin A:
489
IU
|
Calcium:
119
mg
|
Iron:
2
mg
Tried this Recipe? Tell us what you think!
Your reviews help us develop better recipes and give newcomers the confidence to try your favorites. Scroll down to leave a starred comment.
This post was originally published on June 7, 2010. It has been updated for content and clarity.