Enjoy fresh garlic bread any night or day when you have a stash of this Easy Make-Ahead Garlic Bread in the freezer. So good and easy!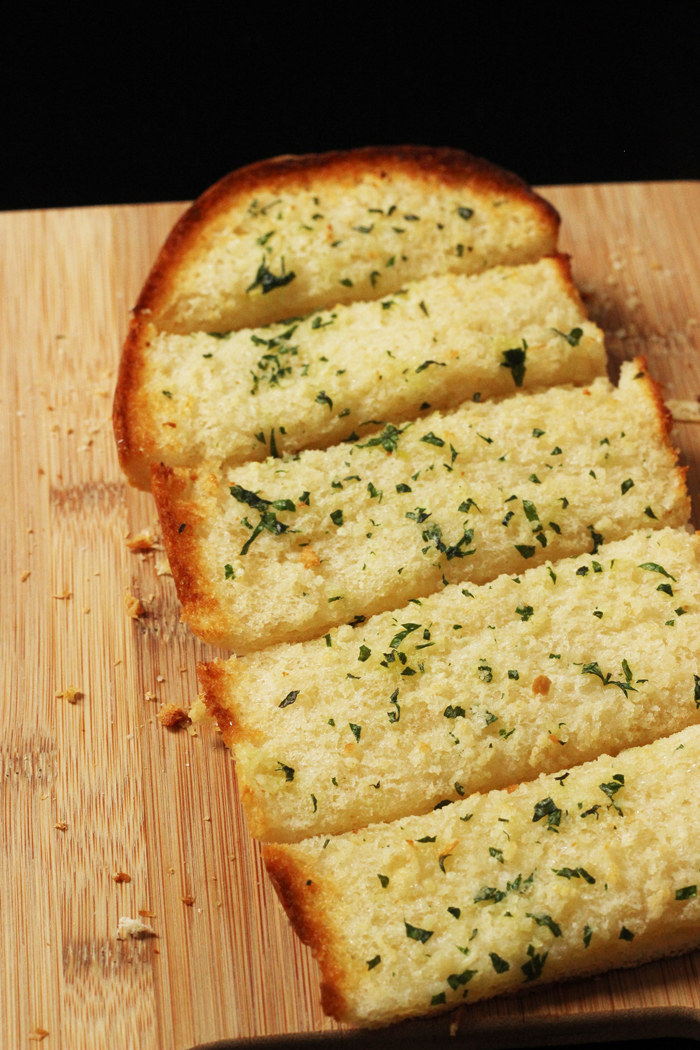 It is a humble dish. It doesn't get much attention. Sometimes it's an afterthought at the checkstand, when one passes the baskets of foil wrapped logs waiting to be taken home and served up alongside a quick bowl of spaghetti and meatballs.
I'm not sure that anyone waxes eloquent over its virtues. In fact, it's sometimes forgotten all together as a culinary option.
But you know what? Garlic bread is awesome! And it deserves a little more attention. For all its simplicity, it's the first thing to go when I serve an Italian buffet. My kids use garlic bread as a bartering commodity. Yes, indeed, they recognize its value.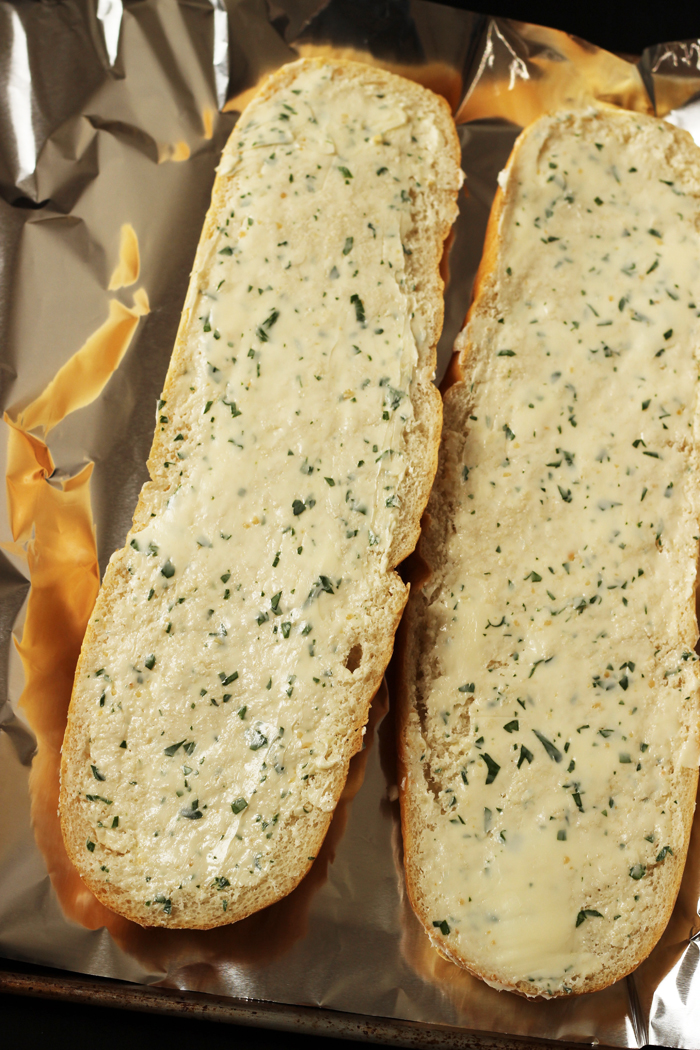 For all its humble, wallflower status, Garlic Bread is truly the star. And you're doing it a disservice if you buy the aforementioned foil-wrapped logs waiting for you at the grocery store checkstand.
Why?
Because it's better and easier and BETTER to make your own. That's why.
Garlic bread is simple and easy to make, but often times at the end of the day, maybe you don't want to make spaghetti AND meatballs AND a salad AND garlic bread. And so, garlic bread in all its glory is forgotten.
May it no longer be so!
This easy, make-ahead Garlic Bread will have your dinner bread basket buttoned up. Especially if you stash a few loaves in the freezer. Having homemade garlic bread in the freezer feels like a luxury, but its really not. It's so cheap and easy to make!
Make a few loaves this week, squirrel them away in the freezer, and pull them out when you want to bring an everyday dinner to new heights.
Tips and Tools
Buy day-old bread on clearance to maximize your savings on this recipe. Bread that's on the dry side is perfect for this!
The holiday season is a great time to stock up on butter! You'll get the best prices, and you can freeze the butter until you're ready to use it.
If you don't already have one, invest in a quality bread knife. I love this one from ErgoChef.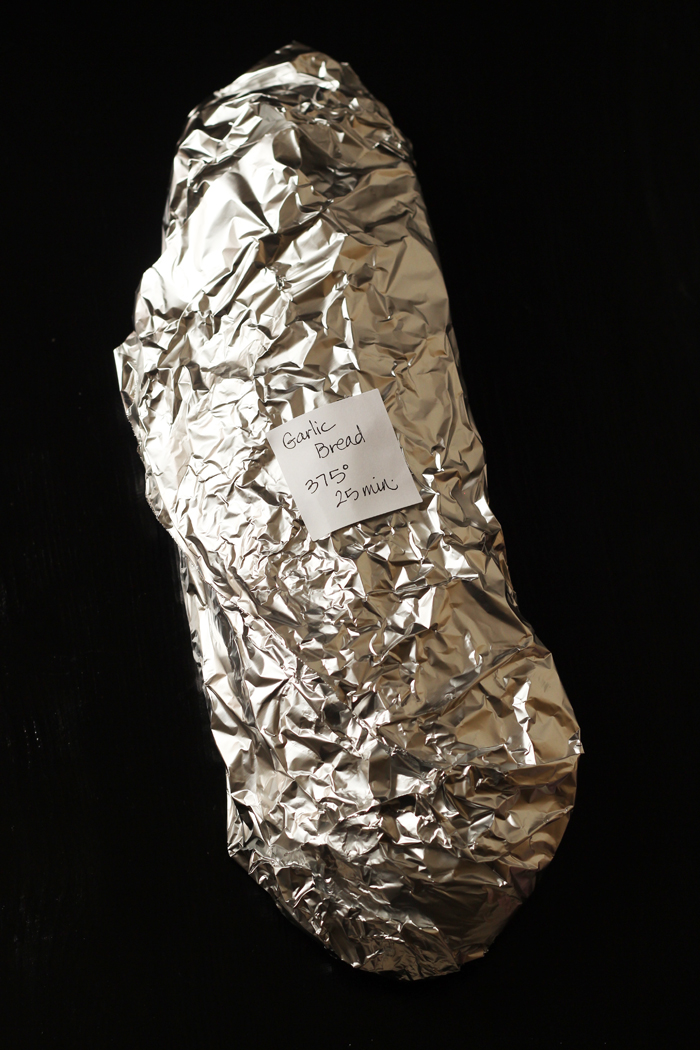 Easy Make-Ahead Garlic Bread
Enjoy fresh garlic bread any night or day when you have a stash of this Easy Make-Ahead Garlic Bread in the freezer. So good and easy!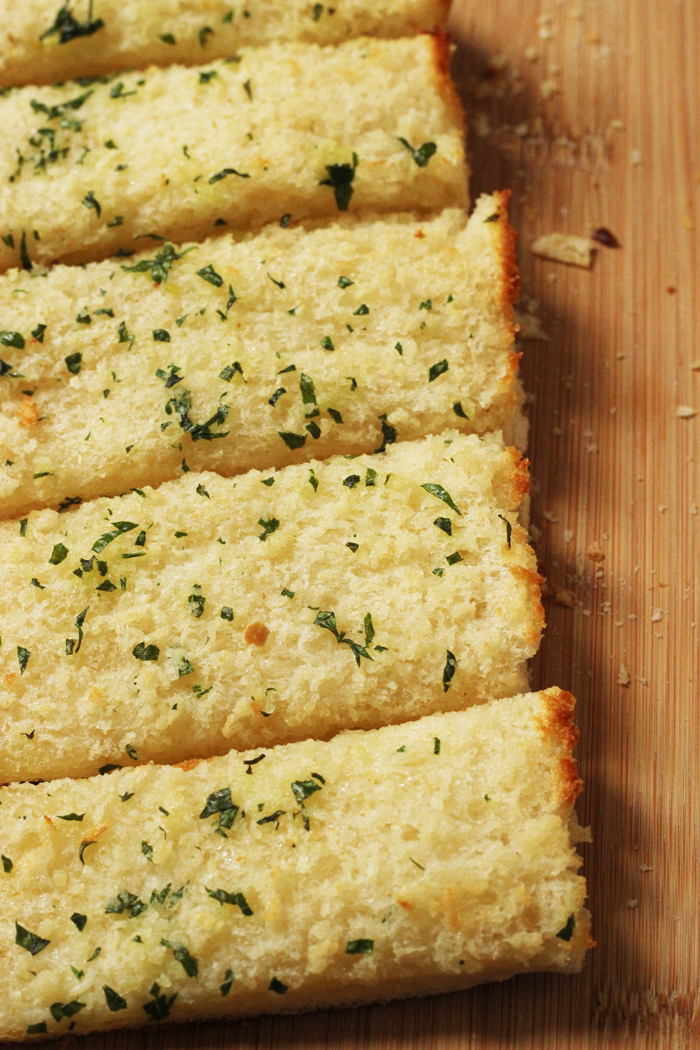 Preparation Time:10 minutes
Cook time:25 minutes
Total time:35 minutes
8 to 12 servings
Ingredients:
1 large loaf Italian or French bread, sliced in half horizontally

1/2 cup butter, softened

2 cloves garlic, minced

1/2 tablespoon fresh chopped parsley or 1/2 teaspoon dried parsley flakes
Instructions:

Lay out the two halves of the bread loaf onto a large piece of aluminum foil.
In a small mixing bowl, combine the butter, garlic, and parsley. Spread the garlic butter in a thick layer over each cut side of bread.
Put the two halves back together and wrap with foil. At this point you can store it in the freezer for later use. I thaw mine overnight in the fridge before baking.
Bake, thawed, 25 minutes at 375 °. If frozen, add 10-15 minutes to your baking time. Right before serving, you can unwrap the foil and broil the bread briefly to crisp the top.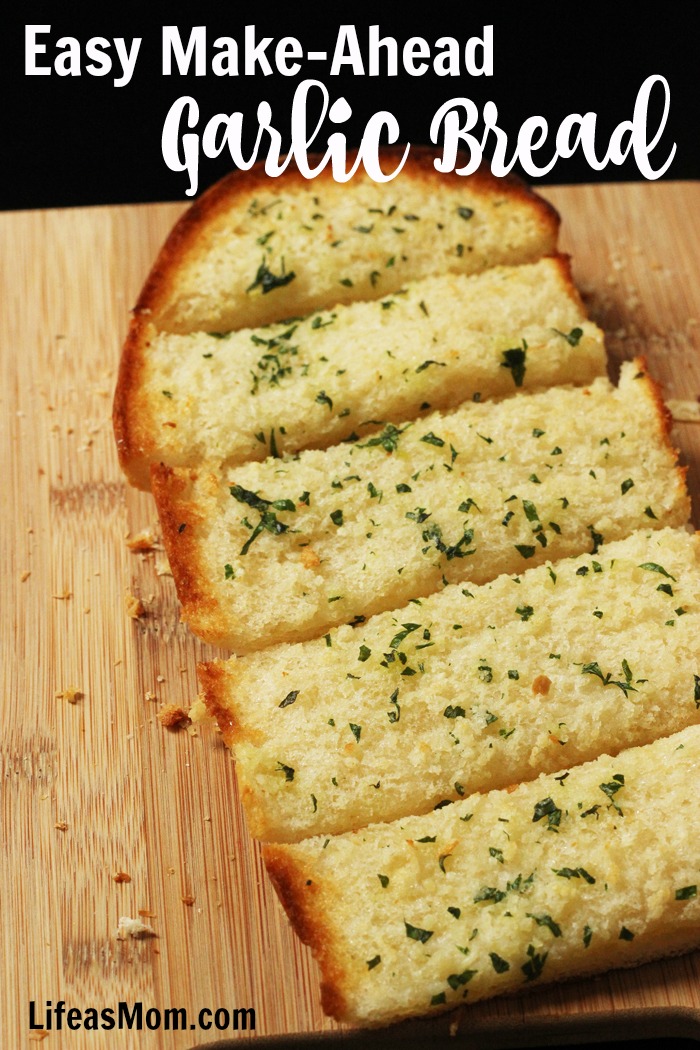 Are you looking for more good cheap eats?
Originally published May 12, 2010. Updated November 19, 2016.