Ready for a fun and flavorful dinner? Cook up a batch of fried Chicken Patties. Better than any chicken nuggets, they make a hearty main dish protein or a tasty filler for sandwiches.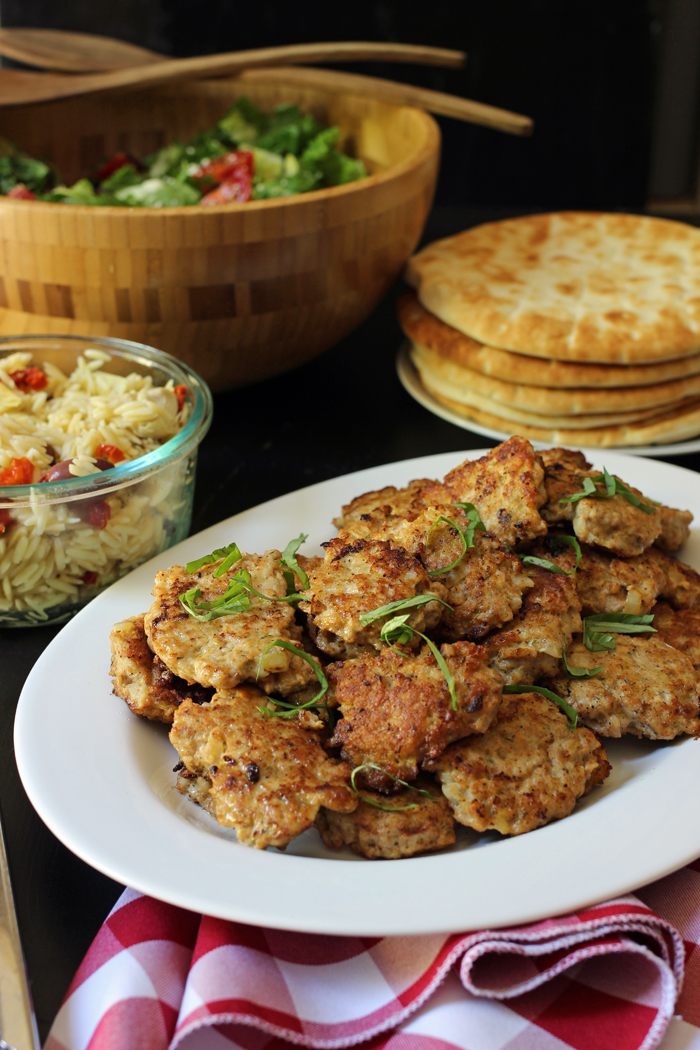 You know how some meals just seem more fun than others? One doesn't look forward to an "experience" when served a bologna sandwich. Do you?
But some meals, whether it's their taste, texture, or general eating experience are more enjoyable and more fun than others. Fondue is fun. Pizza is fun. An all-you-can-eat taco bar is fun.
Chicken Patties fall perfectly within the fun category.
Chicken Patties for the Win!
You know how I like to shop the clearance items at my local Ralphs. It's not only one of my favorite hobbies, but it's also the way that I score great deals on foods that I might not otherwise be able to squeeze into our grocery budget. This is just one way I save money on groceries without clipping a single coupon.
Believe it or not, ground chicken — which tastes amazingly different and fresher than ground turkey — is a fairly high-priced item. I'm not sure why this is since boneless, skinless chicken pieces are regularly so cheap. For whatever reason, ground chicken is typically about $6/pound at my store.
So, when I found it marked down by 50% you can bet I snatched up all they had at that price — and have continued to do so for the last few months.
Yes, you can make these chicken patties with ground beef, turkey, or pork, but I highly recommend making them with ground chicken at least once. Either way, you are in for a treat!
What are chicken patties made of?
Ground chicken
Eggs
Whole wheat bread crumbs (but regular bread crumbs would work fine)
Green Onion
Dried dill
Salt
Black pepper
Paprika
Oil for frying
Are chicken patties healthy?
Some store bought versions might be filled with all sorts of weird ingredients, but this one is made with real ingredients. So I think it's a pretty healthy recipe, especially when you use whole wheat bread crumbs.
Ways to serve these chicken patties
Chicken Patties, succulent little morsels of chicken, bread crumbs, and seasonings are FUN to dip in homemade Tzatziki or BBQ sauce or Honey Mustard.
Chicken Patties are FUN to cram into pita bread sandwiches.
Chicken Patties are FUN tucked into slider bunss, like mini chicken nugget sandwiches.
Don't believe me? Just ask my children. Their eyes light up whenever I make these. There are never any leftover.
Or you can make them yourself.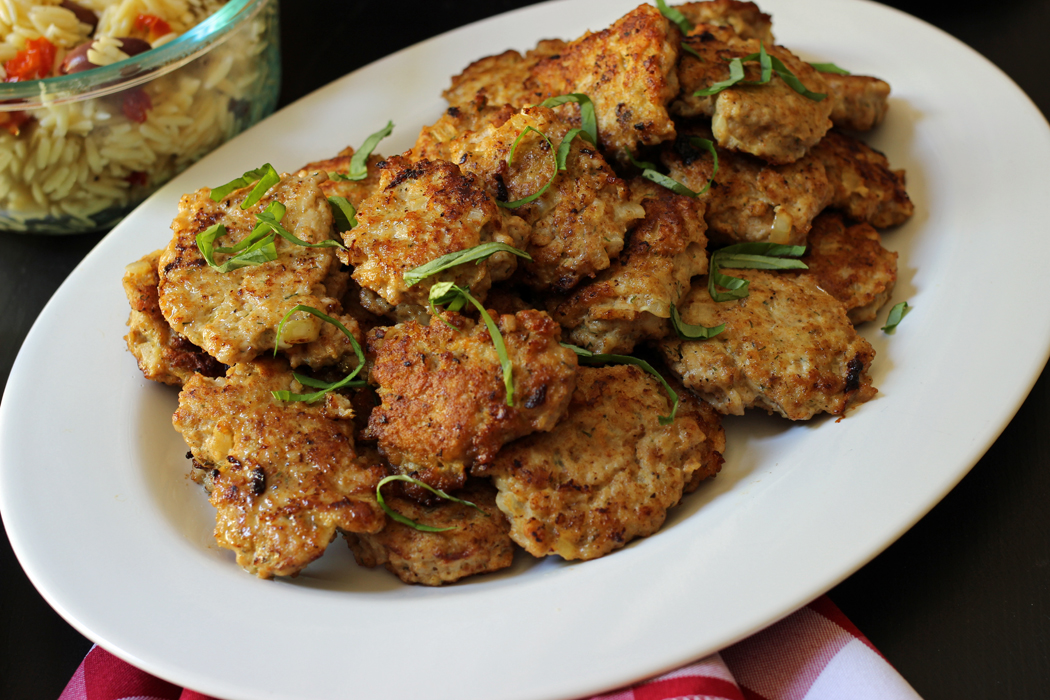 How do you make crispy chicken patties?
These crispy fried chicken patties are made very similarly to meatballs or meatloaf. Add seasonings, bread crumbs, and beaten eggs to ground chicken. Form the mixture into patties and fry in a hot, oiled skillet.
Since ground chicken is usually low in fat, much like ground turkey, it will crumble and fall apart without some binders to help it hold together. That's what the bread crumbs and beaten egg do for these chicken patties.
What is ground chicken?
Ground chicken is just that, chicken meat that has been finely minced or ground, similar in texture to ground beef that you would buy at the grocery store.
It's usually sold next to the other chicken cuts, though you might also find it in the freezer section.
Can you make your own ground chicken?
If you can't find ground chicken at a reasonable price — I recommend $3/pound or less for most of my cuts of meat — then you can grind your own chicken. You can do this in a food processor or a meat grinder. You can also grind chicken using a grinding attachment to your stand mixer.
To grind chicken in a food processor, be sure that you cut the chicken into cubes and then lay it out on a tray that will fit in your freezer. Cold meat will help you achieve a better grind instead of mushing the chicken up into little bits. You don't want the chicken to be rock-solid frozen, but definitely on the icy side.
Work quickly, add your chicken to your food processor, filling it just a layer of chunks. Then pulse until you get the right consistency. Overblending will result in chicken paste. Work in batches to grind your own chicken.
What should I do for leftovers?
Leftovers are rare in our house, but if you happen to have them then they will keep for 3-4 days in a refrigerator in an airtight container.
You can eat them cold (no shame in that) or reheat them gently in the microwave (at 50% power) covered.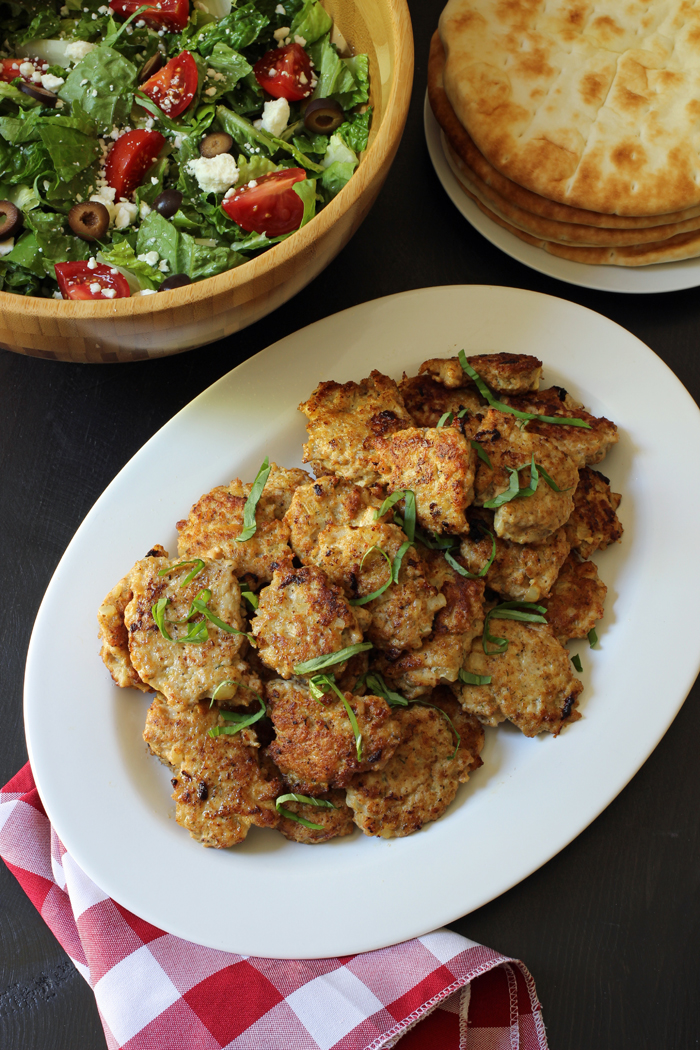 How to make this good and cheap:
Here are some of the strategies you can use to make this recipe more economical:
How I make this recipe easy:
Having the right kitchen tools can really make your time in the kitchen more enjoyable. Over time, I've honed my collection so that they are perfect for my needs. Here are the tools that I use for this recipe: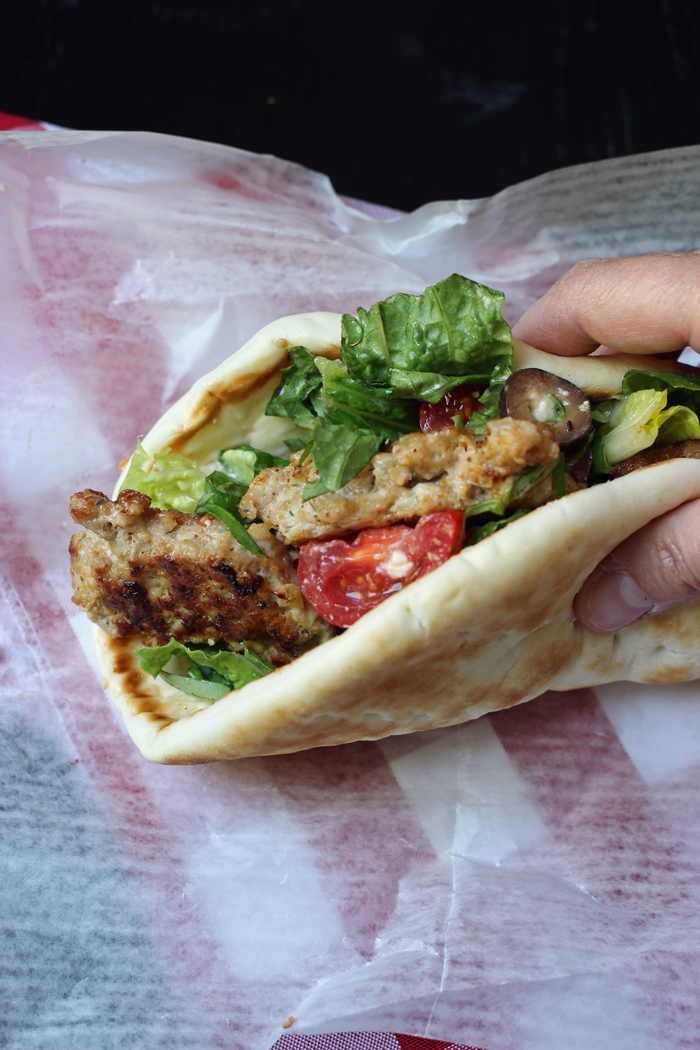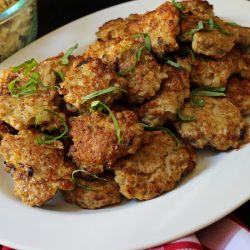 Crispy Chicken Patties
Ready for a fun and flavorful dinner? Cook up a batch of fried Chicken Patties. Better than any chicken nuggets, they make a hearty main dish protein or a tasty filler for sandwiches.
Course:
Appetizer, Main Course
Keyword:
chicken, chicken patties, sliders
Ingredients
2

pounds

ground chicken

2

eggs, beaten

1

cup

whole wheat bread crumbs

1/2

cup

finely chopped green onion

1

teaspoon

dried dill

1

teaspoon

salt

1/2

teaspoon

black pepper

1/2

teaspoon

paprika

oil for frying
Instructions
In a large mixing bowl, combine the chicken, eggs, bread crumbs, green onion, and spices and herbs. Mix just until well incorporated.

Divide the mixture into 8 portions for full size patties or 32 portions for small patties.

Place enough oil in a skillet to just cover the pan. Heat the oil until shimmering. Add 4 to 8 scoops, depending on their size, to the hot oil, spacing them evenly in the pan.

Flatten the portions with the back of a spatula and cook on one side, about 3 to 6 minutes, depending on the size. Flip the patties, cover, and continue cooking until done, about 3-6 minutes more.

Remove the lid and raise the heat to crisp the bottoms, if needed.
Nutrition Facts
Crispy Chicken Patties
Amount Per Serving
Calories 279
Calories from Fat 91
% Daily Value*
Fat 10.1g16%
Cholesterol 142mg47%
Sodium 491mg21%
Potassium 317mg9%
Carbohydrates 8.6g3%
Protein 35.9g72%
Calcium 530mg53%
Iron 0.4mg2%
* Percent Daily Values are based on a 2000 calorie diet.